Vasco da Gama
Vasco da Gama
is a port city in the west coast
India
state
Goa
. Vasco as Goa's most populous overgrown town is referred to, and the adjoining Mormugao port are busy, dusty and mainly commercial centres today. Mormugao Port was
constructed in 1888, and is today one of the major ports of India. Between one-third of India's ore exports leave from here.
Ship-builder Goa Shipyard Limited, that builds Navy and Coast Guard vessels, is built on the 1957-formed colonial barge-repair yard Estaleiros Navais de Goa.
The Indian Navy also has a conspicious presence in Mormugao, with its vast campus, and its contested control over the Dabolim airport enclave. INS Gomantak is the headquarters of the Indian Navy in Goa and sits on the hill overlooking St Andrew's Church and the Zuari river. Nearby is the naval hospital INS Jeevanti. Overlooking the Mormugao Port is the Navy's hydrographic school. This area's largest naval presence is the INS Hansa, which includes the Dabolim airport.
Get in
By plane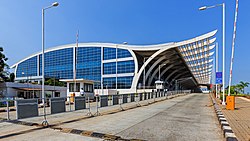 Dabolim AirportGoa's only international airport,is served domestically by Air India and internationally by Qatar Airways, Kuwait Airways and Sri Lankan Airlines. There are seasonal charter flights from Europe.
Other airlines:
By train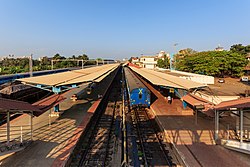 There are direct trains to
Delhi
,
Bangalore
,
Hyderabad
,
Pune
,
Kolkata
and
Chennai
. There are connections to
Mumbai
and elsewhere from
Madgaon Junction
, 24km away.
For a list of trains, see the main article
.
By road
Vasco is a 30km-drive from
Panaji
. Buses operate to towns in Karnataka and Maharashtra. Major services between Panaji and other cities usually have connections from Vasco.
By sea
While no regular ships operate from Mormugao harbour, the cruise ship Superstar Libra calls at the port on its journeys from Mumbai to Lakshwadeep.
Get around
Get around in a car, bus, scooter, or on foot. Like in the rest of Goa, two-wheeler motorcycle taxis are available. You will find them usually painted in yellow-and-black (the colour of taxis in parts of India, including Mumbai) and their riders are locally called "pilots". Motorcycle taxis tend to be more reasonably priced, specially if you're travelling alone and don'e mind roughing it out a bit.

See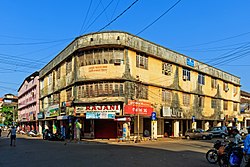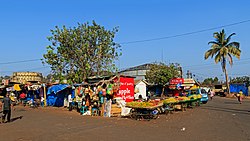 The "Japanese Garden" up the hill in a place called Sada. It is in a hill top facing the ocean. The route to the garden from the Vasco station, gives a good view of the ships in the ocean in the goan ship yards on your right hand side. It is seated in a beautiful calm place. You can sit on top and watch the ocean, or walk down to a temple at the shore. There is a side walk that takes you to the navy apartments nearby. It is not a usual tourist spot. It is very quiet and calm in the day time and the ideal time to visit would be early mornings or evenings.
Beaches:
Bogmalo
is a small beautiful beach behind the airport. But the water can get very rough here. Velsao is a long fantastic beach a little far from the airport. But its absolutely lonely most of the time, nobody is around! It is not dangerous, but can be lonely!
Naval Aviation MuseumThis is a great place to see vintage aircraft like the Sealands, Doves, Alizes, Seahawks, Vampires and Hughes Helicopters, along with the relatively newer Sea Harriers and a Super Constellation.
Do
Being mainly a business town, there isn't much to do for the tourist in Vasco da Gama. However the parks and nearby beaches do provide an option to spend a few hours in complete leisure.
One new attraction is the sea walk at Baina beach.
The Naval aircraft museum on the way to Bogmalo beach is another must see attraction.
Eat
Ginza. Chinese restaurant, with food recommended as being "good". Add: At Karma Plaza's ground floor, walking distance from the Vasco Railway Station. Ph 2518928 Extn 48 or 2513776.
Rangoli offers good food, with live music some evenings. In the same building is Temptation (Ph 2518928, extension 50), a 24-hour fast-food joint and hang out for the younger crowd. Add: Basement at Karma Plaza, on Dr Rajendra Prasad Avenue, ph 2518928 or 2513776.
La Paz Place of old-world charm. It restaurants are The Regency (phone 2512125 extn 130 serving Indian, continental, Goan food) and Sweet n Sour (phone 2512125 extn 125, serving exclusively Chinese), which offer interesting food. Also check the fast food joint on the ground floor called Goodyland (Ext 140). Harbour Bar is Ext 124. Ph Hotel La Paz Gardens, 2512121 till 2512125. Add: Swatantra Path, near the Municipal Garden.
Vasco Inn Specialises in sea-food, Goan, Indian, Chinese. A/c restaurant and bar, preferred for its Goan cuisine. Check its chicken cafreal, and chicken vildalho (or vindaloo). Also xacuti and caldine. Approx one km from the Mormugao Harbour and 3.5 km from the Dabolim airport. Add: Khalap Mansion, Near IOC, Vasco da Gama. Ph 2514725
City Shack, is located near the municipal garden, the ambience is intersting. Anantashram is near the municipal garden, the AC counterpart of the City Shack. In both, the food is good. Check the handi biryani, and fish dishes.
Annapurna is a vegetarian restaurant Recommended: Panner makhanwala. Biryani. Fried rice. Add: Near Municipal Market, Opposite the Bata showroom. Ph 2513745, 2513375.
Fishland Add: Lobo's Edifice, FL Gomes Road, Vasco da Gama, Goa 403 802
Coconut Creek Restaurant Located on the beach just outside Vasco. Restaurant attached to a boutique resort. Recommended: chicken cordon bleu, beef wellington and prawns stuffed sole. Add: Bimut Vaddo, Bogmalo Phone 2538090 or 2538100. Or try 2556100 or 2556090
Joet's. Another option at the Bogmalo beach. Add: Bogmalo beach. Ph 2538036
Renaissance Airport Plaza Restaurant Airport Plaza, Airport Road, Dabolim 403801 Phone 2555841, 2515076, 2515077, 2515074
If you want a coffee and a cake, choose "Temptations" near the railway station. It has a youthful vibrant ambience and its open 24 hours.
If you want south Indian food, there is "Annapurna" which is about 5 minutes from the station. You can go upstairs for air conditioned family space.
If you want authentic Goan ambience - choose "Anantashram" - absolutely wonderful environment with a thatched roof, cartoons on the wall, and a big screen TV.
"Little Chef" is a good place for a Goan Fish Curry Thali.
If you are travelling towards the airport from the station, stop by "Flintstones" a good family friendly restaurant at the circle, for a pizza or a burger!
A little further from Flintstones is Kababs, Currys and Cocktails - excellent food, rich environment.
Hotel Maharaj at the end of F.L. Gomes Road, opp Hindustan Petroleum, has two restaurants in its premises. 'Windows' multi cuisine A/C restaurant and 'Dawat' outdoor restaurant. They have live music on Fri, Sat and Sun. Buffet breakfast (and take away) from 8AM to 11AM. They have just opened a 'Coffee Day Xpress" outlet on their premises and will shortly be opening an Amul exclusive outlet.
Abhiksha Classic A/C Restaurant is in the main road opp the main Kadamba bus stand. Offers regular multi cuisine stuff.
Tony's Beach Shack at Bogmallo beach also serves good food. His cheese garlic naan is our favourite.
John Seagull is also in the row of beach restaurants at Bogmallo and has a good ambience and is always full of foreigners ... guess he makes some good stuff suitable for their palate.
Hotel La Paz has another outlet at the Vasco Residency called Little Chef, which is a revival of the Salgaoncars' original old restaurant in Vasco, which closed down quite some years ago and was near the shuttle bus stop.
The Vasco Inn which was opp Rangavi Estate on the way to Bogmallo has also shut down recently. It was being run by the Vasco Inn people.
There is an outfit called Bhatts. The place is nothing to write home about but he serves authentic Gujarati food only and he has quite a few discerning regulars and bachelors patronising him.
There is a restaurant called Adarsh on Swatantra Path, opposite Municipal Market, which is run by a Muslim and serves some excellent biryani like only the Muslims make it, plus some side dishes that have a different concoction from all other restaurants. The place is a regular udipi type joint as far as ambience and seating goes and he serves veg and non veg stuff.
Hotel Rukmini has started a new Udipi slyle restaurant veg (in March 2007) called Shravni on their building premises. There is a Baskin Robbins Ice Cream Parlour on Swatantra Path adjacent to the Municipal Children's Park.
The Karma Plaza, next to the MMC building in the heart of town, has a fast food joint called Temptations. Serves the rolls, hamburgers, pastries, puffs, shakes, juices, tea, coffee and the like. Also has an icecream parlour attached. It is a hangout joint for the youngsters. This is the only joint open 24 hours. Very close to the railway station too.

Royal
Drink
There are various wine shops that sell alcohol and are available quite easily.
Harbour Bar in Hotel La Paz and all other hotels usually have a bar.
Sleep
Hotel La Paz on Swatantra Path is the best business hotel in Vasco. There are few other hotels like Bismark, Citadel and Karma that cater to the business traveller. There are also two new hotels under construction on Swatantra Path. For the tourists, it is best to find a hotel near Bogmalo beach, which is only 8 kilometres away from Vasco da Gama.
Sleep when the sun is high and hot. All shops close down for a siesta in the afternoons in Goa! Find a cool calm place and rest until 4PM!

phone: +91 832 250 0015
Connect
Cybercafes around Vasco Da Gama
National Bakery, 2 5, Da Silva Chambers, Swatantra Path, Opp Hotel Lapaz, Vasco Da Gama,Goa 403802
Go next
Considering the convenient travel connections to outside the state and the small size of Goa, it is quite easy to travel all over the state being based in Vasco. Consider hiring a taxi or going on the tour buses organised by the tourism department, which can be rented from the Goa Tourism Department run Tourist Hostel.