Vatakara
Vatakara
, Badagara or Vadagara is a town in the
Kozhikode District
of the
Malabar
region, in the state of
Kerala
,
India
.
Understand
Vatakara has a local muncipal government. They can be reached at secretaryvatakara@yahoo.co.in or telephone number 0496-2512378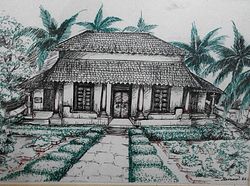 Get in
Get around
Use taxis, buses and autorickshaws.

Buy
Vatakara HalvaThis very sweet and colorful solid stuff made from maida (highly refined wheat) is available at a few shops near Palayam Junction and comes in various flavors, such as banana, ghee, coconut, cashew, date, tender coconut, pineapple and jack-fruit. However, karutha haluva (black haluva) made from rice is the most popular variety. If you are health conscious, simply keep away from all halvas.
See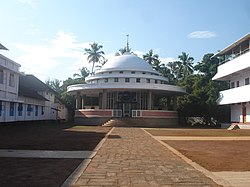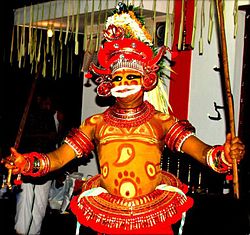 Basel Evangelical Church

address: on the bank of Moorad river

Established in 1864

Chennamangalam TempleFamous for the Dhwaja Prathishta

address: Memunda

Rock-cut caves, murals and carvings. 1500 years old. Very famous temple in Malabar side, associated with the famous Kerala Ballards (Vakkum Pattu) and with the heroic deeds of the Thacholi family of feudal knights. The goddess Durga is believed to sit here in a war form, eagerly waiting to cry for battle. Numerous myths and stories exist with the temple.

Payam Kuttimala Temple

address: Memunda

Scenic hill top ideal to watch the sunset.

Peruvannamuzhi Gardens

address: Kuttiady

The dam site is open for visitors from 8:30AM to 5:00PM.

Sandbanks BungalowBeautiful sunsets

Silent Beach

address: Opp Sand Banks

Sargaalaya Kerala Arts & Crafts Village

phone: +91 94463 04222

address: Iringal

Sprawling 20 acre property with 60 cottage shaped stalls. Articles made of banana fibre, coir, bamboo, sand, coconut shells, husk, palm leaves, coconut leaves and screw-pine are exhibited and sold here. Performance of classical and folk art forms are also organized regularly. Boating facility is available in the river.

Sidha Samaj Siddhasaram Commune

phone: +91 98843 08999

It is sort of free society where they carry out many agricultural activities including cultivation of medicinal plants and manufacture of Ayurvedic medicines. Children are brought up without parental tags. They have branches in other cities of India.

Uralungal Society

phone: +91 496 2514042

address: Madappilly College

Unique experimental labor initiative.

Thirikakkayam waterfalls

address: The Nadapuram region of Kozhikode district

The Thirikakkayam waterfalls near Karuvalam on the Vanimel Mountain are a paradise for tourists. The place is thronged by tourists from June to December. At Thirikakkayam, water falls from a height of .

Nadapuram MudiNadapuram Mudi is a lesser known scenic area in the forest areas of Kannur, Kozhikode and Wayanad. Since this place has very few visitors, not even the natives know much about this place. One can see the famous Nadapuram Mosque from this peak, or mudi, and this is where it gets its name.

Vilangad Dam

address: Near Vanimel

Chelelakkavu temple

address: Near Vanimel

Chakkarakkundu forest

address: Near Vanimel

Channanathamkundu hills

address: near Vanimel

Kannukulam Thannerthadam

address: Near Vanimel
Eat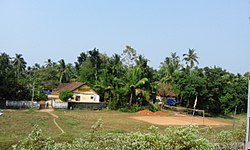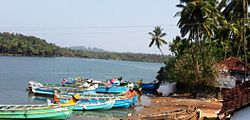 Imperial Hotel

address: Puthiyappa

phone: +91 496 2525588

address: Nut Street

New Aryabhavan Vegetarian

address: Near Bus station

Rakesh Hotel

Rinsha Hotel

phone: +91 99469 78224

address: Near Railway Station
Drink
Dwaraka Restaurant

address: Near Bus Station
Sleep
Motel Aaram

phone: +91-496-2523391

Opal Inn

address: Edodi

Sreemani Tourist Home

address: Busstand Building

phone: +91 496 2522921, +91 496 2522922

address: Queens Road
Stay safe
Vatakara is the vigilante capital of Kerala state. Kerala people are on the whole very conservative, but in Vatakara, they have made it a fashion to attack young couples going out together. Young people have been were attacked several times for walking together before getting married. Even married couples were attacked under the assumption that they are a pair in love. So bring your passport, air ticket and marriage certificate. Avoid such commonplace expressions as girlfriend, living together and LGBT.

Go next