Veliko Turnovo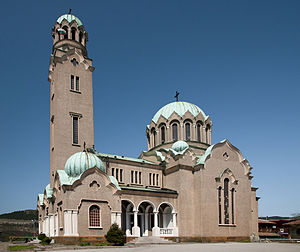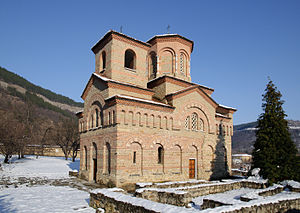 Veliko Turnovo
(
Велико Търново
, also transliterated as
Veliko Tarnovo
) is a mountain city located in the
north
of
Bulgaria
.
Understand

A town with very rich history, Veliko Turnovo was the capital of the Second Bulgarian Empire and has long traditions in the culture of Bulgaria. The city is rich in museums and historical sites, combined with vivacious night life propelled by the students in one of the largest universities in Bulgaria.

Get in
By plane
Although Veliko Turnovo's Gorna Oryahovitsa 4 km away is currently not open to passenger air traffic (it is possible to arrange private aircraft landings there by arrangement), it is possible to fly to Bulgaria's capital city Sofia, or the coastal city of Varna and then by rail or modern coach to Veliko Turnovo.
By train
There is a small railway station in the town and it is possible to get a taxi to the centre of town from there for a cheap price. There are also local buses going just by the station, go to the bus stop next to a small restaurant building. There are buses at least every 20 minutes, and it costs 0,50 - 0,60 levs (~0,25-0,30 €). You should have small money with you. Busride to center takes about 10-15 minutes.
An alternative is to get a train a larger railway station at the nearby town of
Gorna Oryahovitsa
. You could then take a bus/minibus/taxi from Gorna Oryahovitsa station to Veliko Turnovo. Taxi from/to Gorna Oryahovitsa to/from Veliko Tarnovo should cost 8-10 levs - you can ask for fixed price if you want to be sure.
One train operates each day from
Bucharest
to Gorna Oryahovitsa (in the direction of
Sofia
), leaving at 12:50PM and arriving at 6:27PM. It costs approximately 81 Romanian lei (June 2016).
If you are planning to take the train to another country, tickets can't be bought at the train terminal.
The is a place just behind the tourist information center where you can buy international tickets. The train station is at considerable distance from this place.
By car
One of the main roads in Bulgaria runs through the city, so car transport is not a problem to and from the city. Since the town is located relatively in the centre of Bulgaria, it is quite comfortable to stop there for an hour to rest and get a glimpse of the sights.
By bus
Busses run approximately hourly from Sofia. Several buses daily run from Plovdiv north bus station (?,?,16:30 18 Lev) and from Varna. The small bus station is ~1km far from the centre of town so arrange pickup during winter. The ticket for the busses, departuring from Sofia to Turnovo, costs about 17 leva (~9 euro).
Get around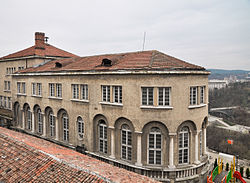 On foot
Walking is the best way to see Veliko Turnovo. The town is fairly large but everywhere is within easy reach including attractions such as Tsarevets, the medieval stronghold.
By public transport
Since Veliko Turnovo is not that large, you'll probably never use it. Buses run from 7 am till 9 pm with frequency of rides varying between 20 and 60 minutes. Buses #20, #50 and #40 go to Tsarevets. Bus 10 connects the city with Gorna Oryahovica railway station (but mini-buses are preferable). Virtually all bus lines go through the city center. Tickets can be purchased only in the bus from a conductor. The ticket is valid only for the current ride and costs 0.70 lv (about 0.35 euro).
By taxi
Taxis in Veliko Turnovo are yellow and can be caught on the streets by waiving a hand or can be called. The passenger is charged 0.80 leva initiall fee, and 0.60 leva per kilometer afterwards. In general, a trip within the city limits shouldn't cost more than 3.5-4 leva. Overall this means of transport is very reliable.
By car
Although Veliko Turnovo is generally a calm city, transportation by car could be very complicated due to the frequent traffic reorganisations. The maximum admissible speed within the city limits is 50 km/h.
See

The city is divided into an old and new parts. The old city itself is a collection of traditional renaissance houses scattered over the hills around the river Yantra and the new part consists of a mixture of communistic and modern style buildings.
If in Veliko Turnovo, make sure to visit the castle of the old Bulgarian capital - Tsarevets. The medieval stronghold located on a hill of the same name, served as the Second Bulgarian Empire's primary fortress and strongest bulwark from 1185 to 1393. Housing the royal and the patriarchal palaces, and is a popular tourist attraction.
There are various historical museums, located in Old Town, and an art museum on an island in the river.
Nearby Arbanassi on the hilltop 4 km away is also worth a visit, a taxi will cost about 3-4 Leva
Eat
Shopska Salad
is made from tomatoes, cucumbers, onion, peppers, and sirene (feta type) cheese; it is cheap and great as a snack. There are many restaurants and bars in Veliko Turnovo and this will be one of the most common things on the menu.
Bars and restaurants worth visiting:
Budget
Ego Bar and GrillNational and foreign cuisine, cheap prices. There are three "Ego" restaurants, at 17, Nezavisimost St., at 1, Slaveykov Square, and at the 3rd floor of Central Mall.
Pizza Tempo

address: 4, Ivailo St

Pizza and national cuisine.
Shtastliveca

address: 79, Stefan Stambolov St

A menu with mainly Bulgarian dishes, and a nice view of Yantra River.
Mid-range
Ethno

address: Stephan Stombolov St

A mixture of Bulgarian and foreign dishes is on the menu.
Hadji Nikoli Inn

address: 19, G.S. Rakovski St, Samovodska Charshia

Housed in a beautifully renovated old inn, this fine dining restaurant with Bulgarian cuisine on the menu offers home-made wine. Also doubles as a cafe (with an open air section) and a wine bar.
Splurge
Do
address: Lioben Karvavelov

A small language school offering Bulgarian lessons by qualified tutors with PhDs who specialise in the teaching of Bulgarian as a second language.

address: Veliko Tanovo internet portal for Bulgarian folk dance clubs and events

A list of all the folk dance clubs and groups in Veliko Tarnovo can be found here. Details on each club, location, rehearsal nights and contact details. The site is only in Bulgarian but has an English language version coming soon
Cycling. The roads around Veliko Turnovo are generally in good condition, making for pleasant (if sometimes rather hilly) cycling. A number of monasteries are close enough for cycling day trips. The closest and easiest is Preobruzhenie Monastery, approximately 5km north-west of Veliko Turnovo. It is also moderately easy to cycle to Arbanassi, although a few kilometres of climbing and high traffic may put off beginners.
Drink
Zagorka Beer - Zagorka is one of the most popular types of beer in Bulgaria and is definitely worth a try if you are a fan of beer. The best thing is that it is very cheap in comparison to beer prices in Western Europe, as are other beers and alcoholic drinks in general in Bulgaria.
Buljarka Beer - the local brand of beer, brewed just outside the town.
Bottled Water - It is advisable to drink bottled water.
Rakija - Bulgarian strong liqueour usually 40 vol% flavoured with anise.
Sliwovitz - Plum brandy, often quite strong 40-60 vol%

Melon Live Music ClubNice live music concerts at night time(around 11pm). During summer they do open air concerts in front of the Beaux Arts Museum.
Sleep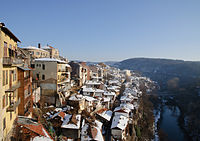 Veliko Turnovo offers a wide range of accommodation, from very cheap private rooms and hostels to 4* hotels that can make you feel like you are in a Western European town or city. There is seemingly something to suit all types of people that are staying in the town.
Budget
phone: +359 619 42777, +359 886 877 244 (mobile)

address: 70 Vasil Levski Street, Dragizhevo, Lyaskovets

A great campsite with free Wifi, newly fitted showerblock, fully equipped laundry, tents for rent, sports and leisure facilities, cafe/bar/shop on site. The owners, Nick & Nicky will try to help you with anything you need. You can even get your hair cut on site! Collection service available from Veliko Turnovo.
phone: +359 899019488

Campground with lots of tree shade surrounded by fields, hills and a river, offering toilets, showers, kitchen, dining room, lounge with Sat. TV and free internet access, WiFi, Fridge, cookers, microwave and BBQ area.
Hiker's HostelBeds from 20lv (€10) per person. Good quiet but central location and lovely view of the fortress. Free pickup service and very helpful English speaking staff. Free internet, wifi, breakfast.
phone: +359 885 726 733

Beds from 16lv (€8) per person. Great location, very clean, friendly, comfortable, social and cheap. Free internet access and wifi.
Hostel Mostel20lv per person per night for a dorm, 30 lv per person per night for a double en-suite room. Free Internet access and WiFi, free breakfast, and a free light meal and a local beer at night. Very friendly staff, who will do anything for you. Good value day trips available. Can organise tours to various attractions around VT including the infamous Buzludzha monument.
Hostel PashovAbout 30lv for twin room (3 rooms available). Friendly owner with free transport to and from the station.
phone: +359 62 603 112, +359 885 973 532 (mobile)

address: Hristo Daskalov St. 12

An excellent hostel housed in a timber-framed house dating to 1850s and run by an extremely open minded and welcoming British couple. You'll find everything you'd expect from a modern hostel. Free transport to and from the station.

The Honey House StablesVery relaxing place in Hotnitsa village, near Veliko Tarnovo. Is managed by Annie, a nice British woman that loves animals, of which there are a number on site. Guests have use of the shared bathroom, equipped kitchen and garden. The garden has outside seating for dinning and a relaxed area under a vine for lounging and reading. The house has wifi which is free for guests and a washing machine which is 4lev per wash including soap.
Mid-range
The Big White HouseMid range prices by Bulgarian standards but still cheap. Stay in large luxury self catering apartments close to Veliko Turnovo in the peaceful village of Tserova Koriya. Great quality at very affordable prices.
The Boliari HotelIs situated in a quiet street and has good accommodation at reasonable prices, top floor rooms have large balconies overlooking the town.
Hotel GurkoA very traditional style hotel with a popular restaurant and good quality rooms. Can be a little bit noisy and rooms over the reception and restaurant should be avoided by light sleepers.
StudioJust a bit more expensive than some other hotels but there is a difference. Excellent roof bar provides a good view of the light show (when it happens). Good breakfast and there is a restaurant. Decor is a bit dark and quirky and may not be to everyone's taste. Boutique fare all the way.
Splurge
There are a number of 4* hotels in Veliko Turnovo with modern facilities and clean, comfortable rooms.
Stay safe

With a little common sense and respect for the locals, your stay in Veliko Turnovo will be a safe one. It is a friendly student town with a lot of history and welcoming people.

Go next
Arbanassi
, a nearby village.
Preobruzhenie Monastery, approximately 5 km north-west of Veliko Turnovo.
The city of
Gabrovo
to the south-west, at the foot of the Balkan Mountains, which has historic sites, a humor museum and impressive shopping and dining opportunities, is worth visiting.
Nature Park Bulgarka
, just south of Gabrovo, provides many out door activities opportunities for people who enjoy nature and hiking.
The city of
Rousse
, border with Rumania and on the way to Bucharest (11 lev). To go there go to the Prevotzi Zapad Bus Station (West bus station), it is 1 km west from the center so you can take local buses 10,12,14,70 or 110. They have 8 buses daily, starting at 7:00 am.
Visit Devetashka, a huge and stunning cave near to Pleven and only a few lev to enter. To reach it you must take the small country roads which are in terrible condition.
Plovdiv
Busses leave several time through the day, this route will take you past Budzludzha (the abandoned UFO building)