Ventura
Ventura
is a city in
Ventura County
, a region of
California
's
Central Coast
.
Understand
Ventura mixes old charm with new modern facilities to blend a rich and wonderful background to living. Ventura, still officially called San Buenaventura, was founded in 1782 by Fray Junipero Serra with the establishment of his mission.
Along Main Street you will find fabulous food, excellent shopping from amazing thrift stores to upscale boutiques, a movie theater, coffee shops, and other attractions.
Turn the corner at Main Street and head up Ventura Avenue and you are on the Westside. The Westside is an up-and-coming area of Ventura with a rich cultural history.
Note the iron bells every few miles on the 101 freeway. They are markers of the Camino Real, the route of Father Serra.

Get in
Ventura is located 68 miles north of
Los Angeles International Airport
(
LAX
) on Highway 101. Nearby Oxnard sports both a cruise ship port and an airport with connecting flights to LAX. Santa Barbara Airport can be a good alternative to LAX or Oxnard with flights to LAX, San Francisco, Salt Lake City, Denver, Las Vegas, Phoenix as well as other destinations and it is only about 10–15 minutes away down the breath-taking 101. Camarillo Airport is a dominant general aviation hub, though Oxnard and Santa Barbara take their share as well.
Amtrak serves the city with it's Pacific Surfliner, the train stops at in downtown Ventura multiple times a day on its San Luis Obispo-Los Angeles-San Diego route. Additionally, Metrolink has a commuter service from Los Angeles to , located in the Montalvo neighbourhood.

Get around
phone: +1 805-487-4222

This bus system provides impressive transportation coverage across the city of Ventura as well as the neighboring cities of Oxnard and Port Hueneme.
See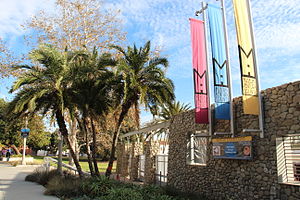 phone: +1 805 643-4318

address: 211 E. Main St

Founded in 1782, it was the ninth and last California mission established by Father Serra. Church services, funerals, and weddings are still performed at the mission today. It was one of the most successfully irrigated of the missions, leading to plentiful orchards and vineyards. An original well stands in the back of the church, and a school for children is attached to the side. The Old Mission welcomes visitors daily from sunrise until sunset.

address: 100 E. Main St.

Collections include Chumash and other native American artefacts. $4.

address: 432 N. Ventura Ave

Created out of a historic mattress factory showroom in the Westside of Ventura. There are free children's programs that enhance young lives through the arts and provide a cultural revitalization of the Westside. There are also many talented resident artists in studios creating beautiful paintings, jewelry, sculptures, weavings, photographs and ceramics.

phone: +1 805 643-1848

address: 777 N. Olive St

Formerly named LA Hot Glass, Artists John Gerletti and Suzi Perret have a unique studio open to the public featuring their handblown art glass. Pop in during the afternoons and you might catch them in the act of blowing glass. Individual pieces are showcased for sale with prices ranging from $50 to $400.

phone: +1 805 658-4728

address: Olivas Adobe Historical Parkmore info 4200 Olivas Park Dr

A 160-year-old adobe-style house with historical ties. The Adobe is rumored to be haunted. Tours are available.

Ventura City Hall

phone: +1 805 654-7800

address: 501 Poli Street #109

Ventura's striking neoclassical city hall building overlooks Main street and an array of boutique shops, just blocks from the beach.
Do
Being a beach town, Ventura has developed the downtown beach area into a wonderful promenade that makes its way along the beach, from "Surfer's Point" past the pier all the way down to the southern end of
San Buenaventura State Beach
. It makes for a nice jog, bike ride, roller-blading path or just a leisurely stroll to watch the sunset.
SurfingYou can visit spitcast to get the latest surf forecast.

phone: +1 805 667-2900

address: 1006 E. Main St

The only regional professional live theatre in Ventura County. Rubicon Theatre Company in its ten year history has been the host to many stars of screen and stage including Susan Clark, Jack Lemmon, Ted Neeley, John Ritter, Linda Purl, Bruce Weitz, Stephanie Zimbalist, and Efrem Zimbalist Jr.
International Book City - in mid 2006, Ventura declared itself an International Book City. The city is home to more independent bookstores than any other city in Ventura County; two publishing houses; and Perry Mason, the famous fictional lawyer created in the 1930s by writer Erle Stanley Gardner, who lived and worked here.

phone: +1 805 648-2715

address: 651 E. Main St.

The E.P. Foster library has 24 public computers and features an extensive collection of "how to" art books. Ventura is also an art community and the library hosts permanent and rotating art collections by local artists. Families will enjoy visiting the second floor which is being transformed into a Children and Teen library.
Buy
The
Pacific View Mall
and surrounding area (located about 3–5 miles southeast of old town Ventura, toward Oxnard) tends to be the shopping hub for the locals while tourists will appreciate the kitsch and variety of Old Town. Still, serious shopaholics are better off in Camarillo at the
Camarillo Premium Outlets
or in Thousand Oaks at
The Oaks
.
Ventura has a hidden gem in the music/alternative mecca known as Salzer's which is on Victoria near Oxnard and Montalvo. The store is split into two factions: Music and Video which oddly enough are located in separate buildings on either side of Victoria.
Heirloom Antiques (On Main St) - Offers an extensive collection of imported European antique furniture. Some really unusual pieces can be found at great prices. The owners are super nice, not too knowledgeable on history/antiques, but they have a great appreciation of beautiful woodwork. The owner personally goes to Europe and buys the pieces at auction. Some stunning antique church furniture can usually be found there, which the legality is a little questionable since many European countries explicitly forbid the sale/exportation of church furniture (which is commonplace knowledge in Europe but unknown in America).
Thrift Stores! Main street (near California street intersection) has a great selection of thrift and antique stores. Many really great finds can be found if you are willing to look through some junk.

Rubicon Theatre Company

phone: +1 805-667-2900

address: 1006 E. Main St.

One of the best theaters on the west coast. For over ten years, The Rubicon Theatre Company has enriched the city of Ventura with world-class performances as well as community enrichment. Truly, one of the most amazing experiences you will have while in California.
Eat
Winchesters Bar and GrillAt the other end of old town. They have a large beer selection, and fabulous food! Quite a pickup joint, second only to Table 13.

Busy Bee CafeThis campy 1950s style diner on Main has become a Ventura landmark. Pop in for a root beer float, raspberry-lime rickey, hot fudge sundae or one of many classic American food favorites.

Johnny'sOn the Westside, at 176 N. Ventura Ave., just around the corner from Main Street. A Mexican food institution in Ventura. Try their famous shredded beef burritos prepared "three way"—meaning with beans, rice, and cheese!

Sharky's Woodfired Mexican Grill

phone: +1 805-339-9600

address: 4960 Telephone Rd

Good quality, fresh Mexican food.

phone: +1 805-643-5550

address: 1127 S Seaward Ave

Small restaurant near the beach that serves up very fresh, tasty sushi.

Tony's PizzaThis is the best little pizza shack in town. It's perfect after surfing or hanging out at the beach. Also, the guy there will talk to you like he's known you for years. The pizza is thin crust style, and is very good.

Toppers PizzaThe best local pizza restaurant in town. Great for the family. Voted the best pizza two years consecutively by Ventura County Readers Poll. Big televisions and great salad bar.

Taj Cafe

phone: +1 805 652-1521

address: 574 E Main St

One of the best Indian restaurants in Ventura. Dinner will set you back about 20 dollars a person.

Trufflehound's Fine Chocolates

phone: +1 805 648-5870

address: 607 E Main St # E

Ventura's best Fine chocolate shop. Delicious loose and boxed truffles and other chocolates are priced by weight.
Drink
Overall, Ventura is a great place for easy-going party people. Many restaurants have terrific happy hour specials daily with both food and drinks at remarkably low prices. This makes it easy to grab an early meal or make plans with friends.
San Souci is the local dive where young and old alike go.
The Tavern, which serves both food and drinks, is a great low-key hangout with different kinds of music and fun specialty drinks.
The local gay bar has the unlikely name of Paddy's, so don't be fooled into thinking it's an Irish pub. Friendly atmosphere and reasonable prices.

Sleep
Go next
As with the route into this fine beach city, there are a number of options when it is time to leave. Southbound Highway 101 and the
Pacific Coast Highway
are both great options if you are headed south to another destination or to the Los Angeles International Airport (LAX). Northbound Highway 101 will take you up to
Santa Barbara
and on through San Luis Obispo on the way to San Franciso. To head east, just jump on Highway 126 which winds its way out to the small towns of Santa Paula and on the way to
Six Flags Magic Mountain
.