Verbier
Verbier
is a resort town in the eastern part of the
Swiss
canton of
Valais
near
Martigny
. It has cable car access to a huge network of ski trails which are perfectly suited for intermediate and advanced skiers. There are also a couple of bunny slopes in town, as well as a huge amount of infrastructure for skiing and after skiing.
In the summer Verbier, like many mountain villages, becomes a base for the true Swiss national sport of hiking.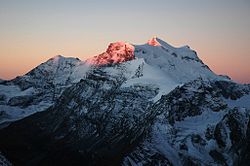 Get in
By train
There is no direct train service to Verbier. Passengers coming from Geneva will need to take a train to Martigny and then change trains to take the "St. Bernard Express" to Le Châble, the Verbier base station. From there passengers can take the cable car or the Postal Bus to get up to Verbier.
By car
Verbier is just off the A9 Motorway and National Road 21 (European Road: E27), about 1.5 hours from Geneva. It is advised to have a car that can travel up steep gradients and that is equipped with snow tires, if visiting in the winter. There is also a regular bus service from Geneva Airport to Verbier offered by
Alpybus
. The journey takes 2 hours and runs only during the winter season from December through April. Private transfers are available in the summer.
Get around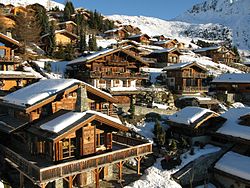 Verbier village is small enough to get pretty much everywhere on foot, even in ski boots. A free bus runs around the village until early evening. There is a cable car service between Verbier and Le Chable which runs from 08:30 until 18:30, and a bus which runs later, so you will want to make note of the bus schedule if your hotel is in Le Chable.
See
Verbier and the region around it has a lot to offer when it comes to nice views. Take the cable car all the way to the top for the most spectacular views:
Mont FortThis is the highest point reachable by cable car and offers very nice views. There is a special sunrise package including breakfast at a couple dates during the summer.
Do
The principal activity in Verbier during winter is skiing. The ski area Les 4 Vallées is one of the largest in Switzerland, extending as far as Thyon and up to the Mont Fort glacier. Much of the best skiing is
off-piste
(off-trail), making the resort best suited to experienced, or at least enthusiastic skiers. The best sector for beginners is Savoleyres. There is less infrastructure for snowboarding, but advanced boarders should consider a trip to Verbier for the magnificent
off-piste
possibilities
Buy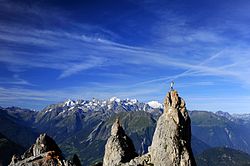 Eat
phone: +41 27 771 6431

address: Route de Verbier Station 70

Au Vieux Verbier

phone: +41 27 771 16 68

address: Rue de Médran

Reservations are required for dinner.

phone: +41 27 771 55 55

address: Route du Golf 95

Pizzeria Borsalino

phone: +41 27 771 17 50

address: Route des Creux 3

Al Capone

phone: +41 27 7716774

address: Route des Creux

This restaurant has a vast selection of Pizzas and other Italian specialties.
Drink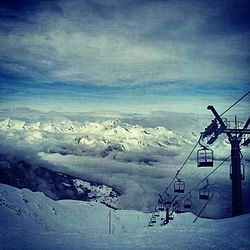 The
après-ski
nightlife is pretty happening at Verbier. In early evening the pubs and bars are jammed with skiers - many have a happy hour between 4PM and 5PM. Later on, most people return home or eat at one of the many restaurants, before hitting one of Verbier's nightclubs, which stay open until 3 or 4AM in peak season. None of this is cheap!
phone: +41 27 771 5444

address: Rue de Médran

Famous hangout with both apres ski, sandwiches, good breakfast and good vibes in this Californian styled joint

phone: +41 27 771 4898

address: Chemin de la Tinte 10

Legendary after-ski bar where local skibums and extreme skiers gather. Rumoured to serve most beers in Switzerland in the winter. Serves good and inexpensive foood (burgers etc)

phone: +41 79 257 78 83

address: Route de Verbier

Run by two Italian brothers, this club doesn't get going until very late, and when it does it's for the 27+ crowd, but it does have a reputation for some outrageous nights out.
Sleep
phone: +41 27 771 62 00

address: Chemin des Creux
Go next
Martigny, at the end of the valley leading down to Verbier, is known for its extensive Roman ruins including an amphitheatre.
If a supplement is paid, one can ski in one of Switzerland's largest skiing domains — the Quatre Vallées offers over 450km of piste and 92 lifts
Guides offer the possibility to "hike" on skis from Verbier to Zermatt as part of the "Haute Route", a journey of several days