Vermillion (South Dakota)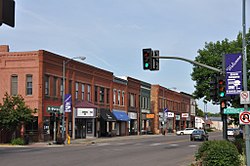 Vermillion
is a city in
South Dakota
with over
10,000 residents
, known for being the home of
University of South Dakota
.
Understand
Vermillion was founded in 1859. The name refers to the Lakota name: wa sa wak pa'la (red stream). Vermillion has a mixed academic and rural character: the university is a major academic institution for the state, with its only law and medical schools and its only AACSB-accredited business school. Major farm products include corn, soybeans, and alfalfa.

History
Lewis and Clark camped at the mouth of the Vermillion River near the present-day town on August 24, 1804. The previous day, they had killed their first bison; the following day, they climbed Spirit Mound. In May 1843, John James Audubon visited the Vermillion ravine to view the bird life.
The original town was entirely below the bluffs on the banks of the Missouri River, and three-quarters of it washed away in the Great Flood of 1881.
William Jennings Bryan and William Howard Taft—candidates for the U.S. Presidency in the 1908 election—spoke in Vermillion on September 28 and 29, 1908, respectively. Along with Eugene Chafin, they toured South Dakota by train, including stops in Mitchell, Tripp, Yankton, and Elk Point.

Get in
By plane
By car
From Sioux Falls, Vermillion is approximately 60 miles south or an hour drive.
From Omaha, Vermillion is approximately 130 miles north or a two hour drive.
By bus
Greyhound has a stop on the edge of the University of South Dakota campus.
See
phone: +1 605 677-5306

address: 414 E Clark St, The University of South Dakota

The NMM's renowned collections, which include more than 15,000 American, European, and non-Western instruments from all cultures and historical periods, are among the world's most inclusive. They include many of the earliest, best preserved, and historically most important instruments known to survive. The quality and scope of the NMM has earned it international recognition.

phone: +1 605-987-2263

address: 31148 SD Hwy 19

Spirit Mound Historic Prairie is a state park of South Dakota, USA, featuring a prominent hill on the Great Plains. The Plains Indians of the region considered Spirit Mound the home of dangerous spirits or little people; members of the Lewis and Clark Expedition climbed it on August 25, 1804.
Do
phone: +1-605-677-7058

address: 2021 East Main Street

The Bluffs Golf Course is an 18-hole championship golf course.
Learn
address: 414 E. Clark Street

University of South Dakota is a public coeducational research and is the state's oldest public university.
Buy
phone: +1-605-624-5574

address: 525 West Cherry Street

phone: +1-605-658-2200

address: 115 E. Main Street

Official USD Coyotes clothing

phone: +1-605-624-0215

address: 1207 Princeton Ave
Eat
phone: +1-605-624-2945

address: 24 W. Main Street

Café Brulé serves American-French fusion with classic hospitality and comfort.

phone: +1-605-658-1923

address: 12 W Main St

Asian fusion with Korean, Chinese, Vietnamese, and Japanese dishes.

phone: +1-303-621-5065

address: 15 W. Main Street

Dakota Brick House is a tap house and grill.
Drink
phone: +1 605-624-9921

address: 18 W Main St

A favorite of both students and residents, Carey's Bar has occupied its downtown location for over 50 years.

Valiant Vineyards Winery and Distillery

phone: +1 605-624-4500

address: 1500 W Main St. 57069

South Dakota's first and oldest winery.
Sleep
Go next