Vernet-les-Bains
Vernet-les-Bains
is a village in the
Languedoc-Roussillon
region in southwest
France
. It is in the Pyrenées Orientales department. Some guidebooks make it sound as if its attractions were somehow in the past but it has features that make it special today as a place to stay for a week or more in a stunningly beautiful mountain area.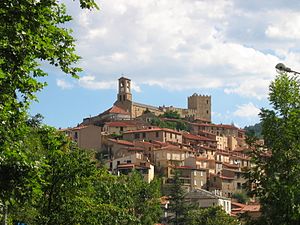 Vernet's links with Rudyard Kipling and the Entente Cordiale
Walks near Vernet and to the summit of Canigou mountain
Get in
Vernet shares a station with Villefranche-de-Conflent, easily reached from
Perpignan
, but, whereas Villefranche is near the station, Vernet is a fair trek and uphill on a road so a bus or taxi is necessary.
Get around
From the station the Petit Train Jaune follows its scenic line over numerous impressive viaducts to Latour du Carol.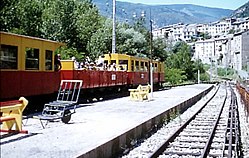 Bus or walk to the nearby hamlet of Casteil at the top of the road beyond Vernet.
See
The village takes pride in being the first 'village-arboretum' in France. There are certainly some wonderful trees and many signs describing them.
Walks range from the ascent of the 'Pic du Canigou' to easy strolls suitable for children. Unfortunately the TIC only sells the walks guide in summer, which starts by decree on June 1 - but hotels are likely to have copies that you can see at other times.

Do
Go to the
casino
if you must but in any case don't miss the geological museum where the owner gives a most informative tour in several languages.
Visit the Abbey of St Martin du Canigou near Casteil but don't take an expensive land rover trip until you've weighed up the walk from Casteil. If it's too much for you, on no account take the trip from further away. It will cost you far more and you can easily reach Casteil by bus.
There is a small zoo in Casteil that appeals to children.
Eat
Bistrot le Cortal. It's very small so book beforehand. Food and views to die for.

Go next
If you've not arrived from
Perpignan
, it's certainly worth a visit.