Verona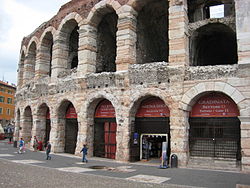 Verona
is an historic city with a population of about a quarter of a million in north-eastern
Italy
's
Veneto
region. It's most famous as the setting for Shakespeare's
Romeo and Juliet
and has been inscribed on the
UNESCO World Heritage list
.
Understand
Though close to the more popular tourist destination of
Venice
, many people consider Verona a more relaxed and pleasant place to visit. There are many tourists, but the number of tourists per square metre is lower.
phone: +39 045 8068680

address: Via Degli Alpini, 9
Get in
By plane
Aeroporto Valerio CatulloAlso known as Verona Villafranca Airport. Mostly budget flights, including from Brussels (both National & Charleroi), Dublin, London (Gatwick & Stansted), Paris Beauvais, and Madrid, and domestic routes from Alghero, Palermo, Trapani, Brindisi and Rome. Free WiFI is available with registration, SID: @FreeLuna_CATULLO.
Connections to the city:
AerobusThis bus service connects the airport with Verona Porta Nuova railway station. Tickets can be bought directly from the bus driver.

If you have a rental car the trip to Verona isn't difficult: take the A4 towards Padova (Padua) and follow all the way to Verona (approx 7 km).
Venice Marco Polo
(
VCE
) is further but has far more flights. From there take the shuttle bus to Mestre railway station (25 min), then the train to Verona (1 hour) – see Venice: Get in by air page for shuttle bus details.
Also within a couple of hours of Verona are Venice Treviso and Bergamo airports. These have no obvious advantage.

By train
Stazione di Verona Porta NuovaThe main railway station in the city. You can reach Verona Porta Nuova station by train from Milan: 1 hr 22 min by EuroCity train (EC) (€18.00); 1 hr 50 min by Regionale Veloce (RV) (€9.05). From Venice, it's 1 hr 10 min by EuroCity (EC) (€19.00); 1 hr 22 min by RegionaleVeloce (RV) (€6.25); 2 hr 10 min by Regionale (R) (€6.25). From Bologna, it's 49 min by TAV (€22); 1 hr 28 min by RegionaleVeloce (RV) (€7.55). From Munich, it's 5 hr 30 min by EuroCity.

Some local trains (regionali) also stop at another station in Verona, .
By bus
APTV stazioneBuses to destinations in the province. Ticket office is in the railway station building. There are automated tickets machines at the platforms.
By car
Get around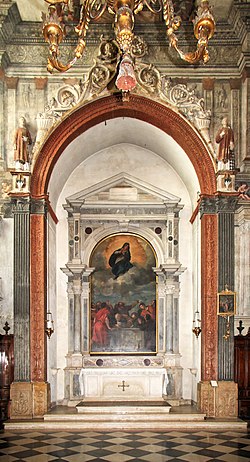 City bus schedules are difficult to obtain on-line and also not available on maps.google.com. The 11, 12 or 13 bus on weekdays will get you from the train station (Stazione Porta Nuova) to the Arena (Piazza Bra). Sunday and holiday schedules differ with a separate numbering system. You can obtain bus schedules sending SMS to a number printed on bus stop. Some of them have an indication of the time left for next bus to arrive. You can pay the fare using euro directly on the bus, but only for one ticket, while you can easily buy tickets at a lower fare nearly everywhere there is a cigarette or lotto shop. ATV shops are in the railway station and in Piazza Renato Simoni, near the railway station.
See
Verona was a
Roman
city, and many Roman ruins have been preserved, notably the Arena. The ancient city was badly wrecked by the earthquake of 1117 AD, which led to a flurry of re-building. Therefore, most of the historical sights on view today date from the past 800 years, while the Roman city lies 6 metres below you.
Verona showcases the transition of Western European art from late medieval to early renaissance styles, with its rich offering of 12th-century churches and art museums. Verona's military importance has also left city fortifications and an excellent castle. Look out for architectural details related to the Scaligeri (or della Scala) family, who ruled the city from the 12th to 14th century, e.g. their family emblem is a ladder,
scala
in Italian.
Top sights are the Arena, Castelvecchio, the churches of St Zeno and of Sant'Anastasia, and the cathedral. Much of the pleasure of Verona comes from simply strolling the medieval centre, especially in the evening when the day-trippers have departed. The Arena hosts performances by the world's top singers, and when these are on the whole city, not just the Arena, will be booked solid.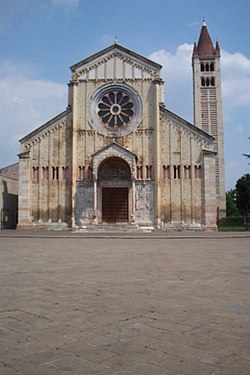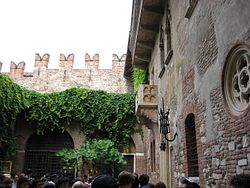 A little further out across the river, find the Castel San Pietro, the Giusti gardens, and the other amphitheatre. The walk along the riverside is usually enjoyable, but in 2016/17, the pavement between the Roman Bridge and the Garibaldi Bridge was under reconstruction, with no end in sight.
Do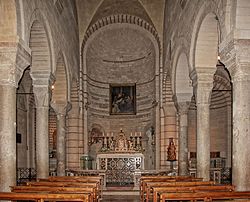 Lamberti towerClimb to the top of it or take the lift. Great views over Verona.

Take the Bus 41 for having a breathtaking view from S. Maria di Lourdes Sanctuary, placed on the edge of Verona's highest hill.
Wander around Carega block (just ask for 'Carega', close to the Duomo), near Garibaldi Bridge, and experience traditional wine bar and cosy restaurants.
Take a short walk to Castel San Pietro or take the funicular (€1 each way, Oct 2019) for a great lookout on the town center.
Hire a tourist guide for a guided sightseeing tour or a wine tour in Valpolicella or Soave.
Visit the Christmas markets during your winter holidays.
Buy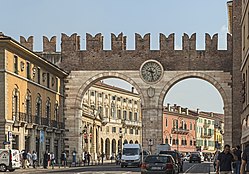 Via MazziniVerona's golden mile of shopping, taking you between Piazza Bra and Piazza delle Erbe. Most of the major Italian labels are represented, and even if you can't afford them it is great to wander and window shop.

Corso Porta Borsariis another elegant shopping street in Verona, eg Lo Scrittoio, an old-fashioned shop selling papery and elegant pens and pencils.

Corso Santa AnastasiaThis street is the centre of the antiques shops' zone. Narrow streets where you can find authentic masterpieces.

Eurospar

address: Via Daniele Manin

A large two-storey supermarket with normal prices where you can find everything for your picnic.
Eat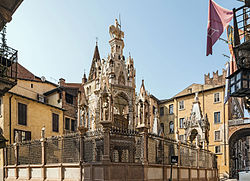 Piazza Bra barsEat gelato there.

The Veronese are keen eaters of horse-meat (cavallo), a local speciality. Pastisada de caval, is a dish of braised horse meat, as is Picula de Caval.
Pizza is not traditionally eaten locally, but pasta dishes feature widely on restaurant menus. Try Pizzocheri (buckwheat pasta with cheese and sage), casoncelli (a type of ravioli) or bigoli (thick spaghetti).
Casoela is a pork casserole, and a bollito misto is a mixture of boiled meats, usually served with mostarda, a traditional accompaniment of fruit and vegetables in mustard.

Al' Duomo

phone: +39 045 800 4505

address: Via Duomo 7

Excellent family-run restaurant, just next to the Cathedral (as its name suggests). It's popular with the local Veronese (a good sign) and with a menu full of traditional local specialities. You'll find this is a good place to blend in with the local scene, and has welcoming staff who will help you with unfamiliar items on the menu. On Wednesdays, Al' Duomo plays host to a local mandolin ensemble, so if you're on a traditional music tour, put this on your list. As it's a popular place, booking is advised.

Osteria Al Carroarmato

phone: +39 045 803 0175

address: Vicolo Gatto 2A

A charmingly atmospheric and good value restaurant/wine bar in the 'ancient canteen' style with shared tables and paper place mats. Food is authentically Veronan but unpretentious. There is an enormous, equally good value wine list, which can however rise to meet all budgets.

phone: +39 045 800 9031

address: Corso Porto Nuova 2

Restaurant and wine shop. Good food and great wines at very reasonable prices (wine at the table cost the same as in the shop). You eat either inside between wine racks or outside at one of 5 small tables. The menu consists of dishes from different regions of Italy.

address: Piazza Brà, 20

Quite popular among the tourists. At the places inside there is a buffet-style service. At the places outside – more traditional a la carte.

phone: +39 045 457 8454

address: via Oberdan 18/a

A good place for sandwiches in Verona, in a friendly, laid-back setting. All sandwich options come as baked potato dishes as well, with a very good vegetarian option. Plates are priced at €6-8 and are well-worth the price.
Drink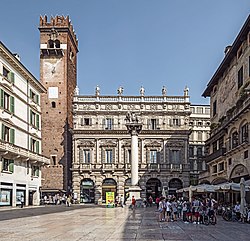 Avoid the hordes of tourists in Piazza Bra and head to Piazza delle Erbe. At least slightly more genuine, this Piazza has a number of good bars where you can sit and enjoy a coffee or aperitivo in the sun. Great for your coffee in the morning and your drinks into the evening.
Caffè delle Erbe

address: Piazza delle Erbe

Great coffee and brioche

Rain

address: Via Stella 13A

A wine bar and jazz club in the heart of Verona owned by brothers Giuseppe and Riccardo Zambelli Rain. Giuseppe is fluent in English. Ask for him if you have any questions about the area.
Sleep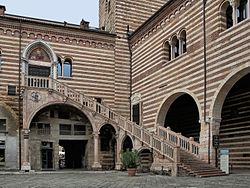 Verona is frequented annually by millions of tourists, so you'll be able to choose among a lot of different accommodation options, all a lot cheaper than nearby Venice. However it is
essential
to have booked hotel accommodation on days when the annual arena opera performances are taking place. Turn up on spec or late and it is possible to find every bed in the city taken.
Budget
There are three
youth hostels
in Verona, all within walking distance of the town centre and a short bus ride from the main train station (Porta Nuova). A tourist map, available from the station's tourist information centre, will point you to their locations. The northeasternmost hostel of the trio, near Piazza Isolo (regular buses from Porta Nuova) has a stunning converted Renaissance complex complete with porticoes, verandas and a huge forested garden, dorm beds for only €15 per person, with a passable breakfast included.
Also consider several small bed and breakfasts in the immediate province, after all a car rental for €30/day and a substantial saving on the nightly fee is an acceptable turnaround. Especially if you need the car to visit the surroundings.
There is also a
campsite
:
phone: +39 045592037

address: Via Castel San Pietro, 2

Spectacular views over the city and about 15 minutes walk from the centre. Peaceful, luxuriant vegetation. Also cabins and tents-for-rent offered.

phone: +39 346 140 4242

address: Via Sommavalle 9/a

In the Torricelle suburb north of Verona, 4 km from the historical centre; it occupies a sunny and panoramic area on the southern side of a hill about 300m above sea level. It can be easily reached by car or with the urban bus service. Reaching the train station (Verona Porta Nuova) will take about 20 minutes by car.
Mid-range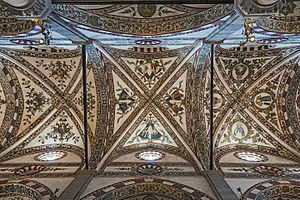 Splurge
phone: +39 045 590293

address: Corso Porta Borsari 4a

This is a lovely place, de luxe rooms in an 18th-century palazzo.
Go next
The surrounding area around Verona offers access to some of Italy's most spectacular scenery - to the north you have rolling hills with vineyards and small towns, to the west the Lake Garda (
Lago di Garda
).
Drive to the nearby valley
Valpolicella
, famous for its renowned Amarone, Recioto and valpolicella wines as well as for its ancient villas.
Lake Garda
can be easily reached from Verona for a day trip. Buses run by APTV (the regional bus company) leave from Porta Nuova - catch a
62-64 bus
in the morning from the railway station or from Corso Porta Nuova (the boulevard just south of Piazza Bra). It takes about 2-3 hours, depending on lakeside traffic (which can be heavy), to reach pretty towns of
Malcesine
or Torbole. Get a timetable (
orari
) from the tourist office or from
APTV transport website
(Lake Garda is in Zone C). Tickets can be bought from the tobacco shop down the road or on the bus. Lake Garda has its own theme park, Gardaland, with accommodation.
Other centres easily done as a day-trip by rail from Verona include
Vicenza
,
Padova
,
Mantova
and of course the big draw
Venice
.