Veszprém
Veszprém
(German: Weißbrunn, Slovene: Belomost) is one of
Hungary
's oldest cities, in the
Transdanubia
region. In 1009, it became Hungary's first episcopal seat.
Understand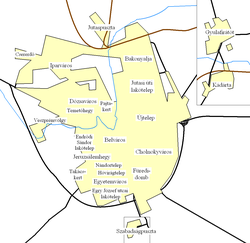 It lies approximately 15 km (9 mi) north of the Lake Balaton. It is the administrative center of the county (comitatus or 'megye') of the same name.
City ​​districts
Belváros, Dózsaváros, Jeruzsálemhegy, Egyetemváros, Füredidomb, Cholnokyváros, Újtelep, Jutasi úti lakótelep, Bakonyalja, Jutaspuszta, Szabadságpuszta, Iparváros, Gyulafirátót, Kádárta.
Further territorial units: Veszprémvölgy, Reptér, Csatár
Get in
By bus
phone: +36 88 590751, +36 88 590750

address: Jutasi utca 4

Pápa (hourly, one to one and half hour), Budapest (hourly, two hours) via Várpalota, Székesfehérvár (one hour), Balatonfüred (5 per day, ~1½ hours), Sopron (daily), Nagykanizsa (daily five) via Siófok and Fonyód. Luggage storage: M-Sa 06:00-17:35, Su and public holidays) 06:00-16:35, luggage storage fee: Ft 170 per hour.
By train
Train Station

address: Jutasi út

Direct trains to/from Székesfehérvár via Várpalota (East), Szombathely via Ajka, Sárvár (West), Győr via Zirc, Pannonhalma (north, the Cuha Valley Section is very nice).
By car
From Budapest take the M7 motorway, to Székesfehérvár then turning to #8 Main road. From Győr take main road #82, from
Graz
, Körmend main road #8, from Balatonfüred take main road #73. Tapolca can be approached from a main road #77.
Get around
phone: +36 88 404548

address: Óváros tér 2.

Infos about transport, sights, programs, events, accommodation, gastronomy. Free brochures, maps, E-Brochures. Gift shop.
Public transport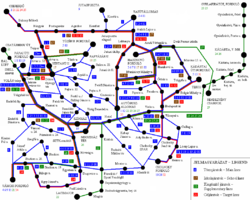 Veszprém public transport solved by a dense bus network,
details
,
Balaton Volan, interactiv map
.
1 Bus Station - Papal Road round (05:10-18:10)
2 Railway Station - Downtown - Railway Station (05:04-21:35)
3 Haskovo turns - Csererdő (05:00 to 22:12)
4 Railway Station-Downtown - Vámosi Road turns (04:00 to 22:05)
5 Kádártai út – Tüzér u. (05:02–21:56)
6 Haszkovó turn – Vámosi út (04:58–22:30)
7 Haszkovó turn–downtown- Cholnokyváros - Haszkovó turn (05:15–22:05)
8 Haszkovó turn – Pápai út/Csatárhegyi út (05:21–17:53)
10 Cholnoky turn - Papal út (05:10 to 22:10, only on weekdays, especially in the morning)
11 Railway Station –Cholnokyváros- Vámosi út (05:15–21:50)
12 Bus station - Buhim Valley - Bus Station (07:00–16:00, weekdays only)
13 Kádártai – Dózsaváros - Kádártai út (05:08–20:18)
22 Bus station - Laci major (Veszprém-Szabadságpuszta) (05:10-22:30)
23 Bus station - Kádárta-Gyulafirátót, turn (04:35 to 22:25)
24 Bus station - Kádárta, railway stop (06:50 to 07:25, weekdays only )
32, 34 Cholnoky turn - Csererdő (05:10 to 22:10, during the holidays Cholnoky - Valeo)
35 Bus Station - Csererdő (05:15 to 22:10, weekdays only)
Some other lines runs only on special occasions.
See
Castle district
Churches
Museums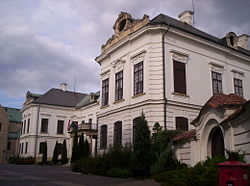 Monuments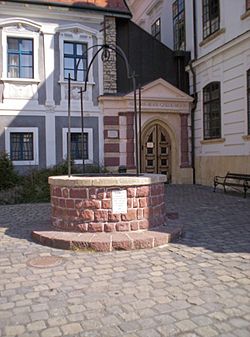 Other areas
Churches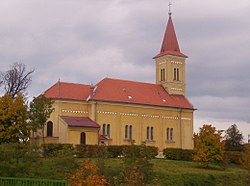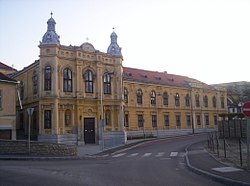 Museums
"Bakony House", ethnographical museum

address: Erzsébet sétány 3.

A branch unit of Veszprém County Museum. - Open air museum. The House was constructed in 1935. Three exhibit rooms.

phone: +36 88 426 081, +36 88 788191

address: Erzsébet sétány 1
Monuments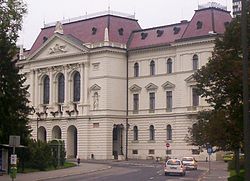 phone: +36 88 549100, +36 88 549210

address: Óváros tér 9

address: Óváros tér 3

A 18th century house with the Rococo garret-roofed house

phone: +36 88 564-136

address: Belváros, Megyeház tér 1

Protected monument building Built on site of the former Salt House, in 1885-1887. The ground floor cuboid building stone carved pilasters imitation, on the upstairs are Giant order half columns and pilasters decorated with statues by Joseph Rona.

The former Lord Lieutenant's Residence

address: Megyeház tér 3

Today the Veszprém County Employment Center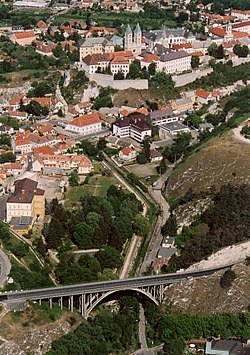 address: Veszprémvölgyi út and Kittenberger Kálmán utca

Commonly known as the Viaduct. Hungary's first and one of the largest and most beautiful arched viaduct, symbol of the city. Designer: Robert Folly

address: Dózsaváros, Margit tér

Locals called called Margaret ruins. Formerly: St. Catherine Dominican Nunnery ruins. Bertalan, bishop of Veszprém was founded in 1240. From 1246 to 1252 St. Margaret, the daughter of IV. Bela King was a resident of the monastery before to the Island of Rabbits (present-day Margaret Island, Budapest) have been moved.

address: Budapest út 1

Meggyesi Mansion

address: Budapest út 3

Art Nouveau buildings of the Old Town Square

address: Óváros tér

#7 banking house; #26 office and shop; #8, 19, 20, 22, 25 office buildings; #24 office buildings (OTP Bank); #1, 2, 4, 5, 6 residential buildings; #3 Posa-house; #9 Town Hall

The renovated City center and inner courtyards

phone: +36 88 887 200

address: Török Ignác utca 1.

Bridge of Fejesvölgy

address: Fejesvölgy u.
Further afield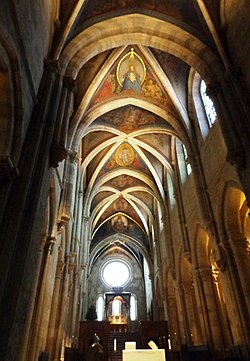 PannonhalmaBenedictine Archabbey (Márton-hegyi Apátság, part of the World Heritage list. Sights: the Basilica and the Crypt, the Library, the Millennium Monument, the Arboretum (Botanical Garden) and Herbal Garden, the Porta Speciosa and the Cloisters, the Baroque Refectory, Our Lady Chapel, Collections. Open late Mar–Apr: Tu-Su cash-desk 09:00–16:00; May: daily cash-desk 09:00–16:00; Jun-Sep: daily 09:00–17:00; Oct-early Nov: Tu-Su 09:00–16:00; mid-Nov-Mar: Tu-Su cash-desk 10:00–15:00. Visitors are asked to leave the building in 1½ hours after the closure of the cash-desk. Tickets: Full price/reduced Ft 2000/1000 with audio guide, Full price/reduced Ft 2500/1500 including tour in foreign languages Organ Concerts: 2000 p.p. full price/reduced Ft 2500/1500 to the Botanical Garden including tour. Guided tour with tasting Benedictine herbal chocolate/liqueur (1 snifter/3 snifters) Ft 1700/1500/2500). Főbíró House (Petöfi Sándor utca, 9); Holocaust Memorial and Synagogue (Szabadság Square, 1880s); Klement Krizosztom memorial stone (Dózsa György utca 1); Granary (at the beginning of Mátyás király utca, 1800s); Majorsági buildings (Mátyás király utca 1, partly built in 1650), Roman Catholic Church (Váralja 1 / a, Found in 6th century, remodeled in 1734 and 1880, the final shape and style in 1960); St. Stephen's relief (Petofi Sandor utca 61, 1896); Formerly convent of Saint-Vincent (Szabadság tér, 21. 18th century, Baroque building ), Cemetery (Rák utca, founded in 1759); City Hall (former village hall, Dózsa utca 10, Secession, 1910s. To Do: take a tour in the Pannonhalom Protected Area (7042 ha)- Tourinform Office (comprehensive tourist information. Address: Váralja u. 3., Tel./fax:+36 96 960 072, E-mail: pannonhalma@tourinform.hu Sep to May: M-F 09:00-17:00, Jun-Aug: M-F 09:00-17:00, Sa 10:00-15:00).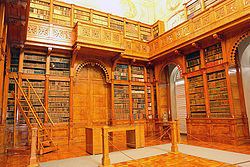 ZircAgricultural Engineering Collection (Szabadság u. 10. Tel: +36 88 595-000, 595-010, E-mail: iskola@rszi-zirc.hu, Open: Sep-Jun: M-F 07:00-14:00, the afternoon and on weekends by prior arrangement, Admission: free); Arboretum of Zirc (Damjanich u. 19, Tel:+36 88 414-569,+36 87/555-291, bfnp@bfnp.kvvm.hu Open from May-Aug: 09:00-19:00, Sep-Nov and Mar-Apr: 09:00-17:00, also open on Monday, closed Nov-Mar, other days by appointment (min.15 people), Professional guidance: Ft 4500/group, Admission: Adults Ft 600 student, teacher, retired Ft 500); Hungarian Natural History Museum, Natural History Museum of Bakony (Rákóczi tér 1, Tel:+36 88 575300, Fax:+36 88 575301, E-mail:btmz@bakonymuseum.koznet.hu, Open: from 15 Mar to 14 Nov: Tu-Su 09:00-17:00; 15 Nov to 14 March: Tu-Su 10:00-16:00, closed on Mondays. Admission adults Ft 500, students, teachers Ft 250); Zirc Cistercian Abbey Visitor Centre (Rákóczi tér 1, Tel:+36 88 593675, E-mail: zirc@ocist.hu, turizmus@ocist.hu, Open May-Oct: Tu-Sa 09:00-12:00 and 13:30-17:00, Su and Holidays: 12:00-17:00 (closed on Mondays). Entrance fees: Church History Exhibition/Abbey church with the Ruin garden/Church History Exhibition and the Abbey with Ruins garden: adult Ft 1200/500/1500, youth (6-18 years) Ft 800/300/900, senior citizens (62 years) Ft 800/300/900, photo ticket- without flash only for private use Ft 300/300/300 ); Reguly Antal Museum and Folk Art House (Rákóczi tér 10. Tel:+36 88 415-422, E-mail: regulymuzeum@invitel.hu, Open: M-Sa 09:00-17:00, Su 10:00-12:00 and 14:00-16:00. Admission: adults Ft 300, students, pensioners, teachers Ft 150; Guidance Ft 1000/group, available by appointment); Reguly Antal Museum Library part of the National Széchenyi Library (Rákóczi tér 1., 65,000 volumes, is an extremely valuable incunabula, rare books and periodicals. Special artistic value furniture. Tel: +36 88 593-800, fax: +36 88 593-801, E-mail: gnemeth@oszk.hu, info.reguly@oszk.hu, Open from Mar 14-Apr 14: Tu-Su 09:00-12:00 and 13:00-17:00, Nov 15-Mar 14: Tu-F 10:00-12:00 and 13:00-16:00. Admission: adults Ft 500, students, retired Ft 250 ). Other attractions: Gothic pillar Stack+ Baroque statue of St. Emeric (Köztársaság út 2), Baroque church (I. András tér. Tel.: +36 88 593-675, can be visited by prior arrangement). Zirc's Area nature trails, natural values​​: Hosszúrét Leisure Park (Zirc, sports courts and horse track) Pinter-Mountain Nature Trail (Zirc, Tel.+36 88 591510). The Arboretum's nature trails, with a new playground, (Zirc). Eperkés Mountain Nature Trail (Located: Olaszfalu. Tel. +36 88 777-927, Area: 82 ha, circa. 4.5 km long and about 150 m altitude difference, information boards help you to find ); Alsópere-wilderness Arboretum (Alsópere, near the Park hotel). Szarvaskút: a source, where the water potable and cool. Pénzesgyőr: Szömörke Valley, Judith source, Altar Stone. Bakonyszentlászló: Devil meadow. Dudar: alpine cliff caves, fossil sites, Devil's Hole. Bakonynána: Gaja gorge, Roman bath, caves. Gézaháza: devil and stone ditch. Borzavár: Kőris Mount Lookout (709 m a.s.l.). Eplény: Amos Mountain Vacation Forest and Nature Trail (+36 88 591510). Csesznek: rock-climbing escarpment, Kőmosó gorge with caves. Bakonyszentkirály: János Bottyán source. Porva - Csesznek - Vinye: Cuha Creek Valley Nature Trail (Győr-Veszprém Railway Line#11). Porva: Szépalmapuszta Arboretum (+36 88 468888)
Do
phone: +36 88 424011

address: Komakút tér 3

Services: National Audiovisual Archives (NAVA)-point, using the American Corner, using the British Council English Language Resource Center, using a reading machine for the blind and visually impaired computer use +phones=+36 88 560610, +36 88 560620
Climbing, walking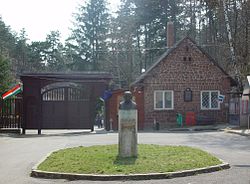 Elizabeth Grove

address: Erzsébet-liget

Walk up to the former Calvary Hill and see the

Gulya HillA great viewpoint. Easy walk from the City center

St. Benedict HillA great viewpoint

Kittenberger Kalman Plants and Wildlife Park

phone: +36-88-566-140

address: Kittenberger K. u.15
Cycling
There is a new cycling route runs from the beginning of the main road # 73 until the city center. Also good place for cycling around the Gulya Hill
Fitness and Wellness
phone: +36 88 785 540

address: Lahner György. út. 4/1

Services: Aqua Pad, Aqua Fitness, squash, gym, sauna park, Colonia Bath, 'ViziMano' Baby swimming, massage, solarium, Maugli Playhouse, Colonia Cafe, MMA Combat Sports.
Theaters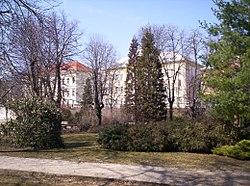 phone: +36 88 688503, +36 88 688500

address: Külső-kádártai út

Built in 2007-2008, based on the adapted plans of Zlatorog Arena (Celje, Slovenia). Cost: around €16 million. Hungary's second largest country sports and event hall. The arena is able to host any sort of sporting or cultural events, such as basketball or volleyball matches, martial arts shows, concerts, exhibitions and conferences. It also has a separated lounge, that is capable alone to organize smaller events, be it a party night or a wedding. The entire area of the hall is accessible for the disabled.

Sed Cinema (Pannon Theatre)Programs: musicals, classical and lighter musicals, lectures

phone: +36 88 564220

address: Óvári Ferenc utca 2

Stephen Medgyaszay designed, in Art Nouveau style. This theatre was the first reinforced concrete structure theater in the country. It was built in 1908. Reconstructed in 1984-1988. Listed Monument. +phones=+36 88 564230, +36 88 564240

phone: +36 88 422 440

address: Iskola utca. 2

A branch unit of the Petőfi Theatre

phone: +36 88 590150

address: Dózsa György út 2. ( volt Dimitrov)

Moved to a new place: Community Centre and Library Veszprem +email= info@vmkveszprem.hu
Events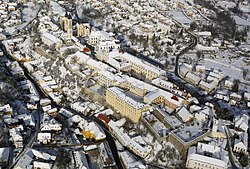 Veszprémfest, cultural event
Gizella Days Festival (Gizella-napok Művészeti Fesztivál), located: Community Centre. Date: May
Veszprém Summer Festival, part of it the Vivace International Choir Festival, located: mostly the Community Centre. Date: 1st half of Aug
Veszprem Gala Games Festival (Veszprémi Ünnepi Játékok), concerts in the Castle. Date: Aug
Street Music Festival (Utcazene Fesztivál). Amateur artists. Several days long.
"Spring Games" (Tavaszi Játékok) International Children's - Youth and Sports and Arts Festival
Veszprém Beer Festival (Sörfesztivál) - end of Jun/early Jul
Veszprém Spring Festival (Veszprémi Tavaszi Fesztivál)
Festival of Dance (A Tánc Fesztiválja), National and International Contemporary-Art Meeting (organized by the Pannon Theatre)
Veszprém Spring Festival (Veszprémi Tavaszi Fesztivál)
Kabóciádé Children's Festival (Kabóciádé Gyermekfesztivál)
Cell-Cup International Handball and Cultural Festival (Cell-Cup Nemzetközi Kézilabda és Kulturális Fesztivál)
Camera Hungaria Television Festival Program (Kamera Hungária Televíziós Műsorfesztivál)
Pannonfíling Film Festival (Pannonfíling Filmfesztivál),
"Veszprem Games - Children's Island" (Veszprémi Játékok - Gyerek Sziget), International Children's - Youth and Art Festival
English-Language Drama Festival (Angol Nyelvű Drámafesztivál)
Ars Sacra Festival (Ars Sacra Fesztivál) - Sept
Buy
Shopping centres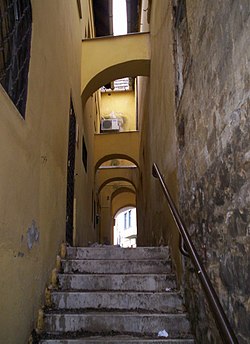 Supermarkets
Markets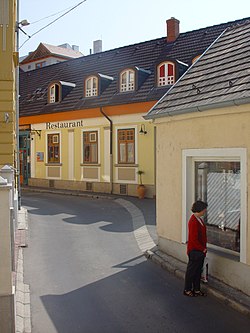 address: Kossuth utca

Mainly the seasonal products available, which are produced in the period just Veszprém County.

phone: +36 88 427 744

address: Jutasi út 2

Industrial goods sales market on Tuesdays and Fridays parking lot next to the Market Hall.

Flea market

phone: +36 30 5448538

address: at the corner of Házgyári út ~No.8-10
Shops
Antique shop
Antique Herend Porcelain Store

phone: +36 88 327-643

address: Buhim u. 1

phone: +36 70 3602117

address: Óváros tér 26

Furniture; silver, gold; weapons; graphic art; musical instruments; real estate; ceramics; stone artifacts, garden ornaments, lamps and chandeliers; ethnography; clocks; watches; porcelain and glass; sculpture; textiles, carpets, upholstery. +phone=+36 20 9463359

Patina Antique Shop

phone: +36 88 412057

address: Kossuth Lajos utca 1
Antique book shop
Kiss Downtown Antique Book Shop

phone: +36 30 3847-852

address: Kossuth u. 6.

used book trade

Utas Antique Book Shop

phone: +36 30 421 4826

address: Szabadság tér 13

Used book and record trading
Gifts
phone: +36 20 2353280

address: Szeglethy József utca, 1

On the ground floor. Tokaji artisan wines and sweets specialties offering.

phone: +36 88 329640

address: Szabadság tér 12
Eat
Drink
address: Szabadság tér 14

Hungarian cuisine.
Cafes
Marica Music Café

phone: +36 88 788 314

address: Kossuth Lajos utca, 5

phone: +36 88 560 050

address: Március 15. utca 3

Hungarian traditional cakes. Modern, healthy, light, cooked creamy and fruit cakes, pies. A wide selection of home-made ice creams. Other unit: Kossuth Lajos u.8. (Downtown pedestrian street.)
Sleep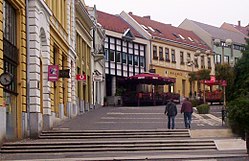 Budget
Malomvölgy Education and Recreation Centre

phone: +36 87 799-005

address: 8227 Felsőörs, Hóvirág u. 28.

Pannon University, Central College

phone: +36 20 5151375

address: Egyetem u. 12.

Open Jul-Aug.
Mid-range
Splurge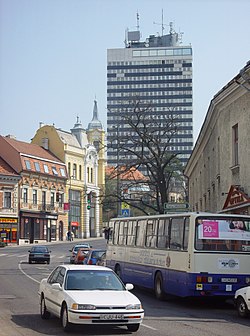 Connect
phone: +36 88 424455

address: Kossuth Lajos utca 19
Go next