Vianden
One of
Luxembourg
's main tourist attractions,
Vianden
is a delightful historic town with a stunningly restored medieval castle, spectacularly situated on a rock high above town. Think charming cobblestoned streets with typically pastel-coloured Luxembourg mansions and a gorgeous
Our
valley backdrop. Vianden is a traveller's favourite and although high season will bring in some crowds, it's a most pleasant little town with a restaurant at every corner and all the fairytale atmosphere you could ask for. Coming here, you'll follow in the footsteps of countless celebrities, famously going back to Victor Hugo, who repeatedly spent time here.
Understand
History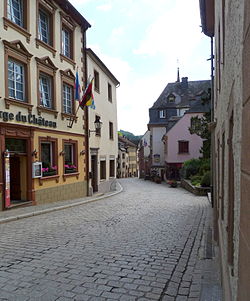 Vianden's history goes far back, with a Gallo-Roma castellum preceding the current castle. The earliest documented mentions of the town, then called
Viennensis
, date from the end of the 7th century. Building of the castle began in the 11th century and Vianden soon became the seat of the counts of Vianden, but the city gained its charter only in 1308. The town flourished in the Middle Ages, when it was known for its craftsmen, and later on for its leather works. The last leather tannery closed in the 1950s.
The power of the counts of Vianden was at its peak in the 13th century, and so was the grandeur of their castle. A Renaissance-style structure was added to the castle in the 17th century, but over time the state of the fort diminished with the stature of its lords. As Luxembourg fell under Dutch rule, the town became of little consequence, with earthquakes and a fire further damaging its castle. Things worsened when William I of the Netherlands, uninterested in Vianden and its castle, eventually sold the premises to a local merchant, who in turn sold off its interior piecemeal, leaving the place in ruins. There were several largely unfruitful attempts at restoration, but it was only in the late 1970s that serious repairs took place and the castle was returned to its former glory. For anyone who's interested in the town's history, a visit to the castle is a must-do, as it provides a wealth of information on the matter.
Vianden today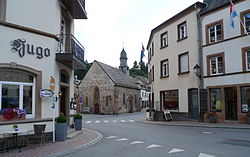 The revival of the castle immediately turned Vianden into a major tourist destination in the region. With its winding roads and rolling hills, the area around town is particularly popular among motorcyclists, who are welcomed by local establishments for the business they bring. On sunny summer afternoons the town can get a bit crowded and noisy because of the many motorbikes and visitors, but early risers will find a peaceful village even in high season.
phone: +352 83 42571

address: 1A, rue du Vieux Marché

The tourist office has information on all the sights in and around Vianden, and it can arrange guided tours and make reservations for hotels or the adventure park. It can also provide information on hiking routes starting in Vianden.
Get in
By car or motorcycle
Most people come here by
car
or motorcycle. It's a 50 minute drive from Luxembourg city via the
N17
, with a scenic final approach. Most parking in the village is paid and has a time limit of 3 hours. Your best parking options are near the castle, or immediately left before you enter the village. Some hotels offer basement private parking for motorcycles.
Parking spaces are limited, so during the high season in summer, parking could be challenging.
By bus
To get here by public transport, e.g. from
Luxembourg (city)
, take a
train
to
Ettelbruck
, and then catch the
570 bus
at the bus station adjoining the train station. It runs twice per hour on weekdays, but less frequently on weekends, and also stops in
Diekirch
. The bus trip takes about 35 minutes, or 20min from Diekirch. Vianden is the second to last stop on the route – ask the driver if unsure. From Luxembourg city, the entire trip takes about an hour and costs just €4 for a return ticket including the bus.
There are also two buses to and from
Clervaux
in the morning, and another two in the afternoon (
line 663
, takes about half an hour). In season, a bus from the German city of
Bitburg
runs to Vianden as well.
By plane
The nearest major
airport
is
Luxembourg Findel Airport
. Alternatively, try
Frankfurt-Hahn Airport
, which is about 120 km from Vianden.
Get around
The town itself is small and just walking down the Rue Grande (which does have some vehicular traffic) is a must do. The castle is situated on a rock some 300 m above the town centre. You can drive a good part up the hill and park there, go up by foot, or walk down from the télésiège stop.
The télésiège leads from the river side to a restaurant stop even higher than the castle, providing some lovely views over town. From there, it's a 15min downhill walk through the forest to the castle; the path is fairly rough and steep, so a reasonable level of fitness and appropriate footwear are required. The télésiège provides return tickets, but if you want to see the castle in one go, you will need to walk the path back up. In that case, buying a single ticket up and strolling down the hill from the castle to town is at least as convenient.
Alternatively, in summer, there's a little tourist train that runs through town and up to the castle, offering a convenient way to reach the castle for elderly or less mobile visitors, or another fun activity for kids. Its ticket office is near the bridge over the Our.

See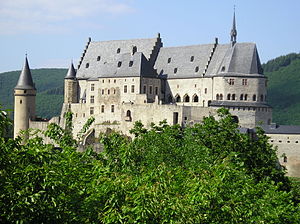 The town's
Grand-Rue
is as much its functional main street as it is an attraction, with its cobblestoned course and centuries-old buildings on both sides. Most buildings remain in use, as hotels, restaurants of residential houses. Particularly picturesque is the
Place de la Resistance
, along the main street, where you'll find the town hall and a small fountain.
phone: +352 83-41081

There's no way to miss the grand castle of Vianden, overlooking and dominating the little town beneath it. It was impressively restored in 1977 and has been a real visitor's magnet ever since. A route leads visitors through 20 different historic castle rooms, after passing the modern entrance and soon to be opened visitors centre. Some of the rooms (including the kitchen) have been fully refurbished, in order to give a real peek into life as it would have been in the castle in the middle ages. Others have been restored but leave more to the imagination, including the upper chapel, the impressive Knight's hall and the beautiful Byzantine Gallery. There's an arms room and a genealogy room, where the family history of the castle masters is explained. In short, take your time to wander through these ancient halls. It's a fine trip for adults and children alike.

phone: +352 26-874088

address: 37, rue de la Gare

During his 19 years of exile from France, Victor Hugo stayed in Vianden a few times, most notably for 3 months in 1871. He left behind a painting of the castle ruins as they were at the time and reportedly got the castle architect fired as he thought his work to be insufficient. The Maison Victor Hugo is a small museum displaying some original works (manuscripts and drawings) as well as the original rooms with furniture as the famous visitor has used it. From the museum windows, there's a lovely view of the castle. Audio guides are available in English, French, Dutch and German.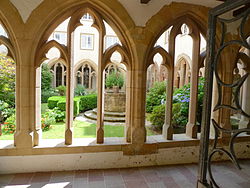 Trinitarian church and cloister

phone: +352 26-950566

address: Grand-Rue

This old church of the Trinitarians is an excellent example of Gothic architecture in the country. It was built as early as 1248, with the large choir originating in 1644. The main Rococo-style altar was created by Michel Weiler in 1758. Adjoining is a small former cloister, from the same 13th century origin. Don't miss a peek in its wonderfully tranquil courtyard. The entrance is a simple door on the side of the building, in the alley between hotel Heintz and the church. Note the late 13th century effigy of Marie de Spanheim.

City rampartsIn the Middle Ages, Vianden was a fully fortified town, surrounded by city walls with 24 half-round towers and five gates. Most of those ramparts are now gone, taken down by Marechal de Bouffiers in 1679. A few restored ruins and a bell tower remain, however. Take a quick detour via the small stairway between Grand Rue numbers 58 and 60. It will lead you to the 1603 belfry and some nice views over the village.

Stadtmuseum

phone: +352 83-4591

address: 96-98 Grand-Rue

A charmingly small museum, housed in two adjoining buildings on the main street. One of the buildings still has its 19th century interiors, while the other serves as a bakery museum, with part of the décor of the 1950s bakery that was housed here on display. The house that now has the bakery museum, was once the home of famous poet Edmond de la Fontaine, famous under his pen-name Dicks. A tablet on the façade reminds of the buildings famous former inhabitant. All the text in the museum is in German, but there's an English translation text available on request. The entrance ticket also gives free access to the copper mine museum in Stolzembourg, about 6 km out of Vianden.

Vianden Pumped Storage Plant

phone: +352 84-90311

If you have a taste for major industrial sights or large water basins, and would like to get away from the crowds, hike a few kilometres up along the river Our, until you reach the Pumped Storage Plant. It has two large reservoirs and was recently expanded. The total reservoir capacity is about 10,800,000m³, making it the largest hydro-electric power plant in Europe. It has a visitors' centre, which allows a peek into its underground power plant. It's a pleasant walk, along the water, but uphill.
Do
TélésiègeTake the 11min chairlift ride up for a scenic view over town or to spare you a fairly steep hike. To get to the start, follow the Grand-Rue down, cross the river and go left. Follow that street and you'll find it after about 500 m. If you only want to go one way, for logistic convenience it's best to take the lift up and stroll down to the castle and then back to the village. In terms of the view, however, going down it's easier to look around and take pictures. Note that as you go upwards and get close to the exit point, a picture is taken of you, with the Our valley and the town as a backdrop. You can buy a copy for €6.50 as you get out.

Indian Forest Adventure Park

phone: +352 83-42571

Near the castle, the park can be reached either on foot (there are clear signs near the path to the castle, best to park your car at the castle parking) or by taking the chairlift and walking downhill (about 15min). They offer about 60 different climbing routes and courses at different difficulty levels, allowing beginners and children and advanced climbers alike to have a go. It's not just a climbing wall, but rather adventure routes including different kinds of obstacle courses, typically a few metres off the ground. Of course, all participants are secured. Reservations are usually required, especially in high-season. English-language instruction/introduction is available, but limited, so it's best to call well ahead.

Swimming pool

phone: +352 83 45 32

address: rue du Sanatorium

Dive into the heated, 65 m long outdoor swimming pool. This bath with Olympic measures has a slide and is open from the end of May to the beginning of September.
Catch a movie at the Ancien Cinema (see the Drink section for details). It shows a variety of movies and houses a number of books on various aspects of the film industry.
As in all Luxembourg regions, there are great hiking opportunities all around. Taking the chairlift up, the crowds will go left to find their way down to the castle. Go right, however, and you'll walk straight into the forest with plenty of walking trails going on from there.

Nut marketIf you happen to be here the second Sunday in October, you'll be able to join in the charming local nut festival. The Vianden region has a long history of nut productions, most notable walnuts, and this annual festival is a celebration of that tradition. The streets of the village fill with music, lots of walnuts and anything you can make using nuts, from liquor to candy and cheese.
Buy
Vianden is a village and for any major shopping you'll need to head out to larger towns in the region, e.g.
Diekirch
. However, there is a pharmacy and a few small shops to supply travellers' basics like local delicacies, candy, drinks and souvenirs. The castle also has a small gift shop offering the usual tourist souvenirs with images of Vianden castle and Luxembourg as a whole. Remarkably, there's a model car shop in town.
ATM's
can be found on the main street.
Boulangerie-Patisserie Au croissant d'or

address: 31 Grand-Rue

Good for self-caterers or those who want to pack a lunch. It sells sandwiches, drinks and lush sweet pastries, as well as the usual breads. It can also serve as a cheap lunch of breakfast spot and has a few plastic chairs to sit.

Saveurs des Ardennes Delicatessen Shop

phone: +352 834675

address: 35, rue de la Gare

The shop window of this place has a mouth-watering effect on meat-lovers, as it show a fine collection of regional delicacies, in particular all kinds of fresh and cured meats. They also sell some good wines and liquors. It's located next to the bridge, in the same building as the Auberge de l'Our . If you really can't wait, they're happy to serve you a platter on its terrace.

Pharmacie de Vianden

phone: +352 834614

address: 27 Rue de la Gare

The pharmacy is housed in a 1475 towered building, once a mansion for Vianden's nobility.

Modell Auto Shop "Den Dinky"

phone: +352 834095

address: 29, rue du Sanatorium
Eat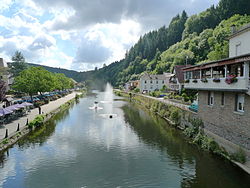 Virtually every non-residence building in Vianden, mostly along the Grand-Rue, is some kind of hotel or restaurant, and places to eat are all around. Prices and cuisines vary wildly; you can find everything from €5-7/meal snack bars (hamburgers, chicken patties, fries, etc.) to restaurants serving traditional French and/or German cuisine (€30+). You can also find pizza, pasta, Chinese food, and all manner of desserts.
Some of the best places to eat belong to hotels, with pretty much all catering to guests who are not staying in the hotel as well as those who are.
Note that restaurants tend to close early or even entirely in winter. If you find yourself all out of options, try the snack bar near the tourist office.
Lajolla Lounge (under Auberge de L'Our)

address: 35, rue de la Gare

Without doubt one of the nicest terraces in town, right on the waterfront and under street level, so away from the cars. The menu is rather extensive. The service is not too attentive or fast, but still, this is a nice spot for lunch or dinner. The rack of lamb is especially good.

Le Châtelain

address: 126 Grand-Rue

Part of the Hôtel Oranienburg, this place next to the castle is one of the best restaurants in town. In the restaurant you'll be served from the fine dining menu, while on the outdoor terrace you can pick some simpler dishes from the "brasserie" menu. It is nonetheless possible to order restaurant dishes on the terrace, on request.

Petit restaurant Bistro City Corner

address: 1 Rue du Vieux Marche

Family-run place near the river with a nice outdoor terrace. It gets somewhat mixed but overall positive reviews. Expect simple, bistro-style food. In terms of budget, this is one of the cheaper options in town. Think fried eggs and hamburgers for breakfast and lunch, or schnitzels, ribs or fried fish for dinner.

phone: +352 834061

address: 1 Grand-Rue

All the way down at the river, this place offers nice views over the water. It's run by a Dutch owner and as many of the guests are Dutch, so are some of the options on the menu. They whip up a pretty good schnitzel too.
Drink
Most restaurants have nice outdoor terraces and you'll be welcome for a drink virtually everywhere. This isn't really a town for late nights out or clubbing, but several places double as a pub, staying open after dinner time. Hotel establishments in particular offer after dinner opportunities as they have to be open for guests anyway.
phone: +352 26-874532

address: 23 Grand-Rue

A bar with a cultural touch, where a fun, old-school jazzy atmosphere meets live concerts of all kinds, cultural film screenings and a range of other activities.

Buvette du TélésiègeThis establishment high up the hill awaits you with beer, coffee and other drinks as you get out of the télésiège. Its terrace offers some stunning views. They also serve some small, mostly sweet dishes to go with your drink.
Sleep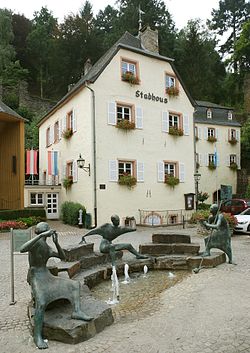 There's an abundance of hotels around. They're not particularly expensive for European standards, but if you're travelling on a budget, the Youth Hostel dorms are the cheapest option in town. Alternatively, consider bringing your tent and going camping. The hotels are all in the mid range.
phone: +352 834505

address: 2 route de Bettel, Vianden

This camp site has plenty of facilities, including for kids. It's at walking distance for the village and has a heated pool, animation activities and good sanitary facilities.

phone: +352 26-276-6800

address: Conny Gengler 3, montée du Château

Part of the Luxembourg Youth Hostels chain, this place has decent dorms and a few private rooms. There's a small common area and an extra lounge in the basement. Both breakfast only and full board are available. It's located in an old mansion not far from the castle. Rooms were renovated in 2004.

phone: +352 83 41 55

address: 55, Grand Rue

The service is great in this well-maintained, family-run hotel. It's a quaint little place with about 30 good rooms. The ones on the south side of the building have little balconies. The back garden terrace is very pleasant and although there's no restaurant, they serve drinks for guests and a good breakfast in the morning. Note that the hotel closes in low season, between November and April. Private parking costs €7 for a day.

phone: +352 83 41 27

address: 3, Rue de la Gare

A modern, eco-friendly and attractive hotel with facilities including a nice pool, free sauna and free parking. Rooms are good value for money with a choice between standard 3 star rooms and 4 star ones with balconies.

phone: +352 834368

address: 114 Grand-Rue

In a 300+ year old building on the main street, this characteristic hotel has modern rooms and plenty of charm. The old walls are thin so bring some earplugs if you're a light sleeper, but otherwise this is great place. The downstairs restaurant serves fine meats grilled over open fire.

Hotel Oranienburg

phone: +352 83 41 53-1

address: 126 Grand-Rue

This hotel is a short walk from the path to the castle. It does not have its own parking, but overnight parking is allowed a short walk up the hill in the public parking area for the castle.

phone: +352 83 41 22

address: 15, Rue de la Gare Vianden

Eco-friendly, 3-star hotel with a good restaurant and services including bike rental and private parking. Guests can make use of several facilities in the neighbouring Belle Vue hotel, including its pool and wellness area.

phone: +352 834170

address: 6, Rue De La Gare

Just away from the crowds, not far from the starting point of the télésiège, this place offers friendly service and spacious, even when a tiny bit outdated, rooms. There's no elevator, but there's free parking around.

phone: +352 83 41 60-1

address: 1, Rue Victor Hugo,

It doesn't get more central than this – the hotel is right on the riverside and rooms in the front have excellent views. Consider, however, that they also get the noise of the street at night. Guests can use some of the facilities of the nearby Hotel Belle Vue.

Hotel Belvedere

phone: +352 2687 4244

address: 4, Route de Diekirch

Marketed as a 4-star hotel, this place has facilities including a sauna, Turkish bath and solarium. It's a bit outdated in terms of bathrooms and TVs, and perhaps not all you might expect from a 4-star accommodation, but it's a good 3-star in any case. It has only 16 rooms, an excellent restaurant (although also up-scale in price) and a very nice terrace with views of the castle. Some rooms have views of the castle as well and the hotel is wheelchair accessible.
Connect
Many hotels offer free Wi-Fi for guests, but the connections are not always stable and sometimes slow. Mobile 3G works fairly well.
Post Office

phone: +352 83-413121

address: 27 Grand-Rue

The post office is easy to find, right on the main street.
Go next
As the country is so small, any Luxembourg destination can serve as your next stop, as they are never more than 2 hours away.