Vicksburg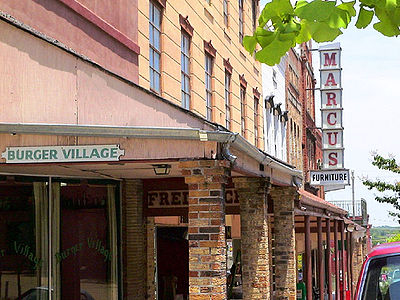 Vicksburg
is a city in Warren County,
Mississippi
,
United States
. It is located 234 miles (377 km) northwest of
New Orleans
on the
Mississippi
and Yazoo rivers, and 40 miles (65 km) due west of Jackson, the state capital. Vicksburg is considered a cultural landmark in the American South and is home to the Southern Cultural Heritage Center, Vicksburg Military Park, and (opening soon) the Lower Mississippi River Museum.
Understand
The area which is now Vicksburg was previously part of the Natchez Native Americans' territory. The first Europeans who settled the area were French colonists, who built Fort-Saint-Pierre in 1719 on the high bluffs overlooking the Yazoo River at present-day Redwood. In 1790 the Spanish founded a military outpost on the site, which they called Fort Nogales (nogales meaning "walnut trees"). When the Americans took possession in 1798, they changed the name to Walnut Hills. A sprawling community developed which officially incorporated in 1825 as Vicksburg. It was named after Newitt Vick, a Methodist minister. Vicksburg experienced rapid growth during the expansion of the cotton trade in the American South. Cotton was grown most profitably in the Mississippi Delta region. Vicksburg sits at the southern most tip of the Mississippi Delta, and served as a production and commerce hub for the cotton industry. In the decades leading up to the American Civil War, Vicksburg became very affluent from the large number of Delta planters and merchants making considerable profits selling cotton to European and North American textile producers.
Vicksburg
is most famous as the location of a 47 day siege during the
American Civil War
(May 18 – July 4, 1863). After federal naval forces on the
Mississippi River
made several attempts at passing the rebel batteries at Vicksburg, Ulysses S. Grant led the federal army on a campaign to put the Confederate garrison at Vicksburg to siege. The people of Vicksburg dug caves into the hillsides to survive the bombardment. The legacy of the siege lives through much of Vicksburg's art, museum exhibits and traditions.
Vicksburg
was instrumental in the growth and propagation of American Blues music which is native to
Mississippi
. Blues evolved primarily in the Mississippi Delta region from the musical traditions of African-American slaves before the American Civil War. Vicksburg served as a central hub for musicians to perform for merchants and travelers in the music halls and "juke joints" near the river port at Vicksburg.
Today
Vicksburg
remains distinct as a place where travelers can experience the legacy and traditions of the American South in a quaint city overlooking the Mississippi River. The people of Vicksburg are very hospitable and love to pass down stories from generations past that will bring history to life. The pace of life remains much slower than in many other places in the United States. There are many activities in Vicksburg from cultural and historical venues, as well as historic Washington Street full of restaurants and consignment shops of antiques. Be sure to get out of the car and explore - Vicksburg has beautiful architecture and a warm, friendly environment for walking.
Get in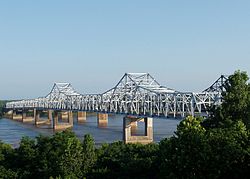 By car
Interstate 20 (E-W) or U.S. Highway 61 (N-S)
By plane
The closest commercial airport to Vicksburg is
Jackson-Evers International Airport
in Jackson, about 50 miles east on I-20 (or a little more than 85 kilometers). Vicksburg also has its own municipal airport for general aviation.
By bus
Greyhound Bus Lines (or Delta Bus Lines) has an active (albeit a very small) bus depot just off of I-20 on the Frontage Road (1295 S Frontage Rd), on the Halls Ferry Road exit south bound. You can contact the depot at +1 601 638-8389.
By train
Although there are active freight lines that run through Vicksburg; however, there is not a passenger line (I.E.
Amtrak
) that runs through Vicksburg. The nearest passenger station is in
Jackson
, MS and it is the
New Orleans
/
Chicago
route.
Get around
Visitors can walk around the downtown area easily. Other sites away from downtown will likely require some other form of transportation.
City Bus
The city of Vicksburg does have a local bus service called the
NRoute
, and there are nine routes throughout the city. The hours of operation are 6 AM till 6 PM Monday through Friday. The main depot where bus passes may be purchased is located at NROUTE Office 2501 Halls Ferry Rd, and may be contacted by calling, Phone: 601-636-1053. Bus riding rules are fairly strict (no food or drink may be consumed while riding, and exact change is required). Bus fares are: $1.50 (transfers are not included in the one-way base fare), Senior Citizen $0.75, Children (ages 3 - 12) $0.50, bus transfer are $0.25 each, and monthly passes are $30. Be aware that bus transfers are only made at the main bus depot.
Taxi
Rocket Taxi Cab
601-636-0491
See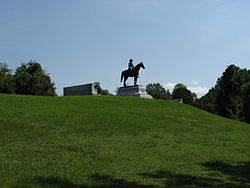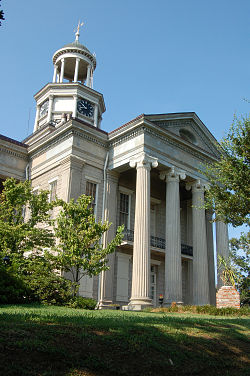 Vicksburg National Military Park

phone: +1 601-636-0583

address: 3201 Clay Street

Commemorates the 1863 battle and siege of the city during the Civil War. The park includes a visitor center, an impressive collection of monuments along the 16-mile tour route, and the USS Cairo, a salvaged ironclad gunboat. Allow at least half day (2-4 hours bare minimum) to tour the park by car, and longer by bicycle. $8 per vehicle entrance fee, good for one week after the date of purchase. The park is open daily, but closed on the following national holidays: New Years (January 1), Thanksgiving Day (the last Thursday of November), and Christmas Day (December 25).

Biedenharn Museum of Coca-Cola Memorabilia

address: 1107 Washington Street

Phone: 601-638-6514 or 601-636-5010. Restored 1890 building where Coca-Cola was first bottled in 1894. Museum contains reproduction bottling works, Coca-Cola memorabilia, 1900 soda fountain and restored 1890 candy store. Fountain Cokes, ice cream floats, Mississippi-made Ford's dipped ice cream and over 100 Coca-Cola items for sale in the museum's gift shop. Adults: $2.75, Under 12: $1.75

Old Court House Museum-Eva W. Davis Memorial

phone: +1 601-636-0741

address: 1008 Cherry Street

Vicksburg's most historic building, it was constructed by slaves in 1858, has hosted such great Americans as Jefferson Davis, Theodore Roosevelt, John Breckinridge, Booker T. Washington, William McKinley and U.S. Grant. Self-guided tour. Adults: $5, Students Grade 1-12: $3, 65+: $4.50
Do
Casinos - Ameristar, DiamondJacks, Riverwalk, and The Rainbow Casino.

Ameristar Casino Hotel Vicksburg

phone: +1 601-638-1000

address: 4116 Washington Street

Ameristar Casino Hotel Vicksburg contains a 70,000-square-foot riverboat casino that has brought nonstop action to Vicksburg, including 1,800 of the latest and most popular slot machines, 36 table games, a newly-opened ten-table poker room and variety of exquisite dining options. This just wouldn't be Mississippi if there wasn't great music – be sure to check it out at Ameristar's classic blues bar on Friday and Saturday.
Bottleneck Blues Bar, Ameristar Casino, 4116 Washington Street, Phone: 601-638-1000 . This is about as close as it comes to a blues bar in Vicksburg (without hopelessly searching for a juke-joint in the Marcus Bottom area). Patrons must be 21 years old to enter (as you have to enter the casino) and have valid ID (a US driver's license or a passport for foreign nationals). Oddly, smoking is permitted during non-ticketed events, but prohibited during ticketed events. Most events are free, but occasionally you'll have to purchase tickets to some of the big name events.
Theater
WestSide Theater Foundation
- for information about upcoming plays, view their page on Facebook or call Jack Burns at 601-618-9349.
Gold In The Hills
at the Parkside Playhouse, Phone: 601-636-0471, . In its 70th season, it is the longest running melodrama in the world. Spring/summer only. $10 adults and $5 children.
RiverfestHeld in downtown Vicksburg in mid-April, part music festival, part arts & crafts show.
Buy
Eat
Drink
The Biedenharn Museum (see above) showcases an old-fashioned soda fountain, complete with authentic fountain drinks including all the Coke you can drink.
Be aware that Vicksburg does have what are called "local option" laws pertaining to the consumption and sale of alcohol. Beer and light wines are not sold between 2AM and 7AM on Monday through Saturday, and between the hours of 2AM and 12PM(Noon) on Sunday. Also be aware that it is illegal to consume alcohol in an open container outside of a bar / casino. Penalties for public consumption violations can be as severe as a fine of $1000 and/or 90 days in the city jail.
Sleep
Stay safe
Be aware when hiking into the wooded areas of Vicksburg, that you may encounter a black bear (the proper description is the Louisiana Black Bear). Bear sighting typically increase during June and July (breading season), and have recently have been spotted north in the forests of the cities of Redwood and Steele Bayou. If you do see a bear or its cubs while in the woods, you are much too close to the bears, and need to carefully but quickly, backtrack from where you came. Black bears are typically not as aggressive as the grizzly bears, but attacks on humans have been known to occur.
Care should be taken when participating in water sports (i.e., boating) in the Mississippi River. The currents are very strong, large barges traveling up and down the river generate strong wakes, the water is tan-brown (so you can't see if you're about to hit something floating just beneath the surface of the river), poisonous snakes (vipers commonly called a "water moccasin") are a concern, and occasionally an alligator might be lurking in the water. Swimming in or across the river is a very foolish thing to consider, and you'll rarely see any sane person even attempting this feat.
There are some areas of the city you wouldn't want to stroll alone at night, and should use the same level of caution and street smarts (your wits) you would use in any large city. The gas station on Clay Street and Cherry Street is frequently a site of petty crime.
Stay healthy
The largest hospital in Vicksburg is the River Region Medical Center (1-601-883-5000). It is a modern full-care center, and is equipped to handle nearly most major medical problems and emergencies. As with any hospital stay in the USA, be sure that you are adequately insured (or expect a very large bill for services which can easily cost into the tens of thousands of dollars for serious medical treatment in an emergency room) as there is not a national health care system.
Be aware that humidity and the summer heat can be very intense. Be sure to hydrate yourself with either sports drinks or water (consumption of alcohol is not recommended regardless of what some may otherwise claim).
Mosquitoes along the riverfront can be annoying during the warmer months. Be sure to wear repellents that have a high concentration of DEET to reduce the risk of mosquito transmitted diseases. Percentages of 25% or more DEET is recommended to repel most of the insects.
Go next