Vienna/Innere Stadt
Innere Stadt
is the inner-most district of
Vienna
. Its historic centre dates back to Roman ages and has been inscribed on the
UNESCO World Heritage list
. It is encircled by the
Ring Road
(Ringstraße), a grand boulevard constructed along the old city walls, which were torn down starting in 1858. Along the Ringstraße are many famous and grand buildings, including the City Hall (
Rathaus
), the Austrian Parliament, the Hofburg Palace, the Natural History Museum (
Naturhistorisches Museum
), the Museum of Art History (
Kunsthistorisches Museum
), and the State Opera House (
Wiener Staatsoper
).
The very central point of Innere Stadt is the famous St. Stephen's Cathedral (
Stephansdom
), perhaps the most recognizable symbol of Vienna. From there, many of Vienna's most famous streets expand in every direction, including
Graben
and
Kärntner Strasse
. The centre is largely pedestrianized, and the remainder of streets open to traffic are mostly reserved for bus and taxi traffic - driving around is an intricate affair and is best avoided.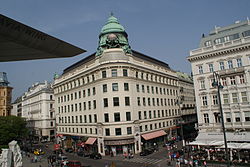 Understand
phone: +43-1-24 555

address: Albertinaplatz/Maysedergasse

Offers free walking maps and brochures, and can help with hotel reservations.
Get in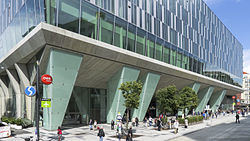 From Vienna International Airport
It may come as a surprise, but the Innere Stadt is not directly reachable from the
Vienna International Airport
.
The shortest way to get there from the airport is to take the City Airport Train or S-Bahn line S7 to
Wien Mitte-Landstrasse
and then transfer to U-Bahn line U3 directly to
Stephansplatz
, or alternatively the U4 along the Donaukanal - a convenient stop to alight and start walking into the Innere Stadt is
Schwedenplatz
, while you can also choose to go south and alight at
Karlsplatz
by the opera house. Or, you can walk as the
Wien Mitte-Landstrasse
station is only some 250 m from the Ring, separated by the nice
Stadtpark
.
Alternatively, you can travel on the S7 one station farther to
Praterstern
in
Leopoldstadt
, and from there the U1 will take you to the abovementioned
Schwedenplatz
,
Stephansplatz
or
Karlsplatz
. If you want to explore the Innere Stadt starting from the west, you can take the U2 from
Praterstern
, which stops along the western bend of the Ring, starting at
Schottenring
and terminates at
Karlsplatz
.
There are no trams that go directly to the Innere Stadt from either
Praterstern
or
Wien Mitte-Landstrasse
.
From major railway stations
Other than the above-mentioned
Wien-Mitte Landstrasse
and
Praterstern
, the major railway stations of Vienna are the
Hauptbahnhof
,
Westbahnhof
and
Wien-Meidling
.
From the
Hauptbahnhof
, take U-Bahn line U1 (the station by the Hauptbahnhof is called
Südtiroler Platz
) to either
Karlsplatz
,
Stephansplatz
or
Schwedenplatz
. From the
Westbahnhof
, take U3 to
Volkstheater
,
Herrengasse
,
Stephansplatz
or
Stubentor
. If you end up at
Wien-Meidling
, which still serves as a terminus for some trains until the Hauptbahnhof is fully operational, your only option is a rather long ride on tram line 62 all the way to its terminus at
Wien Oper (Kärntner Ring)
.
Get around


The inner city is easily walkable. For the special flair and tourist guidance one can take a tour in an historic horse carriage.
The underground lines , both cross the district, while and border it. The city-bus lines 1A, 2A and 3a cross the district too. The tram lines D, 1 and 2 run on some parts of the Ring.
Chances are that on your journey to, from or around the Innere Stadt you will need to use the U-Bahn station Karlsplatz, or just one of its subways to get under the ring. Make sure to pay attention when nearing the Opera from the underground, as a globally unique attraction awaits you there – the . This paid public toilet in the subway passage is lushly decorated and incessantly blares Strauss tunes at tourists and locals relieving themselves, those passing by.

See
Religious buildings
All of the religious buildings still function as a church, with Catholic Mass and Communion services on of course every Saturday night and Sunday, in addition to weekdays. Those that visit during Mass times, including those that do so other than for attending it, are expected to make as little noise as possible as a form of respect.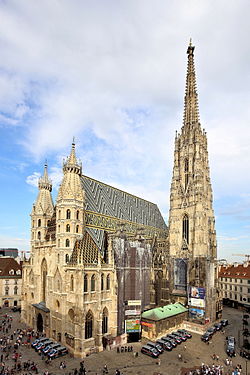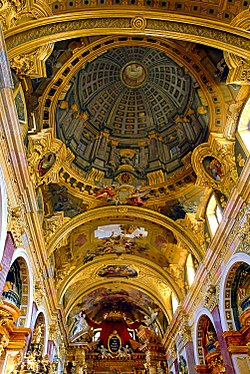 phone: +43 1 51552-3054

address: Stephansplatz 3

Yet another patchwork of architectural styles, but predominantly Gothic. None of the original construction remains, the oldest extant sections are the thirteenth century Giant Gate (Riesentor) and Towers of the Heathens (Heidentürme), both of which are Romanesque. In 1511, building in Gothic style ceased due to being out of fashion. The main altar has a Baroque panel showing St. Stephen, Christianity's first martyr. The organized tour is worth it, since some of the finest works of art in the cathedral can only be seen with a guide, such as Emperor Frederick III's red marble sepulcher and the immense Gothic carved Altar of Wiener Neustadt. Those interested in attending Mass may come Saturdays at 7PM for an English service.
phone: +43 1 512 68 53 88

address: Tegetthoffstraße 2

Underneath the Kapuzinerkirche, this mausoleum houses the tombs of generations of Habsburg royalty.
phone: +43 1 51252320

address: Dr-Ignaz-Seipel-Platz 1

Has one of the most elaborate Baroque interiors in Europe.
phone: +43 1 535 60 03

address: Ruprechtsplatz 1/2

Believed to be the oldest church in Vienna, although excavations around the foundations of two other churches (Stephansdom and Peterskirche) have challenged this view. Earliest mention of the church in historical records is in 1200; the current structure dates from the Romanesque period, while the interior was renovated during the Baroque era.
phone: +43 1 533 64 33

address: Petersplatz

The church is believed to date back to the Middle Ages, and excavations suggest that the foundation may be far older than previously believed. The current structure was built during the Baroque period, and most recently restored from 1998-2004. There are regular organ concerts at 15:00 (free).
address: Passauer Platz 1

This gothic church was used by sailors on the Danube river. Its name refers to the former location near the river. Communion celebrations are held in German, French, and Czech.
Hofburg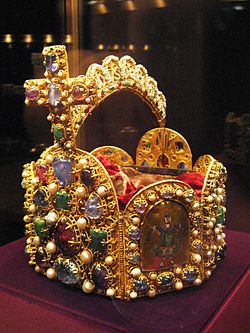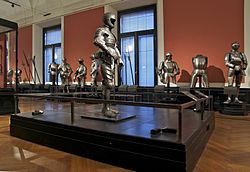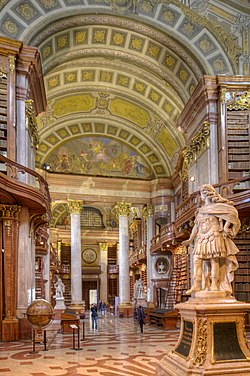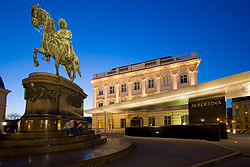 This immense palace complex grew into a large, unwieldy series of buildings over the years and was the imperial residence of the Habsburg emperors until 1918. What began as a medieval castle (whose chapel is the only original element of that building to survive) was expanded and redecorated as the Habsburgs' power increased correspondingly. The Palace Stables and Amalia's Wing were added in the 16th century; the Imperial Chancery Wing, Court Library, and Spanish Riding School were added in the 18th; most recently St Michael's Wing (Michaelertrakt) was tacked on and around 1900 the New Palace (Neue Hofburg) was completed. Each separate building contains so many treasures that the time spent moving from one to another is like opening box after box of fabulous jewels. The palace now houses the offices of the Austrian President, a convention center, and the Spanish Riding School with its Lipizzaner stallions, as well as several museums.
phone: +43-1-533 75 70

address: Michaelerplatz

This trio of museums includes the Imperial Apartments (Kaiserappartements), Sisi Museum, and Imperial Silver Collection (Silberkammer). The Imperial Apartments and Sisi Museum include 22 state rooms of the residential and state apartments of Emperor Franz Joseph I and Empress Elisabeth (popularly known as Sisi) and show 19th-century imperial life. The Imperial Silver Collection displays unique items of the glittering world of imperial dining.

phone: +43 1 52524-0

address: Hofburg Schweizerhof

The best part of the Hofburg and an absolute must. It contains the Habsburgs' collection of jewels, crowns, and other valuables, perhaps the best on the Continent. Second only to a tour of the Kunsthistorisches Museum, of which the Schatzkammer is a part. There are 20 rooms of priceless treasures that give a fairly accurate representation of the ceremonial Habsburg court life over the centuries.

New Palace

address: Heldenplatz

The newest and largest section of the Imperial Palace. It contains the Welt Museum Wien, the Papyrus Museum, and three branches of the Museum of Fine Arts.
phone: +43 1 53410-348

address: Josefsplatz 1

Card catalogs may be an anachronism in today's digitized world, but this library had the first one in existence, invented by the Habsburg court librarian. Unlike the printed library catalogs of the past, bound into book form, the card catalog could be rapidly updated and the library kept up-to-date. This well-ordered reader's paradise has a collection that outshines many museums, thanks to its long association with the Habsburg imperial family. It gained an impressive collection when Emperor Josef II dissolved all the empire's monasteries – 300 manuscripts, 3,000 printed books, and 5,000 diplomata. The library's collection is approximately six million items strong and is the largest in Austria. It is a pioneer in digitalizing and placing its collection online. The oldest book in the collection is a fifteenth century Holy Gospels manuscript with scenes representing the four Evangelists (Matthew, Mark, Luke, and John) containing the coats of arms of the House of Austria, Styria, Tirol, and Carinthia, then ruled by Albrecht III, the book's owner.
phone: +43 1 534 10-394

address: Josefsplatz 1, 1st Floor

This magnificent historic library was designed by Johann Bernhard Fischer von Erlach and built in 1726.

phone: +43 1 534 10-710

address: Herrengasse 9, Palais Mollard-Clary, 1st Floor

The only museum of its type in the world, this museum contains a collection of 650 globes of all types, as well as a collection of nearly 300,000 historic maps.

phone: +43 1 534 10-730

address: Herrengasse 9, Palais Mollard-Clary, Ground Floor

Founded in 1927, this museum houses a library and museum with displays illustrating the development and grammar of the modern invented language Esperanto.
phone: +43 1 534 83-0

address: Albertinaplatz 1

Once a palace, it is now the most popular exhibition space in Vienna, mainly for traditional modern art. The building itself is an experience as well. It is home to a valuable drawing collection, including many works of the German Renaissance painter, Dürer.
phone: +43 1 533 09 47 0

address: Josefsplatz 1

Yet another example of the gruesome divide-and-conquer burial strategy of the Habsburg dynasty. It is said that other dynasties waged countless wars to acquire new lands, but "you, happy Austria, marry". Even in death, the Habsburgs placated three different churches with the honor of caring for their remains. The best known, the Kapuzinergruft, contains their actual bodies. St Stephens holds their innards (intestines and other parts taken out during the preservation process). But the Augustinerkirche holds, in the Herzgruft (Heart Crypt), all the Habsburgs' hearts. The tradition began in 1627 with Emperor Ferdinand IV, who wanted to "lay his heart at the feet of the Mother of God", literally. His heart, and those of his descendants, are preserved in silver jars which are carefully cared for by the Augustinian friars who run the church. When the renovation was underway it was found that the preservative in some of the caskets had evaporated over the years, leaving nothing but a dried-out, mummified heart.
phone: +43 1 533 99 27

address: Hofburg - Schweizer Hof

The original chapel of the Palace, built in Gothic style 1447-1449, was made over in Baroque style. On Sundays and Catholic holidays (of which the Austrians celebrate many), the Court Musicians perform here. This group is made up of members from the Vienna Boys Choir, as well as performers from the orchestra and choir of the Vienna State Opera. Tickets can be purchased online here.
phone: +43 1 533 90 31

address: Michaelerplatz 1 (visitor center)

First mentioned in a document dated 1572, it is the only equestrian institute in the world which follows a Renaissance model of classical schooling. Eleves, or students, begin their training immediately after completion of Austrian primary education (age 15 or 16), and are expected to be both sporty and clever. The school takes its name from a Spanish breed of horse first mentioned in Roman writings. In 1562, Emperor Maximilian II brought some of these Spanish horses to Austria to found a royal stud farm in Kladrub (Bohemia), housing them for a time in the "Stallburg" (oldest section of the Imperial Palace). The present school location was built in 1572. In 1580, Maximilian's brother, Archduke Karl, founded the stud farm in Lipizza near Trieste (now Slovenia). Interest in elegant riding had been growing for about 50 years at that point. During Renaissance times, powerful gentlemen who had already conquered the worlds of finance and politics looked to the writings of antiquity for new learning and an educated lifestyle to which they could aspire. Horsemanship which followed the ancient models described by Socrates and others became the fashion. Xenophon (430 – 354 BC) wrote "Men who understand the art of horsemanship, in truth, look magnificent." Who wouldn't want that? In the new Winter Riding School (built 1729-35), tournaments, masked balls, and other entertainment was held, but this would soon draw to a close – the royal stud farms at Lipizza were threatened by Napoleon several times and twice the precious stud horses were evacuated to Hungary. No photos or video taping allowed.
phone: +43 1 533 857 0

address: Burggarten Hofburg, Hanuschgasse

A tropical greenhouse with an amazing collection of live butterflies, will delight both children and adults.
Other museums and galleries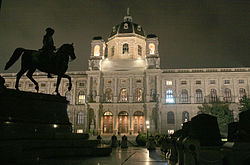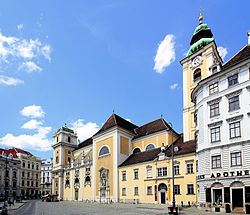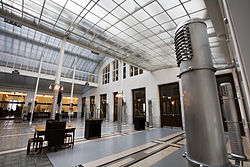 Historic sites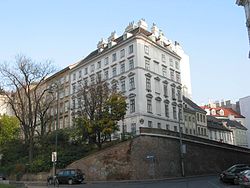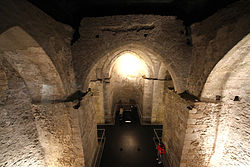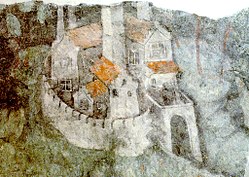 phone: +43 1 535 89 05

address: Mölker Bastei 8

This 18th-century building is atop the Mölker Bastei, one of the only remaining sections of the old city wall. For 8 years Beethoven lived in a 4th-floor apartment in this building, where he composed his 4th-8th symphonies as well as his opera Fidelio. The museum preserves many of the composer's personal effects, and displays documents illustrating his life and work.

address: Dorotheergasse 11

A museum documenting the history of Vienna's substantial Jewish community which included Zweig, Freud, Herzl, Mahler, and Schoenberg. Three sites are available for one combined ticket: two museum sites and the main synagogue. Attached to the museum at Judenplatz are the archaeological remains of a medieval synagogue. The Stadttempel, the only historical synagogue in Vienna to have survived World War II, is accessible on through the guided tour.
Jüdisches Museum Judenplatz

address: Judenplatz 8

A second branch of the Jewish Museum on Dorotheergasse. Underneath the Judenplatz (the Jewish Square) is an underground medieval synagogue excavation. Amazingly, the synagogue was destroyed centuries ago, but its existence was remembered by the area's inhabitants up to the 20th century.

phone: +43 1 535 04-31 311

address: Seitenstettengasse 4

A well preserved 19th-century synagogue, which is being used as the main city's synagogue by the current growing Viennese Jewish community.
phone: +43 1 505 87 47 0

address: Michaelerplatz

Archeological excavations carried out between 1989 and 1991 revealed not only the foundations of medieval buildings but also remains of the Roman canabae (civilian support settlement) of Vindobona, as Vienna was then known. The viewing area was designed by Viennese architect Hans Hollein.
phone: +43 1 512 17 91

address: Domgasse 5

This is the Viennese residence of Austria's most famous composer, Wolfgang Amadeus Mozart, and a branch of the Vienna Museum.
phone: +43 1 535 90 65

address: Tuchlauben 19

The oldest secular wall paintings known in Vienna, in a 14th-century building. The frescoes were commissioned in 1398 and illustrate scenes from the life and poetry of the Viennese minnesinger Neidhart von Reuental.
phone: +43 1 535 56 06

address: Hoher Markt 3

This museum houses a collection of artifacts from the Roman settlement of Vindobona, as Vienna was then known. There are Roman ruins in the cellar of the museum, first discovered during construction work in 1948, and for many years only accessible to the public via a narrow staircase, before the building was transformed into a full-fledged museum 2008.
phone: +43 1 505 87 47 0

address: Am Hof

Early Roman ruins from Vienna's earliest days as a Roman fort in the basement of the Fire Brigade Building.
phone: +43 1 513 58 42

address: Stephansplatz

A 13th-century subterranean chapel beneath the former Chapel of St Mary Magdalene (no longer standing, but outlines have been traced on the pavement directly south of Stephansdom). This chapel served as the tomb for a wealthy Viennese family and was completely forgotten until construction of the underground in 1975. A portion of it can be viewed for free from a window in the U-Bahn station.
HeldenplatzA public space in front of the Neue Hofburg, setting to a number of important historic events, most notably of Adolf Hitler's 1938 announcement of the Austrian Anschluß. Two 19th-century equestrian statues portray Archduke Charles of Austria-Teschen and Prince Eugene of Savoy.
Stock im Eisen

address: Stock-im-Eisen-Platz

The remaining midsection of a medieval nail tree (Nagelbaum). Over the centuries hundreds of nails have been hammered in both in thanksgiving and for good luck. The tree figures in a number of local legends.
Other attractions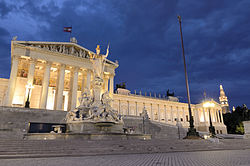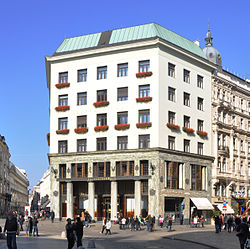 phone: +43 1 401 10-2400

address: Doktor-Karl-Renner-Ring 3

The home of the two houses of Austrian Parliament. The building was designed by Theophil von Hansen in the Neoclassical style, and constructed between 1873 and 1883. Guided tours are offered in German or English.

phone: +43-1-587 53 07

address: Friedrichstraße 12

Architect Josef Maria Olbrich built this Jugendstil (German-style Art Nouveau) building 1897-98 as a display space for artists working in the new Secession artistic movement. It is topped by a giant, frothy golden ball, lovingly called Krauthappel by the Viennese, but the building was definitely not loved when it first opened. Notice a reactionary Viennese pattern here? The opera building too was hated at first, but at least it was not called a "temple for bullfrogs" or "a bastard begot of temple and warehouse" as this building was. The entryway features the motto of the Secessionist movement: Der Zeit ihre Kunst, der Kunst ihre Freiheit (to the time, its art, to the art, its freedom). Olbrich's mentor Otto Wagner, and also Gustav Klimt, whose astounding Beethoven Frieze is partially preserved in the basement, inspired the building's design. The ceremonial front entrance is separate from the functional glass and steel exhibit hall in back.

phone: +43 1 525 50

address: Friedrich-Schmidt-Platz 1

Designed by Friedrich von Schmidt (the architect of the Cologne Cathedral) and completed in 1883, this is the most significant neo-Gothic building in Vienna, with a 103m-high clock tower. There is a very pleasant park with two fountains in front of the building facing the Ring.

Ankeruhr

address: Hoher Markt 10-12

A large 4-m-diameter musical clock on a pedestrian bridge connecting two neighboring buildings. The clock was designed between 1911 and 1914 by the Judgenstil painter Franz Matsch, and features prominent figures from Viennese history, each with a Roman character. At noon all figures parade across the clock face, accompanied by music. During the Advent season, Christmas songs are played daily at 17:00 and 18:00.

Looshaus

phone: +43 1 21136-5000

address: Michaelerplatz 3

Designed by Adolf Loos and completed in 1909, this is considered to be one of the most significant buildings of the Wiener Moderne era from 1890-1910, although initially it was fiercely criticised. Today the building is occupied by the Wiener Raiffeisenbank, but a permanent exhibit in the building has photographs and documents illustrating the building's history.

phone: +43 1 4277-176 76

address: Universitätsring 1

The university was founded in 1365, and is the oldest university in the German-speaking area, as well as one of the largest in Europe with more than 90,000 students. It consists of 15 faculties amongst them are Law, Mathematics, Physics, Psychology and Translational Studies. The main building (Hauptgebaeude) on the Ringstraße was designed by Heinrich von Ferstel, and formally inaugurated in 1884 by the Emperor Franz Joseph I. Guided tours are offered in German and English, featuring such highlights as the Main Ceremonial Chamber with copies of the ceiling paintings by Gustav Klimt, and the library's Great Reading Room.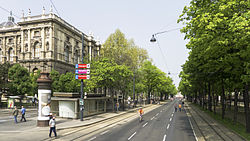 Ringstraße

address: The Ring / Ring Street

The Ringstraße circles the very heart of Vienna. Built on the location of the original city walls, its size is a good indication of how much the city has expanded since medieval times, but more importantly it is the most posh area of downtown. Elegant individuals stroll down the street (there really is no other way to move when walking along the Ring) and play the fashion-do/fashion don't game under their breath before pausing at one of the innumerable cafes lining the way. A traditional Jause (morning coffee break, around 10:00) and then back to the business at hand, seeing and being seen: Vienna's favorite pastime.
Parks
The Innere Stadt has next to the Ring four bigger parks:
Do
Cultural events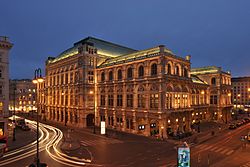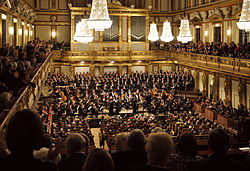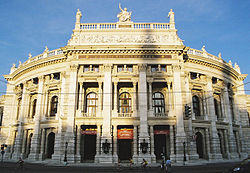 Vienna is of course famous for its classical music. The Musikverein or the Konzerthaus feature excellent concerts at their famous halls. The Opera plays classical master pieces. Students can get reduced tickets, where they stand with other aficionados.
Sport and other activities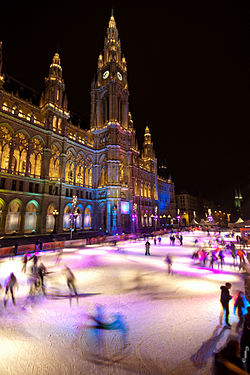 Buy
The inner centre has both old traditional Viennese, international luxury stores as Hermes or branches of cheaper shops like H&M.
Shopping streets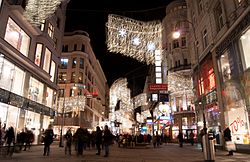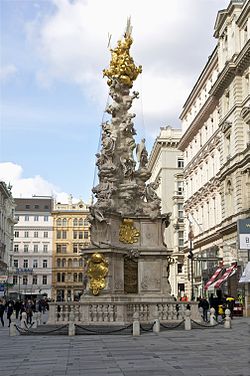 The shops are mostly concentrated at those 3 bigger, popular and pieton streets:
Kärntner StraßeA major shopping street with mostly international chains.

Am GrabenAn up-scale shopping promenade, with many local specialties such as Wien Porzellan. A notable landmark is the Plague Column (Pestsäule), a memorial erected in 1693 commemorating one of the last major plague epidemics which swept through Vienna in 1679.

KohlmarktPerhaps the fanciest shopping area picking up from the end of the Graben jogging over to Michaelerplatz with almost exclusively high-end luxury shops and designer stores.
Shops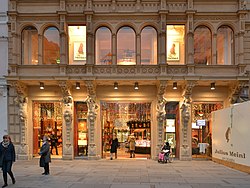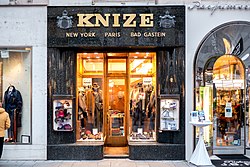 Eat
The inner district has many restaurant options of which the more prominent are listed. Some restaurants may be touristy, others are very upper class and pricy due to their location in the historical center of Vienna. High rated restaurants include the Bauer, Dombeisl and Palais Coburg. The Trzesniewski is a very Viennese "Austrichbrote" place to meet and have a quick lunch.
Budget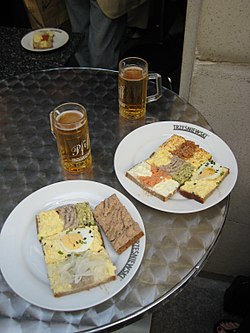 phone: +43 1 533 34 82

address: Haarhof 1

Atmospheric old (since 1683) cellar restaurant serving good, cheap, wine, beer, and simple traditional food. Prices budget to moderate. A good place to go if you just want a drink and some grub, but still want to enjoy some local color.

Katze die Café Bar

phone: +43 650 693 03 39

address: Laurenzerberg 1/18

The place started with original crepes and now mostly serves good Curry. The owner had founded the Salon Wichtig next the Technical University. Home-made pastry and coffee is sold too.

phone: +43 1 5332904

address: Rabensteig 8

Good for veggies and meat eaters alike. Maschu Maschu is an Israeli fast food joint that serves some of the best falafel in the world. A healthy and gut busting falafel and beer should cost around €7 and leave you set up for the day (they also serve a wide range of other Middle Eastern meals).

phone: +43 1 40645940

address: Universitätsstrasse 7, 7th floor

NIG is the Neues Institutsgebäude - a University of Vienna building. During the summer you can sit outside and enjoy the sun. You have a nice view over the roofs of Vienna.

phone: +43 1 533 5000

address: Am Graben 29a

Fast food versions of local food. Not bad if you are on a budget and do not have much time to spare.

phone: +43 1 512 32 91

address: Dorotheergasse 1

The snack bar sells small breads (Brötchen) with specific spread (Aufstrich). One has many choices including vegetarian. The place is very full at lunch time, but the queue advances quickly. They only use organic eggs. The smallest possible beer (Pfiff) is available, otherwise they sell excellent fruit juices too. One eats either standing next to a table or on the go.
Mid-range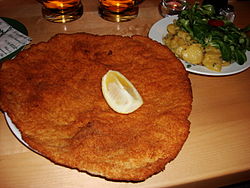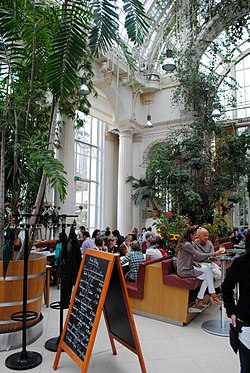 phone: +43 57 333 140

address: Singerstrasse 4

Part of a local chain. Non-smoking. Informal and popular place serving generic but reasonably priced Japanese and Korean dishes. The menu has a vegetarian section. Quick service by efficient waiters.

phone: +43-1-533 88 11

address: Ledererhof 9

A very nice restaurant with a cellar dating back to the 17th century. The furniture consists of parts from three centuries. A place that deserves the label gemütlich. They play classical music and serve some really unique dishes.

phone: +43-1-968 93 51

address: Drahtgasse 3

Really nice organic vegetarian and vegan restaurant and bar with colourful decor. A great place for those who want to sample traditional Viennese food like Wiener Schnitzel but in meat free versions. Has a good range of organic beers and wines.

phone: +43 1 890 61 47

address: Johannesgasse 33

Stonebaked pizzas are served in a relaxed atmosphere.

phone: +43 1 512 61 77

address: Wollzeile 5

Famous for Wienerschnitzel. They claim to have the biggest schnitzel in the world. If you are not really hungry, one may easily be enough for two people (just ask for a second plate). Traditionally, you would want a potato salad with that.

phone: +43 1 512 74 51

address: Bäckerstraße 18

Modern and diverse cuisine, not crowded but most visitors are local. Charming modern interior instead of imperial chic. Overall, a rare combination of features. Menu has equal parts for vegetarians and carnivores. Friendly to families with toddlers. Almost non-smoking. Staff speaks only basic English. Great bulghur here.

phone: +43 699 1030 1899

address: Neuer Markt 14

Fine French Provencal-style fare with a communal table at the center and a smoking section only at the back, goat cheese salad is highly recommended (€6,90).

phone: +43 1 533 23 26

address: Wallnerstrasse 2

Part of a world-wide but small chain which has several branches in Vienna. The one on Wallnerstrasse is full service. Authentic Middle-Eastern restaurant serving mostly Turkish and Greek dishes with some Viennese daily specials. Good place for both meat-eaters, for the kebabs, and vegetarians, for the many Middle Eastern salads.

phone: +43 1 533 10 33

address: Burggarten 1

Good value for money, great ambience with imperial decor. Large mains served with a bowl of salad included. Very high ceilings, full of air and palms. Friendly staff speaks fluent English. Children-safe wide couches. Consider seating at elevated Mezzanine (reservation recommended) which has a special view over park. On warm days one can sit outside.

phone: +43 664-2038303

address: Plankengasse 4

A wonderfully creative and fresh soup and salad joint with a weekly rotating menu and take-away. Standing room only.

Reinthaler Gasthaus

phone: +43 1 512 33 66

address: Gluckgasse 5

One of the better traditional Beisl restaurants, with old fashioned food priced below comparable places. Daily specials usually include a couple of vegetarian options. Good non-smoking section.

phone: +43 676 648 17 48

address: Salzgries 15

Small excellent restaurant/Beisl. The lunch menu changes daily and offers Viennese and Mediterranean food. After work and during dinner time Pastrami, Pulled Pork and other sandwiches are served. Fabulous home made desserts. Beer on tap, wines by the glass, home made lemonade. 25 seats indoor, 12 seats outdoor. English spoken.

Ristorante Rossini

phone: +43 1 512 62 14

address: Schönlaterngasse 11

An Italian place serving good mostly authentic Italian food.

Vietthao

phone: +43 1 5852031

address: Friedrichstraße 2

The Vietnamese restaurant offers lots of vegetarian choices. Their vegetables are well prepared using good herbs combinations.

phone: +43 1 533 93 81 12

address: Schottengasse 7

A bourgeois Viennese restaurant offering good seasonal local food. In summertime you can sit outdoors.
Splurge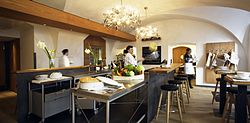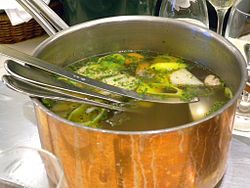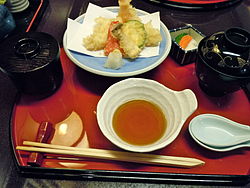 phone: +43 1 503 50 34

address: Franziskanerplatz 5

Belongs to a famous winery Artner. It offers creative, fresh fare that tends to be on the lighter side than most Austrian cuisine. Excellent wine cellar, reservations recommended.

Bauer

phone: +43 1 5129871

address: Sonnenfelsgasse 17A

The restaurant since 25 years serves excellent food with Viennese charme and a big wine choice. It has one Michelin star.

phone: +43 1 515 160-553

address: Kärntner Ring 1

The big lunch room in the Hotel Bristol reopened with the original art déco chandeliers and decorated ceiling. The restaurant may serve as elegant after Opera dinner.

phone: +43 1 31 368-0

address: Schottenring 3

Sushi bar popular with business travellers. Serves fresh and tasty fish that comes at a high price.

phone: +43 1 532 2222

address: Tuchlauben 6

Italian fish restaurant combined with bar/lounge for Vienna's glitterati. Quality is excellent.

Palais Coburg

phone: +43 1 518 18 800

address: Coburgbastei 4

The gourmet restaurant is handled by 2 Michelin-starred chef Silvio Nickol. It offers a 5-, 7- or 9-course menu. The seasonal wine card is exquisite.

phone: +43 1 512 15 77

address: Wollzeile 38

A very nice restaurant that specializes in beef (claimed to be only local and from trusted farmers) and has some flavour of traditional Austrian cuisine. Try the Tafelspitz, it comes in a copper pan and still is in the soup it was cooked (the soup alone is worth a trip to Vienna). Alternatively, try the Backhendl. The chef claims that they prepare more than 100 kg of beef each day. Probably three to five waiters will be at your disposal. Reservations recommended.

phone: +43 1 512 22 11

address: Göttweihergasse 2

Excellent northern Italian fare with a range of fine specialties. Slightly small portions but an extensive wine list to drown this particular sorrow in. Reservations recommended.

phone: +43 1 890 4665

address: Himmelpfortgasse 23

Star chef Paul Ivić from Tyrol leads one of only two vegetarian Michelin-starred restaurants in Europe, with an excellent wine selection. Occasionally he also offers workshops. Reservations can be made online or by phone.

phone: +43 1 515 80-9110

address: Kärntner Ring 9

The Japanese cook Hiroshi Sakai once governed this place that serves authentic Japanese food. One dines on the top floor of a splendid Viennese palace, that is nowadays the Grand Hotel. It has an excellent choice of special wines. The restaurant is awarded with Gault-Millau caps.

phone: +43 1 532 49 99

address: Universitätsring 2

Viennese bourgeois restaurant cooked by Christian Domschitz.

phone: +43 1 5128510

address: Annagasse 12

The restaurant offers a menu with freshly cooked organic ingredients – from the classic Wiener Schnitzel to Chocolate-Almond-Cake without flour and Bio-Fruit-Ice-Cream.

phone: +43 1 512 99 82

address: Ballgasse 5

This hidden gem features Italian food. You can sit outside in the small pedestrian street.
Ice cream
You can buy excellent ice cream (
Eis
) at a number of places in central Vienna.
Drink
Cafés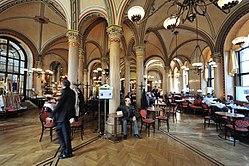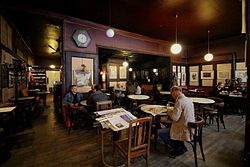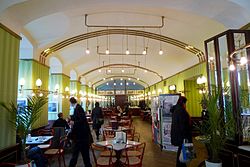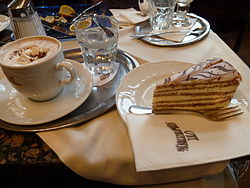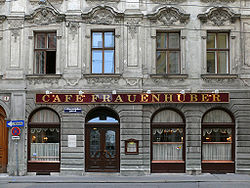 In the inner town one finds the most historic Viennese cafés, many like Demel, Café Central or Gerstner dating from imperial times. For a complete description on how and what to order read the
Vienna
overview article entry about Viennese cafés.
phone: +43 1 5123893

address: Stallburggasse 2

Thomas Bernhard used to come here daily as do many other Viennese literate. It exists since more than 35 years. Happily expect Viennese grumpy senior waiters.

phone: +43 1 533 37 63

address: Herrengasse 14

One of most famous Vienna coffee houses, which opened in 1876, has been authentically restored. Beautiful premises inside the Palais Ferstel, it is too touristy and a bit more expensive for having a meal, but can be worth it for a cup of coffee. There is an occasional pianist that is delightful to hear, and a good non-smoking section.

phone: +43 1 51257650

address: Wollzeile 10

Famous traditional coffeehouse, and equally good place for having a meal. They opened a second branch on Fleischmarkt.

phone: +43 1 5125353

address: Himmelpfortgasse 6

This traditional café already existed at the times of Mozart and Beethoven. It serves Viennese food.

phone: +43 1 512 49 63

address: Kärntner Straße 13-15

A very traditional Viennese café, hence visitors take their time to enjoy the lovely cakes.

phone: +43 1 512 82 30

address: Dorotheergasse 6

One of the most famous intellectual cafes in Vienna. Established in 1939. Surprisingly cheap for its location and its fame and can get quite cozy. Josephine Hawelka (former owner, deceased 2005) was proud of the marriages she caused by placing random people together at tables. Try the Buchteln. Usually quite smoky.

phone: +43 1 24100-0

address: Dr. Karl Lueger-Ring 4

Old café, cozy and romantic. Used to be frequented by Sigmund Freud. Delicious food and desserts.

phone: +43 1 586 52 02

address: Operngasse 7

This cafe was designed by famous architect Adolf Loos, however the interior has been entirely refitted (most recently from 2010). Serves food, coffee, teas, and other drinks. Casual, quiet atmosphere, good non-smoking section.

phone: +43 1 512 61 15

address: Stubenring 24, Luegerplatz

Established in 1903. Quite the hang-out in the evening, during the day this cafe is a bit more laissez-faire.

address: Philharmonikerstraße 4

The Café Sacher, directly in front of the Opera House, of course serves the famous cake Sacher Torte.

phone: +43 1 51 456 699

address: Kärntner Straße 38

The Sacher bar next to their shop is on the Corner of Kärtner Strasse and is a bit less formal than the traditional café. Still on rush hours expect some waiting time to get seated in order to be able to order the "Sacher Torte".

phone: +43 1 5128998

address: Kärntner Ring 17

Beautiful traditional Viennese café with view on the Schwarzenbergplatz and the Ring avenue. It has fine pastries and coffee choices.

Café Tirolerhof

phone: +43 1 5127833

address: Führichgasse 8

Quaint, traditional café with art deco accents. Established in 1900.

phone: +43 1 4057172

address: Rathausplatz 8

A very traditional small Viennese café, opened at the end of the 19th century by Josef and Josefine Sluka, serves excellent pastries and bread. To the breakfast you can order oeuf poché. The choice on the menu is adjusted according season. Free Wi-Fi is available. The place is non-smoking and in summer time you can sit outside.

phone: +43 1 535 17 17-0

address: Kohlmarkt 14

Café and confectionary shop. Good pastries are ubiquitous in Vienna, but Demel is considered by many to have the best of all and indeed was once the pastry caterer to the Imperial household. As a result of this it is usually jammed with tourists, though their amusing marzipan display window can be admired even from the street. Outdoor seating in warm weather, but the inside is more atmospheric. Partly smoke-free.

Kleines Café

address: Franziskanerplatz 3

As the name suggests, this café is rather small. It was created by architect Hermann Czech during the 1970s for notable Austrian actor Hanno Pöschl, who still owns it. It is a popular meeting place for artists and actors (or would-be variants) and enjoys an excellent location in a quiet square inside the city. The few seats are often occupied but hang around and they are vacated regularly. Seating on the square in fine weather, a bit smoky at peak times.
Bars
There are several bars in the first disctrict of which most attract formal public. In contrast to that the Flex is highly popular amongst students.
phone: +43 1 961 1516

address: Schwarzenbergstraße 2

A brewery and a bar with quality beers. The food menu includes Viennese classics as well as standard American bar food like burgers, chicken wings, and BBQ ribs. A non-smoking area upstairs (which hence doesn't fully stop smoke). 1516 particularly caters to American and British expats, although it's also popular among Viennese locals.

Alt Wien

phone: +43 1 5125222

address: Bäckerstraße 9

This cafe/restaurant/bar is on a very medieval-looking lane in the central district and is a time warp of another kind: its folky-bohemian atmosphere could convince you you're in North Beach or Greenwich Village, circa 1967. Liveliest late.

Bonbonniere Tagesbar

phone: +43 1 512 68 86

address: Spiegelgasse 15

Special establishment where the time stood still.

phone: +43 1 535 72 30

address: Salzgries 19

The bar serves classical cocktails.

phone: +43 1 533 75 25

address: Augartenbrücke 1, Donaukanal

You have not been to Vienna if you have not been to the Flex, particularly if you are younger than thirty. The meeting point of the off-mainstream, bohemian, artsy people. During the summer nights when it is warm, there are always a lot of people sitting on benches outside the club. It's easy to socialise and make new friends. Inside the club you can enjoy bands and DJs. At the bar you can ask for free soda water.

phone: +43 1 5123283

address: Kärntner Durchgang 10

Built in 1908, this small bar was designed by Adolf Loos and inspired by his stay in the US from 1893-1896, and will delight fans of Art Deco. Famous for its architecture and interior decoration, it is a time warp of Vienna from 1908 when it opened. Drinks are expensive, but very good and the price is worth the experience. This is a quiet, sophisticated bar, where boisterous behavior or very casual dress will not be appropriate. Usually smoky due to small size. There is outdoor seating in warm weather but there is not much point in using it since what justifies the prices is the interior. Groups and sight-seers are not admitted.

phone: +43 676 942 90 01

address: Bauernmarkt 11–13

The former chief bar keeper of the Loos Bar, Roberto Pavlovic opened a new American bar. It serves aperitifs 16:00–18:00, and 16:00–20:00 Champagne price is reduced. 200 cocktails to choose from. Smoking is permitted.

phone: +43 650 33 20 213

address: Reichsratsstraße 11, Innere Stadt

The place is specialised on Carinthian drinks and food. Speck in all kinds is served. Carinthian noodles and Schnaps are recommended too. The bar is hidden behind the Viennese university.
Nightlife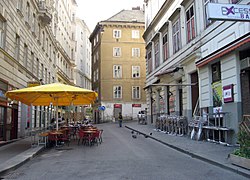 Sleep
Several high profile hotels like Sacher, Grand Hotel, Imperial or others are in historical palais on the historical grand boulevard, the Ringstraße. As one can imagine sleeping in the Innere Stadt is not recommended for tight budgets.
Budget
phone: +43 1 533 2803

address: Postgasse 14

A family run guest house for budget travellers with free Wifi internet and breakfast.
Mid-range
Splurge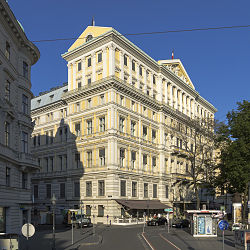 Stay safe
All of Vienna is very safe, and the Innere Stadt is certainly no exception. However, pickpockets are very common here, especially in crowded areas and the Rathaus, so make sure to keep your bags/wallets safe. When visiting a cafe and sitting outdoors (especially the outdoor cafes in the Graben), its wise to not leave bags or jackets unattended, especially if you chose a seat near the edge, where somebody can easily grab your stuff. Police officers can easily be found and are helpful and reliable.
A lot of the areas may look shady and secluded at night, especially Karlsplatz, Schottentor, and Am Hof - but the chances of encountering any crime is incredibly low.
During your visit here, you might be asked by a homeless-looking person to buy a magazine (usually called Augustin). In some situations, even touching the magazine will make the seller charge you money (usually 2 euros). If they ask you to buy it, shaking your head and saying "No, thank you" ("Nein Danke") will make them leave you alone.
Be careful when visiting the Innere Stadt (especially the Ring) during late January/early February - on one of these days, the Wiener Akademikerball occurs, and with that, there are mass protests near the Ring and the Graben during the nighttime. Although the protests don't turn violent and are usually peaceful, in 2014, it resulted in several broken windows and arrests. Do not be alarmed when seeing boarded-up stores during this time - its just a precaution. During the protests, its best to avoid the Ring between Karlsplatz and Schottentor.

Connect
Several cafés will either hand you over their Wi-Fi key or have free access anyway. Beyond that there are several access points in the Inner city:
Tourist Info Vienna

address: Albertinaplatz/Maysedergasse

Free Wi-Fi is available at the tourist information office. (See listing above under Understand.)
Public Wi-Fi hotspots from the local Viennese government are being deployed; they remain active at Stephansplatz and Rathausplatz. Local information is displayed on connection. For Internet connection (filtered) one needs to register via mobile phone number, which will receive access code in SMS.
Go next
One can continue outside the ring to the inner districts:
Or outside the Ring is attractive:
Hietzing is an outer district including the Schönbrunn Palais.