Vihti
Vihti
(Swedish:
Vichtis
) is a municipality in
Uusimaa
, some northwest of Helsinki. Vihti is the northernmost part of the Helsinki region and it has a population of about 29,000 residents.
Understand
From the traveller's perspective, Vihti can be divided into three areas:
is a town and municipality seat. With the population of 15,000, it holds roughly half of the municipality's population. Here's where you can find most of the shopping options, restaurants, nightlife, etc.
(lit. Vihti's church village) is a much smaller yet more historical town and a former municipality seat. It is often abbreviated as Vihti kk. In road signs and bus windows Vihti refers this particular town, not the municipality as a whole.
The surrounding rural area (including small settlements like Ojakkala, Otalampi, etc.) has very limited shopping and eating options but some of the top attractions of the area.
Get in
By bus
Buses to Vihti from Helsinki depart from Kamppi long distance terminal. They charge 9.80 € (Nummela) or 11 € (Vihti kk), although buying in advance from Matkahuolto website you might found a ticket as low as 3.90 €. Travelling time is 40 - 65 minutes.
About 15 daily connections run from
Lohja
to Nummela. Ticket costs 5.90 €
By car
Vihti is in a triangle within three major roads, so getting in by car is easy.
From Helsinki, take Highway 1 towards Turku, then turn right to Highway 2;
From Turku, take Highway 1 towards Helsinki, then turn left to Highway 2;
Get around
By bus
About 20 daily connections link Nummela and Vihti kk. Full price ticket costs 4.10 € / one-way. Buses to minor settlements are more infrequent, so consult the timetables carefully beforehand. Buses are most frequent on schooldays.

By foot
Both urban centers, Nummela and Vihti kk, are itself easily covered by foot. Entire municipality is rather large (approx 550 km²) and the distances between different locations can be too long to walk. For example, the distance between Nummela and Vihti kk is roughly .

See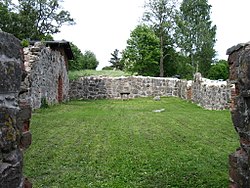 Nuuksio National ParkNuuksio National Park is a small (at least compared to natural parks in Lapland) but interesting piece of Finnish nature surprisingly close to the buzz of the capital region. Getting there by car is easy, with the public transport you can take an infrequent bus to Tervalampi or frequent bus to Veikkola. From both you still need to cover about by foot.

Pyhän Birgitan kirkon rauniot

address: Kirkkoniementie 1, Vihti kk

A medieval church ruins, unusual, as most of the Finnish churches from that era are either still standing or totally perished. Located on a beautiful cape, with a view to a lake next to it.
Do
phone: +358 10 084845

address: Jussinrinne 1, Ojakkala

A theme park. Instead of mechanical rides, it has activities, such as pedal cars, miniature golf and trampolines. Most suitable for kids under 12.
Festivals
address: Vihti kk

Wuosisatamarkkinat (Century Market) attracts more than 15 000 visitors annually to Vihdin kirkonkylä. During the festival, the main street of Vihti kk, Niuhalanraitti is closed to car traffic and is instead scattered with merchants selling more-or-less medieval-themed handicrafts. The stage built on the market square holds free folk music concerts. Entry to the event is free.
Buy
address: Tuusankaari 1

Hypermarket in Nummela. In the same premises a handful of specialty shops and eating options such as Kotipizza and Subway.

Prisma

phone: +358 75 30303300

address: Naaranpajuntie 3, Nummela

Another hypermarket in Nummela. Some specialty shops under the same roof as well as Hesburger fast food.
Money
The vast majority of places of business, including shops, bars, buses and taxis, accept Finnish and foreign credit and debit cards. To withdraw cash euros, there are five Otto-branded ATMs (four in Nummela and one in Vihti kk). However, there are no currency exchanges in Vihti.
Eat
phone: +358 9 348-9398

address: Niuhalanraitti 21

phone: +358 44 3205 108

address: Pisteenkaari 4, Nummela

Mexican cuisine, although more geared towards the Finnish taste at the cost of authenticity. Doubles as a crowded night club on Saturday nights.

phone: +358 9 4289 0568

address: Tuusantie 3, Nummela

Chinese restaurant. Beautifully decorated, large menu. Take-away discount 20%. Also offers all-you-can-eat buffet at lunch time.
Drink
phone: +358 9 555 200

address: Pilkkukuja 1, Nummela

Nice, laid-back atmosphere on weekdays, extremely crowded at Friday & Saturday nights. Wide variety of beers and ciders, pint from a tap is 5.50 €

phone: +35892245289

address: Tuusantie 3, Nummela

Live music on most Saturdays. Karaoke on Fridays & Saturdays (if no live music). Admission to live bands 5 € / otherwise 2.5 €. Pint 5 €.
Sleep
phone: +358 44 500-2567

address: Linjalankuja 3A

Built to former police station's premises, hence the name (Selli means "jail"). Rooms equipped with refrigerator, coffee maker and wi-fi connection. Shared kitchen, bathroom and laundry room.

phone: +358 9 22 38 100

address: Lentokentätie 5, Nummela

Bit outside of the town center, on the top of the esker. During the summer possibility to fly with the glider, ask the reception for details. Sauna and wi-fi included to the price.
Connect
Internet
Finland in general lacks internet cafes as most of the people have connections in their home and in their pocket, and Vihti is no exception. Many of the places of business do have wi-fi for customers (although it's usually called "WLAN"); ask the staff for details. For free wi-fi and internet terminals, check the Vihti Public Library. The branches of the library are in Nummela at Pisteenkaari 9 and in Vihti kk at Nietoinkuja 1.

Post offices
Vihti has two post offices: Nummela (at the K-Supermarket Nummela premises, Keskikuja 3) and Vihti kk (at the R-kioski, Vaunukuja 1).

Go next