Vijayawada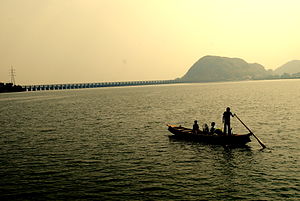 Vijayawada
is the third largest city in
Andhra Pradesh
,
India
. It is on the banks of the Krishna River, bounded by the lndrakeeladri Hills on the west and the Budameru river on the north. Its name literally translates to "The Place of Victory". It is also known as Bezawada.
Vijayawada is in Krishna District, about 275 km from the state capital
Hyderabad
and is known as the business capital of Andhra Pradesh. It is spread over an area of 61 km² (urban area) with a population of over 1 million people (agglomeration 1.4 million) (2011).
Get in
By train
Vijayawada is along the
Chennai
-
Howrah
, and Chennai-
Delhi
rail routes, the largest railway junction of the South Central Railways, and with frequent service to
Hyderabad
.
By plane
phone: +91 86762 52729

This is a domestic airport roughly 12 miles (20 km) to the east of Vijayawada. Rajiv Gandhi International Airport (HYD/VOHS) in Hyderabad offers connecting, domestic flights to Vijayawada Airport.
SpiceJet connects the city with Hyderabad,
Mumbai
,
Bangalore
and Chennai. Air India connects the city with New Delhi via Hyderabad.
Get around
By rickshaw
Travel by rickshaw was once the most common mode of transportation in city. It is now rarely seen on the road. If you can find a rickshaw, they are often a good, cheap ride to most locations within the city.

By autorickshaw
Not to be confused with a regular rickshaw, these metal and motorized vehicles can take you around the city. Ensure you bargain the fare with the driver before making the trip. There is commonly no meter fitted, so if you don't bargain you might end up paying a lot more based on excuses such as 'there was too much traffic' or 'you didn't know the directions'. There are also pre-paid auto kiosks at the railway station (near the front entrance) and at the bus station, where a policeman or a clerk can give you a printed or written bill for the auto fare, and the driver cannot charge anything more than that amount.

By taxi
There are very few car-taxis in Vijayawada. You can, though, call up a cab hire (Jahnavi Car Travels, 0866-2474394) and have the taxi pick you up. Ola Cabs is the latest addition in this sector which allows you to hire a taxi via Android, iOS and Windows applications.

By car
There are many car rental companies available.

By bus
Most parts of the city and suburbs are knitted together by the bus network run by the APSRTC. A local bus is generally referred to as a 'City bus', and can be boarded at numerous bus-stops spread all across the city. Most bus-stops do not have a timetable displayed, so you have to catch a bus simply by reading the nameplate on the top. Also, during rush hour (which is usually around 8:30AM and 4:30PM and evening rush-hour may continue well until 7.30PM), there is a lot of hassle when a bus halts, as people trying to get on and off the same time. Overcrowded buses can be tedious and suffocating and are best avoided. If you have to take a bus at all, it is better to try boarding one that has enough room inside.
You have to purchase a ticket when you board a bus, and make sure you have the right amount of change with you.
The inter-city bus station is in Krishnalanka, from where state-owned transport corporation APSRTC plies buses to every corner of state. You go to almost any place in the Andhra Pradesh from here.
There are private buses that connect the city with Guntur, Hyderabad, Vizag, Bangalore, Pune and Tirupati over a comfortable night-journey, though there are also options for the day-traveler. The tickets for these have to be booked at the offices of the operators.

See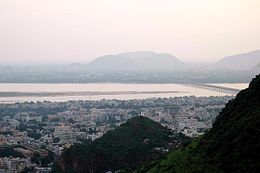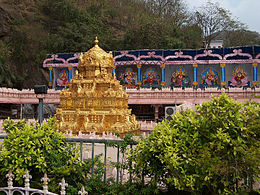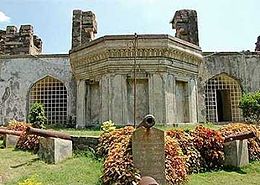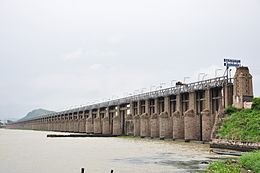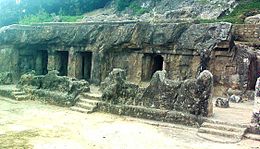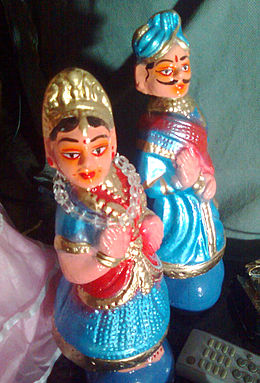 History
Gandhi HillThe first Gandhi Memorial with seven stupas in the country was constructed on this hill at a height of 500 ft (150 m). The 52 ft (16 m) stupa was unveiled on 6 October 1968 by Dr. Zakir Hussain, the President of India. Gandhi Memorial Library, a Sound and Light Show on Mahatma Gandhi's life and a planetarium are the other attractions. A toy train journey will be a memorable experience at that height on the hill.

Kondapalli Fort

address: Kondapalli

Kondapalli village is 16 km from Vijayawada. A 7th century fort built on a hill, this fort features an impressive three storeyed rock tower and was witness to the glory of many dynasties. This fort was built by King Krishna Deva Raya. It served as a business centre. The fort was also used as a military training base by the British rulers. A good picnic spot. The village here is known for making toys with light-weight wood sourced from the hill forest. These toys are called "Kondapalli toys".

Krishnaveni MandapamThis is in front of Prakasham Barrage. It was constructed by Vijayawada Industrialists & Fertilizers Association. It consists of 4 rooms depicting the story of Krishna River and also statue of Krishnaveni. Krishna River on the bank consists of Bridge Museum, just beside the bus stand. Some more places to visit nearby are Swathantra Samarayodhula Samsthanam which too is beside Pushkar Ghat.

Lenin StatueVijayawada was governed by communists in the 1980s, and Vladimir Lenin and Karl Marx can be found as statues in the city.

Victoria MuseumA place for archaeology lovers, Victoria Museum has a carefully preserved collection of ancient sculptures, paintings, idols, weapons, cutlery, and inscriptions.
Religion
AmaravatiThis destination is located near Guntur City, formerly called Dhanyakataka and Andhranagari, and is one of the most important Buddhist sites in the country. It is roughly 18 miles (28 km) west and slightly north of Vijayawada city, on the other side of the Krishna river. Acharya Nagarjuna constructed the country's largest stupa here, 2000 years back. Amaravati is considered the most sacred pilgrim centre for Buddhists in South India. It also has an Amareswara temple.

Gunadala Matha ShrineIn 1925, Rf. Arlati, the Rector of St. Joseph's Orphanage at Gunadala, installed a statue of Our Lady. Later, a church was built and consecrated in 1971 and is known as St. Mary's church. Since then, the Feast of Our Lady of Lourdes has become an annual event, attended by hundreds of people. The church is situated on a hillock on the eastern side of the city.

Hazarat Bal MosqueA holy relic of the Prophet Mohammed is kept here and displayed once a year. A large number of non-Muslims join the celebrations, too.

Hinkar Thirtha

address: Mangalagiri

Hinkar Thirtha is a Jain temple. It is stated to be the biggest Jain temple in the region.

Kanaka Durga TempleThis temple is on a hill (Indrakeeladri) overlooking the city and the River Krishna. One can either motor up the ghat road or take the steps on foot. Inscriptions of different dynasties are found in the temple. During the Dasara Festival, thousands of devotees come from the city and its environs throng to the temple after a holy dip in the River Krishna.

MangalagiriOn a hillock in the Guntur district, 12 km from Vijayawada, is the temple of Lord Narasimha in Mangalagiri. Legend says that the mouth of the temple idol only accepts exactly half the quantity of panakam (jaggery dissolved in water) offered by devotees, irrespective of the size of the vessel.

Sri Nagarala Sri Maha Lakshmi Ammavaru TempleThis temple is in the area of Chiitinagar. During the Dasara Festival, thousands of devotees arrive from the city. It is maintained by the Nagaralu Community.

Subramanya Swamy TempleThis temple is on a hill (Indrakeeladri) overlooking the city as well as the River Krishna. One can take to the steps on foot. During Skanda Shashti Festival, thousands of devotees come from the city. Some even come from as far away as Tamil Nadu. This Temple is maintained by the Iddipilli Family.
Scenery
Bhavani IslandBhavani Island is on Krishna River close to the city. AP Tourism is converting this 133-acre (54-hectare) island into a tourist spot and a river-front resort. The island offers some cottages to stay in and some adventure and fun sports. The journey to the island by boat is very pleasant.

Mogalarajapuram CavesThese caves are said to have been excavated in the 5th century AD. The caves are reputed to be the first of their kind in South India. The idols of Lord Nataraja, Vinayaka & Arthanareeswara are carved here.

Prakasam BarrageBuilt across the river Krishna connecting Guntur district, Prakasam Barrage has created a panoramic lake. Its three canals that run through the city give Vijayawada a Venetian look.

Rajiv Gandhi ParkCreated by the Vijayawada Municipal Corporation with great care, this park is at the entrance of the city and features an impressive horticultural network. It also has a mini zoo and a musical water fountain.

Undavalli cavesLocated in Guntur district, 8 km from Vijayawada, these caves are said to be carved in 7th century AD. Buddhist monks used this two-storeyed cave structure as a rest house during the monsoon. A huge monolith of the Lord Anantha Padmanabha Swamy in reclining posture is a magnificent sight.
Do

Temple, shopping clothes in 1 Town, street food (Mysore bajji), Long ride to Dabah, recreation in Bhavani island, museums in greater Vijayawada.

Buy
Besant RoadThe busiest business area in Vijayawada. Near this road is a dense concentration of cinemas, shops and restaurants.

PVP Square Mall

address: Mahatma Gandhi Rd, Labbipet

This mall is one of the larger malls and houses many international brands. It is more akin to western style malls. There is a food court and cinema.

Mahatma Gandhi RoadThis stretch of road that lays between Eluru Road and Frontage Road has a large cluster of shops both sides. There are several cinemas and large malls in this area.
Eat
address: Congress Office Rd, Buckinghampeta

phone: +91 866 655 6655

address: 54-15-11B, NH5 Frontage Road, Bharathi Nagar

The Chocolate Room places an emphasis on a hip, modern atmosphere. Service can be slow, but this place is geared more towards those who are seeking a place to "chill" and be seen, not those who are on a lunch business meeting.

Hotel Anjaneya VilasThis location serves authentic Andhra food in the Kaleswara Rao Market. There can be long lines but the food is often worth it. The thalis are priced around ₹30. Only vegetarian food is served.

Minerva Coffee Shop

address: Congress Office Rd, Buckinghampeta

The Minerva Coffee Shop offers purely vegetarian food.

Seven Days Café

phone: +91 0866 6665599

address: #60-9-1/a Pinnamaneni Poly Clinic Road Siddhartha Nagar, 6th Lane

There are three locations in Vijayawada: one on Prakasam Road (this one also goes by Sarada foods), not far from Karl Marx Road; one on Museum Road; and the other on Pinnamaneni Polyclinic Road, close to 6th Lane. Serves coffee, cake, and pizza.

Silver Spoon Restaurant

address: Gurunanak Colony

A multi-cuisine restaurant both affordable and very hygienic. A 4-course meal for 2 cost less than $10 or ₹400.

phone: +91 96424 86683

address: Bandar Rd, Patamata, Benz Circle

A candy and cake maker with attached restaurant. This is a decent place to purchase traditional Indian sweets. The staff can sometimes be a bit dismissive. The restaurant part is well decorated and clean. The food is nothing special but the quality is consistent.

Tycoons Bar and Restaurant

phone: +91 99635 32345

address: No. 40-8-19A, Near Dr. Ravi Hospital, Mogalarajpuram, Shanti Nagar, Labbipet
Drink
Vijayawada has a special take on south Indian filter coffee which can be purchased almost anywhere.

Café Coffee Day

address: M.G. road

No bathrooms for customers.

Seven Days CafeGovernor Pet 27-23-165, Museum Rd Phone: +91 866 6626777; pizza, pasta, coffee and cakes.
Sleep
Vijayawada is one of big railway junctions in India. There are many choices.The ones below are the star hotels.
phone: +91 -866 6644444

address: 39-1-63, M.G. Road

A Taj-group hotel.

address: 40-1-47 M.G. Road

Hotel Krishna Residency,M.G.Road,Beside Jaihind Theater,Besent Road.
Hotel Ilapuram Gandhinagar.
Hotel Mamata.
Hotel Manorama
Hotel Monica
Hotel Swarna Palace.

phone: +91 70366 23456, +91 866-2456444

address: Beside Ramavarappadu Ring, Eluru Road, Gunadala
Budget hotels are near the Old Busstand and near the Railway Station.
Stay safe
address: # 30-13/1-23, Atchamamba Street, Kothavanthana Road, Durga Agraharam
Go next
Ibrahimpatnam
Kondapalli Fort