Villazón and La Quiaca
A pair of border towns:
Villazón
is the
Bolivia
half of the town,
La Quiaca
is the other half in
Argentina
. Most visitors just hurry across the border and on to their next destination, but it's worth stopping for at least a few hours or even a night, for an experience of the real culture of the region and a change from the touristy towns in the
Quebrada de Humahuaca
and near the
Salar de Uyuni
.
Get in
Villazón and La Quiaca are located at an altitude of more than 3400 meters. If coming directly from a low-altitude location such as
Buenos Aires
, there is a genuine risk of altitude sickness. If you have time, you may want to stop for a night or two at an intermediate altitude in a place like
Humahuaca
on the way.
By train
The in Villazón is about a 30-minute walk from the border uphill (only slight gradient but in heat and rare atmosphere, it can be a struggle) or by taxi from the border. You can take a train to
Tupiza
,
Uyuni
and further on. Trains leave 4 times per week and pass beautiful mountain scenery on the way. The train to Oruro takes 16 hours and in Ejectivo class (best) costs Bs. 233 (
bolivars
) per person. There is a 1-hour time difference between La Quiaca and Villazón (Villazón is an hour behind).
In Feb 2018, the route between Uyuni and Villazon was closed due to flooding. It was expected to reopen in October 2018.
The more comfortable and faster
Expreso del Sur
leave Wednesday and Saturday, the more basic
Wara Wara del Sur
, Monday and Thursday. Prices vary according to departure day and class.
Train tickets for Salon class have to be bought the day before the train leaves (but they are kind of flexible about this rule) and for Ejecutivo they may be bought the same day. Trains leave at 15:30.
By bus
Villazón
Tupiza – Between 04:30-21:00, hourly (or when full) vans/servis run between Tupiza and Villazón, Bs. 20. There is also a 20 people minibus leaving Tupiza at 10:00 for Bs. 15.
La Paz – 24 hr, Bs. 80-100.
There are two terminals in use:
Villazón (Old) Bus Terminal

Villazón New Bus TerminalThis one is the main one served by connections from Tupiza.
La Quiaca
La Quiaca Bus TerminalThere are connections to Jujuy, Salta and as far as Buenos Aires. Luggage storage is available.
Buenos Aires ("Retiro") – 25 hr
Jujuy – 5 hr
Salta – 8 hr, AR$430 (as of May 2018). Flechabus takes 6.5 hr, departs at 07:15 and arrives 13:30. The trip is pleasant with great scenery.
Tucuman – 10 hr, AR$150
Bus companies with good reputation include Flecha and Balut. The Balut office accepts credit cards. Avoid Panamericano as they charge a hidden gringo tax, sell overpriced service to Salta that changes bus lines in Jujuy, and the bathrooms on their buses do not work.
Get around
La Quiaca

Taxis are available.

Villazón

Taxis are available, and they line up just north of the bus station.

The border
Villazón is separated from La Quiaca by an with Bolivian immigration on one side and the Argentinian on the other. The border procedures are fairly easy for most western tourists. Don't forget to go to both countries' passport control when you cross the border—it's easy to miss one by mistake, and if you fail to get stamped in you could be in for an unpleasant situation when you try to leave the country.
Crossing from Bolivia into Argentina is straight forward and does not take long.
Crossing from Argentina to Bolivia can take painfully long – you may get through in just a few minutes, but it could take as much as several hours. There is no shelter where you queue, and remember that at high altitude the weather conditions are harsh and can change rapidly, so it is advisable to get in as early as you can in the morning! (Sometimes foreigners get shuffled through but don't count on it.)
As of January 2018, US citizens can obtain Bolivian visas on arrival at this border crossing. Make sure you have all the required documents (color photocopy of your passport, itinerary, lodging, proof of funds, passport photo, visa application form, copy of yellow fever vaccine) and US$160 in undamaged bills. Dual citizens who entered Argentina on a US passport are required to pay for a visa – the border officials don't let you switch passports at the border.

See
There's not much to see in this pair of small border towns. They seem to be thriving on international trade, though, and growing with construction around the center of town. At the border crossing there is an army of Bolivian people taking heavy loads of goods across the border. It is possibly easier to have the army of couriers take the goods by foot than to get the goods through customs by truck.
Museo Etnográfico Mosojñan

address: Av. Sarmiento 60, La Quiaca

Museum of the indigenous history and culture of the region.
Buy
Money
There are plenty of money exchange offices only on the Bolivian side in Villazón. There is one bank (Macro) on the Argentinian side, which however does only exchange money for its own customers.

Shopping
On the Villazón side, right near the border, there are lots of shops selling clothes, souvenirs, and all kinds of stuff.

Eat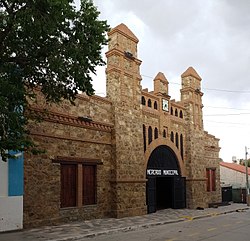 There are hearty and cheap menus available upstairs at the municipal market, from about Bs. 8. Around the bus terminal in Villazón, there is an abundance of reasonably priced eateries. For better food you have to head to La Quiaca, where there are a bunch of restaurants on Belgrano, near the bus terminal. Also in La Quiaca, there are lots of stands selling juice and some street food on Lamadrid. Watch out for restaurants refusing to give prices, they charge a lot more if you don't agree a price beforehand.
La Coyote near the bus station down towards the center is very basic looking but the prices are good.

Mercado Municipal

address: Pellegrini (esq. Rivadavia)

Large and attractive indoor market selling produce, with a bunch of tiny mom-and-pop restaurants. Good place for inexpensive, authentic local cuisine.
Sleep
La Quiaca
Hotel de Turismo is reasonable. The standard is as good as it gets in town, close to shops as the town of La Quiaca is not too big.

Hostel Copacabana

phone: +54 3885 423875

address: Pellegrini 141

Somewhere between a luxury hostel and a budget hotel, with a kitchen, Wi-Fi, free breakfast, and 24-hour hot water.
Villazón
There is an abundance of cheap hostels between the bus terminal and the railway station, so accommodation will not be a problem.
Hostal Plaza is a decent, reasonably clean hotel with hot water. It's on the main square, and costs about Bs. 150 per night for a twin. Bs. 135 for a double.
Cope
There is no access to Wi-Fi in Villazón. There are several Internet cafes that charge about Bs. 3 an hour; you just can't use your own computer.
There are two
ATMs
that take foreign cards in Villazón, both on Calle Independencia - one on the Northwest Corner of the square - Banco Union (it charges 5% on withdrawals) and one that is quite hidden, about 5 m further up.
If you need to print some last-minute documents for a Bolivian visa, never fear—
photocopy
places can be found in La Quiaca, including one that does color photocopies and prints from USB drives, across from the bank at the intersection of Lamadrid and Pellegrini. There are also a couple of photo and photocopy places in Villazón on Avenida República Argentina, a couple blocks north of the border.
Consulates
Argentinian consulate in Villazón

phone: +591 2 5972011

address: Calle Tarija c/20 de Mayo, Piso 1

Bolivian consulate in La Quiaca

phone: +54 3885 422 283

address: Calle 9 de Julio No 100, (esq. Rep. Arabe de Siria)
Go next