Virginia Beach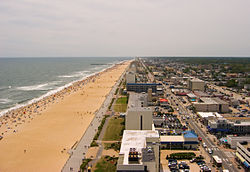 Virginia Beach
is resort city in southeast
Virginia
on the shores of the
Chesapeake Bay
and the Atlantic Ocean.
Understand
Virginia Beach offers the classic beach vacation, and maintains a long-standing reputation as a family-friendly oceanfront resort. Visitors are greeted by a 300-foot wide beach lined by Virginia Beach's three-mile concrete oceanfront Boardwalk. The resort offers a mild climate year-round. Itineraries include lazy days on the beach, the state parks and Back Bay National Wildlife Refuge beckon, hiking, kayaking, and biking adventures. Fishing, golfing,
whale watching
, dolphin watching, historic landmarks, and exciting attractions and popular events are part of the Beach experience.
History
Virginia Beach, prior to 1963 known as
Princess Anne County
, was formed in 1691.
Get in
By plane
Virginia Beach is served by
Norfolk International
(
ORF
) in neighboring Norfolk, which is just west of the border between the two cities.

By car

If you are coming from the Delmarva Peninsula, or anywhere northeast of it, the fastest way to drive to Virginia Beach is down Delmarva Peninsula, onto U.S. Route 13, and across the Chesapeake Bay Bridge Tunnel.
If you are coming from anywhere northwest or west of the area, the fastest way is along Interstate 64.
Coming from the south or southwest, it is easiest to take Interstate 85 or 95 to US 58.

By train
While Virginia Beach has no train station, nearby Newport News has at least two daily trains both to and from Boston. Amtrak provides a connecting shuttle bus to Virginia Beach. There is now an Amtrak station in nearby downtown Norfolk.

By Bus
Sprinter Bus operates daily service between Virginia Beach and Dover (Delaware) ($35) and New York City ($45). Their phone number is: 1-757-456-5555. In Dover, catch the bus at 1131 North Dupont Hwy, Dover. In New York City, catch the bus at 201 West 37th St. in Times Square. Buses drop you off at 5461 Wesleyan Dr., about two miles east of Norfolk International Airport. If you want to take the local HRT bus to the beachfront you will need to take the number 22 bus to Newtown Road light rail station and transfer to the 20 bus going east.

Get around
Virginia Beach is easily traverseable during the off-season but not during the main season by car. Thè Boardwalk is traversable by walking or biking. Surreys are popular and can fit from 2 to 7 people. Bike and Surrey rentals are all along the Boardwalk and Atlantic avenue.
For getting around by bus use the Hampton Roads Transit Website,. It uses google maps to plan public transit trips. Bus fare is $1.50 per ride.
If you are staying at the Oceanfront, there are a few ways to get around the beach area, including the trolley and bus system operated by Hampton Roads Transit. If you want to explore other areas in Hampton Roads, the best way is to rent a car.

See
phone: +1 757-422-9421

The first lighthouse built by the federal government, completed in 1792. Once you reach the summit, enjoy a panoramic view of the Atlantic Ocean and the Chesapeake Bay – the same view once seen by ship watchers more than 200 years ago. Located on the Fort Story military base, the original Cape Henry Lighthouse is open to the public. Across the dune line, you'll find the new Cape Henry Lighthouse. Built in 1881, it's the tallest iron-encased lighthouse in the country, and is operated by the U.S. Coast Guard. Adjacent to the lighthouses, visitors also can tour the Cape Henry Memorial Park which includes a replica of the First Landing Cross, planted by the first settlers to give thanks for a safe voyage after arriving on shore in 1607. Note: Access to military bases may be restricted for public tours and a valid picture ID is required.

First Landing Crossmarks the point where English settlers landed in 1607.

Association for Research and EnlightenmentVisitors from around the world gather at the Association for Research and Enlightenment at 67th Street and Atlantic Avenue to attend workshops, conferences and lectures based on the works of Edgar Cayce, one of the most documented clairvoyants of the 20th century. As a young man, Cayce found that by placing himself in a self-induced trance, he could answer questions or give accurate information on any topic. Today, physicians are finding Cayce's "readings" to be on the cutting edge of many health-care concerns, particularly the mind-body relationship to health and healing. Founded in 1931, his Virginia Beach headquarters houses 14,000 readings (on everything from medicine to world affairs)and one of the most extensive metaphysical libraries in the world. Guided tours that include films,lectures, meditation classes and ESP demonstrations are offered daily, as well as a full menu of health services including massage, facials and reflexology.

The Old Coast Guard Station

address: 24th Street

Housed in a 1903 former U.S. Life Saving Station, this quaint, oceanfront museum is chock-full of rescue equipment used by turn-of-the-century surf men to save shipwrecked crews from a watery grave. Learn about shipwrecks that occurred just off the Virginia Beach coast and the history of life-saving service from World War II to the present day.

Virginia Museum of Contemporary Art

phone: +1 757-425-0000

address: 2200 Parks Ave

Virginia Beach Convention CenterThe resort city is becoming a year-round meeting destination. Virginia Beach Convention & Visitors Bureau (CVB) manages the Convention Center, which hosts regional and national trade shows, conventions, sports tournaments and special events, and sponsors some of the city's major festivals and special events.

Atlantic Wildfowl Heritage Museum

phone: +1 757 437-8432

address: 1113 Atlantic Ave

Located in the historically registered DeWitt cottage built in 1895, the Atlantic Wildfowl Heritage Museum displays art and artifacts documenting migratory wildfowl that pass through Eastern Virginia. Exhibits of wildfowl and shorebird carvings trace the evolution of this unique American art form. Enjoy on-site wood-carving demonstrations, interactive computer programs, decoys dating from historic times to present day and a collection of exhibits covering the history of Virginia Beach.

Virginia Aquarium & Marine Science Center

phone: +1 757-385-FISH

address: 717 General Booth Boulevard

The Virginia Aquarium & Marine Science Center is the state's largest and one of the most-visited aquariums in the nation. It is an authority on the state's various aquatic and marine environments and features more than 700,000 gallons of aquariums and live animal habitats, more than 300 hands-on exhibits and the IMAX 3D Theater. A one-third mile-long nature trail connects the two Pavilions that make up this "must sea" museum, and an outdoor aviary offers an up-close glimpse of the marsh birds seen along Virginia Beach's shore.
phone: +1 757-385-2995

address: 310 Edwin Dr

World-renowned Mount Trashmore Park is 165 acres, 60 feet high, over 800 feet long, and was created by compacting layers of solid waste and clean soil. Recognized for its environmental feat, Mount Trashmore Park features the Water Wise demonstration garden that boasts xeriscaping where you can learn how to create a beautiful garden with minimal water requirements. The park features two lakes and its facilities include four large and 11 small picnic shelters, skate park, playground areas, a basketball court, four volleyball areas, parking, vending machines and restrooms. Mount Trashmore Park also has a walking trail that measures approximately 1.45 miles.

Virginia Beach Farmers Market

phone: +1 757-427-4395

address: 3640 Dam Neck Rd

Experience the rural side of Virginia Beach at the Farmers Market, a country-style, open-air market that features fresh, locally grown produce, dairy products, organic groceries, a meat market, home and garden gifts, jams and jellies, and a restaurant. It is open year-round and special events are held each month.

State Parks and National Wildlife RefugeVirginia Beach is home to some of the world's most pristine natural environments, with more than 18,000 acres of state parks and national wildlife refuges.
Do
GolfingWith eight public courses in Virginia Beach and 20 in the surrounding region, players will experience intriguing, challenging greens for all handicaps, from beginner to novice to pro. With designs by Arnold Palmer, Rees Jones, Pete Dye, George Cobb, Gene Bates and others, golfers will find miles of bent Bermuda grasses, hardwood forests, and challenging layouts. Year-round affordable golf package opportunities are offered. The resort city's mild weather permits play almost year-round.

Surfing. The surf in Virginia Beach is sometimes small but usually rideable. In August, more than 100 of the world's top professional surfers and an estimated 400 amateur surfers come for North America's oldest surfing contest, the East Coast Surfing Championships. One of the best surf spots is at the beach called Croatan, off of General Booth Blvd. Visitors can also experience surfing with former professional champions who offer surf camps for people of all ages. The various outfitters, including Quicksilver and Billabong Surf camps, offer individual instruction, 2-hour classes, 1-day, 3-day and 5-day camps.

Virginia Beach AmphitheaterBeautiful outdoor concert venue with a 20,000 seating capacity books the biggest names in music. Sit under the stars on the lawn.

Kayaking and Canoeing. Virginia Beach's 121 navigable miles of waterways, channels, bays and lagoons are perfect for kayak and canoe enthusiasts. Explore the multitude of coves and inlets on a guided tour of coastal Virginia, or experience kayaking alongside bottlenose dolphins in the ocean. Virginia Beach's creeks and rivers are also perfect for canoeing – venture into Back Bay National Wildlife Refuge or state parks such as False Cape and First Landing.
Running. The resort city hosts several professional and amateur races, like Rock 'n' Roll Half Marathon, that draws more than 20,000 athletes. The Rock 'n' Roll Half Marathon features musical talent along every mile for both participants and spectators to enjoy. Virginia Beach also hosts the Shamrock Sportsfest Marathon, Half Marathon and 8K - another event where records have been shattered.
Fishing. With the food-rich Chesapeake Bay meeting the Atlantic Ocean, Virginia Beach and its neighboring waters are home to a multitude of freshwater, brackish and saltwater fishing opportunities. Croaker, spot, flounder, striped bass, tautog, sea bass, trout, bluefish, skipjack, cobia, mahi-mahi, spanish and king mackerel, puppy and red drum, yellowfin and bluefin tuna, marlin, amberjack and wahoo are abundant at various times of the year. Tow your boat and choose from several different put-in locations or opt for a company that specializes in half-day or full-day private charters. Group party boats are also available at Rudee Inlet and on Shore Drive. If you choose to stay near shore, cast a line from one of the four piers. Try your hand at one of Virginia Beach's annual fishing tournaments, including the Striped Bass World Championship or Waterman's Rockfish Shoot-out. Freshwater and saltwater fishing licenses are required.
Dolphin and Whale Watching. Humpback and fin whales journey to the food-rich mouth of the Chesapeake Bay and warmer waters of the Atlantic Ocean for their annual retreat. From December until March, Virginia Beach offers visitors the rare opportunity to spot these magnificent creatures up close on a whale watching boat tour conducted by Virginia Aquarium & Marine Science Center. Whale watching vacation packages are available. Every year, bottlenose dolphins migrate off the Virginia Beach coast during the spring, summer and fall. Several outdoor outfitters offer dolphin-watching boat trips and kayaking excursions, where the dolphins often frolic on the waves just several feet from the kayaks.
Birding. The Seashore-to-Cypress Loop, part of the initial Coastal Phase of the statewide Virginia Birding and Wildlife Trail, was officially opened October 4, 2002 by the Virginia Department of Game and Inland Fisheries. It traverses the city of Virginia Beach and extends into the neighboring city of Norfolk. The Seashore-to-Cypress loop contains 12 viewing sites teeming with flocks of migrant shorebirds, songbirds and raptors, winter wetlands filled with waterfowl and whales swimming offshore and summer swarms of dolphins, butterflies and dragonflies. Popular stops include the Chesapeake Bay-Bridge Tunnel, First Landing State Park, Back Bay National Wildlife Refuge, False Cape State Park and the Virginia Aquarium.

phone: +1 757-422-4444

address: 849 General Booth Blvd

Inside the 19-acre park, visitors will find brilliant, colorful water slides and tubes for all-day excitement, featuring a million-gallon Runaway Bay wave pool and 13 water slides. Shoot the rushing Rocky River Rapids on an inner tube or soar down the Maui-Wowie speed slide.
Buy
The city is home to
Lynnhaven Mall
and
Hilltop Shopping Center
. Approximately five minutes from the oceanfront, the Hilltop area contains several smaller shopping centers with national brand stores and smaller boutiques. Virginia Beach's newest downtown area,
Town Center
, spans 17 city blocks and provides a mix of upscale retail, luxury residential, and an array of cafes and restaurants, along with business-class and deluxe hotels. Blue Taxi Clothing Company, Blanc and STAC are three locally-owned boutiques in Town Center with designer clothes and high-end merchandise.
Atlantic Avenue at the oceanfront has dozens of souvenir stores. Some sell inexpensive goods. Along Atlantic Avenue, visitors will find a number of quaint boutiques and souvenir shops offering a variety of selections. There are some pretty good stores in the Ocean 31 area by the HIlton hotel at 31st Street.
Eat
phone: +1 757 422-6703

address: 704 Hilltop North Shopping Center

Perfect place to have nice lunch with specialty coffees and crepes for dessert. Open for breakfast, lunch, and dinner.

address: 3107 Atlantic Ave

Oceanfront dining that offers up menu items such as seafood, steaks, chicken, pasta, salads and unique daily specials. Breakfast 7AM-11AM, lunch 11AM-3PM, dinner 3PM-10PM; seven days a week.

Croaker's

address: 3629 Shore Drive

Daily 5PM-10PM. Jimmy Buffett would feel right at home in this seafood haven. A bit weathered on the outside, this relatively small restaurant serves up a wide variety of fish and crustacean delights that draw the locals like groupers to a pinfish. Excellent!

phone: +1 757 961-2987

address: 612 Norfolk Ave

Local hole in the wall will ruin all other Mexican food for you. Great fish tacos; voted Best of the Beach. Chef Jen Cavey is an alumnus of the San Francisco Culinary Academy and whips up nightly chalkboard specials. Be warned, when they're gone, they're gone, so get there early. Friendly staff provides great service.

phone: +1 757 495-7427

address: 5200 Fairfield Shopping Centre

Has won the city's award for best ribs. for several years running. Offers more than just ribs, including steak and chicken. Portions are generous and the prices are competitive. During lunch time dinning in includes a free cup of chicken and rice soup.
"Waterman's" is a popular place to eat. It has sandwiches and seafood. Come early to avoid lines, waits can stretch to three hours.
Drink
Catch 31
at the Hilton at 31st Street is a popular new hangout for young professionals and tourists alike. There is an indoor and outdoor bar, with fire pits outside. Bands often play at the adjacent park.
Red Star Tavern
at Town Center is another popular hangout spot for locals. It is usually crowded on weekends, and has a great bar menu. Town Center usually is pretty vibrant at night, in general. Other popular spots include Gordon Biersch, Sonoma Wine Bar and Guadalajara.
address: 2165 General Booth Blvd

Oysters and wings. They offer a discount on oysters, clams and chicken wings during their Happy Hour. Make sure that you try the corn bread and pretzel bread. The restaurant has a nice nautical theme. Lots of big screens in the bar for the sport nut.

Three Amigo's

address: 1920 Centerville Tpke, Virginia Beach, VA

Three Amigos Mexican Restaurant is a clean well run Mexican bar and grill with excellent service. It stays packed with locals.

address: 1956 Laskin Rd

Seats 1000 guests. Serving its world-famous "all-you-can-eat" seafood buffet with over 70 items including fresh broiled fish, steamed shrimp, prime cut beef and delicious desserts. The "Port" and "Starboard" Lounges each have 35 foot in diameter, 7 foot vertical rise stained glass domes.

address: 3472 Holland Rd.

local LGBTA club; 2 dancefloors and weekly drag shows
Sleep
Budget
address: 196 Ballard Ct

Easy access to I-64 and I-264 which are the primary travel hubs for the region. Outdoor pool and one pet is allowed. US $50-$95.

phone: +1 757 491-1830

address: 302 24th St

Angie's guest cottage is the only hostel in Virginia Beach, and offers cheap beds and great location.
Mid-range
Splurge
Cope
Consulates
phone: +1 757 270-8275

address: 1023 Laskin Rd #K

phone: +1 757 628-5646

address: 222 Central Park Avenue, Suite 1500