Viterbo
Viterbo
is in
Lazio
, a central region of
Italy
.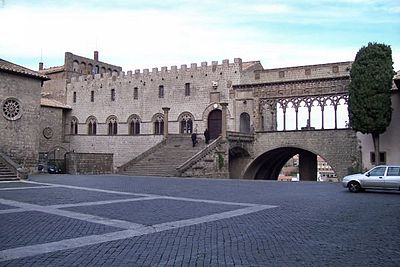 As a settlement Viterbo dates back to Etruscan times. Between around 1100 and 1300, it was one of the most important cities in Europe. By the 13th Century it had 50 castles under its control. It was the place where Popes took refuge when driven out of Rome and for several decades was the seat of the Papacy. It was the scene of battles between potential invaders of Rome and papal armies. With the departure of the Papacy to
Orvieto
and then to
Avignon
Viterbo declined in importance. It was further hit by Black Death, which killed two-thirds of its population and a major earthquake in 1349. Last century it was damaged by appalling Fascist-era town planning and then by Allied bombs. These days its population is about the same as it was in the 13th Century, at around 60,000. Apart from its tradition its main claim to fame now is that Italy's gold reserves are held there.
Get in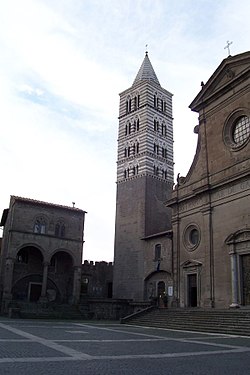 By train
Main railway stations are Porta Fiorentina and Porta Romana. To arrive at Porta Romana, you can take a Regional Train or a Regional Faster Train (hosted by
Ferrovie dello Stato Italiano
, the Italian Train Government Service) from Roma Termini, Roma Tiburtina or Roma Ostiense. This trip could be take a time between 1.30 hours and 2 hours. In alternative, you can take an extra-urban train (this service is hosted by ATAC, the Roman Transport Government Service) from Roma Saxa Rubra or Roma Ostiense.
By car
From Rome take the ring road of GRA to the Cassia bis exit and follow this road to Viterbo. An alternative, but longer route, is to take the A1 motorway (from Rome follow the signs towards
Firenze
, and exit at Orte. Then take the S204 towards Viterbo (about 3 € tolls from Rome).
It´s not really comfortable to drive inside the historical centre, as all the streets are quite narrow and "one way". Better to park your car out of the town walls.
By bus
From the bus station of Roma Saxa Rubra take a COTRAL (the government company for extra-city transport in Lazio) Bus to Viterbo and leave at Porta Romana bus stop (at five minutes by foot from historical centre) or at Riello (the bus station of Viterbo). The trip takes about 1.30 hours. The price are: ordinary ticket from Roma Saxa Rubra to Viterbo 4.00 €; ordinary ticket on board from Roma Saxa Rubra to Viterbo 7.00 €).
Get around
The historical centre is small enough to be visited on foot.
For longer distances you can use the local bus network, hosted by Francigena, the government company of transport in Viterbo (ordinary 90 min. ticket for 0,70 €; ordinary 90 min. ticket on board for 1.50 €; daily ticket for 1,55 €). Tickets can be found at tobacconists, and must be validated when getting on the bus.

See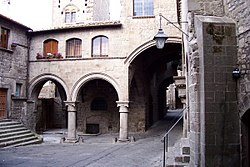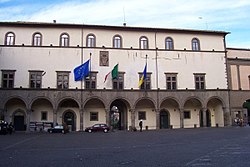 Viterbo CathedralThe cathedral dates back to the 12th Century but the façade is 16th Century and the tower 14th. There is a tomb for Pope John XXI. Pope Alexander IV was also buried there but his tomb was unaccountably destroyed during 16th Century renovations. According to legend the cathedral was built on the site of an Etruscan temple to Hercules.

Palazzo dei PapiThis was formerly the bishop's residence but was enlarged for the popes. It was the papal seat between 1257 and 1281 and hosted six popes. It was the site of the first Papal Conclave when the local people got so fed up with the cardinals taking too long to elect a pope that they locked them all in until they came to a decision. The practice continues to this day in the Sistine Chapel at the Vatican.

Church of San FrancescoBuilt in the 13th century in Romanesque-Gothic style, this church was completely destroyed by bombs in 1944. It was reconstructed in 1953. There is the superb mausoleum of Pope Hadrian V, who died in Viterbo in 1276 and the mausoleum of Pope Clement IV, who died in Viterbo in 1268. There are also remains of the tomb of the so-called "Pope-of-one-day", Cardinal Vicedomino Vicedomini, who would have become Gregory XI, if he had not died the night after his election.

Palazzo dei PrioriThis originally dates back to 1263. Inside there is a garden court with arcades of 1682 with an elegant Baroque fountain and a beautiful view. There are some interesting frescoes.

Church of S. Maria NuovaThis is one of the most ancient churches in Viterbo, built in 1080 on the remains of a temple.Externally, on the left, there is a pulpit on a column, from where St. Thomas Aquinas preached. The church has a wide range of Viterbese frescoes and paintings from between the 14th and the 16th Centuries. In the apse of the left aisle there is a precious tryptych from 1180 painted on leather with the effigy of Christ.

Rocca Albornoz

address: Piazza della Rocca, 21/b

This castle was greatly destroyed by the bombings in 1944. It took over a century to build and was finally completed in 1462. The Rocca Albornoz houses a national archeological museum (Museo Nazionale) with a permanent exhibition on Etruscan and other cultures.

Piazza CommuneThat's where the Government Palace is.
Out of the centre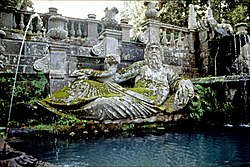 phone: +39 0761 288008

address: Via Jacopo Barozzi, 71, località Bagnaia

A Mannerist villa with a garden at the Bagnaia suburb.
Do
Already famous in Roman times, and quoted by Dante in his "Divine Comedy"...having a bath in one of their natural thermal springs is, perhaps, what you would never miss from Viterbo. As they are in surrounding open-air countryside areas, you can use them all year, every time of the day (for free, of course). Water reaches temperatures of 55°C, so the experience gets more amazing in freezing days (and nights).
The most famous ones are called Bulicame (2 km from Viterbo, on the road that leads to Tuscania). On the other hand there are also some springs run as spas centres (Terme dei Papi and Pianeta Benessere)
A liked hobby by people who live in Viterbo, is go to do shopping in a one of lots of stores in historical centre (in it, you can find lots of italian original food stores and dress stores), or in the most modern commercial centre of the city; the
Centro Commerciale Tuscia
(near Riello Bus Station). Abitually, the price of gadgets, dresses and other common things, is in the standard of a typical province town of the center of Italy (for example: you can buy a T-shirt at a price from 5 € to 7 €, and a souvenir magnet at 1-2 €).
Eat
La Buca di San fastinoWonderful family restaurant with delicious food! And really cheap too.

Il Monastero

address: Via Fattungheri, 10

Huge and delicious pizzas around €5.
Also good is Pizzeria San Pelligrino, on Via San Pelligrino.
Tre Re at Piazza Del'Erbe has excellent pastas and other Viterbese fare for about €10-€20 per person.

Il LaberintoGreat cheaper restaurant just a few steps away from Il Monastero.

Convivium

phone: +39 0761324397

address: piazza della Morte, 14

Recently opened. delicious apertivs, dinner, and wine.

phone: +39 0761-305596

address: Piazza Don Mario Gargiuli, 11 & Piazza del Gesu', 18

Restaurant, bar, & wine bar (vineria con cucina e slow bar) The menu varies daily, by season & the mood of the cook. Fantastic food & amazing antipasti featuring regional artisanal meats, cheeses & other delicacies. Simply amazing food & a great experience. The also have a sell lots of goodies typical of the region to take back home including an incredible wine selection.
Akira Japanese Restaurant , Via Genova, 22. Japanese restaurant, all-you-can-eat.
Drink
"Caffe Cavour" on Via Cavour, has the best cappuccino in town.
"Blitz" - great food and drinks
"Shu Lounge" - pricey drinks, nice outdoor seating, good music, friendly workers
Sleep
Budget
phone: +39 0761 344400

Via Cairoli 41. In the centre of Viterbo/ Lift, bar, air conditionned lounge, breakfast room, free internet point, roof garden with views, garage.
Mid-range
phone: +39 0761352137

address: Strada Rinaldone

Old rural buildings inside a 180 hectare farm, 3 km away from Viterbo. Consists of 20 rooms with bar-fridge, TV and telephone, placed in a row and facing green areas. Also tennis-courts, a 250 mq swomming-pool, mountain-bikes, table-tennis etc. The restaurant has been built in the most ancient part the building, dating back to the XVI century.
Hotel Viterbo, Via San Camillo De Lellis, 6 · 01100 Viterbo Italy Ph: +39 0761 270100 · Fax: +39 0761 275717 · Toll Free: 800.820.080.

phone: +39 0761-309742

address: Via Santa Maria della Grotticella 2/b
Splurge
Go next
Viterbo is the center of a really fascinating area and there are many places that can be explored by car in an easy day trip. To the east is the Etruscan city of
Tarquinia
, to the north
Orvieto
and in a general southerly direction places such as the park of monsters at
Bomarzo
and the Etruscan/Roman remains of
Sutri
should not be missed.