Vitoria-Gasteiz
Vitoria-Gasteiz
(
Spanish
:
Vitoria
,
Basque
:
Gasteiz
) is in the heart of the
Basque Country
in
Spain
, 66 km south of Bilbao, 114 km from San Sebastian and 351 km from
Madrid
. It is the provincial capital of
Alava
.
Understand

Vitoria-Gasteiz has been the political capital of the Basques since the 20 May 1980. Spanish is the main language, but knowledge of Basque is common. English is not widely spoken. The Basque language is called Euskera and nobody knows exactly the origin of this language.
Visitor information: Tourist office at Spain Square (Espainia Plaza/Plaza España) 1 is open daily from 09:00 till 19:00, closed at midday.

Get in
By plane
Vitoria AirportIs a small airport north of the town with a few flight destinations. Ryanair from Bergamo, Cologne/Bonn, Seville, Tenerife-South. There is a shuttle bus (company bidasoa) to the airport from the center (catedral) and outside the bus station and back suitable for the Ryanair flights to Bergamo. You can ask at the tourist info for exact schedule and location.

Bilbao Airport (BIO

) offers more connections and is away. You can visit Vitoria-Gasteiz coming from Bilbao Airport (Loiu) on a toll road or using public transport (Autobuses La Unión).
By bus
The coach station is north-west of the center at Euskaltzaindia Plaza with connections to all major Spanish cities including Bilbao, Burgos, Santander, Zaragoza, Pamplona and Madrid.
There is a left-luggage facility at the Coach Station (to the east of the city centre). Cost is roughly €1 per bag per day, and you can leave luggage for several days.
Get around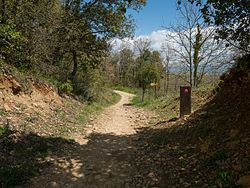 In the south of the Basque Country, Vitoria-Gasteiz is a city without sea. To the north, 66 km away is the city of
Bilbao
, and 114 km away is the beautiful city of
San Sebastian
. The south part of Alava province, is called La Rioja Alavesa, where the visitor can taste some of the best red wines of the world. There are a lot of touristic tours, and you can find more information about in the following website: . The province to the south of Alava is
La Rioja
, where the cultivation of wine is one of the most important attractions.
Vitoria-Gasteiz itself is a very small city. Virtually everything you will want to see is reachable on foot. If you do not fancy walking there are several other proposals to move around:
By bike
Free bike hiring service in several spots through the city:
By bus
Tuvisa
. Official information on times and bus network (only in Spanish):
By tram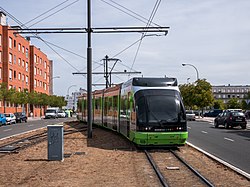 Euskotren
operates the green tram of Vitoria. There are only two lines from Angulema Street in the centre of town to the northern quarters of Abetxuko and Ibaiondo (each 15 minutes). Single tickets are sold from machines at tram stops. Don't forget to validate the ticket before boarding.
By taxi
Taxi Iberia
Radio Taxi Gasteiz
, Santa Mª, 9-3º, 01001 Vitoria-Gasteiz, +34 945 27 35 00, rtaxi@rtaxi.e.telefonica.net
Patxi Taxi
+34 656 710 167, servicios@patxitaxi.com
See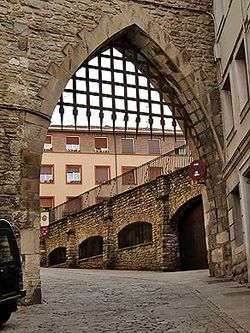 The city has an ancient town center where most of the streets still have the medieval name of the jobs that was used to be in each one of the streets (Herrería, Zapatería....) In the town center you can find the
Cathedral of Santa María
, that is one of the most important attractions of Vitoria-Gasteiz. Guided visits can be made, and it´s recommended to make the reservation via Cathedral Santa María web page.
Museums
Basque Museum of Contemporary Art

address: Calle Francia, 24

The last Collections of Basque Art. The museum is close to the old center town.

Fournier Playing Card Museum

address: Cuchillería, 54

Itinerario Muralístico de Vitoria-Gasteiz

phone: +34 633-184-457

address: Correría 101

Guided tours of "La Ciudad Pintada" a street-level gallery of community created public artworks. Fridays at 18:00 and Saturdays at 11:30 or by special appt. Don´t miss out on all the secrets these monumental murals hide, and see the old city through the eyes and the art of its current inhabitants.
Do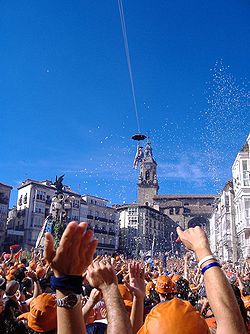 The
Festivals
:
Night of 27th April and day of 28th April. San Prudencio Saint. On the eve bands of trumpeters, clarinet players and drummers meet in the Plaza de la Provincia and play in an open-air concert. Afterwards parade of drummers and txistu players around the city center. Visit to Armentia's Saint Prudencio church. Eat of scrambled perretxikos (mushrooms found locally) and snails. Extremely popular.
Mid July. Festival de Jazz de Vitoria Gasteiz. -
4th August till 9th August. "Fiestas de La Blanca".
June. Azkena Rock Festival.
Move around to see the atmosphere!
City Center
Early at night: Plaza Virgen Blanca, Calle Dato, Calle Postas
Later at night (11 and later):
Medieval Area
Main streets: Zapatería, Cuesta de San Francisco, Cuchillería, Pintorería, Nueva Dentro, Nueva Fuera
Ensanche Area
Main streets: Calle Dato, Calle Postas, Calle San Prudencio.
Spectator sports:
Watch football ie soccer at Deportivo Alavés. They play in La Liga, the top tier of Spanish football. Their home ground is Estadio Mendizorrotza, capacity 20,000, 1 kn southwest of city centre.
Basketball: The city's best-known team is Saski Baskonia. They are perennial contenders in both the domestic ACB and continent-wide EuroLeague. Baskonia's home of Fernando Buesa Arena has been expanded to 15,000 seats.
Buy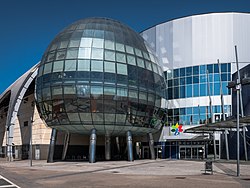 Two new shopping malls were opened in the north of Vitoria on the road going to Bilbao comprising grocery, DIY, cinemas, bars and everything else you need.
Centro Comercial Lakua Duque de Wellington, 6.
Or go to the traditional small shops in the town center such as Calle Dato. This is the place where you find Vitoria-Gasteiz's best shops and bars as well.
Leather and shoes is always an option in Spain and especially in Vitoria-Gasteiz. Ayestaran located in Calle Dato is a place where you can find nice stuff. Sadly, it is expensive.
Corte Ingles is Spain's flagship retailer and the store is in the center of the town: you can probably find everything you want, but it is pricey by Spanish standards.
Eat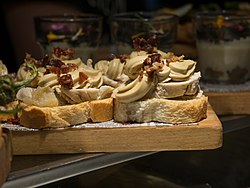 Traditionally you can have a few small drinks in the bars around the town center and enjoy this with some tapas. Usually every bar has one speciality and it is interesting to taste them and then you go to another bar. The boiling point for bar visits is at 14:00 just before lunch time. The Basque cuisine is one of the best in Spain and Vitoria has restaurants in all categories.
Bar Saburdi on Calle Dato is one of the most famous bars in Vitoria-Gasteiz. You can find a great variety of small snacks and everything is of the highest quality. The pancito con jamon is excellent.
Bar Usokari on Calle Dato, 25. Close to Saburdi and from the same owners, but with very different stuff. Lots of different pintxos along its long bar.
Bar Sagartoki on Calle Prado, 18 has been awarded with the best Spanish pintxos bar in 2006. Freshly made creative pintxos. Do not miss the plane Spanish Omelet pincho. Around €2.50/unit. www.sagartoki.es
Bar Toloño on Cuesta San Francisco. Renowned of having delicious and unusual pintxos.
Bar perretxiCo on Calle San Antonio, 3. Excellent creative pintxo selection.
Bar Txiki on Calle Sancho el Sabio, 14. One of the best Spanish omelets in town.
Drink
Like in other cities of the Basque Country nightlife is centered around the old medieval zone of the city or 'Casco Viejo' where there a bar every few meters. Same style bars usually (but now always) tend to be around the same area. Depending of what kind of night you are searching for you should head to one street or another:
Cuchilleria (Kutxi/La Cuchi): You could say is the 'basquest' street. Many of the bars play basque-rock and are decorated with typical basque paraphernalia. Posters supporting independence for the Basque Country (and sometimes even ETA) can be seen at many places. People from all ages (from 15 to 40 something) can be seen around here.
Zapateria (Zapa): Probably the most diversified street. Almost all the bars play commercial hits but the best punk and classic-rock bars can also be found here. As in Cuchi costumers of all ages can be found.
Pintoria (Pinto): Mainly commercial and electronic-music bars for teenagers. A couple of heavy-metal and hard-rock bars can also be found.
Cuesta (short for La Cuesta de San Francisco): The street where Cuchi and Pinto start. Various bars of all kinds are located here but costumers are usually a little older than in other streets, people on their late 20s or 30s.
Dato: The main street of Vitoria. More expensive and with more stylish bars. Although people of all ages may end the night here (bars close usually later) it is a zone where people in their 30s, 40s or even 50s go out.
Sleep
Hotel Dato, Calle Dato 28, is a bargain in the centre of town. Rooms are basic, befitting the 2-star rating, but clean and well-equipped, and the public areas are astonishing in their quirky display of art nouveau objects and decor.
Hotel Almoneda, Calle Florida 7, a medium-sized hotel in the center of the city with warm and friendly staff.

phone: +34657738379

address: Rioja street, nº15

Accommodation in apartments (loft) of 45 m² in the centre of Vitoria Gasteiz, (Rioja St). 2nd floor in a very quiet house of apartments. 2 apartments, total capacity: 7 people. Apartments fully furnished and suitable for 2, 3 or 4 people. In the main area for tapas, bars and restaurants in Vitoria. Within 5 minutes walking distance from the Virgen Blanca square, the medieval town, La Florida Park and the Artium museum. 10 minutes walking distance from the historic cathedral of Santa María. Close to the Universities. Lat=42 50 35.611, Long=2 40 5.5098.
Go next