Vlaardingen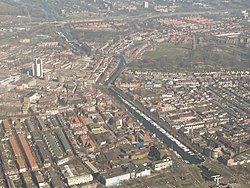 Vlaardingen
is a town in
Rijnmond
, the metropolitan area of
Rotterdam
, in the
Netherlands
.
Understand
Vlaardingen is a city located on the banks of the Nieuwe Maas (New Meuse), which makes the city a part of the
Rotterdam-The Hague Metropolitan Region
. The municipality houses some 72,000 citizens. Vlaardingen is dissected by the
Vlaardingervaart
river. The city is best know as
the
herring city of the Netherlands. Fishing for herring, anchovies and Atlantic cod however, has long gone. The history as a fisherman's town, however, can still be seen around the
Oude Haven
and
Koningin Wilhelminahaven
.
Vlaardingen is first mentioned in the eighth century. Around the year 700, a small church would have been founded by a monk known as Heribald, who donated the church to Saint Willibrord. The city is thought to have obtained its city rights before 1273, as a document from that year allows Vlaardingen rights that seem to be additional rights to pre-existing rights. Herring has been a main focus for Vlaardingen since the eighteenth century. The fishing and trade of herring are what made the city grow.
The opening of the
Nieuwe Waterweg
in 1872 and a railroad connection in 1881 are of great significance to Vlaardingen, allowing it to develop industry that could benefit from the activity in the harbour. In 1941 Vlaardingen annexed the neighbouring municipality of Vlaardinger-Ambacht, which gave the city space for further expansion projects such as
Westwijk
and
Vlaardingen-Holy
.
phone: +31 104 346 666

address: Westhavenkade 56
Get in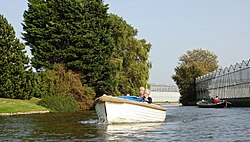 By car
Vlaardingen is near the intersection of the A20/E25 highway and the A4 highway. From
Rotterdam
, follow the A20 heading west, using exit 8 (
Vlaardingen-West
). From
Amsterdam
and
The Hague
, use the A4 heading south, using exit 16 (
Vlaardingen-Oost
) followed by a turn right towards the Burger King.
By public transit
From September 2019, Vlaardingen's three railway stations will have been converted into Metro stops: , and , all of which are on line A and B. Line A terminates at Vlaardingen West, while line B continues on to
Hoek van Holland Strand
. These lines connect to the railway stations of
Rotterdam Alexander
,
Rotterdam Blaak
and
Schiedam Centrum
. Services on line A and B are very frequent, with 4 metros per hour between 05:30 and 07:00, and between 19:00 and 00:30, and 6 metros per hour between 07:00 and 19:00 on both lines. There are four trains per hour during the Dutch holidays.
Until the metro line is opened again, you can use lines 126 and 713 from
Schiedam Centrum
or bus 56 from , which is located on the other side of the A4 highway.
The north of Vlaardingen, which consists of mostly private housing, is accessible via light rail, which also connects to
Schiedam Centrum
. The main station is .
By boat
Vlaardingen is located along the
Vlaardingervaart
, which connects directly to the Nieuwe Maas (New Meuse). Here, you will find three marinas:
W.S.V. De Kleiput

address: Hoflaan 20

Broekpolder

phone: +31 6 130 809 71

address: Watersportweg 30-32

address: Broekkade 5
Get around
Vlaardingen is easily covered by public transit, whether you'd rather take a bus, tram/light rail or metro, your main hub will most likely be in the in
Schiedam
. If you wish to travel a greater area, car rental can be found at , found on Metro line E and busline 33.
See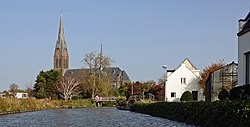 Grote Kerk
Weighing Bridge

phone: +31 104 455 580

address: Koningin Wilhelminahaven Noordzijde 2A

Museum Vlaardingen
Do
phone: +31 104 602 139

address: Zuidbuurt 79
Eat
Sleep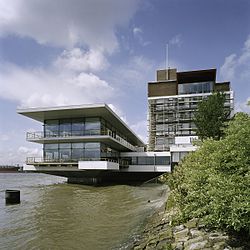 Go next
Using the metro network, you will be able to get around the greater Rotterdam area easily.
Line and line will get you to Schiedam, Rotterdam Beurs, Blaak, Capelsebrug, as well as Alexander. Line B continues west towards Maassluis and Hook of Holland.
Line connects at Schiedam Centrum and will get you to Spijkenisse.
Line connects to Rotterdam Beurs, reachable via lines A and B, from which it connects to Rotterdam Centraal, the main railway station of Rotterdam, as well as Spijkenisse.
Line also connects at Rotterdam Beurs, and runs north towards The Hague.
On the other end of the Meuse, you will find the historical town of Brielle.
Also to the south, you will find the province of Zeeland, famous for the Delta Works.