Vladikavkaz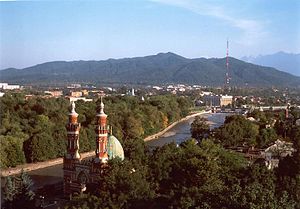 Vladikavkaz
is the capital city of
North Ossetia
and a major transit hub for the
North Caucasus
region. Its position on the
Georgian Military Highway
makes it a staging post for journeys to both
Georgia
and
South Ossetia
.
Understand
Modern Vladikavkaz was founded in 1784 at the gateway of Daryal Canyon.

Talk
Basically no English is spoken. Do not expect to be able to comfortably move around the city without brushed-up knowledge of
Russian
or assistance from a translator.
Get in
By plane
By train
Vladikavkaz railway stationTrains run daily to Moscow (35 h) and other southern regional cities such as Rostov on Don (13 h), Adler (17 h) and Novorossisk (18 h).
See
Mukhtarov MosqueA striking historic mosque completed in 1908. The mosque takes its name from the Azerbaijani millionaire Murtuza Mukhtarov who financed its construction.

Central Park

Vladikavkaz also has quite a few outdoor sculptures and monuments.
Do
The Mariinsky Theatre has a branch in Vladikavkaz.
Buy
The main street, Prospekt Mira, runs roughly parallel to the Terek River, and is a pleasant boulevard with shops and restaurants. The railway station is to the east of Prospekt Mira's northern end.

Eat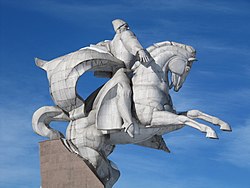 Vogue Restaurant

phone: +7 8672 53-95-64

address: U. Mayakovskogo, 21

Salads, Pasta, Pizza, Deserts, full bar and shisha. Lots of pretty people who like to stare at foreigners. One of the few places in town with outside seating.

Grusha

phone: +7 8672 54-88-55

address: Ul. Shumlevicha, 41

Excellent Georgia food and shashlik. Loud music.

Magiya Cafe

phone: +7 8672 54-06-48

address: Ul. M. Gorkogo, 9

Good deserts, light meals, drinks, great coffee.

Leonardo Cafe/Gallery

phone: +7 8672 53-88-88

address: Ul. Revolutsii, 62

Interesting local art. Good meals, good cocktails, basement bar filled with smoke.
Sleep
Hotel Imperial

phone: +7 8672 54-74-74

address: Prospket Mira, 19

directly on the central street of the city. Comfortable, recommended over other options, little bit pricier. Restaurant Bavaria behind the hotel with outside seating and extremely loud karaoke during the summer months. Sauna onsite.

Hotel Vladikavkaz

phone: +7 8672 64-94-94, +7 8672 55-03-83

address: ul. Kotzoeva, 75

Soviet-style in tourist hotel. Cheap, on the river, five-minute walk from the center and across the street from a unique mosque. Not very comfortable but generally has rooms at affordable rates.

Aleksandrovskiy Grand Hotel

address: Prospekt Mira 29

Four-star hotel.
Connect
The city's phone code is 8672.

Go next
The striking North Ossetian mountains: Tse and Fiagdon in particular. However, all non-Russian citizens are forbidden to travel outside the main towns of Vladikavkaz, Beslan, Alagir and Ardon. If found by local authorities outside the regulated areas you may be subject to a fine and/or deportation.
Georgia - head south on the Georgian Military Highway to the border post at Verkny Lars and then to Kazbegi in Georgia.
South Ossetia - head south on the Trans-Caucasian Highway through the Roki tunnel to the disputed region's capital, Tskhinvali.