Vogtland
Vogtland
is a region in southwestern
Saxony
, bordering
Thuringia
,
Upper Franconia
and
West Bohemia
(Czech Republic). It is characterised by idyllic rolling hills cut through by river valleys and known for its handicraft traditions like lace-making and musical instrument making.
Cities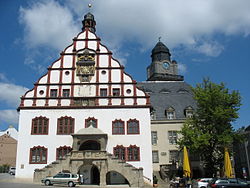 , the region's "capital", known for its laces
, old town with half-timbered houses
, health resort with mineral spring, surrounded by wooded mountains
, town of musical instrument makers, especially known for accordions
, centre of the "Musical corner", known for its instrument makers
, former centre of textile industries
, trade town and seat of a philharmonic orchestra, near the landmark Göltzschtal bridge
Understand
The Vogtland is a historical region that actually stretches over modern political borders including parts of the German states of Saxony, Thuringia and Bavaria as well as the westernmost bit of the Czech Republic. During medieval times, it was ruled by the Reeves (
Vögte
in German, hence the name) of Weida, Gera and Plauen. In the widest sense, parts of Western Thuringia (
Gera
), Upper Franconia (
Hof
) and Western Bohemia (
Cheb
) are part of the historical Vogtland, too. This article however focuses on the Southwestern part of Saxony.
Most of the Vogtland is hilly, its southern tip is covered by a low mountain range—the
Elstergebirge
(Elster mountains), named after the eponymous river that rises here—with heights of up to 759 metres. This is probably the most interesting part for tourists, offering several spas, winter sports and hiking trails.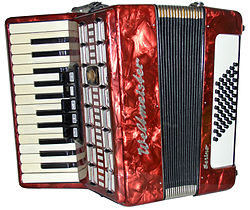 In the late 19th and beginning 20th centuries, Vogtland was by far Germany's prime producer of musical instruments. At that time, about 50 % of the world's string instruments and accordions were produced here. Aspiring instrument makers from the whole country went to Markneukirchen or Klingenthal to apprentice to renowned masters and whole orchestras were equipped by workshops in Vogtland. During the German partition, the Vogtland still was East Germany's leading supplier of musical instruments, now also including synthesizers, but traditional handicraft was mostly replaced by industrial-scale production. Under capitalism and globalisation, most of the larger manufactories declined, but small and medium-sized traditional workshops have experienced a revival and are appraised by many musicians (e.g.
Arcade Fire'
s Régine Chassagne has played "Weltmeister" piano accordeons).
Get in
By plane
The nearest airports are
Erfurt
(140 km),
Leipzig
(145 km),
Dresden
(150 km) and
Nuremberg
(170 km). The next major international airport is
Munich airport
(300 km).
By train
No high-speed or intercity trains serve the Vogtland. Its major rail line is the hourly "regional express" from
Hof
(30–45 minutes),
Chemnitz
(about one hour) and
Dresden
(two hours) that stops in Plauen and Reichenbach; complemented by the two-hourly
EBX
from
Leipzig
(two hours),
Gera
(one hour) and Hof to Mehltheuer and Schönberg. Arriving from further destinations, you will have to change in Nuremberg and Hof, Leipzig or Erfurt and Gera.
By car
The most convenient way to reach the Vogtland is by car using the Autobahn A 72 linking Upper Franconia (Hof, Bayreuth) and Southern Germany in general with central Saxony (Chemnitz, Leipzig, Dresden), that intersects the region from southwest to northeast. Both the Vogtland's "capital" Plauen and the most frequently visited region in its south is accessible via the B 92 road from Gera or the neighbouring Czech Republic (
Františkovy Lázně
,
Cheb
).
By bus
While Plauen used to be served by a Nürnberg - Dresden bus up until mid 2016, that connection was withdrawn when Flixbus bought Postbus who ran that connection. As of November 2016 no public scheduled bus service to Plauen or any other point in the Vogtland exists.
See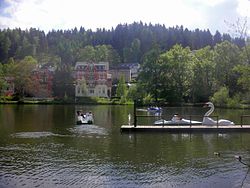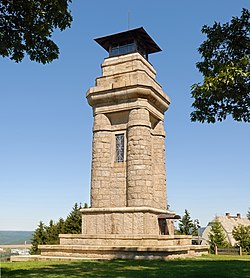 Göltzschtalbrücke, the 78 metre-high, 29-arched rail viaduct over the Göltzsch river is the largest brick-built bridge in the world and the region's symbolic landmark. At the time of its completion in 1851, it was also the tallest railway bridge in the world.
Vogtland museum in Plauen
Show embroidery, Plauen
Round church of Klingenthal
Spa building and gardens of Bad Elster
Musical instrument show workshops in Markneukirchen
Bismarck tower, Markneukirchen
stalactite cave Syrau
show mines: alum mine Plauen or "Grube Tannenberg" in Schneckenstein (8 km north of Klingenthal)
Do
Eat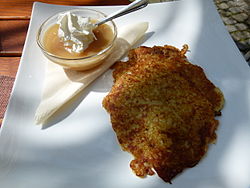 Vogtland cuisine is heavily centered on potatoes. The region was one of the first in Germany to grow this vegetable. Typical (side) dishes include potato dumplings,
Bambes
(a kind of potato pancake), potato soup and potato pie.