Vologda Oblast
Vologda Oblast
is a region in
Northwestern Russia
, which borders
Tver Oblast
and
Novgorod Oblast
to the southwest,
Leningrad Oblast
to the west,
Karelia
to the northwest,
Arkhangelsk Oblast
to the north,
Kirov Oblast
to the east,
Kostroma Oblast
to the southeast, and
Yaroslavl Oblast
to the south.
Cities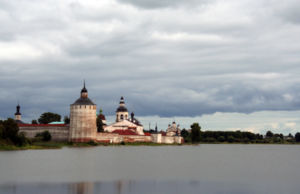 — the capital has its own kremlin, an important monastery, and lots of other sights to see
— a small, pretty, medieval town near both the Kirillo-Belozersky Monastery and the Ferapontov Convent
— the largest city in the region has a long history, several important architectural monuments, and is a major center of the Russian steel industry
— a village between Vologda and Kirillov, home to a monastery with XV century wall paintings included into UNESCO World Heritage list.
— a small town around the Kirillo-Belozersky Monastery
— a large medieval town with stunning cathedrals
— a small town in the west of the region with a real diesel submarine fully converted into museum.
— a small town on Suhona river with many museums in a picturesque place
Other destinations
Understand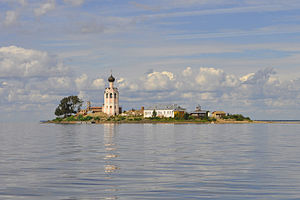 Vologda Oblast is spread out, but offers some pretty magnificent sights for the visitor. Sights you won't want to miss include the capital city of Vologda, the Kirillo-Belozersky Monastery, Russian North National Park, and of course, the Ferapontov Convent.
Get in
The daily overnight train from
Moscow
takes 8 hours to get to Vologda and an additional 3 hours to get to Cherepovets. The overnight train from Saint Petersburg to Vologda leaves Ladozhsky Train Station at around 20:00 and arrives 12.5 hours later, around 08:30.
Eat

Vologda's butter is reportedly Russia's best.

Go next