Vorarlberg
Vorarlberg
is the westernmost federal state of
Austria
, sharing borders with the countries of
Germany
(Bavaria),
Liechtenstein
, and
Switzerland
and the Austrian federal-state of
Tyrol
. Vorarlberg also enjoys a small window on Lake Constance via the city of Bregenz. It is the richest and most well to do province of Austria outside Vienna. For its size it offers a lot of diverse landscape including everything Tyrol has to offer with the exception of a large city.
Cities
— State capital. Lake Constance is great for water sports, sailing or day-trips to one of the islands
Understand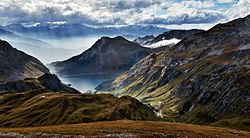 The state is almost entirely mountainous and enjoys one of the highest standards of living and income levels in Austria due to its proximity to Switzerland. It is also is home to an Alemanic alpine culture, quite different to the rest of Austria making it a special place in the country even to other Austrians. It is sometimes referred to in German as the "Ländle", which translates as the "statelet" or "tiny province". Vorarlbergers are a very proud and hardy people and work hard to protect and preserve their identity and history.
Landscape
Although the province of Vorarlberg is quite small the landscape is quite varied. When you arrive in Bregenz, the capital, you reach the lake region and Rhine valley, which stretches down to Feldkirch along the Rhine. From Bregenz you also have access to the Bregenzerwald, which is a narrow valley that leads to the Arlberg, the mountain range that separates Vorarlberg from Tyrol. The Kleinwalsertal also belongs to Vorarlberg, but it can only be accessed by road from Germany and Bavaria due to the mountains. From the end of the valley you get access to Alpine region Bludenz and the Walgau Valley, which stretches from Feldkirch to Bludenz. From Bludenz you also have access to the Montafon Valley. Other valleys in Vorarlberg are: the Klostertal (stretching from Bludenz to the Arlberg), the Walsertal which connects the Walgau and the Bregenzerwald, the Brandnertal in the Montafon region, the Laternsertal which connects the Rhine valley (Rheintal) with the Bregenzerwald, the Laiblachtal (close to Bregenz) and the Lechtal in the Arlberg region.
Get in
Autobahns and major highways are connected to Munich, Zurich and Innsbruck. Austrian and Swiss Autobahns charge toll. Austrian Autobahns allow for buying sticker for only a short period of time, whereas in Switzerland you are stuck buying the whole year regardless of how long you will stay. Don't get caught without one!
By plane
Nearby international Airports include
Zurich
,
Munich
and
Innsbruck
. Other Airports are St.Gallen/Altenrhein in Switzerland (direct flights to Vienna) and Friedrichshafen in Germany (direct flights from London, Dublin, Spain, Turkey...) both located near the Lake of Constance (Bodensee).
By train
Major train routes come from
Switzerland
as well as
Tyrol
and you either enter Vorarlberg in Feldkirch or in Bregenz. The important train route
Munich
to
Zurich
goes right through Vorarlberg. A high number of
Eurocity
,
Intercity
and
ICE
trains go to either Bregenz or Feldkirch.
Vorarlberg is reachable by from important neighboring cities within relatively short time:
From/to Zurich: ~ 1.5h
From/to Innsbruck: ~ 2.5h
From/to Munich: ~2.5h
Get around

Vorarlberg has a very efficient public transport system. The railway from Bregenz to Feldkirch and the Arlberg is a kind of backbone and buses take you to all other places. Connections can be checked here: .
Vorarlberg is a very popular mountain biking region and has both exstensive paved and off-road bike paths.

See
Diedamskopf, Au and Schoppernau

Do
Vorarlberg offers various summer and winter sport facilities (mountain biking, cycling, inline skating, skiing, snowboarding...) and there are also a lot of cultural events throughout the year including carnival in towards the end of winter.
Winter Sport Resorts
Many top winter sports resorts are located throughout Vorarlberg. Most of them are organized in regional ticket federations such as 3taeler Pass . This means several day tickets are valid in all participating resorts and include free transportation with ski buses. Some of the larger winter sport places are:
Go to the Jewish quarter in Hohenems and visit the Jewish Museum , that tells the story of the city's Jewish history.
In Lustenau: Take a ride with the narrow gauge steam railway along the river Rhine and visit the rheinschauen museum, telling the story of the river.
It's quite lively in the evening when it's warm. It's definitely worth a visit then.
Bludenz also has a nice old town. It is home to a Milka factory and a brewery too.
Golf: two 18 hole (Bludenz-Braz and Brand) and two 9 hole (Schruns, Partenen) are available. These courses are very scenic and worth playing.
Eat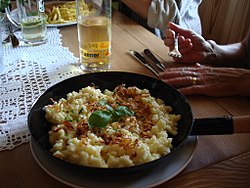 Vorarlberg has more than 40 restaurants that have been distinguished by Gault Millau. Therefore visiting Vorarlberg can also be a culinary delight.
Käsknöpfle, or so called Spätzle, is a typical Vorarlberger dish. Very heavy but delicious, served with golden-brown onion rings and butter along with potato salad.
Restaurant Hotel Adler, Au
Restaurant Hotel "Der Hirschen" Sibratsgfäll
Stay safe

Vorarlberg has crime rates significantly lower than that of most Western countries. Street crime is rare, even late at night. Women traveling alone should have no problems.
Tap water is of exceptional quality and safe to drink. The drinking age for beer, wine and cider is 16 while the age for any other alcohol is 18. The public consumption of alcohol in Vorarlberg is legal, so do not be alarmed if you see a group of teenagers drinking a six-pack on public property; this is by no means out of the ordinary and should not be interpreted as threatening.
In mountain areas, be sure to inquire about weather conditions at the tourist information office or local alpine huts as you head out in the morning. They should be well informed about severe weather conditions and will advise you about possible avalanche areas.