Voronezh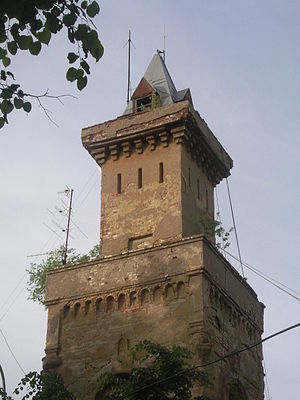 Voronezh
is a city in
Voronezh Oblast
, ca. 250 km from the
Ukraine
border, in the heart of
Chernozemye
. It is located on the Voronezh river and is an important railway junction with lines to
Moscow
,
Rostov-on-the-Don
and
Kiev
. Due to its relatively large population (ca. 960.000), it is often considered as the capital of
Chernozemye
.
Get in
By plane
By train
Many trains to and from Moscow every day. The most suitable options are the day train no. 45 (less than 8 hours) and the night trains nos. 25 and 81/83. You can also travel to and from other Russian and Ukrainian cities. The main station is Voronezh 1, but most of the trains going to the south via Voronezh stop only at Pridacha station, which has marshrutka connection with the city centre.
By bus
The cost of the bus from Moscow is approximately the same as the cheapest train ticket (and the latter provides more comfortable travel conditions). You can catch a bus to Voronezh near Moscow Paveletskaya train station. In Voronezh the bus stops near Pyramide (Pamyatnik) and terminates near Voronezh 1 train station.
By car
Voronezh is about 500km south of Moscow on the motorway.
Get around

The public transport includes buses, marshrutkas and a small quantity of trolley-buses and trams. A funny option is the yellow buses Народный маршрут (Folk´s route). It costs nothing, and the network covers most of the city, but they are very rare.

See
Revolution AvenueProspekt Revolyutsii, or simply Prospekt (a Russian word for avenue) is the center of Voronezh's life. It has many beautiful and/or historical buildings, including the former Hotel Bristol.

Admiralteyskaya SquareThe Admiralteyskaya square with the old church where Peter the Great baptized his ships.

Goto Predestinatsia

address: Admiralteyskaya Square

Ship-museum, ship replica of first Russian ship of the line and the first ship of this rate built in Russia without any help from foreign experts.

Annunciation CathedralThe Annunciation Cathedral (finished in 2009, 4th tallest Orthodox church in the world, being topped by probably the largest cross in Europe; surrounded by a fence with Soviet symbols).

Lenin Square

Akatov women's monastery
The monument
Kitten from Lizyukova street
.
The office of
South-Eastern Railways (SERW)
, in Russian: YU-VE-ZHE-DE.
The park
Koltsovskiy skver
.
Monuments
to such writers and poets as Koltsov, Nikitin, Mandelshtam, Esenin, Pushkin, Platonov, Bunin; to Lenin and tsar Peter the Great.
Various Orthodox
churches
.
Do

Visit the Puppet Theater and the Kamerny (Russian for "chamber") Theatre.

Buy

The shopping centers include Grad (one of the largest in Russia), Mezhdunarodny (in the very centre of the city), Arena, Maximir, Yugo-Zapad, Tvoy Dom, Metro, Moskovskiy Prospekt, Armada, Solnechnyy Ray, Petrovskiy Passage, Aksioma.
Souvenirs can also be bought on Prospekt (e.g. in Liki Voronezha shop).
Apart from matryoshkas etc., a good local one is the Kitten from Lizyukova street.

Eat

You can find an appropriate restaurant or fast-food, but (if you don't eat everything) it requires some time. If you need a supermarket in the center of the city, you may go to the Soviet style Utyuzhok, modern Poisk shopping center or Tsentrtorg supermarket in the midway between Utyuzhok and SERW.
The well-known restaurants are:
Stary Gorod, Russian and European
Irish pub
Tanuki, Japanese
Furusato, Japanese
Pivasiy, Russian
Burger Haus, German
Tiflis, Georgian and European
Praga, Russian, Czech and French
Chernogoriya, Yugoslavian
Mediterra, European
Dolce Vita, coffee

Drink

Lipetskaya Mineral Water discovered by Peter the Great (you can find it in Moscow as well, but here it would be an almost local drink). Fair vodka is produced in Voronezh and the small city of Buturlinovka. The local beer is not very good. Some grapes grow in the area, but there is no wine industry, some people make small amounts of home wine.

Sleep
2* - 5* hotels are available.
* (in the centre) -
Benefit Plaza Congress Hotel 4
* -
* -
* (in the centre) -
* -
* (in the centre) -
* -
* -
*
(in the centre)
phone: +7 950 766 93 36

address: Voronezh, Novikova 90
Go next
Local destinations
Ramon castle
of Princess Oldenburgskaya.
Divnogorye
reserve and cultural landscape (competed for
Seven Wonders of Russia
).
Zadonsk
(an Orthodox pilgrimage destination: monastery and more).
Khrenovoe
stables.
Kostenki
, plenty of cultural remains of modern humans up to 50000 years old!
Voronezh
reserve (beavers etc.).
Earl
Venevitinov
Estate.
Further destinations
Lipetsk
, mud and balneological resort, an industrial hub, centre of an oblast.
Kursk
, centre of an oblast.
Belgorod
, centre of an oblast.
Tambov
, centre of an oblast.
Uryupinsk
, the symbol of Russian "
glubinka
" (provincial "depths").
Stanitsa
Veshenskaya
(the State Museum-Reserve of M. Sholokhov, author of
And Quiet Flows the Don
).
Elets
, an old-fashioned city.
Borisoglebsk
, the second largest city in Voronezh oblast (after Voronezh).
Stary Oskol
.