Voss
Vossevangen
is a village in the municipality of
Voss
and a district in
Hordaland
, between the great fjords of
Sogn
and
Hardanger
. Voss is known to be the adventure capital of Norway. Voss is also the major winter destination in Hordaland with two ski ski resorts and long skiing traditions. Voss village is are surrounded by rivers, mountains, fjord and lakes, and there is a wide range of challenges at all levels.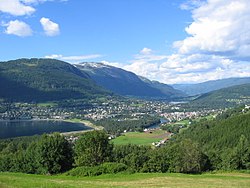 Understand
Voss is the wide interior district in Hordaland county. Even if not directly at one of the great fjords, Voss is still a good base for a visit to fjords of Norway. From Voss the great Sognefjord and the romantic Hardangerfjord in less than 1 hour. In the area you will also find a wide range of activity providers - including rafting, paragliding, mountain walking and guided excursions. Year-round there is a lot of cultural events, the most famous being The Extreme Sports Week - the world's biggest extreme sports festival. Voss village, Vossevangen, sits a lovely lake, Vangsvatnet, and is a key station on the Bergen railway as well as a hub for roads Bergen-Oslo and roads north-south in the fjordland. From Voss the uplands at Myrdal and Finse is only an easy train ride away, areas that are available by train only. From Voss village several valleys stretches into the hinterland: Raundalen (with Bergen railway), towards Granvin and Hardanger, towards Myrkdalen, Vik/Vangsnes (road 13), and Opheim-Stalheim (road E16 to Gudvangen and Flåm).
As Bergen has unstable weather and little snow, many travel from Bergen to Voss for skiing. Voss has a drier and more stable weather, winters are colder and summer warmer. In the Myrkdalen there is often heavy snowfall making the new ski resort there popular. Myrkdalen in 2018 was ranked as the 5th best ski resort in Norway, up from 9th in 2017. Good off-piste options and children's area.
Voss has a long history, and have been welcoming international tourists for almost 200 years. Visitors come to experience the magnificent scenery - never-ending vistas of mountains and nearby glaciers and fjords, lakes and fast-flowing whitewater rivers - and to have plenty of active fun year round.

Get in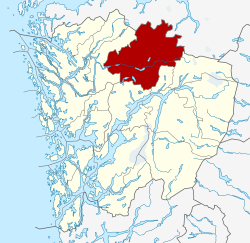 It is easy to get to Voss by train, bus and car from gateways such as Bergen and Oslo with a number of international arrivals. The town is centrally located in South West Norway, only somewhat more than 1 hour from Bergen, 6 hours from Oslo and "In the Heart of Fjord Norway", between the famous fjords
Sognefjorden
and Hardangerfjorden.
Bergen is the main gateway for both international and national arrivals to this part of Western Norway, for arrivals by plane, bus or boat. If you are on a round trip without a car, there are several destinations in the region that have connections to Voss by public transport. Here are the main gateways:
By plane
Bergen Airport Flesland
is the closest airport to Voss, with non-stop international flights from larger scale European airports such as Amsterdam, Frankfurt, Copenhagen, London, Stockholm and Reykjavik. Low-cost airlines also operate non-stop flights to Bergen from international airports such as Paris, Berlin, Prague, Warsaw, Riga and London.
There are also, of course, direct flights from several Norwegian airports, including daily departures from Oslo Airport Gardermoen with SAS and Norwegian airlines.
By train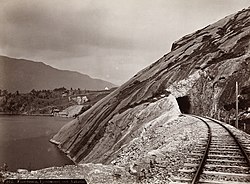 Voss is a central stop on the Bergen Railway between
Oslo
and
Bergen
. The service to Bergen by train is fairly frequent, with several local trains making the run. The journey from Bergen takes about 75 minutes and costs kr 189 for one adult. Timetables available on the
Norwegian State Railways (NSB)
website.
At the time of construction the Bergen-Voss and Voss-Finse-Geilo stretches of railway were engineering achievments.
By bus
Busses from Bergen are operated by
NOR-WAY
and
Skyss
and take about 100 minutes.
By car
Voss is centrally located on the main road network in Western Norway. On Route E16 between
Oslo
and
Bergen
and on the North/South inland route RV13.
Route E16 via Arna and Dale (100 km, 1 hr 20 min)
Oslo - Voss:
Route E16 via Filefjell (420 km, 7 hr)
Route 52 via Gol and Hemsedal (400 km, 6 hr 30 min)
Route 50 via Hol and Aurland (380 km, 6 hr)
Route 7 via Hardangervidda (400, 6 hr)
Route 7 via Gol and Geilo (360, 5 hr 30 min)
Get around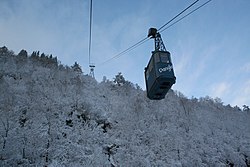 Ski lift to Mt Hanguren (return ticket: kr 100). The gondola lift to Hanguren has been dismantled. A new lift is expected to open in 2019.
The railway runs east-west through Voss district serving Raundalen valley to the east and Evanger to the west.
Northern part of Voss district (Stalheim, Oppheim and Myrkdalen ski resort) is available by bus and car.
See
Bordalsgjelet GorgeThe deep and dramatic Bordalsgjelet Gorge has information boards, viewpoints and benches. When snow and ice does not affect accessibility you can also follow a footpath that leads alongside the gorge. Here you will have excellent views of the fascinating potholes. Remember, however, for your own safety: Keep to the marked footpaths.

StalheimskleivaOne of the steepest roads in Northern Europe, built during 1842-1846. The road has 13 hairpin bends, with Stalheim Hotel located at the top overlooking the road and the Nærøy Valley. On either side of the road you can see the Stalheim Waterfall (126 m) and the Sivle Waterfall (142 m). Stalheimskleiva is a one-way road going down.

Tvindefossen WaterfallA 152-metre waterfall by Tvinde Camping. There is a road/footpath to the top of the falls. Kiosk. This walk combines well with a Car Walk, either to Afdal-Prestølen or Leidal-Hustveit.

Skjervet waterfall

address: Skjervesvegen, Granvin

It's a steep valley with hairpin bends and waterfall. At the top, you are able to park the car and enjoy the view.

Swimming pool

address: Prestegardsmoen

Near Voss Camping in Prestegardsmoen there is an outdoor swimming pool with a diving tower plus three water chutes and a paddling pool. Fun for the whole family. Kiosk available for refreshments, ice, chocolate etc.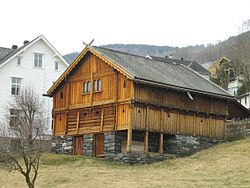 Do
Winter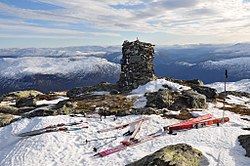 With
two ski centres
and long skiing traditions, Voss is a popular and one of the most established ski destinations in Norway. It is not without reason that World Cup Events are frequently held here. Voss is also one of the most natural snow-reliable ski destinations in Norway. On altogether some 50 kilometers of well prepared alpine slopes, you can ski in varying terrain from nursery slopes to demanding terrain for the most experienced. There are also great possibilities for cross-country skiing in Voss, in close proximity to the ski centres as well as in the wider Voss area. Services and facilities in the two ski centres include: terrain parks, ski schools and ski rentals, children's play areas, food & drink facilities and areas for cross country skiing.
Voss ResortThe Voss Resort is one of the longest established ski centres in Norway and its welcome centre is situated in Bavallen.

Voss Fjellandsby - MyrkdalenThe area of Myrkdalen where you can find the welcome centre of Voss Fjellandsby - or "Voss Mountain Village" if translated into English.

Guided ToursFor small and large groups Voss Rafting Senter offers a range of guided tours during the winter months, from sunset snow shoes tours, to skiing tours in the hills around Voss.
Summer
phone: +47 56 51 05 25

address: Nedkvitnesvegen 25

Voss Rafting Senter has a broad spectrum of activities like white-water rafting, sportsrafting, riverboarding, waterfall rappelling, canyoning, obstacle course and wilderness camp for tourists, companies, bachelor parties, societies, schools and friends. All products are related to water sport and based on strict safety procedures and the crew is highly professional in all aspects. Voss Rafting Senter`s motto is to "Guarantee To Wet Your Pants!" under controlled settings. Voss Rafting can offer everything from adventures family rafting to extreme rafting trips in world class.

phone: +47 400 04 490

address: Golfparken 3, Skulestadmoen Voss
Eat
Tre Brør Café

phone: +47 56 52 99 25

address: Vangsgata 28

Great place for lunch, dinner or a drink. Has a comfortable and cosy setting.

phone: +47 95406135

address: Molstervegen 44

Inside a restored old barn at Store Ringheim, offers set menus and an ala carte menu. There is a strict policy to make all food from scratch. Also they strive to find the best local ingredients from local farmers or in the nature. There is also a patio, where the meals can be enjoyed outside, in good weather conditions.
Drink
address: Kytesvegen 396, 5706 Voss

Brewery with a fairly large selection on tap, but do note the short opening hours. You can buy growlers (large bottles) there too. You must pay a kr 100 for a growler, which is refundable when you return it empty.
Sleep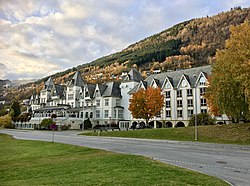 Restaurant ElyséeInternational cuisine based on local ingredients, comprehensive wine menu. Excellent food and wine. Choose from the a la carte menu, or order a 3, 4 or 5 course set menu with wine.

Café StationenA cafe with a distinctive character and good atmosphere all year round. Outside seating during the summer.

Pianissimo Piano BarA Cosy piano bar is located in the middle of the hotel. Sink down into a comfy chair, relax with a drink from the well stocked bar, and be entertained by evening performers from Monday to Saturday.

Pentagon Night ClubPentagon is one of the biggest night spots in Voss. It is busy, with good dance music and a great atmosphere.

WinecellarExtensive winecellar. The most comprehensive wine collection in Norway. Wine tasting and wine seminar.
phone: +47 478 64 107

address: Kvåle i Raundalen

Gamlahuset is located at the small farm Kvale in the valley Raundalen at Voss, approximately 17 kilometers east of the centre of Voss. Gamlahuset has two big living rooms, three bedrooms, kitchen, two toilets and a bathroom. There are beds for 8 persons. The house, which is from around year 1800, was renovated in 2007. In several of the rooms the authentic style is kept. The house is 100m².
Store Ringheim Hotell og Restaurant

phone: +47 95406135

address: Molstervegen 44

Beautiful boutique style hotel in an old restored farm building situated on the hillside 1.2km from Voss center. The place offers a stunning view over nearby farm landscape and distant forests and snow patched mountains. 6 unique rooms with good beds and ensuite bathrooms, flat screen TV, free Wi-Fi, free parking and a choice of complimentary tees and coffes. Daily service of the rooms and a good breakfast with many local, high quality products.
Go next
Voss is a convenient place to stay while exploring the Hardangerfjord to the south of Voss. As it is located on the Bergensbanen railway, a stay here can also be combined with a day-trip to
Flåm
with the Flåm railway (starts on
Myrdal station
on Bergensbanen).