Vuntut National Park
Vuntut National Park
is a
national park
in
Yukon
,
Canada
.
Understand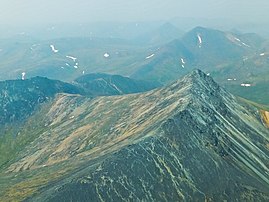 Vuntut National Park covers an area of 4,345 km² (1,678 sq mi).
Guntur is extremely remote and difficult to access. Fewer than 25 visitors reach the park each year. Visitors must be entirely self-sufficient and able to handle any medical or weather-related emergency on their trip. There are neither facilities nor developed trails in the park.
The park is in the traditional territory of the
Vuntut Gwitchin
people, of which about 300 live in Old Crow. The Vuntut Gwitchin live by trapping, hunting, and fishing. The Porcupine Caribou provides their main source of meat and hide for boots, moccasins, mitts, traditional outfits, and other decorative things. The park is managed through a partnership between the Vuntut Gwitchin First Nation and Parks Canada.
This national park is still very undeveloped. It has no roads or developed trails.
Contact the park office +1 867-667-3910 or email: vuntut.info@pc.gc.ca
History
The park was established in 1995.
Landscape
The northern two thirds of the park is made up of the rolling hills and peaks of the British Mountains. Here, sparse spruce forests and shrub stands are found in the valley bottoms and the southern-most slopes, while rocky tundra dominates higher elevations and grassy tundra is present in the broad, wet, gently sloping valleys.
Van Tat (the Old Crow Flats) is a vast wetland complex of shallow lakes and small streams that includes the southern third of Vuntut National Park. In 1982, the Old Crow Flats were designated as a wetland of international importance. Half a million birds use the flats each year as a place to breed, moult and/or stage before starting their fall migrations. Muskrats are also plentiful, inhabiting the numerous shallow lakes and ponds found throughout the flats. In addition, the area maintains healthy populations of moose, black and grizzly bears, marten, wolverine, lynx, foxes, and wolves. The flats are part of the annual range of the Porcupine Caribou Herd.
Flora and fauna
Animals that inhabit this park include caribou, foxes, peregrine falcons, grizzly bears, wolves, Alaskan moose, wolverines, gyrfalcons, black bears, muskoxen, golden eagles, pine martens, ground squirrels, muskrats, lynxes, and minks.
Caribou are common in the British Mountains during the annual migrations to and from their calving grounds. Large predators such as grizzly bears, wolves and wolverines often follow them closely. Muskox are also becoming more common in this tundra environment.
Over 500,000 birds and 1000,000 caribou pass through the park each year.
Climate
The best time to visit is June-August, when temperatures are mildest and the park enjoys 24 hours of daylight. Weather conditions even at this time are unpredictable, and visitors must be well prepared for all season conditions, with cold temperatures and inclement weather. During the summer, particularly during the month of July, mosquitoes and black flies occur in great numbers and visitors must be prepared.
Get in
Vuntut National Park has no established access routes, designated landing areas or facilities. Access by land, water and air is possible, but a trip requires careful planning and independent travel skills.
The closest road, the Dempster Highway, is about 175 km away.
Old Crow is the best starting point. The park is approximately 50 km by air or 190 km by river north of Old Crow. There is scheduled air service to Old Crow from Whitehorse and Dawson City in the Yukon, and Inuvik in the Northwest Territories, with Air North. Boats may be available for hire in Old Crow.
Air NorthAir North flies from Whitehorse to Old Crow, Dawson City , and Inuvik several times a week. From Dawson City, it's 1-1½ hours, $270-540 return. From Inuvik, it's about 1 hour, $180-300 return.
An aircraft landing permit is required to land in Vuntut National Park; if you are planning a journey there, you need to contact Parks Canada in advance.
Fees and permits
Northern Park Backcountry Excursion/Camping Permit valid at Vuntut,
Auyuittuq
,
Ivvavik
,
Nahanni
,
Aulavik
,
Quttinirpaaq
,
Sirmilik
and
Tuktut Nogait
National Parks (per person, 2018):
Daily $24.50
Annual $147.20
Fishing permit:
Daily $9.80
Annual $34.30
All visitors to Vuntut National Park are required to register prior to, and deregister immediately upon completion of their trip. Visitors can register and deregister at the Visitor Reception Centre in Old Crow, or by contacting Parks Canada at +1 867 966-3626 or +1 867 667-3910.
A permit is required prior to engaging in any of these activities:
• All camping;
• Filming or photography for commercial purposes;
• Aircraft landings and take offs;
• Research activities;
• Military exercises;
• Fuel and food caching; and
• Open fires.
Permits are available at the Visitor Reception Center in Old Crow, or by contacting Parks Canada.
Get around
See
Many families from Old Crow go out to seasonal camps in the spring and fall to partake in traditional activities like hunting, trapping, fishing, and berry picking.
Your best chance to see caribou near Old Crow is in spring (April–May) or fall (September–October).

Do
Canoeing the Old Crow River
Hiking in the mountainous
Winter ski trips
Buy, eat and drink
There are no facilities in the park. Bring everything you will need with you.

Sleep
There is no lodging in the park. If you do backcountry camping, be sure to practise "no-trace" camping.

Stay safe
Grizzlies, black bears, wolverine and wolves roam the park.

Go next
Vuntut National Park is adjacent to another Canadian national park,
Ivvavik National Park
. Also, the
Arctic National Wildlife Refuge
lies just across the Canada–US border in Alaska.
The closest village is Old Crow, although there are no roads to or through that village. The village is accessible only by airplane, or by canoe down the Porcupine River from the Eagle River. The village has a grocery store and a nursing station. Visit John Tizya Centre in the community of Old Crow to learn about Vuntut Gwitchin culture and the park.
The closest Canadian settlement with road access is
Inuvik
in the Northwest Territories.