Wörgl
Wörgl
is a city of about 13,000 people (2016) in
Tyrol
, Austria.
Understand
History

Wörgl was the site of the "Miracle of Wörgl" during the Great Depression. It was started on July 31, 1932, with the issuing of "Certified Compensation Bills", a form of local currency commonly known as Stamp Scrip, or Freigeld. This was an application of the monetary theories of the economist Silvio Gesell by the town's then-mayor, Michael Unterguggenberger.
The experiment resulted in a growth in employment and meant that local government projects such as new houses, a reservoir, a ski jump and a bridge could all be completed, seeming to defy the depression in the rest of the country. Inflation and deflation are also reputed to have been non-existent for the duration of the experiment.
Despite attracting great interest at the time, including from French Premier Edouard Daladier and the economist Irving Fisher, the "experiment" was terminated by the Austrian National Bank on September 1, 1933. In 2006 milestones were placed, beginning from the railway station through the downtown, to show this history.
Nearby Itter Castle was the site of one of the last European and most unusual battles of World War II. The Battle for Itter Castle was fought on May 5, 1945 by surrendered Wehrmacht troops, the United States Army, Austrian Resistance fighters and former French political prisoners against the 17th Waffen-SS Panzer Grenadier Division. The leader of the surrendered Wehrmacht troops, Major Josef "Sepp" Gangl, was killed during the battle and is buried in Wörgl's municipal cemetery. A street in the city is named for Sepp Gangl.

Get in
Wörgl Hauptbahnhof, main station and bus terminal.
A12 Inntalautobahn motorway junctions Wörgl Ost and Wörgl West.
Get around
CityBus
VVT (Verkehrsverbund Tirol)
See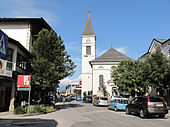 Bahnhofstraße
Do
phone: +43 5332 77733-0

address: Innsbrucker Straße 112

Famous for its double looping water slide L2.
Buy
Bahnhofstraße

address: Salzburger Straße 32

Shopping mall
Westend
Eat
Drink
Sito Bar

address: Andreas Hofer-Platz 2

phone: +43 660 3127133

address: Bahnhofstraße 8

phone: +43 660 6667770

address: Madersbacherweg 34
Sleep
phone: +43 5332 72203

address: Andreas Hofer-Platz 2

phone: +43 5332 76035

address: Innsbrucker Straße 62
Go next