Würzburg
Würzburg
or
Wuerzburg
(and sometimes misspelled as
Wurzburg
) is in
Franconia
, in northern
Bavaria
,
Germany
. It is the largest city in the
Lower Franconia
region, famous throughout Germany for its wine and as the northern end of the
Romantic Road
.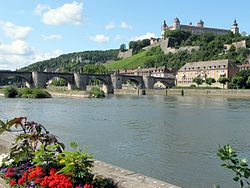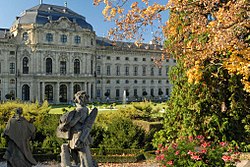 Understand
A city rich in history that revolves around the Franconian locality, today Würzburg is a beautiful, historic, and lively city that is often overlooked by foreign visitors. It should also not be overlooked however, that a third of its roughly 130,000 inhabitants are students of 3 colleges based here. As such, travelers can also find an extensive assortment of cheap non-German food and some partying scenes, amidst the local culture the city still preserves.
History
Founded in the 10th century, Würzburg served as the home of powerful prince-bishops for many centuries. It is renowned for the Residence, regarded as one of the finest palaces in Europe and a high point of Baroque art (
UNESCO
cultural world heritage). Würzburg is also home to one of the oldest churches in Germany, built in the 8th century on top of a former pagan shrine. One of its most famous structures, Festung Marienberg, is a fortress which now surrounds the church.
Würzburg was the center of the kingdom known as Franconia, also the namesake region for the northern half of what is now the state of Bavaria. In the 19th century, Napoleon merged Franconia with its southern neighbor Bavaria, by which the city is ruled to this day.
Würzburg experienced heavy demolition during a 20-minute Allied bombing raid in 1945 which destroyed some 80% of its city buildings. Much of the city has since been rebuilt, though not as painstakingly true to its original architecture as some other historic German communities. Anyone eager to visit this town to study its historic architectural structures should be prepared to see its restored buildings placed next to several post-war modernistic houses. Until 2006, Würzburg had been home to a large US military installment after World War II, As a result, many of the locals are still familiar with American customs.
Today, Würzburg is still a beautiful old town, which although still not too famous outside Germany, but offers a charming culture and exterior that entices travelers to explore the region, either as part of the Main River cruise or the Romantic Road excursion.
Tourist information
Get in
By plane
Giebelstadt AirportThis former Army airfield (first used by the Nazis and until 2006 by the US) can handle somewhat larger private planes.

Würzburg-Schenkenturm airfieldPrivate propeller airplanes may land at Schenkenturm airstrip
For commercial service,
Frankfurt
(
FRA
) and Nuremberg (NUE) are the closest airports. Connection to the Frankfurt airport is faster and much more convenient thanks to the presence of a dedicated long-distance station, from where travelers can ride the Intercity Express (ICE) for 90 minutes to the city's main train station, which comes at least every hour.
If you are flying to Nuremberg, you need to transfer to the main train station. From here, trains range from the expensive express train (ICE) (60 minutes) to the cheap regional service (R or RE) (minimum 2 hours). If speed and time is not of highest concern, buy a Bayern ticket which covers all local transportation and regional rail between both cities.
Munich Airport (MUC) Lufthansa's second hub is geographically close and downtown Munich is indeed only two hours from Würzburg. However, you'll have to schlep forty five minutes by S-Bahn to downtown Munich before you can get on an ICE, making the connection somewhat tedious.

By train
Würzburg Hauptbahnhof (main train station) can be reached directly from most any train stations in north, central, southeastern, and western German; getting to Berlin or Stuttgart requires a transit. As Würzburg is the southern terminus of Germany's first high speed railway line specifically built for the ICE, connections are remarkably fast. Hourly ICE services run to Frankfurt, Cologne, and Dusseldorf at the westbound track, in addition to Hannover and Hamburg to the north, while Munich and Nuremberg are served half-hourly. Speed does however come at a price, and unless you buy your tickets in advance you will pay a lot. Tickets on the ICE start at 20€ per person (group discounts available) when bought in advance with the number of cheap tickets lower and sold out faster on popular routes and times.
For regional trains throughout Bavaria you can get the Bayern Ticket, that costs €25 for one person and €7 for every additional member of your group up to five and is valid for the whole day (starting at 9 am unless it is a Saturday, Sunday or public holiday). The Bayern ticket is also accepted on all local public transportation buses.

By bus
Privately run Intercity buses stop at the right hand side of Würzburg main train station; the bus bay at the left hand side is reserved for public buses within the locality of Würzburg and adjacent towns. While direct connections to major German towns are possible, getting outside of Germany usually requires a transit at the larger cities. A twice daily shuttle also runs between Würzburg and Wertheim Village Outlet Mall.
From April to October, a shuttle service runs between Würzburg and along the Romantic Road to Füssen, with connections to Frankfurt and Munich, respectively.

By car
Würzburg has an excellent connection to the German "Autobahn" (highway)-system. A3 (highway 3) from Cologne via Frankfurt and Nuremberg to Austria passes the city as well as A7 (highway 7) from Hannover via Göttingen to Ulm. In addition there is A81 to Stuttgart.

By ship
Cruises along the Main River would often feature a stop at Würzburg, docking adjacent to the city center. Ships would dock during the morning so that the tourists can explore the city by day and back in the boat by night.

Get around
Public transportation
The city center, at east of the river and surrounded by the Ringpark, is compact and walkable. A walk from the main train station at the north end and the south side of Ringpark should take only 30 minutes. Otherwise, five tram (German:
Straßenbahn
or locally:
Straba
) lines and a handful of bus routes (some of which also run all night!) will take you to the suburbs.
Public transportation maps and timetables can be found from
VVM-Info (in German only)
. In a general orientation however,
all five tram lines
are interconnected at a corridor spanning within the city center between the main train station (Hauptbahnhof) at the north end and Sanderring at the south end, with major bus lines terminating at or passing through it.
Within the city, a quick 4 stop ride without transit costs €1.40 and single ride ticket costs €2.80 per solo ticket or €11.60 for a group of up to 6 people, while a day pass valid until 03:00 the next day costs €5.40 per person or €10.90 for two people plus up to 4 children under 15 years old. Tickets can be bought at kiosks at all tram stations or the bus driver. A Bayern ticket is also valid.
Be aware for visitors to the Marienberg fortress: a bus service (Route 9) from the Mainfranken Theater and the city center runs only from Easter to mid-October. Otherwise, from the city center cross the old bridge and walk the way up for about 30 minutes.
By car
While a car is not necessarily needed in the city center, it might be useful for venturing out elsewhere, especially to the Marienberg fortress, due to the scarcity of bus service. The areas north of Hauptbahnhof and east of the highway are exclusively served by bus for its public transport with at least 20 minute intervals; if you don't want to wait, then a car will take you there faster.
Some of the parking lots in or near downtown Wurzburg are:
Marktgarage

address: Karmelitenstraße

Contains 494 parking spaces. However they can be narrow. Public toilet available.

Talavera

address: Mainaustraße

Free open air parking space, but sometimes closed during town fair or events. Access to adjacent tram station or 10-15 minutes on foot to downtown.
The full list of real time parking spaces can be found at the
specific WVV website
.
By taxi
Taxi Würzburg

phone: +49 931-19410

The sole taxi operator of the city. Fare starts from €3.30 flagfall, €2.15 per kilometer up to 3 kilometers and 1,60 € per kilometer thereafter. For trips outside the immediate Würzburg, a flat fee is applicable.
See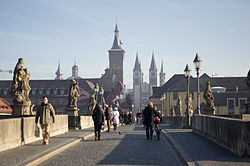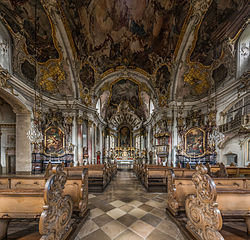 Most of the old history of Wurzburg revolves around the former prince-bishop of the region, who were essentially both the religious and political leaders of the area.
Notable landmarks
phone: +49 931 355170

address: Residenzplatz 2

The Residenz is one of the finest Palaces in Europe and famous for its grand staircase. It is regarded as one of the finest pieces of Baroque art in the world as such it has been inscribed on the UNESCO World Heritage List. The building was designed by Balthasar Neuman, and the largest Fresco in the world, above the grand Staircase, was painted by Tiepolo The palace has 300 rooms, spread over 3 wings. There is also a Chapel (Hofkirche) also decorated by Tiepolo which is free to enter and well worth a visit. Its gardens are also built with fortification in mind. Guided tours in English are available daily at 11:00 and 15:00, in addition to 13:30 and 16:30 from April to October.

phone: +49 931 355170

address: Residenzplatz 2

A massive 9-hectare garden designed with Rococo style in mind by Johann Prokop Mayer of Bohemia surrounds three sides of the Residenz, although the West Garden was simply designed, due to the death of builder Adam Friedrich. Each garden has its own features: cone-trimmed yews around the south fountain; parterre, portico, and garden sculptures at the east, and what is now a city park at the west.

phone: +49 931 3551750

The former complex of the prince-bishop before the Residenz, it is the highest point of the city by a hundred meters more than the surrounding land. Thus, the long hike to the top is paid off by a view of the entire town so wonderful, even locals still go here frequently. The viewpoint is adjacent to the Prince's Garden The inside court features a keep and church, whose interior is Renaissance with the first touches of Baroque. For somewhere to wind down, there are two restaurants and a free restroom. Guided tours in English are at 3PM weekends and holidays from April to October.

Old Main BridgeNot unlike Prague's St. Charles Bridge, it is a pedestrian-only bridge with six statues of kings and saints of historic importance for Catholicism in Franconia on each side. Under the bridge are water locks for ship traffic control on the Main, one of German's most important rivers. Locals would stand here admiring the splendid views of the fort and the river, all while sipping their glass of wine or bottle of beer.

Maschikuli TowerThe four-storey tower was built in 1724-1729 by Balthasar Neumann to guard the south flank of the Marienberg fortress. Above the three levels for heavy artillery is a platform for riflemen, equipped with normal firing slits and 21 vertical openings angled downwards: these are the "Maschikulis" from which the tower takes its name. On the valley side the tower is decorated with coats of arms of the Prince Bishop Christoph Franz von Hutten dating from 1727, the work of Jakob van der Auvera. Above them is a bust of St Nepomuk.

address: Marktpl. 9

Other than the Maria Chapel next to it, the exterior stands out from the rest of the buildings within sight. The curved gables and bright yellow white paint are Rococo decors, a conception from Barbara Meißner in 1751, whose late husband owned the property. It now houses the Tourist Information Office and the City Library.
Churches
Würzburger Dom

phone: +49 931 38662900

address: Domstraße 40

One of the largest Romanesque's churches in Germany, the Catholic church in its present form was built from 1040 to 1075 and consecrated in 1187. Objects of interest include a 700-year old bronze baptismal font, an expressionist bronze portal, a menorah at the main entrance, and The Schönborn chapel with its fresco.

phone: +49 931 38662800

address: Markplatz 7

This building essentially dominates the market square, thanks to its size and its dominant red paint. The chapel, erected in 1377, is a mixture between a basilica and a hall church that was popular in the late-Gothic period and its three portals portray late Gothic to early Renaissance design, each with its own delicate carving at its tympanum, depicting of some of the key events of Christianity. A the top of the tower is a gold-covered statue of Mary.

phone: +49 931 79407760

address: Spittelbergweg 21

A church at the hillside near the fortress. From its humble beginnings as the site of an erected pieta in 1640, at which at least four miracles were reported, a chapel was then built around it. Balthasar Neumann, the same architect that designed the Residence, built a church that incorporated the old chapel in 1750, though the interiors were actually not finished until 71 years later. Because of its extensive collection of life size statues and classy interior, it is an extremely popular place for weddings, in addition to pilgrimage during the Marian holidays and Pentecost.

Neumünster

address: +49 931 38662900

Mightily standing from the 11th century and now clipped between shops, its narrow pink Romanesque facade gives way to Baroque beauty inside. The white wall is a nice contrast to gold finishes and colorful altar and murals. Something also worth looking is a Madonna from the workshop of Tilman Riemenschneider and the St. Kilian's Crypt.
Do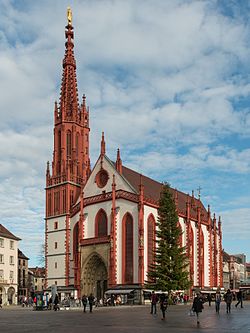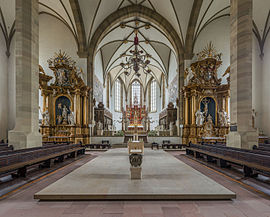 Wine tours & tastings
No trip to wine country is complete without touring the cellar and sampling the finest fruit of the vine. Although all tours are by default conducted in German, one can ask questions personally in English and they will be glad to help.
phone: +49 931 393-1400

address: Klinikstraße 1

The largest Franconian wine producer is part of the Juliusspital Foundation, founded in 1576 by Bishop Julius Echter. It is no wonder that their cellar is actually located at the city center, at the grounds of the hospital of the same name. Tours and choice of 3 wine tastings Saturdays at 2PM from March to December. Its diverse portfolio of wines can also be seen at its ownVinothek.
Wine fairs
Well-known as one of the wine regions of Germany, Würzburg highly takes pride of the local wineries and vineyards that took place at the summer peak travel season:
Würzburger Weindorf ("Wine Village"), on Market Square, the biggest of all, end of May.
Hofgarten Weinfest, in the Court Gardens of the Residence Palace, in July.
Weinfest am Stein, in a winery in the vineyards. With live music, crowded, in July.
Weinparade, on Market Square, end of August.
Nearly every winegrowing village in Lower Franconia has its own wine fair, so you can visit at least one if you visit Würzburg in summer or fall months.
Other festivals
Buy
Even though, just like the rest of Bayern, shops are to close all day on Sundays and at 20:00 on other days, there are two exceptions to this:
Mantelnsonntag
on the last Sunday of October (open from 13:00 to 18:00) and
Kultur- und Einkaufsnacht
on the Saturday before Advent (4 weekends before Christmas) when shops open until 23:00 and the Christmas Market until 22:00.
S.Oliver Outlet

phone: +49 9302 3096495

address: Am Moritzberg 3, 97228 Rottendorf

The world famous clothing brand S.Oliver has its roots in Würzburg. Here is perhaps its only outlet store.
Wine
Germany may be world renowned for its beer, but its wine is its hidden treasure.
Franconian wines
are white and produced from mainly Silvaner grapes, high in minerals thanks to the soil on which the vine grows, and very dry, with sugar amounts of only up to 5 grams. Another of its unique feature is being packed in a
Bocksbeutel
of 3/4 or 3/8 liters. Unlike many other German wine regions, a large amount of Franconian wine is drunk in the area where it is produced.
If you do not know much about wine, buy it directly from the winegrowers or from small shops which sell only wine (
Vinothek
).
address: Semmelstraße 2

Wine collection, both red and white, from the Bürgerspital brand, with opportunities for tasting flights and even pairing with a platter of your choice.

phone: +49 931 3931400

address: Koellikerstraße 1a

Flagship store of the Juliusspital brand. Generous samples and personalized suggestions. One can even drink the wine on the spot with bring-your-own snacks.

phone: +49 931 20561073

address: Sanderstraße 29

Collection of wine from various brands around Germany. Also offers private tastings of 5 wines and a sparkling wine with curated recommendation.
Learn
As one enters Würzburg from the motorway, the sign above the city name says it all,
Universitätstadt
(university city). Almost a third of its 150,000 inhabitants are students from three colleges, whose buildings are peppered around town. In addition, hundreds of foreign full time and exchange students do flock to Würzburg annually, which explains the regular overheard of English and other foreign languages being spoken if you happen to pass by, a good selection of international food, and noticeably less people during exam and holiday periods of February to March and July to September. Among the factors that entice them to come include extensive cooperation with foreign universities, availability of English courses, the medium size of the city, and its location right in central Germany.
phone: +49 931 31-0

address: Sanderring 2

Over 80% of Würzburg students (around 29,000 to be exact) study here. Founded in 1402, it's the 6th oldest university in the German language scope (Germany, Austria, Switzerland). It belongs to the U15 group of top research universities. Foreigners who do go to school here are usually taking a master's degree and research, many of which are also offered in English. Lecture halls are scattered throughout town depending on the faculty, but most concentrated at Hubland which used to be site of the former US Army garrison.

University of Applied Sciences Würzburg-Schweinfurt

phone: +49 931 3511-0

address: Münzstraße 12

Although the university serves two towns with equal division of quantity of faculties, Würzburg is where most of the administrative seats are. Foreigners who come here are mainly exchange students staying up to a year studying business and economy courses in English. As with the University, lecture halls are scattered throughout town depending on the faculty, but they are most concentrated at around Münzstraße near Sanderring.

phone: +49 931 32187 0

address: Hofstallstr. 6–8

Offering specialized bachelor degrees in an array of musical instruments, composing, conducting, and even a special program as a music teacher.
To better serve the students, a semester ticket for public transportation rides across Würzburg city and adjacent counties within the VVM network are offered after a compulsory payment set by the university. In addition, a mensa (cafeteria) is readily available at multiple locations citywide with meals only half of restaurant prices!
Eat
The first footing of Italian cuisine in Germany
Pizzas and Italian cuisine in general are country-wide beloved non-German options, however its history is only fairly recent in the making compared to say, the Americas.
Nicolino di Camilo, called Nick, comes from Villa Magna in Abruzzo and came in 1946 via Fürth to Würzburg. Here he first worked as a bouncer in the "Country Club", a popular meeting place for US soldiers. By chance, he met the US officer Coletti, an American who also came from the native Abruzzo. At the instigation of the officer, Nick worked as a part-time cook at the American GIs in clubs and casinos around Würzburg with food from his homeland. The success was so immense that Nick opened on 24 March 1952 the
Bier- und Speisewirtschaft Capri
(now Capri Blau Grotto) as the first Italian restaurant in Germany. Later he invented the now standardized cardboard pizza boxes for his delivery service.
Guests in the restaurant were initially US soldiers of the former Würzburg garrison. Only starting from the 1970s economic miracle did Germans get to know the Italian cuisine after trade between Germany and other countries intensified and the yeast dough flat cake in the Italian version became one of German's favorite comfort food.
Even though being located in Bayern, those that look forward to the brown pretzel and white sausage (Weißwurst) are unfortunately coming to the wrong place. Instead, the
Franconian cuisine
is traditionally served. Even then it is still an umbrella term, as even different cities can have different variations. A specialty of Würzburg however would include fish from the Main River and sausage with wine blend.
Otherwise those feeling peckish for something else should not be left disappointed. Thanks to its young and multicultural student population, a couple Asian and southern European establishments have also set up shop here.
Budget
phone: +49 931 15672

address: Neubaustraße 2

Cozy cafe that opens until late. Simple menus like salads, breads, and desserts at all times. More substantial meals are offered in menu of the week during lunch.

address: Sanderstraße 29

Spaghetti for €4.20 Mondays,Schnitzels for €5.90 Tuesdays, and cocktail of the day for €4.20. Other favorites include its Flammkuchen, burgers, and breakfast until 6PM. Drinks include specialty teas and a long list of alcohol.

Tigris Kebab

phone: +49 931 3047971

address: Augustinerstraße 3

A large downtown Döner shop, open until late at night for something more substantial after a party.

Bratwurststand Knüpfing

phone: +49 931 51733

address: Markplatz

The seemingly small food stall in the middle of Markplatz caters to a long line of patrons by lunchtime that moves quickly with almost always only 1 item in mind: the Franconian roasted sausage sandwiched in bread. The quickest way to order this menu is Geknickte mit for with mustard or Geknickte ohne for without.

phone: +49 931 2700160

address: Louis-Pasteur-Straße 5

A gourmet grocery store complete with cafeteria style restaurant and dedicated Vinothek. Its menus change daily and quickly gets crowded during lunch rush, but Sunday brunch and buffet events on many other days are when the restaurant is at full capacity, for which a reservation is usually needed.

Istanbul Kebap

phone: +49 931 30489374

address: Kaiserstraße 21

Another staple for cheap meal right at the heart of town. In the ordering, you first need to make a selection and pay. Behind the counter you can see the bread kneaded by hand. The smiling owner serves the customer himself by cutting the meat and asking if you'd like sides with it. Vegan friendly option also listed on menu.
Mid-range
Splurge
Great restaurants in the town centre serve excellent food in rustic settings with by no means unreasonable prices. Service is great and you can be guaranteed a great meal. These include
phone: +49 931 16777

address: Mainkai 1

phone: +49 931 352880

address: Theaterstraße 19

phone: +49 931 99131545

address: Kranenkai 1

very delicious Franconian cuisine, great beer garden overlooking the fortress Marienberg and the Main

Juliuspital

Stachel
Drink
Located in a wine stronghold, wineries managed to trump the number of local beer breweries. Both wine and beer lovers, young and old alike, live and party together in harmony, as can be seen every day on the Old Main Bridge and along the Main River. Most cafés that lay along the Alte Mainbrücke allow you to drink straight from the wine glass while enjoying the fresh air outside; just don't forget to return the glass to get your hefty deposit back.
Würzburger Hofbräu

address: Jägerstraße 17

The local brewery brews excellent wheat beer (Weißbier), which carries the name of a 1600s bishop of Würzburg, Julius Echter. Basically this beer is served for you in almost all the local bars, if you order a Hefe.
Sleep
Budget
address: Haugerring 2

A hostel situated across the main train station and the transit center. Rooms can range from one to ten beds. Tailored itineraries for do-it-yourself tours can be asked for at the receptionist. Breakfast and packed lunch also offered at its restaurant.

phone: +49 931 4677860

address: Fred-Joseph-Platz 2

Member of the Hosteling International (HI). Rooms can range from one to eight beds, adding up to a total of 238 beds. A breakfast buffet is provided for all guests and a packed lunch is provided upon request.
Mid-range
Splurge
phone: +49 931 9702-0

address: Am Steinberg

phone: +49 931 78 00 99 0

address: Semmelstraße 28 + 30
Go next