Wabakimi Provincial Park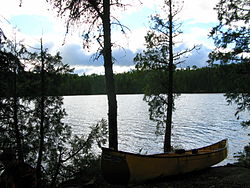 Wabakimi Provincial Park
, in
Northern Ontario
, is one of the world's largest boreal forest reserves.
Understand
Classified as a wilderness park by Ontario Parks, Wabakimi covers 8,920 km² in Northern Ontario. It is the second-largest park in Ontario (only Polar Bear Provincial Park is larger), and the largest park that is not primarily a wildlife preservation zone.
Since this is a wilderness park, the advice given in
Wilderness backpacking
,
Leave-no-trace camping
,
Wild camping
, and the "see also" pages linked from those pages should be taken to heart if you plan to camp here.
The lands within and around Wabakimi are the traditional areas for several Indigenous communities, including the Ojibway First Nation; the park has a long cultural history.
The park was created in 1983, and expanded six-fold in 1997.
Landscape
This is boreal forest country.
Large granite rock outcroppings make up about a quarter of the park's surface. This exposed and semi-exposed bedrock is some of the oldest rock on the planet. The Ojibway used the large rock outcroppings in the park to paint pictures and scenes on. These cliff paintings were used to mark territory and share stories of the past within the Ojibway families.
Flora and fauna
Wabakimi offers opportunities to see bird species such as Boreal Chickadee, Red and White-winged Crossbill, Greater Yellowlegs, Spruce Grouse, Hawk Owl, Great Grey Owl, Pine Grosbeak, Bald Eagles and Gray Jays.
Woodland Caribou that inhabit the park as well as the vast granite bedrock that composes most of the park. The Woodland Caribou was once a thriving species throughout much of the United States and Canada. However, during the 20th century the population found itself in steady decline and is now only found in very specific regions of Ontario's boreal forest.
In fact, today the Woodland Caribou is an endangered species and (in some instances) only be found in the Wabakimi. For those of you planning to visit the Wabakimi Provincial Park, the best way to see a Woodland Caribou is generally along the shores of the lakes within the park.
Many times the species can be seen along a shoreline or crossing a river, creek, or stream. When looking for the caribou it is important to note that the size of the animal is not that large. Most caribou are much smaller than a Whitetail Deer which is contrary to popular misconception. The Woodland Caribou is extremely elusive and seeing one can be considered a rare treat.
Climate
Get in
By car from
Thunder Bay
, take Highway 527 north 265 km to Armstrong. Armstrong has access points to this remote park by Caribou Lake Road. The park does not have a front gate.
You can fly in by float plane to any of the lakes within the park.
Via Rail
's
The Canadian
rail line passes through the southern end of the park twice a week, and can be flagged down at Savant Lake or Armstrong Station.
Paddlers (mostly canoeing) often travel the Allan Water, Flindt, Pikitigushi, and Ogoki River (along with a number of additional extended waterways) during the summer months. Wabakimi Provincial Park's waterways straddle a height-of-land from which water flows either to the Atlantic Ocean via Lake Superior or to the Arctic Ocean via the James Bay/Hudson Bay basins.
Several provincial waterway parks connect to Wabakimi:
Ogoki River, to the east
Albany River, to the north
Kopka River, to the south
Brightsand River, to the southwest
Fees and permits
Admission to the park is free. The base daily rate to camp during the 2019 camping season is $9.00 for Canadian residents, $13.25 for non-residents of Canada.

Get around
This is a wilderness park; you'll be hiking or canoeing everywhere.

See
The beauties of nature.

Do
Hiking and canoeing. You're here to get away from it all.
Wilderness canoeing, including over 2,000 km of lake and river routes and some excellent whitewater
Wildlife viewing
Sport fishing for walleye, Northern Pike, perch, whitefish and Lake Trout
Buy, eat and drink
There are no facilities in the park. You are limited to what you bring in with you.
Armstrong Station and, to a lesser extent, Savant Lake have restaurants, hotels, bait shops, outfitters.

Sleep
Lodges and resorts
Wabakimi Outfitters and Eco-lodge

phone: +1 807 583-2626

address: Frontier Trail, Hwy 527, Armstrong

Guided and do-it-yourself canoe trips, shuttles by vans, floatplanes, trains, fly-in or train-in to 6 remote outposts in or near Wabakimi Park for fishing. A drive-to B&B with 8 bedrooms on Mattice Lake.

Thunderhook Fly-InsA fishing lodge on Smoothrock Lake and remote outpost camps which are are accessible by air only.
Backcountry
The park's campsites are classed as "Backcountry Camping" by Ontario Parks - they are first-come-first-served. While there are over 500 campsites throughout the park, the park does cover 892,061 ha.
Permits can be purchased
online
up to two weeks before your trip.