Waco
Waco
is a city in the
Blackland Prairie
region of north central
Texas
, in the
United States of America
.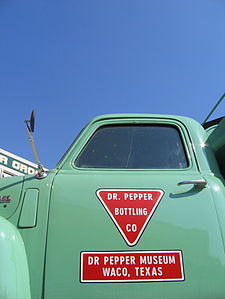 Understand
History
Founded in 1849 near the site of an abandoned agricultural village of Waco Indians, Waco rose to prominence in the 1870s as a major junction for the transport of cattle; by 1871 between 600,000 and 700,000 head of cattle had passed through the city. As time progressed, Waco's location at the crossroads of major railroads and its location on the Brazos River helped the city grow and thrive. It is now home to approximately 125,000 residents, with 260,000 in the greater Waco MSA area. Waco has a number of worthwhile attractions.
Waco came to the world's attention, and is still remembered by many people, for the February 28, 1993 stand-off between federal agents (FBI, ATF) and the Branch Davidians, a Seventh Day Adventist offshoot religious group, led by David Koresh, the sect's leader. It resulted in the deaths of 86 people. The incident took place 15 miles outside of Waco, though - not in the city itself. When asked about the incident, most residents will answer; just realize that generally Wacoans are tired of the subject and would rather talk about something else.
Waco is best known in Texas for being the home of Baylor University, the largest Baptist university in the world, chartered during the Republic of Texas.
In 2014, due to the immense popularity of HGTV's hit show, Fixer Upper, the Magnolia Silos became a place of pilgrimage for HGTV viewers from all over the world.

Get in
By plane
By car
Waco is on I-35, thus allowing easy access by car from
Dallas
and
Austin
. On I-35, it is a 90-minute drive south of Dallas, and a 90-minute drive north of Austin. State Highway 6 is the preferred route to reach Waco from
Houston
, a three-hour drive.
By bus
Waco has a
Greyhound
bus terminal located in the center of downtown.
By train
While
Amtrak
does not service Waco directly there is a nearby station on the
Texas Eagle
route between in
Los Angeles
,
San Antonio
and
Chicago
in McGregor, a small community 15 miles west of Waco on highway 84. is located on 1 Amtrak Blvd. There is no scheduled public transport from, meaning that a taxi or private transport is required in order to reach Waco.
By boat
The Brazos River flows through downtown Waco and empties into the Gulf of Mexico. Reaching Waco by boat will be a challenge due to the shallowness of this river, along with frequent dams and falls.
A more practical (and entertaining) way of reaching Waco by boat would be to launch a kayak or canoe at the Lake Whitney dam, (approximately 40 miles upstream) and float downstream to Waco.
Get around
The easiest way to travel around Waco is by car. The city of Waco does run a
Waco Transit
public transportation system; however, it has a limited number of stops and only runs during the daytime.
See
phone: +1 254 710-3566

address: 710 Speight Ave

Located on Baylor University's campus, the library contains the world's largest collection of works related to British poets Robert and Elizabeth Barrett Browning. The building contains 62 stained glass windows depicting themes from the Brownings' poetry.

Cameron ParkCameron Park consists of over 400 acres of trees, trails, and nature that sit in the heart of Waco. Upstream from downtown Waco, the park is lined by the Brazos and Bosque rivers and the trails weave deep into the forest which are perfect for running, walking, biking, and horseback riding. Stationed throughout the park are pavilions, water fountains, fire pits, and public restrooms, making the park a haven for Waco families and visitors alike. Also includes a 23-hole disc golf course, fishing and boating facilities, and a "Spray Park" with water fountains and playgrounds free to the public.

phone: +1 254 750-8400

address: 1701 N 4th St

Waco's zoo is in one of the country's largest undeveloped municipal parks. The zoo is next to the Brazos River and has 52 acres of vegetation. The walkways of Cameron Park Zoo meander through lush landscapes and natural habitat displays featuring animals from Africa, Asia, South America, North America, and Madagascar. An 1880s Texas ranch house serves as an education facility, complete with whitetail deer, turkey, and peccary display. A state of the art Herpetarium opened in 1997. Grammy Nell's Play Area opened in 1998 with a focus on nature-based play and a zero-depth splash fountain. The following year a $600,000 African lion display was built thanks to the family and friends of Sam "Jack" McGlasson. Most recently, Lemur Island opened June 28, 2002. It is home to three species of Lemurs including the Sclater's black lemur, a critically endangered species that is held in only 14 institutions worldwide.

Dr Pepper Museum and Free Enterprise Institute

phone: +1 254 757-1025

address: 300 South 5th St

The Dr Pepper soft drink was invented in Waco in 1885 and the museum houses the original bottling plant. The first floor of the museum explains the history of Dr Pepper, complete with the original machines, an artesian well, and an animatronic to introduce visitors to the history of Dr Pepper. The second floor displays the commercial history of Dr Pepper and other independent soft drinks, such as 7-Up and RC Cola. The third floor houses a conference center, the "Soft Drink Executive Hall of Fame", and a conference center dedicated to free enterprise as an economic system.The real highlight, though, is the vintage soda fountain on the first floor - no price of admission necessary for purchase of Dr Pepper, mixed and served straight from the tap. It's leagues better than what you can get in a can.

phone: +1 254 754-9600

address: Halbert Ln

Homestead Heritage celebrates life by sweeping you back to what life was like in the 1800s. Visit the 200-year old restored barn which offers handmade crafts, housewares and furniture, enjoy a relaxing lunch of homegrown and homemade treats at the Homestead Farms Deli, and take a walking tour of an herb farm, 1750s gristmill, pottery barn and blacksmith shop.

phone: +1 254 710-1110

address: 1300 S. University Parks Dr

The Mayborn Museum is located across from Baylor University and walking through, you will walk through the natural history of central Texas. Spend hours in 16 discovery rooms for hands-on learning with themes from transportation to TV news and pioneers, and explore the natural history of central Texas through walk-in dioramas of a limestone cave, a Texas forest, and the Waco mammoth dig. On the grounds of the complex is the Governor Bill & Vara Daniel Historic Village an 1890s village moved from Liberty, Texas with a livery, church, general store, plantation home, and other authentic historic buildings.

phone: +1 254 756-5359

Lake Waco was constructed by the Army Corp of Engineers in 1929. In the last 70 years Lake Waco has grown and become the city's primary source of water. The lake offers fishing, camping, day-use recreation areas, boating, swimming, hike and bike trails, horseback riding trails, and hunting. Parking is available off Airport Road. Parking lot hours are 6AM to 10PM. The hiking trail located next to Lake Waco and opens one hour before sunrise and closes one hour before sunset. Sometimes the park holds irregular hours due to weather.

phone: +1 254 756-1221

address: 4521 Speight Ave

The Red Men Museum and Library is a historical reference museum and research library pertaining to the Improved Order of the Red Men, an organization tracing its founding to 1765. The museum exhibits artifacts of historical significance such as a writing desk that belonged to Aaron Burr, a bugle recovered from the battlefield at Gettysburg, and a peace blanket that belonged to the Apache warrior Geronimo.

Waco Suspension Bridge

phone: +1 254 750-5980

address: 101 University Parks Dr

Built in 1870, it was the first bridge across the Brazos River and the longest bridge west of the Mississippi River at that time. Now a walking bridge, the architecture is a token of Waco used by walkers, joggers, and is a popular spot for picture taking and having picnics. Wacoans have created a game consisting of tossing tortillas from the bridge aiming to hit a concrete pillar stationed in the Brazos River. Learning the art of tossing the tortilla is much more difficult than it first appears and keeps players continually coming back to the bridge.

Texas Ranger Hall of Fame and Museum

phone: +1 254 750-8631

address: 100 Texas Ranger Trail

The official museum of the Texas Rangers, this Hall of Fame contains a large amount of memorabilia from the long history of the Texas Rangers.

phone: +1 254 756-1633

address: 1108 S University Parks Dr

The museum features Texas athletes in many sports, including football, tennis, golf, baseball, basketball, horse racing, and others. The museum also houses the Southwest Conference's 75-year collection of memorabilia.

phone: +1 254 297-2777

address: 425 Austin Ave

When completed in 1911, this beautiful 22-story building was the tallest in the Southwest. It is still used for commercial purposes on the inside but the outside is ready for pictures anytime, day or night. Unfortunately, access to the interior is not available to the general public.
Art
phone: +1 254 710-6390

address: 60 Baylor Ave

The Martin Museum of Art is located on the Baylor campus in the Hooper-Schaefer Fine Arts Center. The art museum periodically features different artists from around the country. Outside of the actual museum, student paintings, drawings, sculptures, and more can be found displayed on the walls and in cases throughout the building. For specific exhibit information, see their website or contact them. Contact: Karin A. Gilliam, director.

address: 1300 College Dr

The Art Center of Waco is a gallery as well as an interactive studio where the community can indulge in their own artistic endeavors. It is a great place to learn and grow artistically. Ways to get involved with the Art Center include festivals, adult classes (like pottery, calligraphy, fabric dye, hair bows, handmade soaps, photography, and holiday cards), children's classes, and working in their Artists' Open Studio. For more information on upcoming exhibits, visit the website.

address: 4310 West Waco Dr

Practically Pikasso is a colorful, fun, family-and-pet-friendly atmosphere that offers a local artistic experience where you can choose your own piece on pottery and paint it however you'd like. Their friendly staff and fair prices are nothing compared to the amusement and enjoyment you'll find when you're painting, glass fusing, or building a mosaic with your friends. Contact: Koury Fadal, store manager.

address: Kate Ross Apartments, 1115 Cleveland Ave

Waco Arts Initiative (WAI) is a special program created for under-privileged children. Art is used as an emotional and expressive outlet for children who could otherwise not afford art supplies. WAI believes that "this poverty goes beyond economics and is a problem that every human faces within the context of their own paradigm," and they hope to "confront the poverty of the soul through the creative arts via a program of empowerment conducted by an inspiring staff." Contact: Grace Ladd, program director (+1 214-695-1338).

Croft Art Gallery

address: 712 Austin Ave

Croft Art Gallery is a new Waco art gallery that opened in 2009. It features all different kinds of artwork of local artists. The owner, a Waco resident, says, "I got real tired of reading negative comments from people who lived here." With her favorite quote "Be the change you wish to see in the world" on her mind, she "decided to pursue a dream of opening an art gallery." Whether the art is for sale or not depends on the current artists' preferences.

phone: +1 254-752-1242

address: 3523 Franklin Ave

With eccentric, artsy taste and provocative art hanging on its walls, Art Ambush proves to be one of Waco's hidden treasures. Excelling in professional body art (tattoos) and piercings, Art Ambush also has occasional art exhibits featuring local artists. "Art Ambush is dedicated to displaying people's artistic talents. Different works of art by local and national artists can be seen throughout the location."
Theatre
Although Waco is a relatively small city, it does have a moderately rich theatrical life. There are several companies that produce performances throughout the year, including the Waco Hippodrome, Baylor University Theatre, McLennan Theatre, and Waco Civic Theatre. The Waco Children's Theatre offers a theatrical outlet to local children during the summer.
Music
Waco SymphonyThe Waco Symphony entertains the greater Waco community throughout the year. Their performances are held at Waco Hall on Baylor University campus and the symphony is led by Maestro Stephen Heyde. Dress for Waco Symphony performances is casual. Attendees are encouraged to "come as you are" whether that be in formal wear or jeans.
Sunday SoundsSunday Sounds is a concert series by the Waco Symphony held on Sunday afternoons at 3:30PM Thirty minutes prior to each show, attendees can learn about the lives of composers and their music in the adjacent concert hall. After the show attendees can visit with the symphony musicians and enjoy refreshments provided by the Waco Symphony Council.
Baylor SymphonyBegun in 1944, the Baylor Symphony is a part of the Baylor School of Music. The Baylor Symphony is conducted by Maestro Stephen Heyde and performs in Waco Hall on Baylor campus. Each year, the Baylor Symphony performs at least four concerts, full opera production, and a children's concert series. A performance schedule can be found on the Baylor Symphony website. Most performances are free of charge.
UpRoar RecordsUpRoar Records is a local record label at Baylor University. It is the first student-run record label and entertainment group housed in the United States in a university business school. Each fall, UpRoar Records holds auditions to find artists for the current fall year. Selecting 5 – 10 musicians/ groups, UpRoar Records then works with each artist to write, develop, rehearse, and finally record songs in a professional recording studio. UpRoar Records actively promotes their artists on Baylor campus, around the Waco community as well as in larger markets like Nashville, Tennessee and Los Angeles, California.
Do
phone: +1 254 772-3541

address: 1716 North 42nd St

Ride on a miniature train, play putt-putt, drive a go-kart, or ride on a bumper boat.

Mayborn MuseumOn Baylor University Campus, walk across a replica of Waco's famous mammoth site, see a Comanche tipi up close or spend your day exploring the 16 themed Discovery rooms, such as the Communication Room, the Health Room and the Invertebrate Room. The Mayborn Museum Complex is the perfect place to bring the family.
Buy
phone: +1 254 776-6631

address: 6001 W Waco Dr

Anchored by two Dillard's stores, JCPenney, Bealls, and Sears.

phone: +1 254 235-6111

address: 601 Webster Ave

Shopping complex built by Chip and Joanna Gaines of Fixer Upper fame
Eat
Schmaltz's Sandwich Shop

phone: +1 254 776-3694

address: 1412 N Valley Mills Dr

Local sandwich shop since 1970s. The owner wakes up every morning and makes the bread fresh - sandwiches are served warm and delicious! There are two soups served daily, one of which is always Wisconsin cheddar cheese soup

Dubl-R Burgers

phone: +1 254 235-5577

address: 1810 Herring Ave

Best. Burgers. Ever.

Lolita's Tortilleria

phone: +1 254 755-8008

address: 1911 Franklin Ave

Locally owned Mexican restaurant that serves breakfast and lunch all day, or until 2. Located downtown near many of Waco's attractions so you don't have to travel far to start off your day on a full stomach. Must try: the queso is one of a kind - looks different so don't knock it before you try it!

Kitok's Restaurant

phone: +1 254 754-1801

address: 1815 N 18th St

Kitok Restaurant is a popular "hole in the wall" restaurant in Waco, Texas. The original owners, Bob and Kitok Moore, sold the restaurant but the current owners maintain the look and feel of the original Kitok restaurant. The prices are very reasonable. One of the most popular, the Lip Locker hamburger, is a double-patty cheeseburger that is a favorite among regulars. The oriental fries are also very popular. The Asian food offered at Kitok's is also very good, but it is the burgers and fries that the restaurant is known for. The staff is friendly and attentive to your needs. The waitresses go out of their way to make your stay enjoyable and even the cooks love chatting with diners.

phone: +1 254 776-6776

address: 703 N Valley Mills Dr

"The best pizza on earth!" Poppa Rollo's was founded in 1969 and is still thriving in Waco. They primarily serve Italian food, but also offer sandwiches and a health-lite section on their menu. The health-lite section consists of vegetarian and organic- style pizza. Poppa Rollo's won the Outstanding Business Award in 1994 and was voted the "Pizza Pace Setter" by the National Association of Pizza Operators Trade magazine. Service tends to be brisk and somewhat rude—very New York style service. Bottom line: great food, but less friendly service.

Diamond Back's Texas Bistro

phone: +1 254 757-2871

address: 217 Mary Ave

Roughly 10 years old, Diamond Back's is located downtown near the Brazos River in a small historic warehouse district. Interior is tall ceilings with rustic, yet sophisticated, wood ceilings. There is a bar and upstairs seating, which includes outdoor seating. It is the best steak house in Waco, and the most expensive. An 8 oz. filet is roughly $32, and a 12 oz. filet is closer to $40, which includes a salad, but no sides. Mashed potatoes with garlic are delicious, and run $5 additional. The beef is a good cut of Angus, and delicious. It is trying to be like Ruth's Chris Steakhouse, in terms of product delivery, but has the feel of an expensive Texas bistro. Overall, worth it if you are looking to spend a ton of money on a steak.

phone: +1 254 756-2721

address: 416 Franklin Ave

Clay Pot is an interesting change from the other Asian food establishments in Waco. The food is very affordable and there are specials offered throughout the week. The "clay pot," the meal the restaurant is named after, can be served with several different types of meat and is one of the least expensive and tastiest dishes on the menu. Clay Pot's decorations make it worth the visit, as Vietnamese symbols and art decorate the main room. There are both standard tables for the traditional diner, and there are lowered tables with pillow cushions available for those wishing to dine authentically. The restaurant is also b.y.o.b. yet the tea they offer with meals is free of charge and quite good.

phone: +1 254 753-1421

address: 1925 Speight Ave

George's, "where everybody knows your Name beer," has been around since the 1930s. George's is well-known for their chicken fried steak and their extremely large serving of beer, fondly known as the "Big O," George's is both a great place to go before a football game for some good food or to relax at the bar with some friends after a long day. George's has recently been named the "Greater Waco Chamber of Commerce Small Business of the Year." In 2003, Maxim Magazine named them "Bar of the Month."

phone: +1 254 754-4941

address: 2132 S Valley Mills Dr

The atmosphere at Elite ranges from casual to formal. You can stop by the Elite for a couple of beverages and appetizers before a Baylor game, or for a formal event. People often stop by on their lunch breaks from the office or go to Elite for their weekly date night. Elite offers a variety of meals and desserts.

phone: +1 254 772-2900

address: 904 N Valley Mills Dr

Inexpensive, delicious Italian. A small, family-owned restaurant, with fantastic, authentic Italian cuisine. Everything on the menu is under $10.
Drink
Since Dr. Pepper originated in Waco, it is the "primary" drink to try. "Dublin Dr. Pepper" is made using the original sweetener—pure cane sugar—which makes it different from other soft drinks that now use the less expensive high fructose corn syrup.
phone: +1 254 757-2957

address: 1123 S 8th St

Common Grounds is a local coffee shop and site for many concerts, primarily of local artists and bands. The shop offers free Wi-Fi.

Dancing Bear Pub

address: 1117 Speight Ave

Locally owned, small pub. Ambience isn't great, but the selection is nice. Next door is Food for Thought, from which you can get sandwiches.
Sleep
phone: +1 254 754-0363

address: 3829 Franklin Ave

phone: +1 254-662-9500

address: 2501 Market Pl

phone: +1 254 754-8484

address: 113 S University Parks

phone: +1 254 753-0261

address: 1001 S Martin Luther King

phone: +1 254-537-0413

address: 2700 La Salle Ave

100% nonsmoking all-suite hotel with free hot breakfast & outdoor swimming pool. Opened in 2006.

Deluxe Inn Waco

phone: +1 254 752-1991

address: 1430 IH 35 South

phone: +1 254-412-1999

address: 4259 North I-35

The closest hotel to the Waco Regional Airport.

phone: +1 254-772-0200

address: 6003 Woodway Drive, Woodway

Pet friendly.

Fairfield Inn & Suites Waco North

phone: +1 254-412-2535

address: 4257 North I-35

phone: +1 254 799-9997

address: 1801 N Development Blvd, Waco, TX 76705

Full service Holiday Inn. Features 122 guest rooms, including suites, jacuzzi suites and family suites. 2,400 sq ft of meeting and event space available. Hotel features indoor pool, hot tub, dry sauna and fitness center, as well as an on site full service restaurant. Not pet friendly
Bed & Breakfasts
phone: +1 254-753-6856

address: 2211 Colcord Ave

Colonial House Bed & Breakfast

phone: +1 254-756-1968

address: 2301 Colonial Ave

phone: +1 254-753-7294

address: 1910 Austin Ave

Creekside Garden

phone: +1 254-744-8114

address: 115 N. 25th St

Judge Baylor House

phone: +1 254-756-0273

address: 908 Speight Ave
Stay safe
Waco has a reputation for a higher-than-normal crime rate for a small to medium size city. Visitors should exercise normal caution. That said, most violent crime occurs in residential areas, away from most areas visitors may visit. If you do find yourself in such an area (usually for dining), use normal caution. Drive with the doors locked, do not draw attention to yourself, and do not make prolonged eye contact (i.e. stare at other drivers).
It is strongly advised not to be at Cameron Park at night unless you are with a large group.
Waco, and Texas in general, is not frequented by pedestrians as much as a lot of other places. If you decide to walk, be careful, as the drivers are not used to pedestrians and may not see you.
Tornadoes are not a frequent occurrence in Waco, but when they do hit, they tend to be very strong. Do not panic if a tornado warning is issued. If such a warning is issued, turn on the local news and keep updated. The weatherperson will explain what cautions need to be taken, and who should take them. If the weatherperson, any hotel staff, or public officials give you directions, follow them. It should go without saying that you should not go outside during a tornado. See the
Tornado Safety
section for more information.
If on the Baylor campus, while you can call 911, a faster emergency response can be obtained by calling the emergency number for the Baylor Police, (254) 710-2222.
Go next
Clifton - 20 minutes west on Route 6 is this small town which is very proud of its Norwegian heritage.