Wagah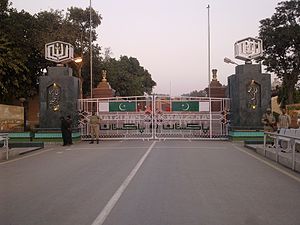 Wagah
(or
Wagha
) is a border town straddling the line between
Pakistan
and
India
, 29 km from the town of
Lahore
on the Pakistani side and 27 km from
Amritsar
on the Indian side. This is the only crossing point between Pakistan and India that is regularly open to foreigners.
Get in
The closest significant towns to Wagah are
Amritsar
, India and
Lahore
, Pakistan.
By train
The
Samjhauta Express
from
Lahore
to Delhi passes through Wagah. The last station on the Indian side is
Attari
. This train run twice weekly, on Tuesdays and Fridays.
By road
When driving from
Islamabad
, it should take at minimum 4.5 hours.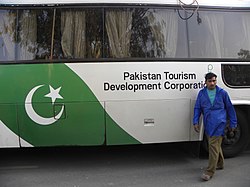 From
Lahore
Station, take a bus, or taxi. Minibus No.4 leaves from outside Lahore Railway Station every 15 minutes (~US$0.20), while a taxi should cost US$8. The trip takes around half an hour.
From
Amritsar
, Wagah is about 45 minutes away by car. There are public buses to Attari station, from where you can continue the last 3 km to the border by cyclerickshaw.
Most tourists can take a taxi through their hotels for a round trip, which includes the waiting time at Wagah. As of Jan 09, a typical fare for such a trip from Amritsar is about ₹800. The fare for auto is ₹400.
Get around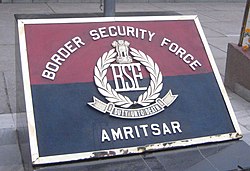 If you're planning to cross the border, you should aim to get there as early as possible. As of 2009, the border is open every day from 08:30 to 14:30. Border formalities can take from 30 minutes to over two hours, and you
will
need to arrange a visa before you arrive.
Regular buses or taxis are not allowed into the no-man's land between the countries, so unless you're on one of the few deluxe international buses, you'll have to walk across the 500m between the border posts yourself. Porters, blue coats for the Indians and green coats for the Pakistanis, can carry your belongings for a few dollars.
See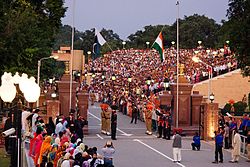 There is daily flag raising and lowering ceremony at Wagah Border, which is done with pomp and ceremony. It involves some of the tallest members of the Indian Border Force and the Pakistani Rangers marching and closing the many gates. It has become a tradition for people from both sides of the border gather and see this. Both sides synchronise their parade and the entire event is meant to create a feel-good/patriotic fervour amongst the crowd. It is called the beating retreat ceremony. Since 2010, the Wagha ceremony has begun to tone down so one might see less of the flourishing of Peacock helmets and goose-stepping.
As of Jan 2009, the flag lowering ceremony which happens around 16:15 everyday has become the main event for tourists. In addition, there is now a short cultural programme also done by local folk dancers (Bhangra) for the waiting crowd before the flag lowering. Please take note that a peak crowd of up to 2000+ people can assemble on the Indian side and up and over 1,000 people on the Pakistani on sides weekends/long weekends/public holidays. The crowd consists of both tourists & locals. The noise and atmosphere of the assembled crowds on both sides of the border is similar to that of a sporting match and very entertaining.
The border gates have a visitor gallery on each side, basically concrete steps created around the border main road. This allows most people in the crowd to get a seat but it is not uncommon to see up to 500-1,000 people standing at the periphery. There are metal fences to help direct and control the crowds in and out of the seating areas.
Ideally, one should reach the border gates by 15:30 to get seating if you're going on a busy day.
The seating area is as follows:
VIP seating - closest to the gates and requires a special pass which can be made from the BSF station near the Amritsar bypass road a couple of days in advance.
Ladies exclusive - this is new, a section where only women and small children are allowed. This comes after the VIP seating and is little further from the gates (about 80 m away)
General seating - These days (Jan 09), this seating is given to men only as it tends to get very crowded and congested during rush days. Occasional pushing/jostling may happen.
Mobile phones, cameras and men's wallets are allowed. No covered bags, including women's purses & handbags, are allowed inside the visitor areas. However, border personnel allow clear plastic bags with few snacks, water, children's food etc. The restrictions are usually dependent on the crowd and perceived security alertness on that day.
For tourists coming in to see the ceremony, note that the taxis/cars need to be parked about 500 m away from the entry gates to the border area. You will need to walk in and reach the visitor gallery. Stay to the left side until you reach the grandstands.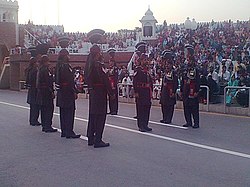 Do not bring any bags. Bags of all sizes are not allowed in and there are no cloak rooms. Cameras are OK, but leave the camera bag.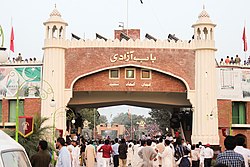 Be prepared for minor traffic jams when the ceremony has finished as up to 200-300 vehicles try and exit around the same time. The main road to Wagah is being widened to a 4 lane one, and should be ready by Jun 09.
There are no tickets to see this event, it is free for viewing for anyone on the Indian side as of Jan 09.
As of March 2011 the border apparently closes at 15:30. The flag lowering ceremony starts at 17:30 (and lasts around one hour), but you should be there in advance. Gates open at 16:30 at the Pakistan border (tickets at ₹10), and there is no need to be there before on a normal day. The Indian part however seems to fill up more quickly so it is a good idea to be there in advance.
Please note that because of recent (as of Jan 2013) border skirmishes in Kashmir and the escelating tensions between the two nations, the governments of India and Pakistan are not going to allow visas to be given in Wagha. Also, the people who can cross/the times of crossing will be restricted if the skirmishes continue.
Do
Relax at nearby Jallo Park, or enjoy in Suzo Water Park.

Buy
You can buy some snacks/drinks at the entry gate and also along the roadside as you are walking the 500 or so metres to the seating area.
There are many local male children who sell DVDs of the ceremony, costing around ₹20.
Be careful of pickpockets.
Eat
There is an official tourist centre, called "Aman Umeed" at the entry gate. It is a nice clean facility with toilets etc. and has comfortable seating, although food options are very limited inside.
However, there are 2-3 large local food stalls outside the gate opposite the tourist centre which serve food, offer packaged snacks and soft drinks. You can take these inside when you watch the ceremony.

Drink
Water bottles are not allowed after the checking point of entry to Wagah border. So don't carry them from the car/coaches. If necessary, buy them at the stalls just near the gate.

Connect
Note that mobile phones will not work here, as calls/SMSs are jammed.

Go next