Wageningen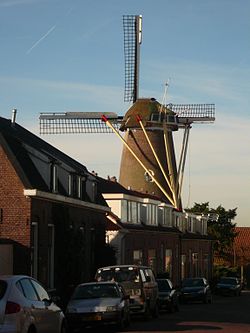 Wageningen
is a town along the Rhine river within the province of
Gelderland
in the
Netherlands
. Because of its famous agricultural university, it is more lively than one would expect from a Dutch town with 36,000 inhabitants. In 2007 it had residents from 152 different countries, mainly being students at the university. Wageningen was the site of the formal surrender of the Germans to the Allies in the Netherlands on May 5, 1945, a day that is a public holiday in the Netherlands. Wageningen hosts a military veterans parade and this is followed by great alcohol consumption in the town.
Understand

Wageningen lies close to the right bank of the branch of the Rhine estuary known in the Netherlands as the Nederrijn. Excavations date a settlement at this site back to the Stone Age. The hills to the east of the town provided protection for a Bronze Age tribe from flooding of the Rhine and from enemies and the earliest record of the name (in 838AD) is from the same hilly area. The town has had a chequered history, being occupied or destroyed on several occasions. Also, in 1421 the Rhine changed course, moving further south and, in the process, having a detrimental effect on Wageningen's trade. In the 17th Century the town started tobacco cultivation and there were several cigar manufacturers. The floodplain of the Rhine to the south also had several brick factories, one of which can still be seen.
In 1876 the Dutch government decided to build the first agricultural school in Wageningen on the grounds that it was in the heart of the country and was surrounded by a wide variety of soils. Since then the town has boomed and Wageningen University is now a world-renowned Life Sciences university. Wageningen also has the largest inland port in the Netherlands.

Get in
The story goes that Wageningen was given the choice of getting a university or a train station. It chose the university, and still doesn't have a station. There is a station called Ede-Wageningen but it is close to
Ede
and 8 km from Wageningen.
The Ede-Wageningen station is about an hour from Amsterdam or from Schiphol airport. From these stations look for trains headed to Arnhem and Nijmegen. There is a train every half an hour from Amsterdam and every half an hour from Schiphol. If you miss the direct train you can take a train to Utrecht and change there. Arriving at Ede-Wageningen, take
Bus No. 88
to downtown Wageningen (turn left at bottom of stairs leading down from the platforms). This stops at many of the student residences en route. By taxi (turn right at bottom of stairs) the journey will cost €25.
From
Arnhem
, take
Bus No. 51 or 52
from Arnhem station to Wageningen bus station.
Wageningen can be reached by car from highway A12, which passes to the north, A15, which passes to the south and can be reached by a ferry over the Rhine, and the A50, which passes to the east.
For information on the various types of bus and train tickets see
Netherlands#Get around
.
Get around

Cycling is the best mode of transport and there are several stores downtown that can provide bike rentals. For those staying longer it is possible to buy second-hand bikes. A stall in the main square on Saturdays has good bargains. New bikes range from around €200 for a Chinese-made one (looked upon contemptuously by the Dutch) to up to €1000 for a real Dutch bike. All of the main roads have separate cycling lanes. These have their own traffic signals and you are expected to obey them. At roundabouts and other junctions cyclists usually have the right of way but this cannot be guaranteed so be careful. You have to give way if there are white triangles on the track that point towards you.
Bus No.88 also takes you around most of Wageningen but it really doesn't make much sense to ride the bus here.

See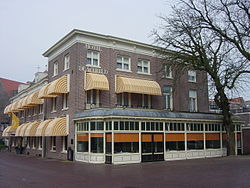 Detailed information in English can be found at . There is a Tourist Office in the Kniphorst Bookshop in Hoogstraat 49.
Do
address: Molenstraat 1b

First release films in original language with Dutch subtitles, which is fine for English speakers until they show a Japanese film.
Cycle/walk along the dyke. Enjoy the beautiful view of the countryside along the dyke amongst the grazing sheep and cows of the surrounding farms. Cycling and walking tours are organised by the Wageningen Guild
Rhine River. Wageningen is on the most northern spur of the Rhine estuary. From the dyke that protects the town in case the river floods you can take walks through the meadows to the Rhine and then along it. Popular among the locals as a place to go fishing and swimming, especially during the warmer months. Attracts thousands of ice skaters when it freezes. Good birdwatching. Two ferries to the East and West of the town allow for a pleasant round trip by bike.
Buy
The main shopping street in Wageningen is the Hoogstraat although selection is limited. Apart from a shop selling wooden clogs, there are no obvious souvenirs to purchase. For visiting students setting up home for a time, inexpensive household items are available at HEMA and BLOKKER on Hoogstraat. Shopping hours are limited. Most shops close around 18.00 during the week and at 17.00 on Saturdays, except on Friday evening when they are open until 21.00. Supermarkets stay open until 20.00 most evenings and are also open on Sunday afternoons.
Emmaus

address: Heerenstraat 9

A second-hand shop that is very popular with students and other short-term visitors to Wageningen who are shocked to find that furnished apartments are rarely available. Furniture, electrical items and all sorts of stuff. They deliver.

De Beschte

address: Bergstraat 22

Good second-hand and antiquarian bookshop. Good paperback selections in English, French and German as well as Dutch.
Eat
Budget
address: Stationsstraat 5-7

Soups, salads and sandwiches in a glass building. Outside tables, too, for the rare occasions it is not raining in Wageningen.
Open Markt - on Wednesday morning (09:00-12:00) and Saturday (09:00-17:00). The market downtown offers typical Dutch foods. The freshly made stroopwafels on Wednesdays are fantastic.
Mid-range
De Keuken

address: Hoogstraat 5

Tanzanian lady dispenses soups and curries from a small kitchen. Eat at a couple of tables or take away.

address: Vijzelstraat 2 (centrum)

Good quality restaurant with regularly changing "Board" menu. Comfortable chairs outside for a drink while watching the world go by.

address: Markt 8

Nice location on a summer's evening, sitting outside on the main square. Food OK but the service here is woefully slow.

address: Heerenstraat 41

Grilled meats, including kangaroo, with a variety of sauces. Enormous calorie-filled desserts.

address: Lawickse Allee 9

The interior lighting seems more appropriate for Amsterdam's red-light district but if you can put up with that the food is good. Popular with locals as well as hotel guests.

address: Hoogstraat 9

New restaurant (June 2012) serving reasonably authentic Thai food.
Pannekoek House - Traditional Dutch pancake restaurant within the centre.

address: Molenstraat 6

Italian restaurant run by Italians, with reasonably authentic pizzas. Somewhat expensive but always full.

address: Schoolstraat 15

Excellent Spanish restaurant and tapas bar.
Splurge
Ice Cream
address: Schuylensteeg 5

Italian-style ice cream that is very popular with the locals. On a sunny day be prepared for a long queue.
Drink
There are many cafes located around the church in the centre with good selection of beers.
Most student residences (triangular-looking buildings) also have their own bar downstairs.
Wageningen does not have a particularly thriving nightlife, but still there are a few nice cafes and pubs to hang around, drink beers and listen to live music. The main hangout places in Wageningen are:
De Vlaamsche ReusPopular bar in main square with over 120 beers on offer
There are also a few "coffee shops" in town for those who are looking for 'alternative entertainment'.
Sleep
Mid-range
address: Generaal Foulkesweg

Atop the Wageningse Berg hill. Very nice vantage point looking out at the Rhine river and plains. Reopened late 2013 after extensive reconstruction.

phone: +31 317490133

address: Lawickse Alle 9

A conference hotel much used by the local university. Very small but comfortable rooms. Short walk to the town centre. Elevators hopelessly inadequate so ask for a low floor.
Splurge
Hotel de WereldHistoric hotel, Look for its history at its "See" listing above.
Go next
On Saturday and Sunday, the town is quite empty since Dutch students go back to their hometowns to spend their weekend with friends and family. If you are looking for some Dutch nightlife try
Arnhem
,
Utrecht
or
Rotterdam
!
Hoge Veluwe National Park. Wageningen is 15 km from this large nature reserve. Very nice for biking and nature walks as well as for spotting the local wildlife. Hundreds of white bicycles available free of charge. A good museum with the second largest collection of paintings by Van Gogh to be found anywhere.