Wagga Wagga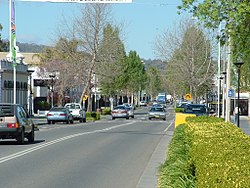 Wagga Wagga
(pronounced Wogga Wogga), the largest inland city in
New South Wales
, with a population of around 60,000 people, is located on the banks of the Murrumbidgee River. The city is universally referred to as
Wagga
.
The Wagga Wagga Tourist Information Centre, located inside the Wagga Wagga Civic Centre (cnr Baylis and Morrow Streets) provides helpful advice to people visiting the city.
Understand
Originally inhabited by the Wiradjuri people, considered to be the largest Aboriginal mob in New South Wales. They inhabited much of what is now the Riverina area.
Early colonists first sighted the land on which the city of Wagga Wagga now stands in December 1829 during an expedition of discovery down the Murrumbidgee and Murray Rivers. Settlement swiftly followed.
Wagga Wagga was proclaimed a town in 1849 and by the 1860s had a population of 700. The train line reached Wagged in the 1870s and by 1881 it had increased to 3,975. In 1879 the railway line was extended south of the river.
"Wagga" in the local Wiradjuri Aboriginal dialect means "crow". The repetition of a word was the method of expressing the plural or emphasis, thus Wagga Wagga means "crows" or "the place where crows assemble in large numbers". The Murrumbidgee River which runs through the city also derived its name from the Aboriginal language and means "plenty water" or "big water".

Get in
By plane
Wagga Wagga Airportis served by flights to Melbourne and Sydney. Airlines serving the airport are QantasLink and Regional Express. The standard advance purchase flight is around $120 with prices rising to several times that if you book close to when you travel. Occasional discounts can be found. The airport is 15 minutes out of town, both taxis and hire cars are available at the airport. Approximate cost for a taxi to the centre of the city is $40.
Melbourne operated by Regional Express
Sydney operated by QantasLink and Regional Express
Ground transportation
Wagga Shuttle BusServices available to and from Wagga Airport, and to and from the Army recruit training ground at Kapooka.
Best to book in advance if you want a hire car at the airport. Not just to ensure a vehicle is available, but also to ensure there is someone to meet your flight. Car hire from Wagga is usually limited milage. To get unlimited milage,
Canberra
is the best bet, around 3 1/2 hours drive away.
By train
Wagga Wagga railway stationNSW Trainlink offer a daily train service, with the city on the line between Sydney and Melbourne, providing two services a day in each direction.; From Sydney: 7 hours, departing at 6:50AM or 8:40PM. Concession price: $42.80 one way
By bus
Firefly Express no longer stops in Wagga (since 2018). There is no effective and practical way of getting from Sydney to Wagga by coach.
Get around
Wagga Radio Cabs operate 24/7 throughout the city.
Busaboutservices most suburbs in Wagga Wagga from M-Sa (No services on Sundays and public holidays)
See
address: Wagga Wagga Civic Centre, Cnr Baylis & Morrow Streets

houses the Australian Print Collection and the Print Australia Archive. The gallery is home to the National Art Glass Collection, Australia's premier display of glass art.
Museum of the Riverina which is in the historic council chambers at the Wagga Wagga Civic Centre (Cnr Baylis & Morrow Streets) and the Botanic Gardens (Lord Baden Powell Drive).

Wagga Wagga Botanic Gardens

address: Macleay Street

8 hectares of beautiful gardens, which are also home to the Wagga Wagga Zoo (contains a free flight aviary) and the Wagga Wagga Miniature Railway (see listing below)

Willans Hill Miniature Railway

address: Wagga Wagga Botanic Gardens on Willans Hill

A railway station and working controls are features along the extensive track. If you aren't the train type a pedestrians bridge over the train gives an expansive view of the train as it leaves the station.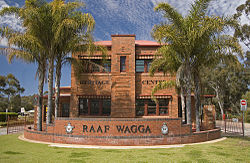 Charles Sturt University Winery

phone: +61 2 6933 2435

address: McKeown Drive

Sample and buy quality local wines

RAAF Wagga Aviation Heritage Centre

address: Sturt Highway, Forest Hill

showcases the RAAF's history and its significant involvement in the Riverina region.

Wagga Wagga Rail Heritage Museum

address: Station Place

Show casing the heritage of the railway in the Riverina

Ladysmith Tourist Railway Open Day

address: Ladysmith Railway Station
Do
Walk, the Wollundry Track or the Wiradjuri Walking track with maps available at the Wagga Wagga Visitor Information Centre.

address: 77 Trail Street

Swim in the Murrumbidgee River, at Wagga Beach (which is a sand beach).
The local newspaper, The Daily Advertiser, is a good guide to what's on around town.

Oasis Regional Aquatic Centre

address: Morgan Street

Home to Australia's only wave-ball, 2 outdoor pools (including diving pool) and four indoor heated pools (including whirlpool, baby pool and wave ball).
Walk the track to the top of The Rock, a short drive away from Wagga.
Eat
Blessed Beanis open M-Sa and offers breakfast and lunches, such as sandwiches on fresh sourdough with a taste of the region's finest ingredients. They also claim to offer the best coffee in town, made by NSW's "best latte artist".
The Quinty Bakehouse at Uranquinty is a 10 minute drive from Wagga (South on the Olympic Highway, A41). Offers a range of products made using organic flour, such as sourdough melts and pies with real meat. They are famous for their tarts, which come in three sizes and more than 10 flavours.
The Riverina Hotel, also known as The Bridge, serves good pub meals for very reasonable prices. A schnitzel, veg and gravy costs about $10. The special of the day is about $6 to $7.
Il Corso dishes out large tasty Italian dishes at mid-range prices. Baylis Street cnr Edward Street.
Buy
Baylis Street
is the main street of Wagga and is where you will find most shops. You'll find the
Sturt Mall
and
Marketplace
shopping centres which should have everything you need. You'll also find some smaller malls in the suburbs such as the
Kooringal Mall
(Kooringal) and the
Southcity Shopping Centre
(Glenfield Park).
Riverina Producers' Market

address: Wagga Wagga Showground, Bourke Street

A range of local produce is on offer, including flowers, cheese, meat and even pistachios

Sprout and About Markets

address: Burns Way

A range of local produce is on offer, including flowers, cheese, meat and even pistachios

Markets by the Lake

address: Apex Park, Lake Albert

Stalls selling fresh produce, arts and crafts, hand made gifts, clothes, plants, bric-a-brac and more.

address: 87 Baylis St

A major shopping centre. Contains a supermarket, a discount department store, a post office, a food court, and over 60 specialty stores.
Drink
phone: +61 2 6922 6370

address: 88 Fay Avenue

located in the eastern suburb of Kooringal

Que Bar and Nightclub

phone: +61 2 5925 5305

address: 109 Baylis Street

phone: +61 2 6921 2222

address: 188 Fitzmaurice Street

Wednesday night trivia sessions. Popular with local agricultural students.

phone: +61 2 6921 5233

address: 55 Baylis Street

Wednesday night trivia sessions. Popular with local agricultural students.

phone: +61 2 6922 1221

address: Oura Road

Offers cellar door sales and a fully licensed restaurant set amongst 17 acres of established grape vines near the Murrumbidgee River.
Sleep
Go next
If you are
driving
, Wagga Wagga is at a crossroads. Head west on the Sturt Highway (Route A20) for a long drive to
Adelaide
(approx. 11hr drive), east on the Sturt Highway (Route A20) and then the Hume Highway (Route A31) to
Canberra
(3hrs) and
Sydney
(5hrs) or south on the Olympic Highway (Route A41) and then the Hume Highway (Route A31) to
Melbourne
(5hrs).