Wakkanai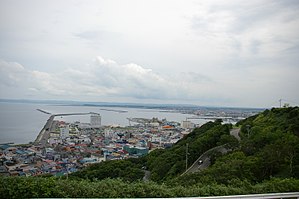 Wakkanai
(
Japanese
: 稚内) is the northernmost city in
Japan
. It has a population of about 37,000, and is in the subdistrict of
Soya
in
northern Hokkaido
. It is Japan's gateway to
Russia
's
Sakhalin
Island.
Understand
History
The city was established in the 17th century as a frontier trading post to the aboriginal Ainu people who originally inhabited much of Hokkaido. It prospered through trade and as a strategic outpost in the far flung northern reaches of the empire, in the century that followed. The modern city was established in 1900, and when Japan recaptured parts of
Sakhalin
Island after the Russo-Japanese war of 1905, it became the main transit point to the Karafuto prefecture established there with regular steam-liner operations to Otomari (today
Korsakov
), a status that only increased when the Sōya railway was finally extended here in 1926. With the loss of Sakhalin in the aftermath of WWII, the town's fortunes faded; it reverted to being little more than a military post during the Cold War, home to some American troops.
While the population is still dwindling, the end of the Cold War might change Wakkanai's fortunes once more: a regular ferry route to Sakhalin was reopened in the 1990s, and trade and ties with Russia are slowly but steadily increasing.
Climate
The average summer temperature is around 20°C (68°F), but it can get cold at night, so you may need to bring more than a summer jacket. It's temperate enough that you don't see many air-conditioning units around town, and the ones that are there are rarely put into use. In the depth of winter the thermometer frequently drops below zero, but the −20°C (-4°F) you see inland or across the Okhotsk bay in Russia are extreme occurrences here, as the air is heated by sea currents. The very strong winds can make it
feel
like Siberia, though.
Get in
By plane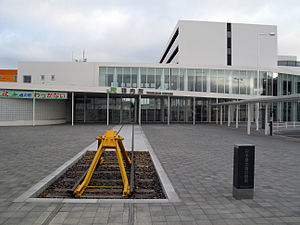 By train
The JR
Soya Main Line
(Soya Honsen)
connects Wakkanai to
Asahikawa
. There are two stations within the city limits, Wakkanai itself (station code W80) as well as Minami-Wakkanai (W79) to the south.
Train service to/from Wakkanai is very sparse, with only six arrivals and seven departures per day. Of these, three round-trips are limited express services: The once-daily
Soya
which runs to/from
Sapporo
(5 hr 15 min, ¥10450), and the twice-daily
Sarobetsu
to/from Asahikawa (2 hr 45 min, ¥8300, change at Asahikawa for Sapporo). There is no charge to use these trains with the Japan Rail Pass.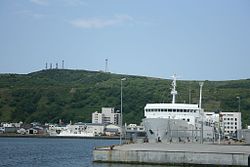 By bus
Several buses operated by Soya Bus
run between Wakkanai and Sapporo daily: the journey takes around 6 hours and costs ¥6000, advance ticket purchase or reservation is (at least in theory) necessary, call +81 011 241-0241 (Sapporo) or +81 0162 22-3114 (Wakkanai) to make your reservation. One of the departures is a red-eye service, which might be a useful way to save some money if you're one of those who can sleep anywhere. There is also a single daily round trip to Asahikawa. Keep in mind that while this is a cheap and convenient option in summer, during the winter suspension or delays are commonplace, and snowstorms frequently close the highway altogether.
By boat
The spanking new ferry terminal, directly east of the train station, hosts frequent (in summer) connections to the National Park islands of
Rebun
and
Rishiri
; there are also a few shops and restaurants and a tourist information desk in the building.
All ferries out of Wakkanai are operated by the
Heartland Ferry Company
.
International ferries
Right across from the new domestic terminal is the international terminal. Heartland Ferry has biweekly departures for
Korsakov
, on
Sakhalin
Island,
Russia
(5.5 hours, ¥24,000 one way). You will need a Russian visa before you buy the ticket. You
must
also buy your ticket at least two days prior to departure: you will
not
be allowed to purchase a ticket the day of departure. Service is suspended Oct–Apr due to sea ice.
See our Russia to Japan via Sakhalin itinerary
.
To purchase a seat on the ferry to
Russia
:
#Go to the domestic terminal, across the street from the international terminal.
#Ask at the front desk for an English speaker, there may be someone. To be sure of being understood, have Sakhalin written in as many ways as possible: 樺太 (kanji), からふと (hiragana), サハリン (katakana), Сахалин (Russian).
#Ask for a ticket to Russia, point at your multi-lingual piece of paper, and give them your passport. You will fill out a form which will be sent to their offices in Yuzhno-Sakhalinsk. Then you just come back two days later to pick up your ticket. (While it may be possible to do the preliminary paperwork over the phone or by e-mail, don't count on it!)
Alternatively, have a Japanese speaker call and ask for availability. You will then fill out and fax an application form to 011-233-2783 or 0162-23-6730. They will then fax back a confirmation form, which is in Japanese and English.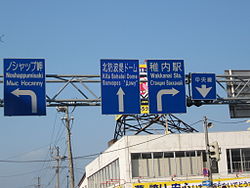 Get around
Since the town itself is fairly compact, with most sights within 10–15 minutes of each other, you can easily walk through town. There is a city bus with departures every 10–15 minutes operated by
Soya Bus
, and it is also possible to walk to Cape Noshappu: it's about 4 km (2.5 mi), which should take you around 40–50 minutes. For sights further afield like Cape Soya, there are about 4 buses per day going there, but be careful not to miss the last bus, as there is no other way of getting back other than to walk the 30 km (19 mi)!
See
Understand?
Wakkanai
sounds like
wakannai
, which happens to mean "I don't understand / I don't know" in colloquial Japanese (or
wakaranai
in standard Japanese). You can thus expect to get some ribbing if you answer questions like "Where are you?" with "
Wakkanai
"!
While there are plenty of attractions on paper, few of them are really that interesting, and hardly anything is worth going out of your way to see. But since Wakkanai is en route to the fascinating
Rishiri-Rebun-Sarobetsu National Park
which
is
worth travelling for, you might want to check out the following sights, which will fill out a day or two if you are in the area waiting for a ferry.
Ryuhyo
(floating ice) is of some interest in winter, and occurs either in February or March. It is ice that drifts in from the sea. If you need to kill time waiting at the airport, the nearby
Meguma Wilderness Garden
(メグマ原生花園) is an option in spring when 300 different flowers are in bloom.
Wakkanai Park
Wakkanai Kōen
(稚内公園) is a large park spreading over the grassy hills west of the town, offering some commanding views over the area. The rope-way has been closed, but it is only a short walk to the top beginning at the Hokumon Shrine (北門神社). There are some nice walking trails to explore, and over 4,000 wild cherry trees grow in the park if you are here during Hanami (mid-May). To get an even better view you can ascend the 70 meter high
Motoe Hiraku Centennial Memorial Tower
(開基百年記念塔・北方記念館) 9AM-5PM (Jul-Sep until 9PM) for a 360° panoramic view of the cape, the expansive Sarobetsu Plain, the Rishiri Volcano and even sometimes to
Sakhalin
in Russia. Below is the two-story Northern Memorial Hall, which has a collection of documents relating to the local area and Sakhalin. In the weird, small
Ice House
(
ゲストハウス氷雪
) you can take a footbath in ice, if that tickles your fancy.
The park also has an eclectic collection of statues and monuments - none of them are particularly pretty, but they sometimes come with interesting stories: the
Statue of Nine Women
(九人の乙女の碑) is a memorial to the 9 women working at a Sakhalin telegraph station who committed suicide when they learned about the fall of Karafuto (Sakhalin) to Russian troops. Less dramatic is the
Ice and Snow Gate
(氷雪の門), a bronze statue of a woman facing the direction of Karafuto, longing for the home she was forced to leave behind. Without the nationalistic undertones is the
Monument to Taro and Jiro
(南極観測樺太犬記念碑), two Siberian huskies that an Antarctic expedition was forced to leave behind. When their trainer returned with another expedition the following year to bury his beloved dogs, much to everyone's surprise he was warmly greeted by the two dogs, who had survived a whole Antarctic winter. There are some more details of their story in the Youth Science Center, and their story is detailed in the 1983 film
Nankyoku Monogatari
.
Cape Soya
Sōya Misaki
(宗谷岬). about 30 km (19 mi) northeast of Wakkanai across the Soya Bay, is the northernmost point of Hokkaido, and aside from a small inaccessible and uninhabited island it is also the northernmost point of Japan. Naturally the Japanese have gone out of their way to commemorate this fact with the largely uninspiring
Northernmost Point Monument
(日本最北端の地の碑), a gray concrete triangle engraved with accomplishments. Right next to it is a
Statue of Mamiya Rinzō
(間宮林蔵の銅像), a Japanese explorer from the Edo period famous for his explorations and mapping of Karafuto (Sakhalin), and discovering it was an island. Nearby you also find an
Old Naval Watchtower
(旧海軍望楼) dating back to the conflicts over control of Sakhalin during the 1904 Russo-Japanese War.
In the hills behind the cape near the lighthouse, there are several additional monuments. The
Tower of Prayer
(大韓航空機撃墜事件の慰霊塔) is a memorial to those who lost their lives when Soviet fighters shot down Korean Air flight KL007 over Moneron Island in 1983. Fittingly right next to it, you find the
Bell for World Peace
(世界平和の鐘) a replica of a bell located in the garden opposite the United Nations Building in New York.
There is also the Wahoo Peace Memorial dedicated to the 1943 sinking of the famous American submarine USS Wahoo off the coast by Japanese air and sea forces. The memorial commemorates the Wahoo's crew who was entirely lost and to the Japanese who lost their lives as a result of her attacks.
Other attractions
address: 1-1 Kaiun (開運1丁目1)

Built in the 1930s, this odd-looking breakwater is a 427 m (1,401 ft) arched hallway supported by 70 Roman-style pillars. It rises over 13 meters up in the air to provide some protection for the strong winds in the area. It looks entirely out of place, but makes for some good photographs. In the summer months (Jul-Aug) it's sometimes converted to a lively market with BBQ and karaoke.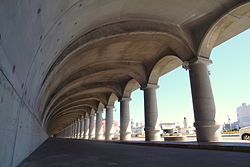 Do
Try biking north along the coast to see the dozens of small seaweed drying family operations to know where the seaweed in your food comes from. At the northern tip a nice lighthouse and an excellent aquarium await you - with great views of Government radars on green hills - and the islands of Rishiri and Rebun and occasionally Sahkalin are visible. The Moshiripa Youth Hostel rents out bikes at ¥200 per hour or ¥1000 for the day, and also have some slightly more expensive mountain bikes. There are also two golf courses out on the countryside.
address: 1-2-14 Chuō (中央1丁目2-14)

A 16 lane bowling alley claiming to be the best in Northern Japan - but then again, they might not have much competition. In any case it's a good option for a cold or rainy day, and watching the normally introverted Japanese hit a strike is fun.

phone: +81 162-22-4564

address: 4-1-14 Komadori (こまどり4丁目1-14)

A small ski resort in the Wakkanai kōen makes use of the lift here - 3 relatively short runs with just 50 m elevation difference and the longest at 300 m (985 ft).

Tokkari Snowmobile Rental

address: Airport Park (空港公園)

Naturally rents out snowmobiles. Also has a snowmobile course and offers free snowshoe walking.
Onsen
address: 1-6-28 Wakkanai Port (稚内市港1丁目6-28)

The most expensive and exclusive of the options, boasts some large open-air baths overlooking the sea.

address: 1-2-3 Chuō (中央1丁目2-3)

Not so much an Onsen, more of a traditional indoor swimming pool under an impressive double domed roof. A 25 meter basin, waterslides, jacuzzi and a gym.

address: Fujimi (富士見4丁目1487番)

The town's largest Onsen sits on the west coast and would have had some impressive unobstructed views of Rishiri Mountain, were it not for a huge blunder from the architect, though it is still visible from parts of the bath. A few indoor pools, and some outdoor ones which are unfortunately fenced in by hedges.
Events and festivals
North Gate Shrine Festival (北門神社例大祭, Kitamon Jinja Reitaisai)
Uma Soya Gourmet City (うま宗谷グルメ市, Uma Soya Gorume Shi)
Buy
The only ATMs in town that takes international credit cards are at the post offices: no Citibanks or 7-Elevens here.
address: 2-15-12 Chuō (中央2丁目15-12)

address: 3-6-34 Daikoku (大黒3丁目6-34)
Most of what you would want to buy here is seafood omiyage's, readily available, but if don't follow this Japanese tradition, there really isn't much shopping of any interest.
address: 1-6-28 Wakkanai Port (稚内市港1丁目6-28)

Opened in 2007 this indoor market-mall hybrid, is lined with souvenir shops, food stores, restaurants - including a Russian one, izakayas, a small gallery that exhibits the history of Wakkanai and an Onsen (see do section).
Eat
Wakkanai is known for its variety of seafood. The catching and selling sea-dwelling creatures (fish, crab, octopus, etc.) and the drying of seaweed may be considered
the
industry in Wakkanai. Some of the best restaurants are the local ones located around Minami-Wakkanai station. If it's all just too much to cope with there is also a McDonald's.
address: 2-8-7 Daikoku (大黒2丁目8-7)

Nice place dishing up homey seafood, quirky decoration with wooden figures and Buddha watching over you so you don't choke on the fish bones.

address: 3-2-24 Suehiro (末広3丁目2-24)

Soba shack with handmade noodles that brands itself as the northernmost soba shop in Japan, has its own organic farm for growing the buckwheat. Tasty!

address: 1-6-28 Wakkanai Port (稚内市港1丁目6-28)

Part of a national chain, but it's actually quite nice, and the menu has pictures of nearly all the items. A good place if you are fed up with seafood. Western fare with a Japanese twist.

address: 2-9-31 Chuō (中央2丁目9-31)

Good beef tongue sets is the specialty, try the charcoaled ones, or you could go for the liver? Also has a good selection of spirits to kill your own.

address: 2-2-33 Daikoku (大黒2丁目2-33)

Another place near Minami-Wakkanai station. Small, cozy Izakaya style eatery, with a long desk to eat at and lots of wood everywhere. Freshly caught seafood from local fishermen. Try the sea urchin tofu "Hot-pot" or the miso marinated squid.

address: 2-7-37 Daikoku (大黒2丁目7-37)

Has a nice poster outside with pictures of the dishes if the Kanji's are daunting. Mainly seafood but not exclusively.

Kamui

address: Daikoku (大黒2丁目2-22)

Some nice casseroles and pots here with both seafood and meat, as well as a la carte fish and beef.

Pechka

address: Fukukou Ichiba (Minato 1chome/港1丁目)

A Russian restaurant located outside of the Fukukou Ichiba complex. Offers generous set menus and a seasonal menu. If you're lucky, you'll get hear restaurant owner Nina sing in Japanese and Russian.
Drink
The night life of Wakkanai is hardly the most happening in the world. For a regular bar visit some of the large hotels; the ANA and Wakkanai Grand hotels have some decent ones. Many of the restaurants listed above also serve alcohol, commonly Izakaya style, so that can be an option if you're in a group. There are also a number of Izakayas (居酒屋) located along the central street (Nakadori, 仲通り) and in the south along Oranjidori (オレンジ通り) — none of them really stand out, so just pick one and hope for the best.
address: Chuo 1-4-25 Arisu Bld. 1F (中央1丁目4-25 アリスビル1F)

A small but very foreigner-friendly izakaya. The owners don't speak very much English but are very friendly. There is an outdated but helpful English menu.

BB Music Club

address: Daikoku 2-9-18 Marufuku Bd. 2F(大黒2-9-18マルフクビル2F)

A small bar slash live music venue with a quirky design. The drinks are nothing special, but the staff are friendly and you can chance into performances by local musicians, including the owners.

Wakkanai Billiard Hall

address: 2-4-20 Chuō (中央2丁目4-20)
Sleep
There are three large hotels in Wakkanai: the ANA hotel, the Wakkanai Sun Hotel and the Dormy Inn. They are all quite pricey, however. Expect ¥8000 for a single room and ¥16,000 for a double. One can wonder why a small town with 40,000 inhabitants needs a great luxury hotel like the ANA hotel. The answer is probably an influx tourists. All directions given below assume you're starting at the main railway station.
Budget
Mid-range
There are also 3 hotels out of town, one each at Cape Soya, Cape Noshappu, Fushimi. The two latter options provides great views over Rishiri if you get the right rooms.
Splurge
Cope
There is also a small hospital with an emergency room.
address: 4-11-6 Chuō (中央4丁目11-6)
Go next