Walcha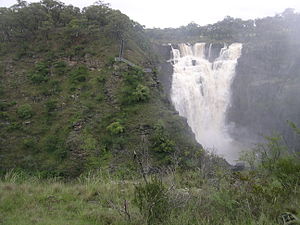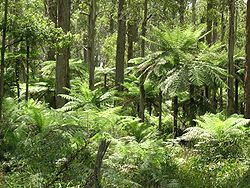 Walcha
is a town on the Northern Tablelands of the
New England (New South Wales)
region, 425 kilometres north of
Sydney
via Thunderbolts Way and 184 km west of
Port Macquarie
. The area is the southern gateway to the
Oxley Wild Rivers National Park
which can be accessed at the
Apsley Falls
, 20 km east of Walcha and 1 km off the Oxley Highway via a sealed road.
Understand
Walcha is a great place to enjoy fishing, four-wheel-drive trips and bushwalks into wilderness areas with gorges, rainforests and waterfalls. The town is recognized for its unique Open Air Gallery, historic buildings, cafes, restaurants and quality accommodation.
Climate
Walcha has a cool climate with some snow falls and frosty nights, producing extremely low temperatures, during the winter months. However, frosts are usually followed by clear sunny days. In autumn, the town has the changing colours of the trees which make for great photographs. But it is summer that is arguably the best time to visit Walcha, although even on warm sunny days the temperature can suddenly drop. Due to its altitude, the town is rarely humid, and even days where the temperature reaches 33°C are tolerable. Be prepared for a sudden drop in temperature at anytime of the year by bringing adequate warm clothing.
During a very cold night untreated (summer) diesel fuel can "gel" (turn from a liquid to a semi-solid). At temperatures below freezing, diesel engines may experience starting problems and warm-up slowly. As the morning warms (usually before 9AM), the vehicle will operate normally without intervention.
Tourist Information
The Visitor Information Centre

phone: +61 2 6774 2460

address: Fitzroy St.
Get in
By train
Walcha does not have a railway station, however it is serviced by the station at Walcha Road, which is located approximately 20 km west of Walcha. Trains arriving or departing Walcha Road are connected to Walcha by bus, which must be booked at the same time as booking your rail ticket. This rail service connects Sydney with Armidale where the service terminates.
By vehicle
Walcha is located at the junction of the scenic Thunderbolts Way and the
Oxley Highway
. When travelling from the south (Sydney) on the
Pacific Highway
past Raymond Terrace you will see an exit sign pointing to Bucketts Way and Gloucester on the left hand side of the road. Take this exit, and turn left at the round-a-bout in Gloucester and follow this road (Thunderbolts Way) all the way into Walcha. This route is about 70 km shorter than the alternative trip on the
New England Highway
through the
Hunter Valley
and
Tamworth
. When travelling on the New England Highway, after crossing the Macdonald River at Bendemeer, turn right onto the Oxley Highway which takes you into Walcha. Motorcycle rides from Gloucester and
Port Macquarie
are also very popular scenic trips for riders. Do not speed through the town. The boys in blue have some new play toys that they are trying out.
Get around
There are not any public transport services in the town and you will need a vehicle to visit the many out of town sightseeing locations. A 4WD with low range is needed if trips are planned into the wilderness areas of
Riverside Camping Area
and
Youdale's Hut
. Trips to the spectacular Apsley and
Tia Falls
in the
Oxley Wild Rivers National Park
are easily accessed using a regular vehicle.
See
Visit Walcha's Open Air Gallery where local, national and international artists have combined to create a unique streetscape with about 35 sculptures and artworks, plus 30 sculptured verandah posts in front of local businesses. Obtain a brochure on these works from the visitor centre before taking a walk or self-drive tour around them.
At the Pioneer Cottage museum and complex view a genuine 1860s shingle roofed and slab sided cottage. See the Tiger Moth plane that was used to drop the first superphosphate in Australia. The wool hall here gives a good insight into the history of the sheep and wool industry.
Walcha has four Churches representing the Catholic, Anglican and Presbyterian denominations. The old Anglican church was built in the 1861 from stone taken from the demolished homestead, 'Villa Walcha', erected on the Wolka run in the 1840s.
Visit the grave of Nathaniel Buchanan, who is buried in the Walcha Cemetery. Nat was a highly skilled drover and bushman who opened up droving routes through central Queensland, the Northern Territory and the Kimberley regions.
There are some interesting buildings scattered through the town including the Court House, churches, banks and the Post Office. Langford is a stately home, situated about 1 km south of Walcha on Thunderbolts Way, which can be viewed from the road.
Research Walcha history or your Walcha relatives at the local history archives and library.

Amaroo Museum and Cultural Centre

phone: +61 2 6777 1391

address: Derby St

Features artwork by Aboriginal people, screen printing and contemporary clothing with original designs.
Do
See Walcha's Golden Gate Campdraft and Rodeo which is run over four days in January each year.
The New England Merino Field Days (biennial), which display local studs, wool and sheep, are run over two days in January each evenly numbered year.
Walcha Races are another very popular event, which is held over two days in February each year.
Walcha Show is an annual three day event conducted in March or April.
A Timber Expo is held as a biennial event in May.
The biennial Garden Festival is held in the spring of even numbered years to display some of the beautiful local cool climate gardens. Proceeds from this event are donated to services such as Angel Flight, Westpac Life Saver Rescue Helicopter Service or Riverview Hostel.
The Walcha Food, Wine and Craft Festival is held on the last Sunday in October. The Westpac Rescue Helicopter Mountain Bike Teams Challenge event, ridden over 100 km, is held the same day.
Other events include the Music Hall, opening of the trout fishing season, pony club events and camp, Nowendoc Rodeo, Woolbrook Stampede and Woolbrook Spring Fair.
Buy
Top quality locally produced handicrafts at the Walcha Craft Centre.
Purchase stud and commercial beef cattle, and Merino sheep from the many breeders in the district. Several annual local weaner sales present excellent opportunities to purchase top quality, large lines of young beef cattle.
See also:
Walcha Business Directory
Eat
Café Graze

phone: +61 2 6777 2409

address: 21n Derby St

Eat in or takeaway coffee and food.

Apsley Take Away

phone: +61 2 6777 1000

address: 11w Fitzroy St

Eat in or takeaway fish and chips, meals, sandwiches.

Embers Licensed Restaurant

phone: +61 2 6777 2599

address: 31W Fitzroy St

Walcha Chinese Restaurant

phone: +61 2 6777 2026

address: 51E Fitzroy St.

Thunderbolt's Way Cafe

phone: +61 2 6777 2295

address: 25E Fitzroy St.

Full range of takeaway foods, hot spuds, nachos.

New Royal Cafe

phone: +61 2 6777 2550

address: Fitzroy St.

Eat in or takeaway coffee and food.

Walcha West End Store

phone: +61 2 6777 1423

address: 106w Fitzroy St.

Eat in or takeaway food and groceries.

phone: +61 2 6777 5829

address: Wollun Rd

This is a quality restaurant situated 20 km west of Walcha. Snacks, lunch and dinner. Enjoy some local characters, stories, local wine and fine food, or call in on the trip from Bendemeer to Walcha.
Elsewhere in town at one of the town's two clubs, the Bowling Club or Walcha Ex-Services Memorial Club, which have limited hours of opening.
Drink
At the town's local Hotel Motel, the New England, two clubs or the Commercial or Apsley Pub

Sleep
phone: +61 2 6777 2187, +61 428 605 459 (mobile)

address: 3 E Hill St

Bed and Breakfast with a separate bedroom with queen sized bed and ensuite. Living area has a sofa-bed for one child or third adult. The kitchen is fully appointed with hotplates, oven, microwave, refrigerator, toaster, tea & coffee making facilities. 'Cook your own' breakfast provisions are included in tariff and placed in your room at night. Private entrance and undercover parking. Winner of the 2008 state award, TakeaBreak Awards, for being one of the best places to stay. Also received the platinum service rating for excellent service.

phone: +61 2 6777 5891

address: 15n Derby Street

Bed and Breakfast. Ideal for group bookings sleeps up to eight people. Facilities: electric blankets, TV, DVD and queen size beds in each room, fully equipped kitchen, laundry and lock up garage.

Walcha Motel

phone: +61 2 6777 2599

address: 31 Fitzroy St

'. 19 rooms, reverse cycle air conditioning, electric blankets, Embers licensed restaurant, all ground floor units. Opening Hours are 7:30AM to 8:30PM.

New England Hotel-Motel

phone: +61 2 6777 2532

Ten motel units and budget hotel accommodation. Lock up facilities for bikes.

Royal Cafe

phone: +61 2 6777 2550

address: Fitzroy St

Accommodation with secure facilities for bikes.

Valley Views Cottage

phone: +61 2 6777 2877

address: South St

Self contained cottage with 2 queen rooms, 1 twin, dishwasher, TV, DVD, washing machine and microwave. Charming, chic and comfortable.

Walcha Caravan Park

phone: +61 2 6777 2501

address: 113 Middle St

Has a fully stocked shop, BBQ area, recently renovated amenities block with under floor heating and piped music, laundry, washing machines and dryer. Cabins, powered sites, drive-through sites, tent sites. Pets welcome (under control).

Lochlorian Trout Fishing and Getaway

phone: +61 2 6769 2335

address: Niangala

Provides secluded, peaceful camping, accommodating up to twelve tents or in a Lodge. Great for trout fishing in a stocked dam or an idyllic getaway for two or the family.
Out of town
Bloomfield's Crossing A working sheep stud and cattle property with spectacular walks and views. Ideal for families or a weekend getaway.
"Hole Creek Country House"
A country house with 2 living areas, large eat-in country kitchen, 2 bathrooms and 4 bedrooms sleeping up to 10 guests.
phone: +61 2 6777 9189

has 2 bedrooms with a bathroom, kitchen and large living area. The Cottage sleeps 4 with bed & breakfast option available in the cottage.

Holden's Hideaway CabinTable Top. Situated 32 km from Walcha out towards Winterbourne area. Phone or; Large camping area around a secluded cabin on a 2,518 acres property. Gas stove, fridge/freezer, gas hot water for showers and a four-burner gas BBQ. Cutlery, pots and pans, crockery are all supplied. Within the property, 60 km of 4WD tracks for those with a taste for adventure. Accommodation for up to 10 people in the cabin.

Cheyenne Wilderness Retreat Farm Cottage

phone: +61 2 6777 9172

address: Winterbourne Rd

Self-contained in the cottage or fully catered in the homestead guest wing. Cheyenne, is a working 760 hectares (2,000 acres) cattle property.

Ruby Hills Cabins

phone: +61 2 6777 2102

address: Ruby Hills

Self cater groups to 17. Kitchen, dining room, fireplace, TV, hot showers, bunks in authentic shearers' quarters. View sheep, cattle, working dogs, wildlife. Homestead - clock radio, electric blanket, heating, spa.
Winterbourne Estate, Cheyenne Rd., (From Walcha go north, turn right at the showground, follow the Cheyenne signs for 32 km from town centre to the only two storey house on the left side of the road), tel. 61 0428394574, email: enquiries@winterbourneestate.com.au. Fax No +61 2 67771334. Arrival Time 2PM, Check out: 10AM. German /Alpine style or international home cooked meals available on request. Facilities: Barbeque, bushwalking trails, cooking facilities, disabled access, laundry facilities, linen provided, meals available, non smoking establishment.
Connect
For internet services: Walcha Telecottage, 32w Fitzroy Street, Walcha NSW 2354; Phone:02 6777 1111; Fax:02 6777 1112; E-Mail: telecottage@optusnet.com.au
For free computer and internet usage (during opening hours): Walcha Library, Derby St., Phone: 02 67742550
There are many areas in the district and surrounding area where mobile (cell) phones (including next G country models) will not operate.

Go next
Walcha Shire has approximately 156,000 ha of National Parks and Wilderness in the region. The wilderness area incorporates most of the Oxley Wild Rivers and Werrikimbe National Parks.
The spectacular Apsley Falls, which has disabled persons access, about 7 viewing platforms, a gorge rim walk, picnic and camping areas is located 20 km east of Walcha on a sealed road. Tia Falls are about 44 km east along the Oxley Highway. These falls are part of the 90,000 ha Oxley Wild Rivers National Park which is one of the largest National Parks in NSW. The Park contains the scenic Macleay Gorges Wilderness Area and is listed on the World Heritage Register in recognition of its importance to nature conservation.
Riverside is a rare area where one can take a low range 4WD into a wilderness area for a day trip or camping, after paying a fee and obtaining a key at Apsley Motors.
Youdale's Hut is another low range 4WD vehicle destination that is also possible to access after paying a fee and obtaining a key at Apsley Motors.
Werrikimbe National Park, 60 km east of Walcha is a pristine wilderness. It's a World Heritage park, wrapped within the dramatic fold of the Great Dividing Range where two rivers, the Forbes and Hastings, begin their journey to the coast. Racecourse Trail runs for 20 km across the top section of Werrikimbe and gives access to the park's highlights. Here you'll see subalpine swamp, heath, snow gums and the soft grey-greens of the cool climate eucalypt forests. In spring, the high country wildflowers alone make this a spectacular drive. There are many other National Parks and Nature Reserves in or near the district, including: Mummel Gulf National Park.
Other tourist attractions include scenic 4WD trips, hiking, visiting the State Forests, fishing (mainly for trout) and fossicking opportunities.