Walla Walla
Walla Walla
is a city in the
Columbia River Plateau
region of
Washington State
.
Understand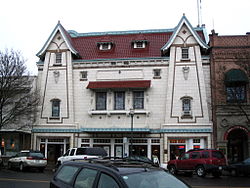 Celebrating its 150th year in 2009, and located in southeastern
Washington
, with the charming rejuvenation of its downtown and booming wine industry,
Walla Walla
has become a pleasant stop for tourists and new residents alike as they flee the larger cities of the coast and California — be it for a weekend get-away or something more long-term.
Known originally for its funny name and famous Walla Walla Sweet Onions, the long-established farming community with an "Old West" history has seen a major shift in agriculture in the last decade as traditional crops have been replaced by the vineyards of the rapidly growing wine industry. Walla Walla is at the heart of wine country, boasting over one hundred wineries – including some of the area and nation's best cellars – with tasting rooms conveniently located downtown, around the airport, and throughout the scenic countryside.
But don't expect the stodginess of elitist wine areas elsewhere; the area is still an affordable and welcoming community with small town roots, and there's plenty to do besides taste the vino. Walla Walla also offers a taste of
Oregon Trail
history in Fort Walla Walla and the Whitman Mission, gorgeous views in the country, a charismatic Main Street, and the liveliness of a college town: hosting both the prestigious private liberal arts school Whitman College and private SDA Walla Walla University in neighboring
College Place
. And should the wine bars and tasting rooms get to be too much, you can always escape into a classically red-neck bar, many of which are clustered near the Washington State Penitentiary in the northeastern part of town. This town is also the seat of Walla Walla County.
The valley itself offers a diverse variety of striking landscapes: bordered by the Columbia River basin and its desert beauty as you enter from the west, rolling wheat fields and vineyards through the surrounding countryside, and the scenic Blue Mountains to the southeast. Expect the best of the four seasons with cold and snow in winter, temperamentally sunny springs, blustery winds and fog in the fall, and golden sun warmed days of a hot, dry desert summer.
Get in
By car
By car Walla Walla is accessible by a series of US and state Highways:.
US Hwy 12 Comes in from Tri Cities, WA in the west and Clarkston and Lewiston in the east through Dayton and Pomeroy. It passes along the north side of town as a freeway.
WA-Hwy 125/OR-Hwy 11 Comes in from its junction with Interstate 84 (Exit #210), in Pendleton as SR-11 and goes north through the town of Milton-Freewater, OR. The same highway becomes WA-Hwy 125 after crossing the state line into Washington state and becomes 9th Ave through town. Hwy 125 continues north of town along N 13th Ave from Hwy 12 and ends near Prescott at its intersection with WA-Hwy 124, north of town.
By bus
The main bus station for local public transportation and intercity buses is at the on N 4th Ave & W Main St. The stops for Valley Transit are along N 4th Ave between Main & Rose while the stops for the intercity buses are on W Main St, east of 4th Ave:
phone: +1 509-525-9140

Operates local public transportation in and around Walla Walla.

Columbia County Public Transportation

phone: +1 509 382-1647

Goes east along US Hwy 12 to Dayton in neighboring Columbia County. Passengers transfer in Dayton to continue to Starbuck (town) and to Pomeroy.

phone: +1 541 429-7519

Goes to Pendleton, Oregon through Milton-Freewater on the Walla Walla Whistler route. Connection to Greyhound is in Pendleton

Travel Washington Grape Line & Amtrak Thruway

phone: +1 509 529-7442

address: (bus stops) Valley Transit Station @ 4th & Main; Whitman College and Walla Walla Airport

Goes west along US Hwy 12 to Pasco and Tri-Cities airport. Connections to Greyhound, Amtrak and Ben Franklin Transit are in Pasco. Additional stops at Whitman College (46 South Park St); the airport (45 Terminal Loop Rd) and College Place (26 N College Ave)

Milton Freewater Public Transportation

phone: +1 541 938-5531

Connects Milton-Freewater to Walla Walla.

Grant County (Oregon) People Mover

phone: +1 541 575-2370

address: (bus stop) VA Clinic at 77 Wainwright Dr

Goes towards Monument, OR through Milton-Freewater, Pendleton, Pilot Rock, Ukiah, Dale and Long Creek. Passengers transfer in Monument to reach John Day and Bend in Central and Eastern Oregon. Schedules are limited so check schedules closely before using this option.
By plane
Walla Walla Regional AirportThe airport is used for general aviation with a limited number of commercial flights with Alaska Airlines from Seattle Tacoma International Airport
The next nearest airports served by more airlines, including
Allegiant
,
Delta
,
United Express
and/or
Boutique Air
, from more destinations, are in
Tri-Cities
PSC
( west); Pendleton PDT ( southwest) and Lewiston LWS ( east).

Get around
By foot
Within town no place is much more than a half-hour walk away, an hour at the most, and many things to do are easily found in the small downtown area. The streets are pedestrian and
bicycle friendly
- with sidewalks and bike lanes on most major roads, and low traffic on others.
By bicycle
Walla Walla has some of the best biking around! Great biking through surrounding vineyards and wheatfields. To Waitsburg and Dayton, to Milton Freewater and Touchet, numerous 15-60+ mile routes. But mind those hills! Stop into the following bike shops for info on routes and rides:
phone: +1 509 529-7860

address: 1503 E. Issacs

phone: +1 509 525-4949

address: 15 South Spokane St.
The
Valley Transit
local bus service
runs in the daytime around town, costs
only 75 cents
a trip with free transfers, and also provides bike racks on most buses. It's main transfer station is located downtown, and it also runs to the airport.
With many peaceful parks and quiet streets lined with large old, shade trees to wander along and admire the charming neighborhoods, leaving the car behind is more than plausible.
By car
Bring your own car to drive around town or out on the country roads with, or rent one from one of four available companies easily found online. Even if you plan to explore mostly on foot, having a car can be a boon for a trip up Mill Creek or getting to some of the wineries located around the airport and out in the country.
See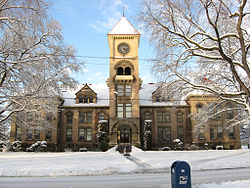 Do
Year Round
Wine TastingOver 50 wineries in the valley with tasting rooms, starting at affordable and working their way up.

Walla Walla Local Music SceneOver 30 bands and music organizations in the Walla Walla area make this local music scene something to take notice of.
Spring & Summer
Spring Release WeekendHave the first taste of just released wines. First weekend of May.

Balloon Stampede WeekendWalla Walla Fairgrounds. A valley classic held the second full weekend in May, featuring vendor booths, balloon launches and the Night Glow.

Farmer's Market4th & Main (next to Valley Transit transfer center). Every Saturday May through October. Hours 8AM - 1PM.

WWCC Outdoor Summer MusicalFort Walla Walla Amphitheather. Held in mid-summer. Purchase tickets at WWCC.

Sweet Onion FestivalWalla Walla Fairgrounds. Mid July.
Fall & Winter
Fair and Frontier DaysWalla Walla Fairgrounds. Labor day weekend.

Holiday Barrel TastingTour local wineries for a taste of vintages to come. First weekend of December.

phone: +1 509 529-3683

1130 Sumach. Various productions through fall, winter and spring.

Walla Walla Symphony OrchestraCordiner Hall, Whitman College Campus and other venues, 509 529 8020. Celebrating its 100th year in the 2006-2007 season. Performances with nationally recognized artists through fall, winter and spring.
Buy

Wine!
Coffee,this is Washington after all. Try a blend from a local roaster such as Dyer Straits or Walla Walla Roastery.
A T-shirt that says "Walla Walla: Where Men are REALLY Hung." and featuring a good old fashioned rope noose from Gotta Go Embroidery. They have the largest selection of original Walla Walla T-shirts. If you have any questions please e-mail them at ggembroidery@qwestoffice.net. (Walla Walla is also home to the State Penitentiary.)
Art from one of the many downtown galleries.
Any other souvenirs that suit your fancy.

Eat

Don't miss the desserts and coffee at the Colville St Patisserie, the cheese plates at Grapefields Wine Bar, a gourmet dinner at Whitehouse-Crawford or Sunday brunch at 26 Brix!
There is an excellent Sushi bar downtown - Aloha Sushi.

Drink
WineriesThere is certainly no shortage of places to drink if wine is your beverage of choice. The Walla Walla area has between 100 and 120 wineries, many of which feature tasting rooms to sample their creations.

The Green LanternIf you are interested in a dive bar, head to the Green Lantern, located on Isaacs Avenue. Popular with a random mix of locals as well as your typical college students, "The Green" will quench your thirst for beer and provide you with the opportunity to test your skills at darts or "beer pong." Beware the peanut-shell strewn floor!

The MarcHas a nice, elegant bar if you have a mind to drink a couple of cocktails or have a tasty glass of wine.

Vintage CellarsA lovely wine bar located downtown.
Sleep
Go next
Whitman Mission National Historic Site

phone: +1 509 522-6357

The 1847 Whitman "Massacre" horrified Americans and impacted the lives of the peoples of the Columbia Plateau for decades afterwards.

FrenchtownCemetery and small outlook with information about the largest battle fought in Washington state.

phone: +1 509 646-9218