Wallace (Idaho)
Wallace
is an historic mining town in
North Idaho
in the
United States of America
.
Understand

The entire city of Wallace is listed on on the National Register of Historic Places. According to the Idaho State Historical Society's Historic Preservation Office, Wallace is the only city in the United States entirely listed on the Register.
This mining town fought for its survival on several occasions:
The mining wars: twice in the 1890s civilian rule was suspended in Wallace. Army troops enforced martial law, locking up every man 15 years of age and older in internment camps because striking miners blew up two mills (1892, 1899) a train (1899) and the Governor of Idaho (1905). The assassin, former Wallace area miner Harry Orchard, spent the rest of his life in prison. The men who allegedly hired him, union bosses with the Western Federation of Miners, also hired famed attorney Clarence Darrow and were acquitted for the conspiracy to murder the Governor.
The fire: five years after the governor was blown up, the mountains blew up. Wallace was in the cross-hairs of America's largest ever wild land fire, the Big Burn of 1910. 30 million acres, an area the size of Connecticut, were incinerated in a weekend. One-third to a half of Wallace burned, but these feisty folks lit four back-burns, put out falling embers the size of trees and battled fire tornadoes to survive. That catastrophe changed the way America fought fires and manages forest.
The freeway: in 1967 the federal highway department announced plans to build Interstate 90 through Wallace, which would have led to the demolition of its downtown corridor and most of its residential area. The town fought back, holding up completion of project in court for nearly 20 years. In that time while city fathers sued, the ladies of the Wallace Historic Preservation Society mostly grandmothers -- went to every downtown building, filed reams of paperwork, hired historic architects and got every building, then the entire town placed on the National Register -- so the feds couldn't touch a brick. Wallace was saved and the highway department was forced to build a $43-million bypass.

Get in
Interstate 90 passes through town.

See
phone: +1 208 753-0801

address: 605 Cedar St

When the final occupants of the Oasis Rooms left in January 1988 (the last recorded date in the "hotel" registry), they seemed to have left in a hurry. Clothing, makeup, toiletries, food and personal items were all left behind. An accurate and tastefully-presented twenty-minute tour of the upper rooms explains the mystery of the ladies' hasty departure and gives a glimpse into the town's bawdy past with details that range from poignant to hilarious. The main floor is an unusual gift shop adorned with Robert Thomas murals that depict the realities of mining in an earlier era. The two-story brick building began its existence in 1895 as a hotel and saloon, and is one of the few structures in Wallace to survive the famous 1910 fire. At that time, Wallace men outnumbered women by nearly 200 to 1. The Oasis was one of five brothels operating without hindrance on Wallace's main street until 1973.

phone: +1 208 752-5151

address: 420 Fifth St

This is the only tour of its kind in the Northwest. You can experience the underground world of mining in the richest silver district on earth. The tour begins by boarding a 16-passenger trolley. On the short trip to and from the mine portal, a narrated tour is given of Historic Wallace. Hard hats are issued at the portal and an experienced miner is your guide as you walk through the main drift of the mine. Displays and exhibits are explained so people of all ages may safely observe equipment in operation and see modern and historical techniques used to mine silver, lead and zinc.

Wallace District Mining Museum

phone: +1 208 556-1592

address: 509 Bank St

The Silver Valley is the richest silver mining region in the world. The museum artifacts and exhibits portray the life of the period. Videos are shown daily in the thirty-seat theater.

Northern Pacific Depot Railroad Museum

phone: +1 208 752-0111

address: 219 Sixth St

This two-story museum is listed on the National Register of Historic Places.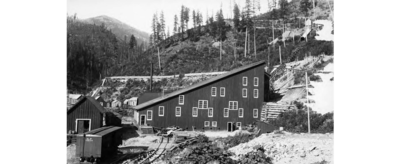 Burke Road ghost townsA 5-mile trip along Burke Road takes you through a collection of ghost towns. Many of the town sites have been cleaned up, so many of the buildings and houses are no longer standing. Visiting the Mining Museum in Wallace prior to this self-guided tour will prepare you to understand the life of the men and women who endured the hardships of a mining town, and show you some of the images and artifacts of the Burke area. By car, take I-90, get off at Exit 62, and turn left on to Burke Road. If you plan to walk, go down Bank Street (main town road) east until you see a cross road, once you're there go straight, and you'll be there. Burke Road has no cellphone service, so bring a map of the area. The six towns are:
Do
Festivals and parades
Each year in early May, the town celebrates Depot Day in conjunction with a Classic Car Show with entries from throughout the inland northwest.
Wallace Craft Beer Pub Crawl - Microbrews descend on the 13 or more bars in Wallace.
Gyro Days and Lead Creek Derby - Gyro Friendship club's primary fundraiser for scholarships. Follow the Gyro ball from Mullan to Wallace. Winning time wins the pot.
Statehood Day Parade - Celebrate the creation of Idaho
BluesFest - Top blues bands take over the downtown streets of Wallace.
ATV Jamboree - Week long guided ATV/UTV tours of the Wallace area trails
Accordion Festival - Bring your squeeze box and enjoy the festivities
Huckleberry Festival & Fun Run - Celebrate our unique berry with all sorts of delicacies
CDA Mining District Contest - Watch hard rock miners show off their skills
JeepFest - Strut your Jeep. Guided Jeep runs and local Jeep competitions
Under the Freeway Flea Market - Find that cool old thing you didn't know you needed.
Center of the Universe rededication - Wallace will be the center of the universe until you can prove otherwise. Ask the EPA!
Wallace Brat Fest - Brats and Beer, why not?
Retro Christmas Festival - Christmas brings back memories. Remember your and make new ones in Wallace.
Extreme SkiJor & Snow Machine Grand Prix - Ski jump race in downtown wallace, how cool.
Culture events and activities
Fall for History - Historical tours, lectures, exhibits all through town
Sixth Street Melodrama - local actors and playwrights exercise their trade
Tour the ghost town of Historic Burke Tour
Outdoor activities
Pulaski Historic trail - 2.5 miles to the mine site where Ed Pulaski saved 40 men from the 1910 Big Burn forest fire.
Art'n Garden Tour - Tour the historic home's gardens and peruse the amazing local artists new creations.
Silver Streak Zipline Tours - 12 ziplines overlooking the picturesque silver valley - up to 60 mph
Route of the Hiawatha - 15 mile bike trail - 1.6% gentle downhill grade - 10 tunnels (one is 2 miles long) - 7 railroad trestles
Trail of the Coeur d'Alenes - 70 miles rails-to-trails with full services along the way.
Historic stairs - Wallace neighborhoods are build on a steep hill. The historic stairs have been restored and are a great way to adventure through the town
Buy
Idaho Silver Shop - silver jewelry
Something Perfect - bawdy and funny gifts
The Fox & The Hare Mountain Wear - outdoor wear
The Eureka Sally Gallery of Art & Chocolate - art and chocolate
North Idaho Trading Co - antiques, collectables, and the curiosity
The Woodland Market - art and gifts
Olivers Mercantile - antiques, screen printing and eclectic
Johnson's Gems - gemstones, jewelry and collectables
Silver Moose - a non-profit co-op shop featuring a bakery, gourmet chocolates and unique hand-crafted gifts.
Eat
phone: +1 208 752-9391

address: 608 Bank St

An historic saloon.

phone: +1 208-512-7553

address: 517½ Bank St

Fresh, homemade dishes.

Glazed and Confused Espresso and Donuts

address: 207 Fifth St

Espresso, cold brew Italian soda, old-fashioned sods, snow cones and amazing old-fashioned donuts.

Mom's Vintage Eatery

address: 713 E Mullan Ave, Osburn

A locally owned, family eatery in the middle of the Silver Valley.

address: 611 Cedar St, Wallace

An historic restaurant & saloon – BBQ, burgers, North-west food specialties.

Wallace Coffee House

phone: +1 208 556-5011

address: 312 6th St at Cedar

An espresso bar serving a wide variety of coffees, specialty drinks, bagels, with a variety of toppings and baked treats.
Drink
address: 108 Nine Mile Rd

Home of North Idaho Mountain Brew, provides a full unique pub-fare menu including gluten-free and vegetarian options.

address: 424 6th St

Craft beers, cocktails and light fare, including BBQ and California Street Tacos. They also have a fully stocked cigar humidor.

The Fainting Goat Wine Bar and Tap Room

address: 516 Bank St
Sleep
Ryan Hotel, 608 Cedar Street, +1 208 753-6001.
Wallace Inn, 100 Front Street, +1 208 752-1252. The Wallace Inn is off I-90, approximately 11 miles from Silver Mountain Ski Resort, Lookout Pass Ski Area, the Route of Hiawatha mountain biking and hiking trail, and the Silver Country 1000 Mile Trail System.
Bed & Breakfast
The Beale House Bed and Breakfast, 107 Cedar Street, +1 208 752-7151 Toll free: +1-888-752-7151.
RV parks
Wallace RV Park
By the Way Campground
Crystal Gold Mine RV Park
Lost Moose Campground
Mullan Trail
Go next
Not far from Wallace,
Kellogg
has metal sculptures of a dragon and knight, a gold panner, an elk (in front of the local chapter of the Elks), a big panther (which is the high school's mascot) in front of the local pool, a miner and donkey, and the best was the Red Baron. All seemed to be made of scraps of metal from different things, but they are large! Mine tours (approx. 30 min) are given at
Crystal Gold Mine
. Kellogg was the site of one of the worst U.S. mining accidents; a statue of a miner holding high a rock drill guards dozens of impromptu headstones at the Sunshine Mine Disaster Memorial.