Walt Disney World/Disney Springs
This article is about the Disney Springs complex at Walt Disney World. For the Downtown Disney district at Disneyland, see Disneyland#Downtown Disney.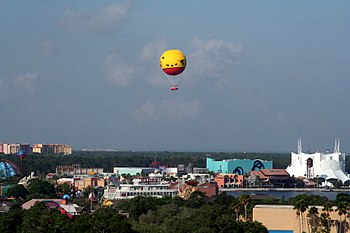 At
Disney Springs
(formerly
Downtown Disney
), you can design your own T-shirt or marvel at the biggest Disney store in the world; enjoy the fine cuisine of the world's top chefs or eat among the dinosaurs; see a the new hit movie as you dine at your seat or take a ride in a classic "Amphicar"; and in general just get away from the Disney parks for a while.
An outdoor shopping, dining, and entertainment complex in the southeast corner of
Walt Disney World
, Disney Springs has been re-imagined and expanded to four districtsː
Marketplace
,
The Landing
,
Town Center
, and
West Side
. Although it's geared primarily to adults looking for something to do away from the parks, kids will find several things to occupy their attention as well.
Nearby is the most popular water park in the country,
Disney's Typhoon Lagoon
, and several resort hotels and golf courses.
Understand
Visitors to Disney Springs will find that it has a split personality. During the day, it's a shopping district like no other on Disney property, with everything from mega-stores to smaller specialty boutiques. This is the place to go if you're on day six of your vacation and still haven't figured out what souvenirs you want, or if you decide you just need some good old-fashioned retail therapy. Most of the large stores are in the Disney Springs Marketplace area, with the specialty shops concentrated in the Disney Springs West Side.
At night, though, the lights come on and the place really gets hopping, with live music, stage shows, and sophisticated restaurant and lounges opening their doors to a primarily adult clientele. If you get tired of the relentlessly artificial environments of the theme parks, you can drop by Disney Springs at night for fun of an entirely different sort. The strongest concentration of activity at night is on the West Side, but The Landing gets its share as well thanks to its upscale restaurants and lounges.
Disney Springs also serves as a major transportation hub (especially late at night when the parks are closed), as it's the most reliable way to transfer buses in order to travel between two resorts via Disney transportation.
History
In 1975, just a few years after Walt Disney World opened, Disney created a small shopping district far to the southeast of the
Magic Kingdom
, which was at the time the only developed area of the property. As the
Walt Disney World Village
, and later the
Disney Village Marketplace
, it remained a remote and rarely visited destination for many years. The only real attraction aside from shopping was the
Empress Lilly
(Paddlefish in 2017), a non-functional replica paddlewheel boat named after Walt's widow that featured three separate dining rooms.
In the late 1980s, however, as Walt Disney World prepared to open its third theme park, executives realized that adult guests would want to have a place to go after the parks closed, where they could have a drink or go out dancing. And why, they reasoned, should Disney force such guests to go off-property to the city of
Orlando
to find nightlife, when they could keep them (and their money) on-property? The result was
Pleasure Island
, a themed collection of nightclubs (with a few restaurants and shops scattered among them) built right next door to the Marketplace. It proved successful, keeping Disney visitors on Disney property, and even attracting locals interested in unique nightclubs like the
Adventurers Club
and restaurants like
Planet Hollywood
.
The concept was expanded even further in 1997 with the renaming of the entire area to
Downtown Disney
, and the opening of the
Downtown Disney West Side
. The West Side, on the far side of Pleasure Island from the Marketplace, was anchored by the giant circus arena created for a
Cirque du Soleil
show, and the five-story indoor video play area
DisneyQuest
(1998). It also included several high-concept restaurants such as
Bongos Cuban Cafe
and
House of Blues
.
In 2008, Disney closed down the six remaining Pleasure Island nightclubs, leaving it relatively barren, although the restaurants and shops remained open. Disney had announced plans to convert Pleasure Island into a new district called
Hyperion Wharf
, but that plan was quickly shelved in favor of a new idea.
In March 2013, Disney released a 3-yr plan to re-imagine and expand the entire Downtown Disney area as
Disney Springs
, representing a fictional town that developed around a natural spring in central Florida. In this plan, West Side and Marketplace remain, with West Side re-imagined as an Exposition circa 1950s and Marketplace as American Craftsman circa 1930s, while Pleasure Island was transformed in 2015 to
The Landing
, a transportation hub and marina with re-purposed industrial buildings circa 1900s. A new
Town Center
was created in 2016, on former surface parking lots just to the south of The Landing, to be the central business district with Spanish revival architecture circa 1920s, complete with a bubbling spring running its length. The Town Center serves as the main entrance of the entire four-district Disney Springs complex. To make up for the loss of parking, Disney added two parking structures, Orange and Lime garages, adjacent to West Side and Town Center respectively.
With the area's transformation, Disney Springs remains an active and vibrant complex, with greatly expanded variety of non-theme-park entertainment, dining, and shopping for Walt Disney World guests and off-property visitors alike.
Get in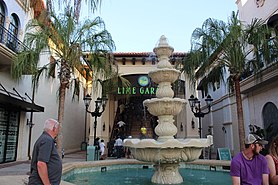 There is no admission fee for Disney Springs in general, although individual attractions may carry a fee. The main entrance is the Town Center opened in 2016 in the middle of the complex. Wheelchair, ECV and stroller rentals are available at the nearby
Sundries
location next to the Town Center bus loop.
Typhoon Lagoon admission is $49 for adults and $41 for children, unless you have added the Water Park Fun and More option to your Magic Your Way package.
By car
Disney Springs and Typhoon Lagoon are on Buena Vista Drive; drive east from Epcot Center Drive or west from Hotel Plaza Boulevard. Parking is free at both locations. During peak periods, valet parking may be available for $25.
Two parking structures flank the Town Center main entrance to Disney Springsː the Lime Garage on the right adjacent to Town Center and closer to the Marketplace, and the Orange Garage on the left adjacent to the West Side. There are surface lots on the far end of the West Side.
By Disney transportation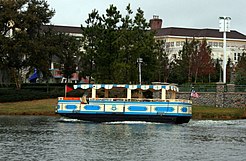 Buses and ferries travel to Disney Springs.
From any resort, you can take the
Disney Springs bus
from your resort's bus stop. The buses will drop you off in front of the Town Center. These buses sometimes also stop at Typhoon Lagoon after Disney Springs.
Ferries
travel the
Sassagoula River
from Port Orleans Riverside, Port Orleans French Quarter, Old Key West, and Saratoga Springs to Disney Springs. The three ferry docks are at the far end of the West Side, at the Landing, and on the bridge between the Marketplace and Saratoga Springs.
Saratoga Springs and Downtown Disney Hotel Plaza guests can also
walk
to Disney Springs.
If you're going to Typhoon Lagoon, take the Disney Springs bus. Before 1PM or so, you can stay on board and the bus will continue on to Typhoon Lagoon. After that time, you may have to switch buses; ask your bus driver for confirmation. You can, of course, arrive at Disney Springs by foot or by boat before transferring to a bus to Typhoon Lagoon.
From the theme parks
Because parking at Disney Springs is free, Disney doesn't provide regular direct transportation from Disney Springs to the theme parks or vice versa. Instead, if you want to make the trip, you'll need to transfer at a resort hotel. (The same is true for Typhoon Lagoon.) Your best option might be to take a bus to Saratoga Springs and then make the relatively short walk to Disney Springs.
Disney offers direct buses from the four theme parks to Disney Springs daily after 4PM until 11PM or 2 hours after theme parks close, whichever is earlier. There is no corresponding return bus from Disney Springs to the theme parks.
Get around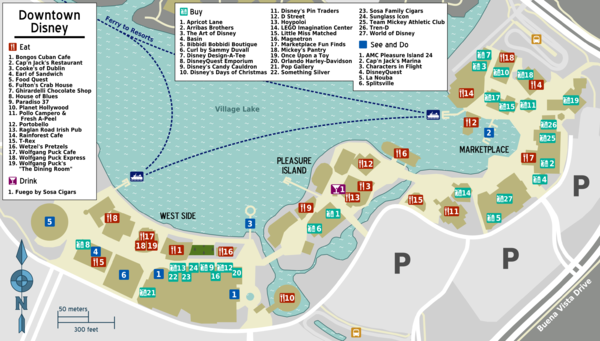 Disney Springs is long and skinny, running roughly northeast-to-west. The northeastern-most end is the
Disney Springs Marketplace
. The Marketplace curves down and around to the southwest, where it meets up with
The Landing
(on the water front) and
Town Center
(to the south near the bus stops). To the west is, of course, the
Disney Springs West Side
, with the Cirque du Soleil arena at the far end near the ferry terminal.
The entire long complex is sandwiched between parking lots/structures on the south side and
Village Lake
on the north. From Village Lake, boats can travel the
Sassagoula River
, which provides access to the Saratoga Springs, Old Key West, and Port Orleans resorts. The Downtown Disney Hotel Plaza, a set of inexpensive non-Disney resorts on Disney property, lies just to the northeast of the Marketplace.
If you're tired of walking and need to get from one end of Disney Springs to the other, a free
shuttle boat
runs among the three docks (West Side, The Landing, Marketplace) every 15 minutes or so—make sure you get on the Green Flag boat.
See and do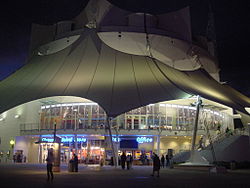 You may have come for the shopping or for the food, but you shouldn't overlook the other attractions of Disney Springs. You can go to the movies, bowl a few frames, or even take a trip on the tallest attraction at Walt Disney World. You'll also find
live entertainment
—music and comedy—at various venues throughout the complex, especially at night. (For example, look for
Nova Era
, a chamber trio playing classical music with a modern twist, Wednesdays and Thursdays across from the Lime Garage entrance.)
phone: +1 407 827-1308

Okay, so you're on vacation in Florida, with four theme parks, two water parks, and a host of recreational activities to choose from; why would you spend ten bucks to sit inside and watch a movie you could see just as easily back home? Good question. Maybe you just need a break from Disney. And the air conditioning can be attractive. Admittedly, this is a very nice multiplex; all 24 theaters have "rocker-style" stadium seating, surround sound, and digital projection, and one screen is a "Dolby Cinema" (providing enhanced audio, a bigger screen, and other improvements). 6 of the auditoriums are Dine-In Theaters, where you can order food and drinks (including beer, wine, and cocktails) right from your seat while you watch a film.

The Boathouse toursThe Boathouse, Disney Springs' showpiece waterfront restaurant, also offers some unique boat tours. For starters, they have the world's only commercial stable of real 1960s Amphicars, amphibious vehicles that fully reflect the styling of their original era. These captain-guided tours are 20 minutes long and cost $125 per car. They also have an Italian water taxi called Venezia, for groups up to 20; the tour includes champagne and dessert, with live music, and costs $75/person ($50/child under 13) for 30 minutes. Wine tasting-cruises on the same boat are available for $125 per person or $225 per couple. All tours are available daily 10AM-10PM, weather permitting. Reservations for Amphicars must be made in person, for the Venezia tours, call +1 407 939-2628.

AerophileThe only literal "ride" in Disney Springs, but it's the tallest one on the entire property. This tethered hot-air balloon lifts you 400 feet in the air for a breathtaking bird's-eye view of Walt Disney World.

phone: +1 407-938-7467

address: 1494 E Buena Vista Dr

This growing chain of bowling centers seems like a perfect fit for the nightlife-and-entertainment atmosphere of the West Side—and with 30 lanes spread over two floors, this is the largest Splitsville ever built. Far more than just a bowling alley, Splitsville features bowling concierges who bring your shoes, balls, and food right to your lane; an extensive restaurant menu with both casual and innovative cuisine; a full bar; and live music every night. With so much to do, even people who don't bowl can have a great time.
Typhoon Lagoon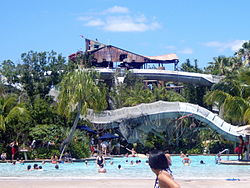 According to Disney Imagineering legend, years ago, a fishing trawler named
Miss Tilly
found itself caught in a powerful hurricane. When the torrent subsided, the boat found itself perched precariously atop
Mt. Mayday
, with water still gushing down through channels and valleys to a lake below. What else was there to do but for the survivors to create
Typhoon Lagoon
?
Typhoon Lagoon is the
second-most-visited water park
in the world (Chime-Long WaterPark in
Guangzhou
,
China
, just barely passed it in 2013), and is a great place to beat the Summer heat from June through September. While its theme is not as whimsically inventive as that of its sister park,
Blizzard Beach
, Typhoon Lagoon excels at providing guests a consistent and energetic setting for some of the best water rides in the world. But do keep an eye out for the unique touches the Imagineers have brought to the decor, including scattered remnants of ships' cargoes and even palm trees supposedly bent low by the hurricane!
Typhoon Lagoon is not far from Disney Springs, and the two often share bus routes. The park is usually open from 10AM–5PM, and admission is $52 for adults or $44 for kids ages 3-10. Admission to the water park counts as one of your "Fun Visits" if you've added either the Water Park Fun & More or the Park Hopper Plus options to your
tickets
—and note that just one admission almost pays for the cost of the option.
The direct telephone number for Typhoon Lagoon is +1 407 560-4141. Typhoon Lagoon closes for annual refurbishment every fall or winter, almost always including the month of December (during which Blizzard Beach remains open to provide a bit of Christmas-in-Florida atmosphere).
Castaway CreekA 2,000-foot tubing river that winds through the whole park.

Crush 'n Gusher Water 'Rollercoaster'What do you get when you cross a water slide with a roller coaster? This!

Gangplank FallsA family ride, in four-passenger tubes.

Humunga KowabungaThree 214 foot long slides send you plummeting straight down, at a terrifying five stories per second!

Keelhaul FallsA whitewater rafting experience.

Ketchakiddee CreekA children's play area.

Mayday FallsInner tube slide winding down the side of an artificial mountain.

Miss Adventure FallsFamily raft ride through a collection of sunken treasures.

Storm SlidesThree 30-mph slides through dark caverns.

Surf PoolOne of the world's largest wave pools with some of the largest artificially created waves. Take advantage of the surfing lessons offered here.
Golf
There is one 18-hole championship
golf course
in the Disney Springs area. See "
Golf
" in the overview for rules and regulations. Monday through Friday, 18 holes will cost $89 if you're staying at a Disney hotel, and $104 otherwise. On weekends, add $10. During the summer, 10AM-3PM tee times are discounted; ask for the "Summer Price Slice" when you call. Late afternoon tee times are $59 on weekdays and $69 on weekends for everyone. Call +1 407 WDW-GOLF (939-4653) to reserve a tee time.
address: 2200 Club Lake Dr

This golf course meanders throughout the area north of Disney Springs, starting adjacent to the Saratoga Springs Resort, crossing the Sassagoula River, and running right through the middle of the Old Key West Resort. At 6,819 yards, with narrow fairways and even a challenging island green on hole 7, this golf course will give a great tour of the scenery around the Disney Springs-area resorts.
Spa
phone: +1 407-WDW-SPAS

Saratoga Springs, New York, was once known for its healing and relaxing mineral waters, a tradition carried forward at this full-service spa and health club. The expected wide array of massages, facial and full-body treatments, and manicures and pedicures are all available here, and they're not restricted to guests staying at the resort.
Waterfront recreation
The Riverside section of Disney's Port Orleans Resort has an old-fashioned
Fishin' Hole
, with cane rods and plenty of bluegill, bass, and catfish to catch (though you may have some competition, in the form of a river otter). Hours normally 7AM-1:45PM daily.
Buy
Disney Springs is a retail mecca, a mall done Disney-style. The highest concentration of Disney-themed merchandise shops is in the
Marketplace
, the eastern part of Disney Springs. The new
Town Center
holds most of the chain stores one might find in any American mall, but also is home to more unique retailers not easily found elsewhere. Many of the stores here also sell exclusive Disney-inspired designs. The rest of Disney Springs has fewer shops, but the
West Side
does house some specialty retailers, with a lot less mouse ears.
For shops without direct phone numbers, you can call Guest Relations at +1 407 828-3150. Press '3' and tell the operator which store you wish to contact.
All stores at Disney Springs open at 10AM and close at 11PM (11:30PM Friday and Saturday).
Marketplace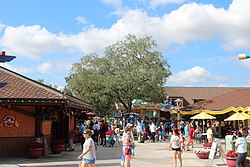 The Marketplace is anchored by the 51,000-square-foot (4,700-m²)
World of Disney
:
phone: +1 407 828-1451

A Disney Store on steroids, with a truly stunning array of character and park merchandise. This is the place to go if you can't find a souvenir you like anywhere else.
If that doesn't suit your fancy, try out these other shops:
Crystal Arts by Arribas Brothers

phone: +1 407 828-4840

Since 1967, Arribas Brothers has been crafting metal, crystal, and glass into works of art featuring iconic Disney characters and settings. The store sparkles with light refracted through the many creations; you have to at least wander through the place even if you don't intend to buy anything.

The Art of Disney

phone: +1 407 828-3929

An art gallery a-la-Disney, filled with works that wouldn't look out of place in a museum, whether they had a Disney theme or not. Fun to browse, but don't think you can't afford the stuff in here; there's lots to be had for very reasonable prices. Of course, if you feel like splurging, you can't really go wrong here, either.

Basin

phone: +1 407 827-8080

All-natural bath and skin-care products.

Bibbidi Bobbidi BoutiqueJust like the one at Cinderella Castle in the Magic Kingdom, Bibbidi Bobbidi Boutique is the place to go for a little girl who wants to get the full princess treatment. Her "fairy godmother" will do her up right with makeup, hairstyle, and other accouterments, although Mom and Dad will have to pay for the privilege. Very popular; appointments (call +1 407 WDW-STYLE (939-7895)) are strongly recommended.

Disney Design-A-TeeCan't find a shirt with your favorite character in your size? Disney Design-A-Tee comes to the rescue! In this new, experimental shop, you can design your own T-shirt using a library of graphics, add custom text, and get it printed on a T-shirt in your choice of colors and sizes. The graphic selection is good but has some gaps; it's also hard to navigate. But once your design is finished, the shirt is ready within a couple of hours (depending on how busy they are) and the screen printing is high-quality. Well worth the time to stop in.

Disney's Days of Christmas

phone: +1 407 828-3759

There are 365 days of Christmas at this shop, with a much larger selection than Magic Kingdom's Ye Olde Christmas Shoppe or Hollywood Studios' It's a Wonderful Shop.

Disney's Pin TradersThe largest trading-pin store at Walt Disney World, which means it's a gathering place for pin trading as well as purchasing.

Disney's Wonderful World of MemoriesPick up personalized hats and leather goods and special seasonal merchandise (like graduation gear!) at this unique shop.

phone: +1 407 828-0065

Here you can gawk at the LEGO sculptures, try your hand at building some of your own, or shop for that one set that you're missing from your collection. Don't miss the Pick-A-Brick wall, an entire section devoted to à la carte brick bins; replace that one missing piece or assemble your own custom set!

Marketplace Co-OpA selection of small boutiques-within-the-store, with Disney changing the concepts within as the market demands. As of summer 2018, the six boutiques offer wares such as women's accessories, men's apparel, travel accessories, unique Disney art, home goods, and personalized electronics accessories.

Mickey's Pantry

phone: +1 407 828-3886

Kitchen products and other housewares; the adjacent Spice & Tea Exchange store pairs nicely.

Once Upon a Toy

phone: +1 407 934-7775

WDW's second-largest collection of Disney toys (after World of Disney). It may seem redundant with that mega-store next door, but Once Upon a Toy specializes in third-party toys with a Disney theme (like board games and Rubik's cubes) and non-Disney merchandise (check out the Mr. Potato Head parts bin).

Star Wars Trading PostIt's here that you can build-your-own Star Wars lightsaber or droid if the store in Hollywood Studios is too busy for you. A selection of other gear from a galaxy "far far away" is also available.

Tren-DAn eclectic shop with contemporary Disney-inspired designs for teenage fashionistas. The designs here tend to be unique to this store; it's worth a look if you're in the market for less "touristy" fare.
Gift shops inside the
Rainforest Cafe
and
T-Rex
restaurants also sell a variety of specialized themed merchandise. Inside of T-Rex specifically, the gift shop includes a Build-A-Bear Workshop outpost with a twist;
Build-A-Dino
allows you to create your very own dinosaur stuffed animal.
Throughout the Marketplace area,
various kiosks
sell goods ranging from pearl jewelry and custom rings to gifts for your dog and items made just for those that are left-handed.
Town Center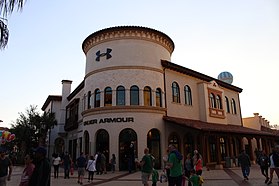 This is the newest and most "mall" section of Disney Springs, but nevertheless, many of the chains here have a very limited selection of brick-and-mortar stores, with their Disney Springs location being one of their only outlets.
American ThreadsPick up trendsetting styles with a bohemian flair at this hip, chic women's boutique selling everything from rompers to unique accessories.

Coca-Cola StoreCheck out this "former bottling plant", now selling exclusive Coke merchandise. You can also meet the company's Polar Bear mascot and enjoy the rooftop beverage bar.

The Disney CornerTwo-level temporary Disney boutique selling modern and stylish apparel and accessories.

Ever After Jewelry Co. & AccessoriesDisney-themed handbags, necklaces, bracelets and more at this temporary shop open while World of Disney undergoes a makeover.

Free PeopleHip boutique specializing in bohemian-style apparel and accessories with a modern influence.

Johnny WasChic bohemian looks are also sold at this small shop; perfect spot to pick up maxi dresses and silk scarves.

Kiehl'sSince 1851, this skin and hair-care retailer has sold only the finest all-natural products.

LacosteThe famous iconic crocodile is featured on shirts and more for men, women, and children at this fashionable French chain. Complimentary monogramming is offered on all polo shirt purchases.

Levi'sThis store sells the iconic jeans, yes, but it also offers in-store alterations, hemming, repairs, and a limited-edition line of "reinterpreted" goods and accessories.

Lilly PulitzerPlayful prints cover everything from clothing to accessories to home decor, capturing a unique vacation vibe inspired by their Floridian beginnings.

L'Occitane en ProvenceSample a range of all-natural skincare and beauty products before you buy one at this French apothecary. Mix your own essential oils or receive a complimentary mini facial or hand massage while you browse.

OriginsHigh-performance botanical skincare products are sold alongside in-store complimentary mini facials and customized samples

phone: +1 407-938-0522

Okay, so you can't actually buy a Harley here, but you can buy Harley logo merchandise and drool over the custom hogs on display.

ShoreBeach-inspired boutique selling swimwear, tees, and accessories fit for a Floridian lifestyle.

StanceOnline startup retailer specializing in unique sock designs for all ages and genders.

SuperdryThis British brand offers up high-quality fabrics featuring unique vintage American and Japanese-influenced graphics on items like hoodies, T-shirts, and flip-flops.

Trophy RoomThis new store sells exclusive sports merchandise, hip sneakers, and authentic memorabilia in a space inspired by the trophy room of founder Marcus Jordan's father, NBA star Michael Jordan.

TumiLuxurious backpacks, briefcases, luggage, and accessories are sold at this boutique for the modern traveller.

Under Armour Brand HouseMore than just a regular Under Armour store, this two-floor emporium sells the latest in athletic apparel, shoes, and fitness gadgets. A massive sneaker wall and a special area where athletes can test their skills round out the unique offerings.

UniqloThe explosive growth of this Japanese-born retailer is a testament to the quality and style of their clothing, available for men, women, kids, and even infants. Special Disney-exclusive brands at this store make it worth a visit.

UNOde50Unique, handcrafted Spanish jewelry for both men and women artfully designed in limited quantities.

VolcomStore specializing in sporty apparel for skateboarding, snowboarding, and surfing.

ZaraThis fashionable Spanish retailer offers the hottest trends in a range of apparel and accessories for men, women, and kids.
Other, more standard "mall" stores here include
Anthropologie
,
Coach
,
Columbia Sportswear
,
Everything But Water
,
francesca's
,
kate spade new york
,
Lucky Brand
,
MAC Cosmetics
,
Oakley
,
Pandora Jewelry
,
Sephora
,
Sperry
,
Tommy Bahama
,
UGG
, and
Vera Bradley
.
There are also some unique specialty stores spread around the Town Center, with eyeglasses at
Edward Beiner Purveyor of Fine Eyewear
; handbags and backpacks at
Kipling
; jewelry at
Alex and Ani
,
Luxury of Time by Diamonds International
, and
Na Hoku - Hawaii's Finest Jewelers;
shoes at
Johnston & Murphy
, and
Melissa Shoes
; and art and home goods at
Sugarboo & Co
.
The Store at Planet Hollywood
also sells a variety of themed apparel and souvenirs.
The Landing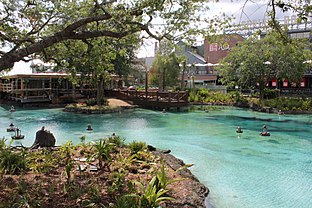 Dominated by restaurants and bars, there are some smaller shops tucked in among the large eateries on this island.
Kiosks
in the "Riverboat Square" plaza near the bridge to the Marketplace sell goods ranging from hammocks, to bath and body products, to movie-replica jewelry.
Both the
Boathouse Boatique
and Raglan Road's
Shop for Ireland
stock unique goods based on their respective restaurant's theme.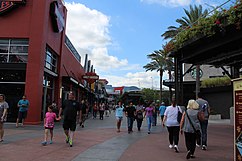 West Side
The West Side's stores are all larger, specialty shops focused on a specific type of merchandise or brand.
Curl by Sammy DuvallWatersports icon Sammy Duvall lends his name to this high-end surf shop; it also sells ski and skate gear.

Disney's Candy CauldronThere's no shortage of candy shops in Disney World, but this one features a show kitchen, too, if you'd like to watch the sweet stuff being made.

DisneyStyleHip, trendy and fashionable apparel and accessories inspired by Disney's characters and attractions.

Fit2RunThis is the place for athletic footwear. A complimentary evaluation includes a video-taped gait analysis and an iStep barometric scan to help you find the perfect pair. To try them out, an indoor track is perfect for test runs.

Pop GalleryPricey art and other items of high caliber; if that sounds beyond your means, just grab a complimentary glass of bubbly and treat it like an art gallery!

Something SilverMen's and women's jewelry made from recycled or renewable material.

Sosa Family CigarsA smoke shop at Disney? Yes. Sosa is a premium Dominican brand, and this shop features a cool humidor with 80 brands of hand-rolled cigars.

Star Wars Galactic OutpostAn extensive array of toys, apparel, and collectibles from the Star Wars saga.

Sunglass IconJust what it says on the door: all the designer sunglasses you could possibly want.

Super Hero HeadquartersA high-tech shop featuring all sorts of Marvel superhero merchandise.

phone: +1 407-560-0605

Soccer gear from around the world, including both equipment and logo merchandise.
Bongos Cuban Café Souvenir and Gift Shop
, Splitsville's
Memory Lanes
, and the
House of Blues Company Store
all offer unique themed gifts specific to each restaurant and venue.
Eat
Disney Springs is Disney World's largest dining destination, and while it is geared primarily towards adults, all of the restaurants are family-friendly (at least before nightfall). You won't find many "generic" restaurants here; each one has a distinct hook or drawing card that brings in the crowds. If you run out of time to try them all, well, now you have something to look forward to on your next visit, right?
See
Eat
in the main Walt Disney World article for information on the Disney restaurant pricing system, character dining, dietary restrictions, and advance dining reservations. The telephone numbers below are for extraordinary circumstances only; for reservations and most health or diet issues, call the main Disney Dining number at +1 407 WDW-DINE (939-3463).
Although most of these restaurants are run by outside companies, they all now accept the Disney Dining Plan. The Boathouse, Morimoto Asia, Paddlefish, and STK Orlando are Signature Restaurants and require two table-service credits; the other table-service restaurants require only one.
Marketplace
The Disney Springs Marketplace is where you'll find the kid-friendliest food options; the restaurants close earlier so they don't have as many late-night entertainment options. Marketplace restaurants are open from 9AM to 11PM daily.
phone: +1 407 938-1762

This very popular eatery comes by its name honestly: this is the flagship location of a growing chain of sandwich shops co-founded by John Montagu, the 11th Earl of Sandwich himself. Far more than your ordinary sandwich shop, these are some of the best hot sandwiches you'll ever have the pleasure of biting into. The house specialty is "The Original 1762", with roast beef, cheddar cheese, and horseradish. The line is long but moves steadily; there are so many choices you may have trouble deciding before you reach the front!

phone: +1 407 827-8500

One of two WDW locations for this chain restaurant, which features animatronic animals, thunderstorms, and good food. There's a big gift shop packed with Rainforest Cafe logos, too. One word of warning—the animatronics can be a bit startling, as they sometimes come to life suddenly; some kids might find them unsettling.

phone: +1 407 828-TREX

This new restaurant, the second one in the chain, is a lot like Rainforest Cafe, but with prehistoric creatures instead of modern animals. The "Dino-Store" gift shop features just about what you'd expect, but don't miss the Build-A-Dino area, run by Build-A-Bear Workshop. It tends to be one of most popular restaurants in Disney Springs, so reservations are highly recommended.

Wolfgang Puck Express

phone: +1 407 828-0107

Celebrity chef Wolfgang Puck has his name on three restaurants at Disney Springs. This is the most casual of them, with a variety of traditional favorites including Italian and barbecue entrees. They're all expertly prepared and some have added just a little twist from Puck.
Town Center
phone: +1 407-228-1901

address: 1486 Buena Vista Dr

Chef Rick Bayless has created a heavily Mexican-flavored eatery for Disney Springs. All the standard south-of-the-border staples are here: enchiladas, tacos, quesadillas, guacamole... but each expertly prepared and presented with some additional flavors you may not be used to. There's also a takeout window with a couple of taco options and margaritas.
The Landing
Pleasure Island's nightclubs are a thing of the past, but The Landing is home to some new and very good restaurants. They're for the most part not heavily themed, but they're well worth checking out if you're in the mood for high-quality food without loud music—or loud dinosaurs—interrupting your meal.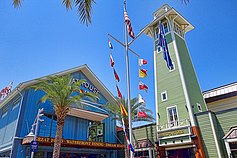 Pizza PonteAn array of authentic Italian slices are served up all day at this counter-service pizzeria with limited seating within the larger Maria & Enzo's building.

Enzo's HideawayEnjoy classic Italian dishes and sip unique cocktails while you listen to solo jazz artists late into the night at this rediscovered 1920s speakeasy hidden beneath the air terminal that houses Maria & Enzo's.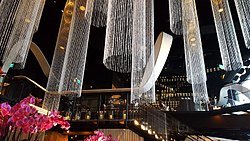 Cooke's of DublinAdjacent to Raglan Road, Cooke's is known for its fish and chips. In fact, there's not much else on the menu, but what they do have, they do very well.
address: 1580 E Buena Vista Dr

An aggressively modern upscale steakhouse, STK Orlando borrows several signature dishes from other restaurants in the small chain, as well as adding a few unique localized dishes of its own. Big space with a fair bit of outdoor patio seating.
phone: +1 407 934-8888

Waterfront dining in this Italian country home with a wide variety of traditional Italian dishes, including some served family-style.
West Side
The West Side is the home of the celebrity restaurant. Movie stars, comedians, singers, and even a celebrity chef have all created venues here that reflect their own personalities and proclivities. West Side restaurants are open from 11AM to midnight daily.
phone: +1 407 828-0999

Singers Emilio and Gloria Estefan established Bongos to be a nightspot with authentic Cuban flavor, both in the food and in the entertainment. Behind the two-story pineapple that marks its entrance is one of the most vibrant, energetic venues in all of Disney Springs, and that's saying something.

phone: +1 407 934-BLUE

You can't miss this place; just head for the 100-foot water tower! Dan Aykroyd—that's right, Elwood Blues himself—co-founded this chain of rocking establishments that are both restaurant and live music venue. You'll find some free music in the various dining rooms every night, with major acts booked in the main hall that have a separate admission fee. But don't overlook the food—you'll find a variety of hearty down-home Southern meals from burgers to jambalaya.
The SmokehouseIf you hanker for some barbecue but don't want to wait for a table at the Crossroads (the main House of Blues dining room), try this counter service location at the side of the building.
phone: +1 407 827-7827

Founded by Demi Moore, Arnold Schwarzenegger, Sylvester Stallone, and Bruce Willis, the Planet Hollywood chain has never been as successful as they hoped, but it's still a great place to gawk at celebrity paraphernalia and enjoy a good meal at the same time. This giant spherical structure sits between the Town Center and the West Side, and it's usually pretty busy. Just like at a Hard Rock Cafe, part of the appeal is buying a T-shirt identifying the location you visited; if you don't want to brave the crowds at the restaurant, you can check out their standalone store just down the street on the West Side.
Food trucks
Disney's dipping their toe into the food truck phenomenon. They've constructed a Food Truck Park on the West Side near Bongos Cuban Cafe. There are four Disney food trucks, each one representing one of the four theme parks, but since they're mobile they may or may not be present on any given day. Non-Disney trucks may also be found on occasion, especially if one of the Disney trucks is elsewhere. The trucks serve food daily, opening between 1PM and 5PM (depending on crowd levels) and closing at 11PM. For the four Disney food trucks, entrees cost $8–15, or you can use a quick-service credit from the Dining Plan.
Fantasy FarePopular dishes from Disney's worldwide theme parks that aren't usually available in Florida, like Disneyland's hand-dipped corn dogs.

Springs' Street Tacos

Superstar CateringSpecializing in meatballs in a variety of presentations.

World Showcase of FlavorsSelect fan-favorites from the Epcot International Food and Wine Festival will now be available year-round, including lobster rolls and pierogies.
Snacks and sweets
There are several food locations at Disney Springs that don't really qualify as restaurants, but a couple are of particular note:
The GanacheryChocolatiers will personally welcome you to this new shop, introducing you to the intricate possibilities of fine chocolate ganache. The subtle flavor variations of expertly crafted chocolate can rival those of wine in their complexity and opportunity for new discoveries, and The Ganachery aims to demonstrate that. You can even watch the chocolatiers at work, as nearly everything in the store is crafted on-site.

Ghirardelli Chocolate Shop and Soda Fountain

phone: +1 407 934-8855

Enjoy chocolates, ice cream, and other great desserts at this San Francisco legend. Ghirardelli is the first name in chocolate for good reason.

StarbucksSure, you've been to Starbucks; you know what it's got. But this one's probably not like any other one you've seen. For starters, they serve up the "Starbucks Evenings" menu, which includes beer, wine, and small-plate appetizers. This is also a "Starbucks Reserve" location, one of their select shops that offers exotic brewed-to-order beans from a specialty counter. But on top of all that, there's tons of seating indoor and out, living botanical murals, and an interactive 'chalkboard' that's directly connected to one at the Starbucks in Disneyland's Downtown Disney district! (Note that there's another Starbucks at the Marketplace near World of Disney, but it's much smaller, has no seating, and just serves the regular Starbucks fare; it's open 8AM-midnight.)

phone: +1 800 458-5282

Coffee and teas from around the world, in addition to both regular and alcoholic, at this shop run by Joffrey's. Loose leaf teas are also sold.

Vivoli Il GelatoThe word "authentic" is thrown around a bit too often these days, especially at Disney, but this Italian establishment comes by it honestly; Vivoli is the oldest gelateria in Florence. Gelato, if you're not familiar, is simply ice cream made in a traditional Italian style, and Vivoli has 24 flavors of it ready for scooping. The recipes and some of the more important ingredients are imported from Italy; other ingredients are locally sourced where possible. In addition to the divine gelati, Vivoli serves up sorbets, biscotti, and coffees.
Resort dining
All restaurants at Disney resorts accept the Dining Plan.
Disney's Port Orleans Resort
Port Orleans Riverside and Port Orleans French Quarter used to be two separate resorts, so they each have their own food courts for quick counter-service dining. They share a table-service location, though:
Boatwright's Dining HallThis may be the largest restaurant on the property, serving Southern fare such as ribs, chicken, steaks, etc. Great for families or groups of adults, as the large restaurant is big enough to absorb a lot of noise.
Disney's Old Key West Resort
Goods To Go
is your standard basic counter-service location with burgers and chicken nuggets and not a whole lot else. For more substantial fare:
Olivia's CafeStrongly meat-based entrees with substantial Caribbean accents.
Disney's Saratoga Springs Resort
Artist's Palette
serves hot sandwiches, salads, and flatbreads from a counter. For table-service:
Turf Club Bar and GrillAmerican fare with a sophisticated twist. Reportedly has good views of the Buena Vista golf course.
Typhoon Lagoon
Leaning PalmsThis is the main eatery at Typhoon Lagoon, and the only one open during the slowest parts of the year. It's also the only one with indoor seating. Burgers, pizza, chicken, and tuna.

Typhoon Tilly'sThis is the secondary meal location, located near the Shark Reef. BBQ pork, hot dogs, even PB&J if you want it. Outdoor seating.
Drink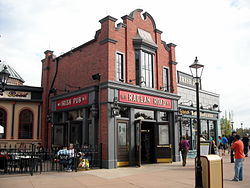 Several years ago, this section would have been chock full of unique late-night venues, with comedy, music both modern and classic, and even (briefly) rollerskating. Now, the nightclubs are gone (though you can find a couple over at
Disney's BoardWalk
:
Jellyrolls
and
Atlantic Dance Hall
), but you still have some options if you're looking for nightlife.
Dockside MargaritasA mid-century Floridian fruit stand is the setting for Disney Springs' first standalone bar. Unique Flordia-themed margaritas are the specialty, and Floridian craft beers are on tap. Live waterfront entertainment daily, in the afternoon and evening until 10:30PM.

Jock Lindsey's Hangar BarOkay, send your memories back, way back, to the opening scenes of Raiders of the Lost Ark, the first Indiana Jones film. The intrepid pilot who rescues Indy from the Peruvian natives in the prologue was Jock Lindsey (and his snake Reggie). It seems that at some point, while Indy and Jock were searching for the Fountain of Youth, they stumbled across Disney Springs. The setting appealed to Jock, who bought some waterfront property and opened up a seaplane touring service in Disney Springs, later converting his hangar to a casual lounge. You'll find lots of drinks and bar food named after some iconic elements from the films, as well as decor representing Jock and Indy's adventures around the world.

MacGuffins Bar and LoungeHang out with friends before the show, or grab an after-movie cocktail in AMC's full-service bar. In addition to the drinks both hard and soft, the full "Fork & Screen" menu is available as well, with burgers, pizza, and other casual-restaurant staples.

Sosa Family CigarsIf tobacco is your thing, you'll definitely want to stop at this cigar bar, pretty much the only place in Walt Disney World that you can smoke indoors. But don't pull out your Camels; they've got a wide selection of cigars ready for smoking, stored in custom humidors. You can have some wine or spirits with your cigar as well, but you should probably steer clear if you're just here for the alcohol.
Keep in mind that many of Disney Springs' restaurants have full bars, letting you belly up for a drink without waiting for a table. Chief among them is
Raglan Road
, The Landing's Irish pub. Between pints of Guinness, you may catch some live music on selected nights.
On the other hand, if you're really in the mood to rock the night away, head over to the
House of Blues
on the West Side. They've got live music every night, though you'll have to pay extra to catch the best shows in their main hall. And if all you want to do is get your groove on, your best bet is
Bongos Cuban Cafe
; the music is deejayed but the dance floor is ready and waiting.
Of course, don't forget
Splitsville'
s bowling lanes and the
AMC Disney Springs 24
movie theater, both of which keep guests entertained well into the night.
Resorts
The resorts all have
pool bars
available with a small selection of refreshments. In addition:
The Gurgling SuitcaseA small but serviceable bar with the most bizarre name on property.

River Roost LoungeThe lounge at Port Orleans-Riverside has a full bar and offers specialty drinks and a few snacks and appetizers (until 10PM). Sing along with pianist "Ye Haa" Bob Jackson from 8:30PM-close, W-Sa.

Scat Cat's ClubScat Cat, featured in the animated classic The Aristocats, must have moved to New Orleans after the events of the film, since this lounge in the French Quarter resort is named for him. Their specialty is any drink served in a hurricane glass, an innovation developed in the real New Orleans.

The Turf Club BarAdjacent to the Turf Club Grill, this lounge takes you back to a time when horse racing was the domain of the well-to-do, with leather seating and billiards tables.
Sleep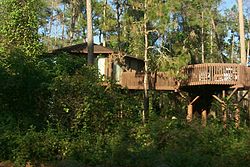 There is a full range of hotel options near Disney Springs, unless you're looking for a Disney Value Resort like Pop Century. The low-end options in this area are non-Disney hotels with none of the theming or amenities provided to Disney resort guests. The Moderate and Deluxe resorts, however, are Disney through-and-through, and possibly the most scenic and most tranquil resorts on the entire property.
The price you pay for tranquility, however, is remoteness; with the exception of Disney Springs itself, the parks are all a fair distance away by bus or car, with no monorail or boat transportation available. If this doesn't trouble you, however, it's hard to go wrong with any of these resorts.
Budget
The
Disney Springs Hotel Plaza
, adjacent to the Marketplace, is made up of seven chain hotels. These are fairly generic hotels that lack most, if not all, of the theming and amenities of their Disney-owned counterparts. They are, however, ideal for guests who are on a tight budget or who prefer a more traditional hotel experience. The Best Western, Buena Vista Palace, Doubletree, Hilton, and Wyndham have car rental kiosks in their lobbies.
Mid-range
A pair of "Moderate" resorts lie at the northern end of the Sassagoula River (with boat access to Disney Springs). Between the two of them, they cover all of the iconic aspects of Southern living, from the Mississippi bayou, to massive plantation mansions, to the lively French Quarter of New Orleans. Rooms at these resorts are smallish but adequate, with basic amenities and exterior entrances.
Disney's Port Orleans Resort - Riverside

phone: +1 407 934-6000

address: 1251 Riverside Dr

Experience the gentle feel of the mansions and towns along the lower Mississippi River. Opened as Dixie Landings, Port Orleans Riverside has two distinct sets of buildings: Alligator Bayou features rustic cottage-like buildings with lots of water and reeds surrounding them, and Magnolia Bend is the home of stately southern mansions on neatly-manicured grounds. Ol' Man Island is a pool and fishing area themed as a sort of "swimmin' hole". The food court, Riverside Mill, is spacious, as is Boatwright's Dining Hall, the only table-service restaurant in the Port Orleans area. Outstanding theming here for the price, very laid-back and relaxing. The whole resort is heavily wooded, so it really feels isolated from the general bustle of Walt Disney World. As of March 2012, some rooms have been converted to Royal Guest Rooms, each themed in the style of Beauty and the Beast, Aladdin, or The Princess and the Frog.

Disney's Port Orleans Resort - French Quarter

phone: +1 407 934-5000

address: 2201 Orleans Dr

Take a walk down Bourbon Street. Visually much livelier than Riverside, this resort once had the Port Orleans name all to itself, but it became the French Quarter when Dixie Landings was renamed. French Quarter is smaller and more intimate than its sister resort, and you'll need to walk to Boatwright's to have a table-service meal, but it's closer to Disney Springs so it's a shorter trip on the ferry. Keep an ear out while wandering the French Quarter; you might hear a live Dixieland band on selected days.
Splurge
The Deluxe resorts near Disney Springs are both dedicated Disney Vacation Club resorts, which means there are no basic hotel rooms. The smallest villas are studios, which have a kitchenette but no separate living room. It also means that DVC members get first crack at the entirety of both resorts, but they're both so large, especially Saratoga Springs, that you shouldn't have any problem getting a room.
At both resorts, you'll find a full array of amenities and recreation, including boating, tennis, basketball, playgrounds, and of course swimming pools. There are also special activities that vary each day; you'll get a full schedule at check-in. Both resorts also have general stores for stocking their villas' kitchens; prices are high and selection is poor, but they're awfully convenient.
phone: +1 407 827-7700

address: 1510 North Cove Rd

The spirit of the Florida Keys embodied in a Deluxe resort. The villas here have a contemporary, airy beach house feel, with scenic views of the woods, the river, or the golf course—or all three. Probably the least popular of the DVC resorts, but sometimes it's the only one left with villas available during peak times. That's not to say it's not worth booking a room here, just that it lacks some of the panache of the other Deluxe Villa resorts.

Disney's Saratoga Springs Resort & Spa

phone: +1 407 827-1100

address: 1960 Broadway

A lush country retreat capturing the heyday of Upstate New York and the Saratoga Race Course. This sprawling resort with a horse-racing theme is often overlooked but offers a wide range of views and amenities. You can get a room just steps from Disney Springs, or one that looks across Village Lake at the bright lights there. If you prefer more peace and quiet, go for a room along the Sassagoula River or adjacent to the Lake Buena Vista Golf Course. Either way, you'll be within walking distance of the relaxing and rejuvenating services at Senses, Saratoga Springs' day spa.
The Treehouse Villas at Disney's Saratoga Springs ResortThese treehouses—octagonal cabins on stilts—deviate from the normal villa layouts, sleeping nine in 1,074 square feet (100 sq m) of space. The unique setting and rustic atmosphere, along with the novelty of the elevated treehouses, mean you'll have to get lucky, or know a DVC member, to get a reservation.