Walt Disney World/Epcot
At
Epcot
, you can visit Mexico, France, and China, all in the same afternoon; survive crash tests in an experimental car; soar around the world with the wind in your hair; and learn all about human achievement and international cooperation.
Comprising
World Showcase
and
Future World
, this expansive theme park is located in the heart of the
Walt Disney World Resort
, close to several luxurious hotels as well as the dining and entertainment district called
Disney's BoardWalk
.
Understand
"To all who come to this place of Joy, Hope and Friendship—Welcome. EPCOT is inspired by Walt Disney's creative vision. Here, human achievements are celebrated through imagination, wonders of enterprise and concepts of a future that promises new and exciting benefits for all. May EPCOT Center entertain, inform and inspire and above all, may it instill a new sense of belief and pride in man's ability to shape a world that offers hope to people everywhere." — E. Cardon Walker, October 24, 1982
Walt Disney World
's second theme park opened October 1, 1982, as
EPCOT Center
, joining the
Magic Kingdom
. Often likened to a "permanent world's fair", Epcot is divided into two distinct areas,
Future World
and
World Showcase
.
World Showcase features eleven different countries, focusing on authentic food and merchandise, each one hosted by citizens of that country. Don't miss the impossibly cheesy but fun
Mexico
ride, or the inspirational
American Adventure
stage show.
Future World comprises a variety of attractions, each one highlighting one aspect of human progress. The "future" in this case is not the fantasy of the Magic Kingdom's Tomorrowland, but the promise of a future in which communication, imagination, and conservation have become mankind's foremost values.
Test Track
and
Mission: SPACE
are the most thrilling of the attractions, though
Soarin' Around the World
, a simulated hang-gliding adventure, provides thrilling visuals without the high-speed movement.
Epcot is sometimes derided as an "educational park", and though it is perhaps the most cerebral of the four theme parks, it's all presented in the usual entertaining Disney style. It's true that Epcot may appeal more to adults and older children, but young ones aren't exactly left out; they'll enjoy the
character greetings
and the
Kidcot Fun Stops
as well as the more colorful and character-filled rides like The Seas with Nemo & Friends.
Just outside Epcot's
International Gateway
is
Disney's BoardWalk
, a nightlife and shopping area themed as a mid-Atlantic beach community.
History
The name
EPCOT
was originally an acronym for
Experimental Prototype Community Of Tomorrow
, Walt Disney's last and most ambitious project. His grand vision for EPCOT was as the real centerpiece of Disney World—a living, working city of the future, with 20,000 residents using the most modern innovations in urban planning, transportation, and technology. The rest of Disney World, even the Magic Kingdom, would exist only to draw people in to see EPCOT and the promise it held for the future.
Walt died in 1966, and though the renamed Walt Disney World and its Magic Kingdom opened in 1971, EPCOT was off the table. The vision was just too grand, too ambitious, for anyone but Walt himself to see through to completion. With Walt Disney World an unmitigated success, though, the company soon began developing concepts for a second theme park, and naturally turned to Walt's original vision for inspiration. When two competing proposals—one for a set of pavilions highlighting the history and future of human progress, and the other for an international plaza that showcased cultures and cooperation—became the leading candidates, someone pushed the two scale models together to create a combined park.
EPCOT Center
was born.
That name, with which the park opened in 1982, was intended to show that the new park exhibited the ideals that were to be at the core, or center, of Walt's EPCOT. The park was renamed in 1994 to
Epcot '94
, then to
Epcot '95
a year later. The yearly numbering scheme reflected the "world's fair" theme, but it inhibited consistent branding, so in 1996 the park became just "Epcot".
While the original EPCOT concept might now seem a bit far-fetched, today's Epcot is dedicated to creating the brighter tomorrow that Walt Disney envisioned.
Get in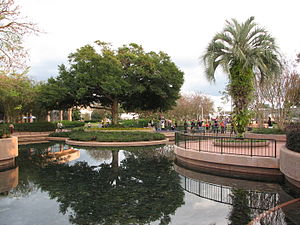 Epcot's two areas are open at staggered times. Future World usually opens at 9AM, and World Showcase at 11AM. However, the Norway and Mexico pavilions do open with Future World, due to the new and popular
Frozen
attractions in Norway. Despite being in World Showcase, the International Gateway opens at the same time as the main entrance; if you come in that way, you'll be able to walk past the United Kingdom and Canada on your way to Future World, although the shops won't be open.
In off-peak periods, some Future World attractions close down at 7PM, though the most popular "marquee" rides stay open until IllumiNations at 9PM. World Showcase almost always closes at 9PM. During peak periods, all of Epcot is generally open until 9PM.
Due to the staggered opening, Epcot's
Extra Magic Hours
work a little differently than at the other parks. Morning Extra Magic Hours allow Disney hotel guests access to the most popular Future World attractions, while evening Extra Magic Hours see a somewhat larger selection of attractions, including some in World Showcase, stay open. A number of the restaurants continue to seat guests during Extra Magic Hours as well.
By car
Epcot is in the middle of the Walt Disney World property, exactly where Walt planned EPCOT to be. Take World Drive or I-4 to Epcot Center Drive and follow the signs for the parking lot. Parking is $25 per car, although Disney resort guests can park for free—just show your resort parking pass at the toll gate.
If you're going to Disney's BoardWalk, you can park for free at the BoardWalk Inn or BoardWalk Villas. During popular events or peak periods at Epcot, parking at the Disney-owned Epcot-area resorts may be restricted to registered hotel guests and guests with reservations at the resorts' businesses.
By Disney transportation
From Hollywood Studios and Epcot-area resorts
Disney's Hollywood Studios, the BoardWalk, the Yacht and Beach Clubs, the Swan and Dolphin, and Epcot are all connected via the
Friendship ferries
. There is also a nice wide
walking path
that follows a similar route. In either case, you will enter Epcot through its back entrance: the
International Gateway
, located between the United Kingdom and France pavilions in World Showcase. Alternatively, a bus is available from the Studios that goes to Epcot's main entrance.
From the Magic Kingdom and nearby resorts
From the Magic Kingdom, the Contemporary, the Polynesian, or the Grand Floridian, take the
monorail
to the
Transportation and Ticket Center
(
TTC
). (You can also take the
ferry
from the Magic Kingdom, or walk from the Grand Floridian or Polynesian.) Transfer to the
Epcot monorail
, which runs between the TTC and the Epcot gates. When entering Epcot this way, the monorail makes a nice loop in the park before arriving at the station, giving a great aerial view of Future World and World Showcase.
From the Wilderness Lodge and Shades of Green, neither of which is connected to the monorail, it is possible to walk to the TTC. Both walks take about 10 minutes, and the walk from Shades of Green goes via the Polynesian Resort. However, the alternative and more convenient option is to take the direct
Epcot bus
.
To get to the BoardWalk, make your way to the Magic Kingdom and take the direct bus, or go to Hollywood Studios and walk or take the ferry. Taking the monorail to Epcot in this case is a bad idea, because you'll have to enter Epcot at the front and exit through the International Gateway at the back.
From other on-property resorts
From resorts not near Epcot or the Magic Kingdom, simply go to your resort's bus stop and wait for the
Epcot bus
to arrive. You will be dropped off in front of the Epcot gates.
To get to the BoardWalk, you'll need to make your way to a park and then to the BoardWalk. Disney's Hollywood Studios is the most convenient for this purpose, but late at night, you'll want to use Disney Springs.
From Animal Kingdom
From Animal Kingdom, take the direct bus to Epcot or the one to the BoardWalk.
From Disney Springs
Disney Springs does not have direct buses to the parks; you will need to make your way to a resort, then go from that resort to Epcot. The best option here might be to take the bus to the Beach Club, which is the closest hotel to the Epcot, then take the
Friendship
or the walking path to the International Gateway. Another option is to walk or take the boat to the Saratoga Springs resort, then the bus to Epcot.
If you're going to the BoardWalk, just take the direct bus.
Get around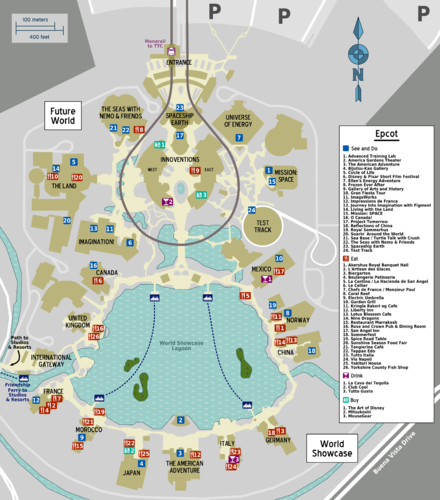 Epcot might be the easiest of the parks to get around, because it's very open and spacious. The spaciousness has a drawback, though; because the pavilions are spread out, it can be a long walk from one side of the park to the other. Spaceship Earth is visible from anywhere in the park and provides a convenient orientation landmark.
Future World
is the northern half of Epcot and where the main entrance is found. From the main entrance, Spaceship Earth is directly in front of you, with Innoventions hiding behind it. Future World East—Universe of Energy, Mission: SPACE, and Test Track—is on the left side of Future World. Future World West is on the right and comprises The Seas with Nemo & Friends, The Land, and Imagination!
Go past Spaceship Earth and through Innoventions Plaza and you'll see the World Showcase Lagoon front of you, with the eleven nations of
World Showcase
arrayed around the far shore. From left to right (east to west), the pavilions are Mexico, Norway, China, Germany, Italy, The American Adventure, Japan, Morocco, France, the United Kingdom, and Canada. The
International Gateway
, Epcot's "back entrance", is between France and the United Kingdom; exit here to get to the BoardWalk and the other Epcot-area resorts, or to Disney's Hollywood Studios.
The World Showcase Lagoon has a circumference of roughly a mile. To make a long trip short, there are two more
Friendship
ferries (yes, just like the ones you took to get here from Hollywood Studios or the resorts) that traverse the lagoon.
See and do
When it opened, Epcot had no thrill rides at all. Although that's been changing, you'll find that the majority of attractions are still fairly sedate dark rides or straightforward films. That's not to say they're not worth doing, but you're in the wrong park if you just want to get your adrenaline pumping. Epcot does have two high-octane thrill rides, Test Track and Mission: SPACE, while Soarin' offers excitement in smaller doses.
FastPass, the system that allowed you to go to an attraction and get a ticket to come back later and skip the standby queue, is no longer available. All Epcot guests will be using
FastPass+
, where you choose your own return time for each of three attractions. FastPass+ queues are available for
virtually every ride in the park
, along with some shows, character greetings, and IllumiNations. Note that Test Track, Soarin', Frozen Ever After, and Mission: SPACE have been known to have wait times of
over two hours
during peak seasons, making FastPass+ reservations very worthwhile. On the other hand, FastPass+ could be used to get into a preferred viewing location for IllumiNations; choose carefully!
FastPass+ kiosks are located in Innoventions Plaza, at the Character Spot in Innoventions West, in the Innoventions East breezeway, and at the International Gateway. Cast members will be nearby if you need help. If you're staying at a Disney resort, you can also use a smartphone with the
My Disney Experience
app to schedule your FastPass+ reservations.
For parade and stage show performance times, which change daily, please see the
Guide Map
and the
Times Guide
you'll receive when you enter the park. You can also check the
Wait Times Board
in Innoventions Plaza, which lists current wait times for rides and show times for shows.
The

denotes rides with safety restrictions. See
Stay safe
in the main Walt Disney World article for more information.
Future World
Future World is an almost park-like setting, with broad expanses of grass and/or water separating the impressively large pavilions. Each pavilion is a monument to one area of human innovation, from communication and imagination to energy and transportation. Inside the pavilions you'll find some combination of a showcase ride, a theater presentation, and/or an activity area with a number of smaller hands-on exhibits. Each pavilion can be done in 30–90 minutes, depending on crowds.
Check the Times Guide to see when and where the
JAMMitors
will be playing—they're a percussion ensemble disguised as janitors, using their trash cans as drums.
Imagination!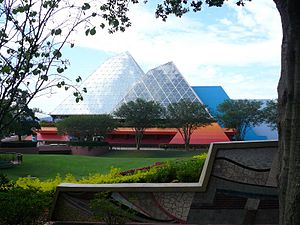 The name says it all; the possibilities of imagination are on display here. The pavilion represents the importance of new ideas and innovative thought to the progress of humanity. Be sure to check out the
jumping fountains
and the
backwards waterfall
outside.
Disney & Pixar Short Film FestivalThe pavilion's 3-D film theater is now home to a rotating selection of three Disney and/or Pixar animated short films, each enhanced for 3-D viewing and with added in-theater effects.

Journey Into Imagination with FigmentA classic Disney dark ride, starring Eric Idle and the iconic purple dragon named Figment. The ride is much improved since its 1999 revamp, but still pales compared to the original 1982 ride. Even so, it's still fun to explore the senses and what your imagination can conceive with just a little sensory push.

ImageWorksThis is an interactive play area at the end of the Journey Into Imagination ride, allowing you to put into practice some of the imaginative ideas you saw in the ride. You'll explore the senses of sight and sound, using your imagination to take those sensory inputs and create something new.
Innoventions
Divided into two buildings, Innoventions East and Innoventions West, this pavilion sits in the middle of Future World, with the fabulous
Fountain of Nations
in its central plaza. Innoventions, developed to replace the opening-day pavilion,
CommuniCore
, was intended to contain a constantly-changing series of hands-on exhibits featuring the latest in cutting-edge technology and how it's finding its way into every aspect of our lives. Today, though, the pavilion has been reduced to a shell of its former self. Only one exhibit remains:
Colortopia
, presented by Glidden paints, located in Innoventions East.
Some space in Innoventions West is used for character meet-and-greets. And MouseGear and the restaurants are still around, too.
Fountain of NationsThis large show fountain was christened in 1982 with water from 22 different nations. Every 15 minutes, it presents one of several music-synchronized shows; its powerful jets spray water up to 150 feet in the air. If it's windy, you may get damp.
The Land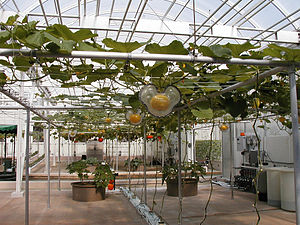 Perhaps the pavilion that most closely resembles Walt's original EPCOT concept, The Land is more than just a set of theme park attractions. The rear of the pavilion is actually a large working
greenhouse
, and it grows much of the food served at the pavilion's restaurants (and some items for other restaurants throughout Walt Disney World). The greenhouses are also involved in agricultural research, exploring new ways to grow food more efficiently.
phone: +1 407 939-8687

A one-hour guided walking tour through the greenhouses. More informative and in-depth than the Living with the Land boat ride, but it costs extra.

Living with the LandA slow-moving educational boat ride through Disney's hydroponic and aeroponic greenhouses, with a lesson on how we can live in peace with the land.

Soarin' Around the WorldA simulated aerial flight over beautiful landscapes and majestic landmarks from throughout the world. This is more than just a movie, though—your feet will be dangling with apparently open sky below, and you'll feel the wind in your face and smell the ocean as you fly overhead. Likely the most popular ride in the park, so you'll probably want a FastPass (although the standby queue does have some interactive shadow-games to while away the time).
Mission: SPACE
Mission: SPACEA centrifugal flight simulator lets you feel what it would be like to train for a journey to Mars, but it's not just a passive ride—you and the others in your capsule have tasks to do during the flight. The spinning of the centrifuge is effective at generating g-forces, but it can induce motion sickness (bags are available). It helps if you keep your head back against the headrest and focus on the images on the screen, which show straight-line acceleration; looking away removes the visual cues and makes it feel more like rotation. If you really want to avoid the spinning and the g-forces, look for the "Green Team" queue, which will put you in a capsule that doesn't spin; it's still a fun ride but not as thrilling. Gary Sinise appears as your mission controller.

Advanced Training LabIf you didn't get enough training on the ride, try this interactive area with games and displays that highlight some of the challenges and innovations of space exploration. Mission: SPACE Race is especially fun, with large teams racing their spacecraft back to Earth using teamwork and puzzle-solving.
The Seas with Nemo & Friends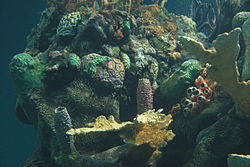 The
aquarium
within this pavilion was once the largest saltwater aquarium in the world; it's still impressively huge. Like the greenhouses at The Land, this is more than just a theme park attraction—the aquarium staff is engaged in research that is helping to maintain marine environments and protect ecosystems around the world. Two rescued West Indian
manatees
, members of one of Florida's most critically endangered species, can be found here.
The Seas with Nemo & FriendsThe title attraction is a slow-moving but cute ride; the finale uses state-of-the-art display technology to show characters from Finding Nemo swimming with real fish. After the ride, you'll head into the Sea Base.

Sea BaseThis is a representation of an underwater base and serves as the primary viewing location for the main aquarium. Turtle Talk with Crush is located here, along with a number of exhibits and displays typical of what you might see in other aquarium buildings. One of the best sights into the aquarium is from a circular platform that sticks out into the tank, so you're surrounded by fish on almost all sides. Aquarium staff give presentations periodically, including dolphin training sessions.

Turtle Talk with CrushPart of Disney's Living Character Initiative, this is an interactive show featuring the sea turtle character. Kids get to ask Crush questions, and he responds in real time. Great fun, especially for young kids, but very popular.
Tours
There are a number of
tours
that get you out of the normal guest areas and in close on the aquarium and its inhabitants. Call +1 407 WDW-TOUR (939-8687) to book a tour. No park admission is required for these tours; you'll meet outside the gates and be escorted into the backstage area of The Seas pavilion.
DiveQuestThis is a special opportunity for certified SCUBA divers only. This is the tour that really lets you get down into the aquarium and swim among the fish, sharks, turtles, and more. That also means you become part of the show, as the land-lubbers inside Sea Base and in the Coral Reef restaurant will be waving at you; make their day by waving back. All diving equipment is provided. 2.5 hours, 30 minutes of which is in the water. Must be 10 or older and have proof of SCUBA certification.

Dolphins in DepthLearn about the aquarium's dolphin population, including how they're being trained and the research that's being done to learn more about them. Then get waist-deep in the aquarium for a chance to interact with the dolphins themselves (though contact is not guaranteed; the dolphins can choose whether or not to participate). Wetsuits provided. 3 hours. Must be 13 or older.

Seas Aqua TourA rare chance to snorkel along the surface of the giant aquarium. Learn about the dozens of species in residence, then view them up-close as you swim along. The snorkel system uses supplied air; instruction and wetsuits provided. 2.5 hours, 30 minutes of which is in the water. Must be 8 or older. No park admission required.
Spaceship Earth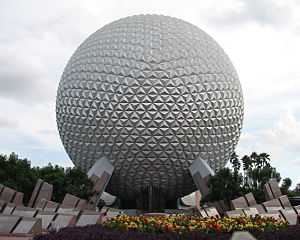 Yes, the ride really does go all the way up to the top inside that giant "golf ball", the geodesic sphere that is the icon of Epcot. This pavilion is centrally located because its focus is on human communication, without which all of the other innovations in Future World would be meaningless.
Spaceship EarthThis dark ride through the history of communication was revamped in 2007 with new scenes and new narration by Dame Judi Dench, but its message is the same as it was when it first opened in 1982: communication is the key to all human achievement. Kids might get bored; keep them occupied looking for humorous vignettes scattered among the Audio-Animatronic scenes.

Project TomorrowAfter riding Spaceship Earth, you'll end up here. This space houses several inventive games based on technology from communications company Siemens AG, which sponsors the pavilion.
Test Track
Test TrackGet an idea of what it might feel like to be a crash-test dummy in this unique thrill ride. Start off by designing your own custom test vehicle, then hop into one of the pre-built cars for a ride through the testing course. Your custom design gets put through its paces, virtually, at the same time as the "real" test vehicle—with you inside. Perfectly safe, but the 60 mph (100 km/h) speed your car gets up to feels a lot faster. Lots of fun and extremely popular; you'll probably want a FastPass+ reservation. Because the cars seat six, there's often room left over from parties of two or four; the single-rider line, from which the cast fills those spaces, can get you on the ride quicker if you don't mind splitting your party.
Universe of Energy
As of August 2017, Universe of Energy is indefinitely closed. The building will open in 2021 as a
Guardians of the Galaxy rollercoaster
.
World Showcase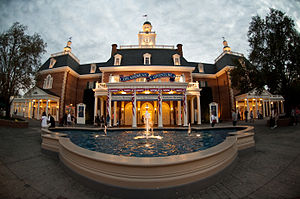 World Showcase is the back area of the park, with pavilions representing eleven countries from around the world, all themed with architecture, food, drink and culture to match. Most of the pavilions have a ride or a film (or both) designed to highlight the nation's attractions, but the real attractions are sampling the authentic food, conversing with the cast members who come from each nation, and browsing the imported goods.
World Showcase is where you'll find the
International Gateway
, Epcot's back entrance, located between the United Kingdom and France pavilions. If you're coming in from Disney's Hollywood Studios, the Swan/Dolphin, Yacht/Beach Clubs, or BoardWalk, you can walk or take the ferry to Epcot and enter here.
Each of the pavilions will have some sort of entertainment occurring periodically throughout the day, from jugglers and "living statues" to musical groups and dancers. Some of the highlights are noted below, but check your Times Guide for the details of what's happening on any particular day.
I can show you the world
Some of your favorite Disney characters can be met at their respective home countries represented in World Showcase. A few examples:
United Kingdom: Winnie the Pooh
France: Beauty and the Beast
Morocco: Aladdin
Italy: Pinocchio
Germany: Snow White
China: Mulan
Norway: Anna and Elsa
Mexico: The Three Caballeros
Mexico
The
Mexican
pavilion is dominated by a pyramid, loosely modeled after the pre-Columbian pyramid in
Teotihuacan
known as the
Temple of the Feathered Serpent
, dating back to 150-200 CE. Its use is still a mystery, but more than 200 sacrificial burials have been found around the original temple. The head of the mythical serpent creature
Quetzalcoatl
has been included in this replica along the entrance stairs. Inside the pyramid is a nighttime square with stars twinkling above, some Spanish-era colonial buildings, a restaurant, and a market selling various Mexican items.
Gran Fiesta Tour Starring The Three CaballerosA much-needed update to this gentle boat ride added the Three Caballeros, from the 1944 Disney film of the same name. Join Panchito and José Carioca on a gentle boat ride across all of Mexico, searching for Donald Duck, the last member of the trio, who has been distracted by all the commotion and gone missing.
The Mexico pavilion is opening early, along with Future World, to accommodate overflow from Norway.
Norway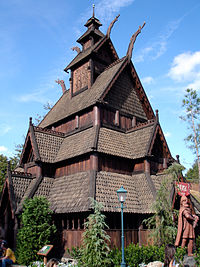 This area is built as a square representing a few
Norwegian
towns. The fortress-like restaurant building is modeled and named after the Akershus fortress in
Oslo
, guarding the sea approach to the city. The huge wooden church, which hosts rotating exhibits, is a replica of the traditional Stave Church in
Gol
in Western Norway, dating back to 1212; the original is one of very few surviving ancient wooden churches left in the world. The current exhibit is
Norsk Kultur, Inspiration for Disney's Frozen
.
Speaking of
Frozen
, that's pretty much all you'll see in the Norway pavilion these days. Although the film was set in the fictional kingdom of Arendelle, the artists took most of their inspiration from the people, landscapes, culture, and architecture of Norway.
Frozen Ever AfterRide a Scandinavian boat through the waterways of Arendelle, in a continuation of the story from Frozen. Opened on June 21, 2016 and replaced the former Maelstrom attraction, utilizing the same ride vehicles and a similar track layout. Very popular.

Royal SommerhusMeet Anna and Elsa in their royal summer house. The house's design is based on traditional Norwegian log cabins.
The Norway pavilion opens at the same time as Future World, two hours before the rest of World Showcase.
China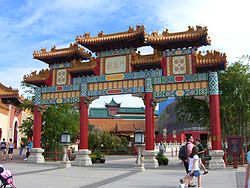 Walk through the large
Paifang
gate. These gates were used in ancient
China
to mark entry into a new division (called
Fang
in Chinese), and this gate at Epcot is modeled after one in
Beijing
's summer palace. The courtyard is dominated by a large recreation of the
Temple of Heaven
in Beijing; it was used by the emperors to pray for a good harvest. The 12 columns supporting the roof represent the 12 months of the Chinese year, and the four columns in the center represent the four seasons. Many of the smaller buildings are recreations of the Forbidden City, also in Beijing. If all the Asian culture gets you in a meditative mood, the rough Chinese gardens are one of the most peaceful spots in Epcot.
Germany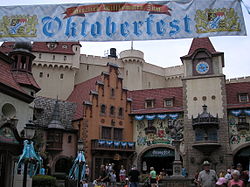 Germany
is a federation of 16 states, each with a separate and distinct culture and identity. The architecture of the German pavilion reflects styles from various regions of the country; for example, the
Biergarten
restaurant is
Bavaria
, but the statue of St. George slaying the dragon represents the state of
North Rhine-Westphalia
. Of course, the influence of German architecture on Disney parks goes all the way back to 1955; Neuschwanstein Castle in Bavaria, commissioned in 1869 by King Ludwig II, was the inspiration for Disneyland's Sleeping Beauty Castle.
There are no rides here, and the only show is the band inside the Biergarten, but there's plenty of shopping to be had.
Italy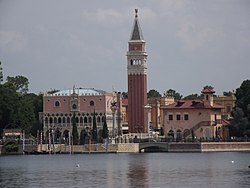 The
Italian
pavilion is a scaled-down replica of St. Mark's Square in
Venice
, right down to the bell tower (one-fifth scale) and the gondolas floating in World Showcase Lagoon. The original Doge's Palace makes heavy use of marble; Disney recreated the effect with fiberglass. In addition to the Venetian architecture, a stucco building with tile roof represents
Tuscany
.
The pavilion has no rides or theater shows; the main attractions are the shops and the restaurants. You might also catch the
World Showcase Players
performing their audience-participation comedy skit
Kiss Me Shrew
. You can also see a flag-throwing show called
Sbandieratori Di Sansepolcro
, several times daily.
The American Adventure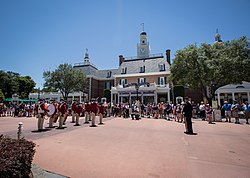 The
United States of America
pavilion is housed in a building inspired by the colonial period of the 18th century. Inside, keep an ear out for the legendary harmonies of the
Voices of Liberty
a capella
chorus, performing throughout the day; they're rightfully considered the pinnacle of Epcot entertainment. Check the Times Guide for details.
The American AdventureIt turns out that the best show in World Showcase is the one for the host nation. This inspirational and informative presentation combines film and Audio-Animatronics to take you through every era of American history, with Ben Franklin and Mark Twain as your hosts. Don't mistake this show for the Hall of Presidents; the latter is impressive for putting 43 presidents on stage at the same time, but The American Adventure has a wider variety of on-stage effects and scenery. The theater is cavernous (and air-conditioned) but never crowded.

American Heritage GalleryInside the pavilion is this exhibit space, which changes occasionally to spotlight different aspects of American art or history. The current exhibit is "Re-Discovering America: Family Treasures from the Kinsey Collection", which focuses on African-American people and history.

America Gardens TheaterAcross from the main building, on the shores of the lagoon, is this amphitheater, where any number of events might be scheduled. Check your Times Guide for details.
Japan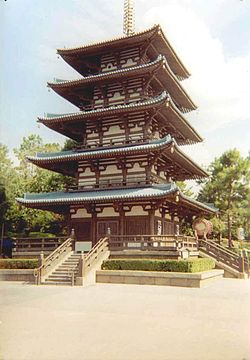 Mitsukoshi, a Japanese retailer founded in 1673, is the sponsor of the
Japan
pavilion. All the touristy classics of Japan are recreated, in a way that has little to do with reality. Start your visit by walking through the Torii gate. In Japan you walk through these gates before entering a Shinto shrine, to mark the passing into the spiritual world. The five-story
Goju-no-to
Pagoda was inspired by the Horyuji Temple in
Nara
, Japan's ancient capital. Rather oddly, it is named after the five Chinese elements, but built in five stories to represent the 5 Japanese elements: Earth, Water, Fire, Wind and Void. Surrounding it all is a large Japanese inspired garden, complete with koi fish swimming around in the ponds.
Bijutsu-Kan GalleryInside this replica of the White Heron Castle, modeled after part of the famous Himeji castle in Japan, are changing exhibits on Japanese culture. The current exhibit is "Kawaii: Japan's Cute Culture", which examines the historical roots and modern examples of the Japanese kawaii aesthetic.
Morocco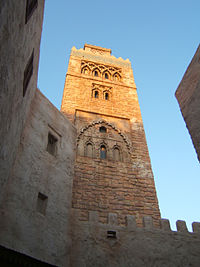 Morocco
's is the only pavilion sponsored by a government. King Hassan II was heavily involved in the construction, and he dispatched native craftsmen to build the pavilion. The minaret (or tower) towering over the area is a recreation of the unique
Koutoubia Minaret
in
Marrakech
, which has inspired thousands of church towers across Europe. In Muslim countries priests call for prayers (
fard
) from these towers five times a day. The pavilion also holds a small recreation of parts of the
Chellah
necropolis, a burial place located in
Rabat
that is actually an ancient Roman structure. There is also a replica of the
Nejjarine fountain
in
Fez
, a very intricate mosaic fountain. Also from Fez, the evenly-tiled
Bab Boujouloud gate
marks the border between the old town (the Medina) and the new town. Inside the Medina, there is a bustling market place, or
bazaar
. Because many of the structures, even as replicas, holds great religious significance to Muslims, the buildings are not lighted during the IllumiNations show.
Gallery of Arts and HistoryThis gallery features exhibits of Moroccan science, music and technology.
France
The
French
pavilion re-creates a
Paris
street scene, complete with a miniature Eiffel Tower that uses forced perspective to appear as if it's off in the distance. Designed to represent Paris during
La Belle Epoque
, the pavilion features many of the typical Parisian sights—a sidewalk cafe, beautiful fountains, and distinctive architecture. There's a park, next to the International Gateway canal, based on Seurat's
A Sunday Afternoon on the Island of La Grande Jatte
.
Le Petit Rue
, The Little Street in the back of the pavilion, represents rural France.
The
World Showcase Players
stop by France now and then, performing their comedic audience-participation skit,
Cyranose de Bergerac
.
Serveur Amusant!
is a humorous acrobatic show played out on the street of the pavilion five times a week.
Impressions de FranceA travel movie through the French countryside with a classical music soundtrack.
United Kingdom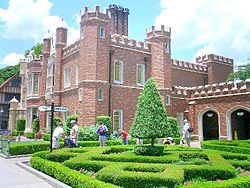 This pavilion's street contains one building for each century of
British
history. The largest structure, a recreation of the royal
Hampton Court Palace
in southwest
London
, is massive patchwork of different periods' architecture, since it was successively expanded to compete with the French palace of
Versailles
. Elsewhere the adorable little thatched roof house is a model of Anne Hathaway's cottage in
Stratford-upon-Avon
. Anne was the wife of William Shakespeare. There is also a traditional hedge maze, modelled after the
Somerleyton Hall Maze
in
Lowestoft
, which dates back to 1846. Don't forget to get a photo of yourself in front of the iconic red British phone booths.
A couple of musical groups can be found gracing the United Kingdom stage.
Quickstep
is a quartet playing traditional but up-tempo Irish, Scottish, and English melodies. The
British Revolution
is a tribute band playing "British Invasion" pop and rock music from the 1960s and 70s. Check the Times Guide for the schedule.
Canada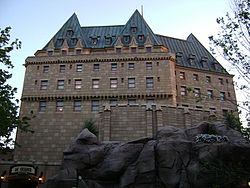 The mountains, Indigenous wood carvings, and the (fake) hotel all represent various regions of
Canada
. Victoria Gardens was inspired by Butchart Gardens in
Victoria
in British Columbia, while the
Hotel du Canada
features a 19th-century chateau-style design. Around the base of the hotel is a village-like atmosphere evoking the
Maritime Provinces
. The totem pole outside the Trading Post was carved in 1998 by David Boxley, working "on-stage" in front of guests at the Canada pavilion; the other two (also by Boxley) were added in 2017.
O Canada!A Circle-Vision 360 travel movie, named after Canada's national anthem and narrated by Martin Short.
Between the United Kingdom and Canada pavilions is the Mill Stage, home to folk band
Alberta Bound
.
Parkwide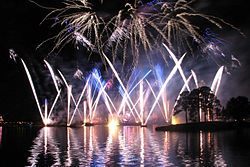 Agent P's World Showcase AdventureAn interactive adventure, designed to be both entertaining and educational. Agent P, the secret-agent platypus from Phineas and Ferb, needs your help. Your assignment: save the world from Dr. Heinz Doofenshmirtz in adventures across seven World Showcase pavilions (Mexico, Norway, China, Germany, Japan, France, United Kingdom). Pick up your FONE communications device at locations throughout the park.
Where to watch IllumiNations
Try not to worry too much about finding the ideal viewing location for Epcot's fireworks show; Reflections of Earth can be enjoyed from just about any location around World Showcase Lagoon. You might struggle to see a few small parts of the show from certain vantage points, but you won't miss anything essential as long as you can see most of the lagoon. The shore closest to Future World is always packed with spectators, including up to the United Kingdom on the west side and Norway on the east; as you get further around the lagoon, though, crowd density decreases. Try, for instance, the space between Germany and the Outpost, which provides an excellent view of the spectacle but is often nearly empty just 15 minutes before showtime. Some areas (particularly promontories) that you may have earmarked as good viewing spots earlier in the day are often closed off for large parties and corporate events, while some locations (marked on guidemaps) are reserved for disabled visitors. Restaurants with a view of World Showcase Lagoon—particularly the Rose & Crown Pub and La Hacienda de San Angel—fill up quickly around IllumiNations time, so ADRs are virtually required (and very hard to get).
IllumiNations: Reflections of EarthAt park closing, enjoy this extravagant display of fireworks, lasers, fountains and electric lighting over World Showcase Lagoon.

Kidcot Fun StopsDesigned for preschoolers, there are 13 of these craft stations throughout the park; there's one at each World Showcase pavilion, plus one at The Land and one at The Seas with Nemo & Friends. Kids can meet cast members from around the world and decorate paper-puppets of Duffy the Disney Bear (or Agent P) with elements specific to each location. Great fun for the littlest visitors, and it allows them to connect with the message of Epcot in a way more suited to their level of understanding.
Tours
Some very popular
tours
are available at
The Land
and, especially, at
The Seas with Nemo & Friends
. There is also a park-wide tour. All tours can be booked by calling +1 407 WDW-TOUR (939-8687).
For the park-wide tour, you will need separate admission to the park.
The UnDISCOVERed Future WorldA lengthy walking tour around all of Future World, including some backstage areas. Learn about the history and design principles behind each pavilion, meet an International Ambassador, and see how things are done behind-the-scenes. 4–4.5 hours. Must be 16 or older.
Annual events
Epcot is home to three annual
festivals
, several
concert series
, and an annual
holiday presentation
. The festivals provide things to see and do (and eat!) throughout the park, while the Candlelight Processional is a nightly event at one location. All are quite popular; some people make it a point to attend one or more of these each year, sometimes without even visiting the rest of Walt Disney World. The concert series are more of a bonus to visitors who are already there (in particular, three of them coincide with the festivals) but if the timing's right, you're in for a treat.
Candlelight ProcessionalEvery night between Thanksgiving and New Year's, a celebrity narrator reads the Christmas story accompanied by a 50-piece orchestra and a choir. Narrators have included Geena Davis, Edward James Olmos, Neil Patrick Harris, and Marlee Matlin, and dozens of others. Disney's theatrical flair is applied well to this celebratory but sedate event.

Epcot International Festival of the ArtsEpcot's newest festival debuted in 2017, with a focus on the visual and performing arts (and, of course, plenty of food and drink). The Disney on Broadway Concert Series brings music from Disney's theatrical productions to the America Gardens Theater stage.

Epcot International Flower & Garden FestivalWith millions of flowers on display—rotated three times during the festival to account for different blooming times—Epcot is a sight to see in the spring. Check out the butterfly garden, attend horticultural demonstrations and instructional programs, or just wander around—nearly every pavilion has a special event or feature during the festival. Weekend nights, the Garden Rocks Concert Series at the America Gardens Theater features classic and modern rock and pop musicians, with a focus on those from the 60s and 70s. Dozens of other special events are on the schedule, too many to list here.

Epcot International Food & Wine FestivalThe centerpiece of this festival is the international marketplace and promenade, with more than 25 kiosks serving dishes and drinks from six continents. Seminars, demonstrations, wine tastings, and all sorts of shopping are also available throughout the festival. The evening "Eat to the Beat!" concert series at the America Gardens Theater focuses on jazz, funk, and R&B.

Sounds Like Summer Concert SeriesTribute bands take the stage, each for a week of three shows nightly, to play the hits of favorite artists from the last fifty years. The series has featured, among others, bands playing the music of U2, Eagles, Billy Joel, and the Bee Gees.
Disney's BoardWalk
Disney's BoardWalk
is just a short walk or ferry ride beyond Epcot's International Gateway. It's a resort, yes, but the side facing
Crescent Lake
is themed as a 1920s Eastern Seaboard boardwalk, with shops, amusements, dining, and nighttime entertainment. Rent a pedaled "surrey bike" and circle the lake, purchase a caricature of yourself, watch an impromptu magic show, buy some cotton candy, or just sit on a bench and watch the people go by. Be sure to check out the
Buy
,
Eat
, and
Drink
sections for all the details.
Bayside MarinaJust around the bend from the BoardWalk is the Yacht Club's Bayside Marina, where a huge array of boats are available for rent or charter. Rental options range from single-person Sea Raycers ($24/half-hour) to 10-passenger pontoon boats ($42/half-hour). Chartered options run the gamut, from fishing and dining cruises, to a cruise down the way to Epcot to watch IllumiNations from the World Showcase Lagoon. Send the kids on a treasure-hunting pirate cruise, or customize your own excursion. (Advance reservations strongly suggested for any chartered excursion; call +1 407 WDW-PLAY to make them.)
Fantasia Gardens
phone: +1 407 560-8760

Just southwest of the Walt Disney World Swan hotel is a whimsical pair of 18-hole miniature golf courses. True to the name, the area is themed around the 1940 animated feature Fantasia. The "Fantasia Gardens" course is the more traditional of the two, with big, colorful courses and obstacles and a few special surprises to boot. The "Fantasia Fairways" course is like a real golf course in miniature—rolling fairways, sand traps, and no rails to keep your ball from going off into the rough. It's much harder, too; young kids should stick to the Gardens course or head to Winter Summerland at Blizzard Beach.
Buy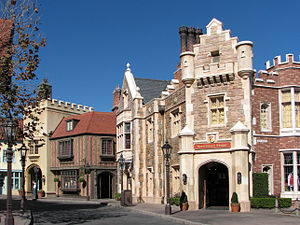 World Showcase is a
paradise of international shopping
. Every pavilion is chock-full of authentic merchandise imported from the host countries. Genuine German cuckoo clocks, British toys, Canadian maple syrup, Japanese kimonos, Chinese furniture, Mexican leathers, Italian wines—and that doesn't even
begin
to scratch the surface of what's available. The variety of items available is nearly endless. The racks are full of products normally available only overseas, including many handcrafted by native artisans. Dedicated shoppers could spend hours at World Showcase; it's safe to say there's no other place in the world that you could find goods from so many countries in such close proximity, and you can buy it all with just your U.S. credit card.
Note that in the pavilions, what appears to be multiple separate shops from the outside are usually interconnected inside and can be treated as departments of a single store. Germany, Morocco, France, and the UK have the most extensive shopping complexes.
The Givenchy ShopFrench fashion and fragrance brand Givenchy has a boutique within the pavilion's Plume et Palette store, the first shop they've opened in the United States. You'll find a variety of fragrances and cosmetics, although not Givenchy's couture clothing.

Karamell-KücheThis sweets shop specializes in caramel concoctions of every sort, from caramel corn to caramel fudge. Operated by Storck, makers of Werther's caramels, this is the only standalone Werther's retail location in the world.

phone: +1 407 827-8513

Japan's 325-year-old retail giant has only one location in North America, and this is it. Toys, cosmetics, clothing, housewares, and even food—everything you'd expect from a department store, all imported from Japan.

Wandering ReindeerThis shop dedicated to all things Frozen is located at the exit from Anna and Elsa's Royal Sommerhus.
Some World Showcase stores, including Mitsukoshi, sell real
knives
and
swords
. For safety, these stores are
required
to ship such purchases to your home (free to U.S. addresses).
While World Showcase is like a huge international shopping plaza, Future World is considerably less interesting to the intrepid shopper. It has only two stores of note:
The Art of DisneyA store for Disney art lovers; illustrations, paintings and sculptures range from $25 prints up to $5000+ statues.

Mouse GearDisney experts say this is the best gift shop on the entire property. It's not as big as World of Disney at Disney Springs, but it's plenty big enough... and less crowded and cluttered to boot. You can find almost any kind of character or park souvenir here.
The Mission: SPACE, Test Track, Imagination!, and The Seas with Nemo & Friends pavilions have smaller themed gift shops.
Epcot-area resorts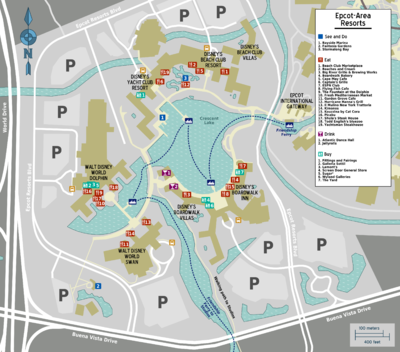 Resort shops are generally open from mid-morning until late at night, though this can vary seasonally.
Disney's BoardWalk
There are a number of small shops and boutiques scattered along the
BoardWalk
. A couple of the more notable:
Screen Door General StoreA small but adequate general store with enough supplies to stock a kitchen in the BoardWalk or Beach Club Villas. Prices aren't great, but you're paying for the convenience.

phone: +1 407 560-8750

Underwater-themed prints and paintings, featuring the work of the artist Wyland. Very expensive, but very beautiful to browse.
Other resorts
Each of the resorts has a small sundries shop with essentials you might need during your stay and resort-branded merchandise. The
Walt Disney World Dolphin
, though, has a number of other shops with upscale merchandise.
Fittings & FairingsNautical wear from big name brands like Polo and Nautica.

Galleria SottilHigh-end artworks from Luis Sottil and others.

Lamont'sAn upscale boutique selling high-end resort wear, like Ralph Lauren swimsuits and handmade jewelry.

Sugar³Chocolates and candies. Yum!
Eat
As with their shopping options, the international flavors of the World Showcase pavilions really come to the fore when it comes to dining. Each of the World Showcase pavilions (except the United States) has a table service restaurant, featuring authentic dishes prepared by native chefs. In addition, some of the restaurants even have live entertainment, such as
belly dancing
in the Morocco pavilion or
teppanyaki
cooking in the Japan pavilion. World Showcase restaurants are almost universally among the most popular at Walt Disney World, due to their authentic cuisines; Advance Dining Reservations are highly recommended, at least for evening dining.
Future World pales in comparison, dining-wise, but there are still a few good options. The resorts are loaded with great restaurants, including two "Signature Restaurants".
See
Eat
in the main Walt Disney World article for information on the Disney restaurant pricing system, character dining, dietary restrictions, and advance dining reservations. The telephone numbers below are for extraordinary circumstances
only
; for reservations and most health or diet issues, call the main Disney Dining number at +1 407 WDW-DINE (939-3463).
Please note that exact opening and closing times may vary with the park hours—and that World Showcase's operating hours are generally two hours later than Future World's. Check your Times Guide for official restaurant hours. Breakfast is usually served until 10:30AM, and dinner usually starts between 3:30PM and 4:30PM.
Counter service
Electric UmbrellaNothing special here, just burgers and chicken. High capacity, centrally located.

Sunshine Season Food FairThis might be the best food court at Walt Disney World, with a wide variety of fresh, healthy selections that are a little more interesting than the typical counter-service fare. Choose from Asian entrees, soup & salad, sandwiches, grill items, and baked goods. The fruits and vegetables come straight from The Land's greenhouses.

La Cantina de San AngelAn old favorite is reopening after renovations to create La Hacienda de San Angel. La Cantina focuses on simple, quick, but authentic Mexican tacos. Open for breakfast as of Summer 2016, to accommodate crowds headed to Norway for the new Frozen ride.

Kringla Bakeri og CafePrimarily a bakery, but you can also find some sandwiches here, including peanut butter and jelly for the kids. The rice cream (yes, rice), and the Kringla Sweet Pretzels are unique treats.

Lotus Blossom CafePotstickers, egg rolls, fried rice... you get the idea.

SommerfestBratwurst, Black Forest cake, traditional German beers.

Liberty InnThe American Adventure has no table-service restaurant, instead choosing to represent local cuisine with this: the American fast-food restaurant. Burgers, chicken, and pulled pork are supplemented by veggie burgers and at least one kosher option.

Katsura GrillThe former Yakitori House has been given a bright and airy facelift, and a new name (since they stopped serving yakitori, or grilled skewers of chicken, years ago). The menu is basically the same: teriyaki chicken, sukiyaki beef, California rolls, and combinations thereof. Edamame and okonomiyaki (a savory pancake) are among the new additions.

Spice Road TableTapas-like samplers and small plates allow curious visitors to try out a variety of Mediterranean dishes, all with a good view of the Lagoon. Don't be fooled by the high prices, though; the portions really aren't very big. No Dining Plan.

Tangierine CaféMediterranean specialties: shawarma or wraps featuring lamb and chicken, hummus, couscous on side, and falafel.

Boulangerie Patisserie les HallesThis bakery presents an array of fresh-baked pastries and treats. Ham and cheese sandwiches and quiche are available if you want something you could call a meal. It opens early, at the same time as Future World, so grab some breakfast and enjoy sightseeing around France before the crowds arrive.

L'Artisan des GlacesFreshly made artisan ice cream and sorbet—with some unique French topping choices.

Yorkshire County Fish ShopThere's only one entree on the menu here—fish and chips. Even though the food comes from Harry Ramsden's, the venerable UK restaurant chain, the quality is rather disappointing. For good fish and chips, Cooke's in Disney Springs beats this hands down.
Table service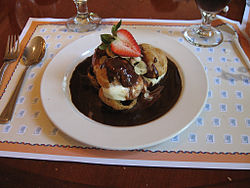 Note: if two prices are separated by a slash, the second price is for children ages 3–9.
Coral ReefDon't go in the main entrance of the pavilion; head around to the right and find the side entrance that leads to this unique restaurant. Here you can eat with the fishes (and the occasional diver), in a dining room that shares a wall with the main aquarium tank; huge windows let you see the action while you eat. Let the cast members know if it's a special occasion, and they'll try to seat you up close.

Garden GrillRevolving circular restaurant above the Living With The Land ride. "Chip 'n Dale's Harvest Feast" is the name of the meal here, featuring home-style meat-and-potatoes food served family-style, much of it grown right there in The Land's greenhouses. In addition to Chip 'n Dale, you'll find Pluto and Farmer Mickey coming by to say hello. Despite the characters' presence, it's fairly quiet due to the shape of the restaurant, with the seating arrayed around the perimeter and the kitchen in the middle.

La Hacienda de San AngelFresh taco shells and fresh salsas (including tomato, pepper, and mango salsas) lend authenticity to this brand new eatery. If you just want something small, try the appetizer-sized tacos! It's expected to be very popular at night due to the lovely view of the lagoon and IllumiNations.

San Angel InnIt's always twilight at this "outdoor" cafe, providing a romantic atmosphere any time of day. For people-watchers, the Gran Fiesta Tour ride floats right past the dining area. The menu has a wide variety of entrees prepared with traditional Mexican spices and sides.

Akershus Royal Banquet HallThe Royal Banquet Hall is the best place in Epcot to see the Disney Princesses, but you'd better bring an Advance Dining Reservation if you want to get in. The Princess Storybook meals—breakfast, lunch, and dinner—are exceedingly popular. A select number of Disney's Princesses will be on hand to chat and pose for pictures. The food is served family-style.

Nine DragonsThis restaurant features diverse cuisines from all corners of China, from Szechuan to Mandarin. The food is authentic but not too exotic; even non-adventurous diners should be able to find something they can eat here.

BiergartenIt's eternally Oktoberfest inside the Biergarten, where a grand German all-you-can-eat buffet awaits. The spread is magnificent, with virtually any German dish you could name available in some form or another. Grab a plate and a beer, and sit down for some rousing "oom-pah" music from the stage; if you can stop eating long enough, you can even sing along. This is the place for boisterous, extravagant fun, not a quiet, relaxing meal.

Tutto ItaliaThe name means "all of Italy", and that describes the cuisine here: from the heavy bolognese sauces of the north to the lighter oil and garlic of the south. Quite popular, since it's probably the best Italian restaurant on the property.

Via NapoliThis brand-new eatery focuses on wood-fired pizza crafted in the traditional Neapolitan style—right down to the hand-made mozzarella, the mineral content of the water, and the flour imported straight from Naples. Most Americans have never had pizza this good. Check out the sculpted faces on the three pizza ovens, named after Italy's three active volcanoes: Etna, Vesuvio, and Stromboli.

Teppan EdoThis is a teppanyaki steakhouse, where chefs grill up your meal right next to your table, providing a little entertainment before you eat. They're friendly and will enjoy interacting with you as they show off their skills.

Restaurant MarrakeshKebabs—with beef, chicken, or lamb—and couscous are the specialties here. True gourmands (with large stomachs) can try the Marrakesh Royal Feast, which includes soup, chicken, lamb, couscous, and several breads for $43. Those who prefer different sensory delights can watch the belly dancing demonstrations.

Chefs de FranceA classic French brasserie: white linen, fine French cuisine, and a detailed wine list. Oh, and don't freak out if you see a rat—that's just Remy from Disney/Pixar's Ratatouille, coming around to see how you like your meal.

Monsieur PaulJust in case Chefs de France isn't quite fancy enough for you, Chef Paul Bocuse has created a new experience for those interested in the pinnacle of gourmet cuisine. The wine list is said to be extraordinary.

Rose and CrownAn old-fashioned English pub with dining room; the pub side is a bit livelier. All the stereotypical English meals are on the menu, from fish and chips to bangers and mash, and other dishes not joined by "and". There's a vegetable curry for a slight taste of India, too. This is a popular place around closing time, as the outdoor patio offers great views of IllumiNations.

Le CellierLe Cellier has a reputation for great steaks, and although some might dispute that reputation, there's no disputing that the restaurant draws a big crowd. It seems like everyone wants to eat here at least once per trip, so getting a reservation is as tricky as it is for character meals. If you can get in, though, you'll enjoy a variety of hefty meat entrees in a cozy wine-cellar setting. The free breadsticks—sourdough, multigrain, and pretzel—are to die for.
Disney's BoardWalk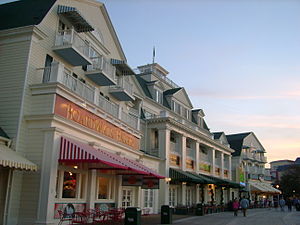 Here you can find plenty of traditional boardwalk fare: corn dogs, cotton candy, funnel cakes, popcorn, ice cream, and so on. If you're in the mood for something more substantial, though, you have a wide range of restaurant options, too.
Ample Hills CreameryDesign your own sundae or grab a milkshake.

Big River Grille & Brewing Works

phone: +1 407 560-0253

This chain restaurant is one of those that's just what it says on the sign—in this case, a casual grill with a working microbrewery. You can even take a look into the glass enclosures to watch the brewing process as it happens. No ADRs are accepted for this restaurant; it's strictly first-come, first-served.

Boardwalk BakeryNewly expanded, the bakery is best known for its snacks, in the form of breads, sweets, and pastries... but their hot meal options are much more extensive now. Sandwiches, wraps, paninis, and the like are available in both breakfast and lunch styles.

ESPN Club

phone: +1 407 939-1177

A sports-themed bar and grill, but there's a whole lot more to do than eat. Watch the big game (over 100 screens to choose from), play video games right at your table, or shop for sports-themed merchandise; there's a little bit of everything in here. It does get crowded, especially if there's a big event to watch on TV (including any Sunday afternoon or Monday night during the football season). No ADRs are accepted for this restaurant; it's strictly first-come, first-served.

Flying FishAn upscale seafood restaurant, the Flying Fish features an open show kitchen. You'll have to make a request at the podium and cross your fingers if you want a good view, whether into the kitchen or out onto the boardwalk. Very popular; ADRs are strongly recommended.

Trattoria al FornoLocated in the space that was once Spoodles, and later Cat Cora's Kouzzina, the brand new Trattoria al Forno brings upscale Italian dishes to the Boardwalk. Early reports rave over the bread (with olive oil) brought out at the beginning of each meal. The grilled traviso (radicchio) doesn't sound like much but it's been called a "hidden gem" on the appetizer menu. The best entrees here are truly outstanding, while others still need some tweaking. The consensus is that this will become a very popular restaurant very quickly, especially once a few menu kinks are worked out.
Disney's Yacht Club and Beach Club Resorts
Beach Club MarketplaceA very basic cafeteria-style restaurant with a few made-to-order sandwiches but mostly pre-packaged à la carte items. Some people have reported less than stellar service from the cast members here.

Beaches and CreamA 50s-style soda shop, specializing in fountain drinks and ice cream, but with an array of light entrees like burgers, chicken, salads, and sandwiches. Specialty of the house is the Kitchen Sink, eight scoops of ice cream with every topping in the house plus various baked goods, all served inside a sink-shaped dish. Now serving breakfast until 11AM. Very popular.

Cape May CafeThe cafe hosts two totally different meals, both buffets. Breakfast is Goofy's Beach Club Breakfast, with Goofy, Minnie, and Donald getting ready for a day at the beach. Dinner is modeled after a seaside clam bake, with barbecue and pasta on one side and seafood on the other. No characters at dinner, just a lot of good food.

Captain's GrilleThis casual restaurant offers a wide variety of entrees, including some excellent breakfast options. Lunch and dinner feature a selection of American dishes. Great place for families looking for familiar kid-friendly foods.

Hurricane Hanna's GrillBasic burgers, hot dogs, and wraps. The food isn't particularly unique, but Hanna's is located poolside next to Stormalong Bay, making it very convenient for folks who don't want to give up a prime beach chair.

Yachtsman SteakhouseAn upscale steakhouse. Fairly straightforward, with several steaks and a few other types of meat (chicken, tuna, rack of lamb). Quality is high, but so are the prices. Less crowded than Le Cellier in Epcot.
Walt Disney World Swan and Dolphin
Note that these restaurants do
not
participate in the Disney Dining Plan. The Swan and Dolphin restaurants share
a web site
, reservations phone number (+1 407 934-1609), and e-mail address (dining@swandolphin.com). Reservations for the table service restaurants can also be made though Disney Dining, like any other Disney restaurant.
Drink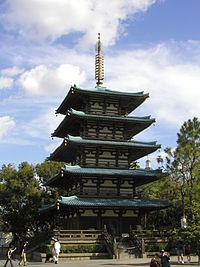 Some Epcot visitors enjoy an unofficial adventure known as
"Drinking Around the World"
: sampling a local libation in each of the eleven pavilions. From Mexican margaritas to German beer to French wines, there's no shortage of variety here. (For a sober version of "drinking around the world" visit
Club Cool
in Innoventions, which gives away free samples of products marketed internationally by
Coca-Cola
.)
All of the table service restaurants in the World Showcase pavilions serve native alcoholic beverages. Some World Showcase gift shops (such as Weinkeller in the Germany pavilion) sell alcohol in bottles; your selection will be sealed in a gift box that
must not
be opened if you want to remove it from the park. You can arrange for shipping to your hotel room or back home if you don't want to lug it around.
La Cava del TequilaWith a little redesign of the interior of the Mexican pyramid, a new space opens up for truly dedicated imbibers. Seventy different types of tequila will be on hand for the tasting, complete with a Tequila Ambassador to guide your selections and provide a little education with your libation.

Rose and Crown PubLocated in the same building as the Rose and Crown table service restaurant, The Rose and Crown Pub bills itself as the only full service bar in Epcot. While here you can enjoy regional draught brews such as Guinness, Bass, Harp, Boddingtons, and Strongbow. The bar's liquor shelf matches the choices you would find at most any Disney resort hotel lounge, and they also do beer and scotch flights. Can get very lively in the afternoon and evening when The Hat Lady is performing at the piano. Stays open during evening Extra Magic Hours.

Tutto GustoWith over 200 Italian wines and beers, and a fairly extensive menu of small-plate appetizers and sandwiches, Tutto Gusto will enhance the Italy pavilion's standing as one of the best culinary destinations in World Showcase.
Of course, sometimes you just want a cup of coffee. You can stop by the bakeries in the France and Norway pavilions, or drop by Innoventions and visit Starbucks.
StarbucksStarbucks has moved into the Fountain View Cafe, part of Innoventions West. No more ice cream, but it's still got the same great view of the Fountain of Nations.
Disney's BoardWalk
AbracadaBARThis lounge comes with a mysterious backstory: it was once a private club for the magicians who worked the Boardwalk, but one night in 1940 every single one of them disappeared, never to be seen again. Now it's been reopened to the public, with many of its magical details intact... thanks to a bit of Disney magic! The specialty cocktails are designed to amuse and entertain, be it by changing color or with surprising ingredients.

phone: +1 407 939-2444

Don't let the BoardWalk's Roaring 20s decor fool you; inside the Atlantic Dance Hall, it's all modern. This is your standard off-the-shelf dance club with all the attendant noise and crowds, even more so now that Pleasure Island's nightclubs have closed. Must be 21 or older.

phone: +1 407 560-8770

Dueling pianists take requests and try to one-up each other all night long. Get here early, or you won't get a seat, which you'll need after dancing to exhaustion. Must be 21 or older.
Sleep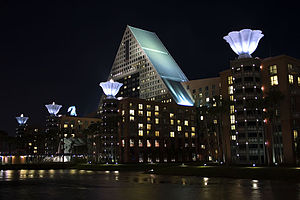 Five upscale resorts are clustered between Epcot and Hollywood Studios, all of them connected by wide, scenic walkways and by the
Friendship
ferries that ply the waterways. The BoardWalk and the Yacht and Beach Clubs sit on opposite sides of
Crescent Lake
, while the Swan and Dolphin sit a little closer to the Studios, facing each other. Staying at any of these resorts means you have easy access to both Epcot and Hollywood Studios, as well as to the many attractions on the BoardWalk and the small marina on Crescent Lake.
You'll pay for the privilege of location, though, and rooms do fill up fast. This is especially true at the Yacht and Beach Clubs, which share
Stormalong Bay
, the best hotel pool at Walt Disney World. Featuring sandy, zero-entry beaches, twisting and turning water channels, gentle waterfalls, and a water slide fashioned out of a shipwreck, Disney has had to carefully restrict access to this pool; don't even think about getting in if you're not staying at one of the Clubs.
All of the resorts provide the highest level of service and amenities available at Walt Disney World. You'll find dedicated concierge services, mini-bars and refrigerators, turn-down service, upscale restaurants and shopping, and everything else you'd expect from luxury hotels. Each hotel also has some high-end suites available, all the way up to "Presidential"-level.
phone: +1 407 934-7000

address: 1700 Epcot Resorts Blvd.

A nod to the Martha's Vineyard and Nantucket Island seashores of the 1880s, the Yacht Club is more stately and less casual than its sister resort, with which it shares amenities. The theming evokes the feeling of being on a ship at sea, with lots of neutral colors interspersed with brass and wood. The Yacht Club has a convention center and is popular for business gatherings. The rooms here are much closer to the marina, the Friendship docks, and the BoardWalk than Beach Club rooms are, but they're also farther from Epcot.

phone: +1 407 934-8000

address: 1800 Epcot Resorts Blvd.

Let the elegant lakeside accommodations of this sand and surf motif hotel take you back to the good old days of an 1870s New England beach holiday. The Beach Club shares most of its amenities with the Yacht Club, but it has a more casual feel than its sister resort. Think hammocks on the beach, barefoot strolls along the promenade, and light, airy guest rooms. Be warned that lake-view rooms also come with a view of the BoardWalk, which remains festively lit all night and into the early morning hours. The Beach Club is the closest resort to Epcot, but it's the farthest from Hollywood Studios.
Disney's Beach Club VillasThese Disney Vacation Club villas are on the "back" side of the Beach Club, connected by a covered walkway to the rest of the resort. As such, they're a fairly long walk from Stormalong Bay (they do have their own pool, but it's nothing special) and from the marina area of Crescent Lake, where the boat to Hollywood Studios is. As one of the newest DVC resorts, and with access to Stormalong Bay, these villas fill up very fast.
phone: +1 407 939-5100

address: 2101 Epcot Resorts Blvd

Check into a lively turn-of-the-century Atlantic City resort complex. The biggest attraction is of course the BoardWalk itself, a lively entertainment, shopping, and dining district along the shores of Crescent Lake. You can get rooms with a gorgeous view of the lake, but sounds and scents from the boardwalk below may distract you late into the night. The inn is on the east side of the BoardWalk, fairly close to Epcot.
Disney's BoardWalk VillasThese villas, on the west side of the complex, are only slightly less popular than the Beach Club's. A couple of very nice pools are found here, one with a dragon-themed water slide. As with the BoardWalk Inn, be aware that lake-view rooms are also very close to the activity on the boardwalk below.
Swan and Dolphin
These two buildings face each other across a narrow waterway, each whimsically designed by architect
Michael Graves
to complement each other without looking like twins. These hotels are great choices for visitors who want a more traditional (that is, less "themed") hotel experience but retain most of the benefits of staying on-property at Walt Disney World.
The Swan and the Dolphin are not owned or operated by Disney; they are owned by Starwood Hotels. As such, you will miss out on many of the normal amenities granted by staying at a Disney resort: the Disney Dining Plan and Disney's Magical Express are unavailable, and you can't charge purchases at Disney shops and restaurants to your room. On the other hand, you still get many of the other advantages of staying on-property, including free transportation, guaranteed park admission, Extra Magic Hours, and package delivery. The hotels also offer character meals at their restaurants, just like the other Disney resorts.
In short, you won't forget you're staying at Walt Disney World—but you won't be reminded of it constantly, either.
phone: +1 407 934-4000

address: 1500 Epcot Resorts Boulevard

The distinctive shape of the Dolphin, with its 27-story triangular central tower, can be glimpsed from areas of World Showcase. Centrally located among the Epcot resorts, it has easy access to Epcot, Hollywood Studios, and the BoardWalk. The Dolphin is the more upscale of the two hotels, but only slightly; it has the most expensive restaurants and the higher-end boutiques. Operated by Starwood Hotels as a Sheraton.

phone: +1 407 934-3000

address: 1200 Epcot Resorts Boulevard

The Swan is slightly more casual than its counterpart across the way. While still a luxury resort hotel, its smaller height and less distinctive design mean it often gets overshadowed by the Dolphin. One big advantage, though—it's the closest hotel to Disney's Hollywood Studios. Operated by Starwood Hotels as a Westin.