Walt Disney World/Hollywood Studios
At
Disney's Hollywood Studios
theme park, you can help Indiana Jones escape from the Nazis, take a wild limousine ride through Los Angeles, play midway games with the Toy Story gang, and immerse yourself in iconic scenes from Hollywood's past and present.
This compact but fun-filled theme park is located at a major crossroads in the
Walt Disney World Resort
, with plenty of thrill rides and effects-laden shows. The
ESPN Wide World of Sports
is nearby.
Understand
"The World you have entered was created by The Walt Disney Company and is dedicated to Hollywood—not a place on a map, but a state of mind that exists wherever people dream and wonder and imagine, a place where illusion and reality are fused by technological magic. We welcome you to a Hollywood that never was—and always will be." — Michael D. Eisner, May 1, 1989
Walt Disney World
's third theme park opened in May 1989 as
Disney–MGM Studios
, joining the
Magic Kingdom
and
EPCOT
. The park, billed as "the Hollywood that never was", features live shows and attractions based on movie and television favorites, from classic Golden Age films to modern-day blockbusters. In addition to the well-known Disney-branded productions, several Disney subsidiaries also have inspired rides and shows here; it's
the
place to go for fans of
Lucasfilm
properties,
Pixar
films,
ABC
television, and Jim Henson's
Muppets
.
Among the top attractions are two exceptional thrill rides,
The Twilight Zone Tower of Terror
(a 13-story vertical drop) and the
Rock 'n' Roller Coaster Starring Aerosmith
(a launched coaster, 0-60 in 2.8 seconds), and a ride through a
Toy Story
-themed shooting gallery.
Just south of Hollywood Studios is the
ESPN Wide World of Sports
complex, the spring training home of the Atlanta Braves and host to countless other sporting events throughout the year.
History
The genesis of the "Studios" theme park was as a new pavilion for
EPCOT Center's
Future World that would provide an animatronic ride through cinematic history, much as World of Motion did for transportation and Spaceship Earth did for communication. This spark of an idea was so inspiring, however, that then-CEO
Michael Eisner
suggested that the new ride instead become the marquee attraction in an all-new theme park.
The original vision for this new park was to combine a traditional theme park atmosphere—rides, shows, restaurants—with a real working
production studio
. A team of animators began work even before the park opened to the public, working on real Disney animation—
Mulan
and
Lilo & Stitch
, among others, were animated entirely at the theme park. Live-action was also filmed here, from movies like
Newsies
and
Ernest Saves Christmas
to television shows such as
Mickey Mouse Club
and
Adventures in Wonderland
. Most importantly, all of these production facilities were viewable on the park's
Backstage Studio Tour
—guests could actually see animating and filming as they occurred, if their timing was right; if not, they still got to see the real sets and real studios where their favorite productions were created. A
backlot
was also created and placed on the tour, with house façades used in actual films and television shows and authentic props from movies like
Flight of the Navigator
and
Star Wars
.
Those days are gone; the park's sound stages have been converted to rides and stage shows, the animation facility has closed down, and even the backlot tour is no more. The original ride idea, the one planned for Epcot, survived for a while as the park's centerpiece,
The Great Movie Ride
, and new thrill rides opened up to become the park's main draws. Despite all the changes, though, the park retains its enthusiasm for the fantasy worlds created on film, and guests can still enjoy being able to "step into" their favorite productions.
Get in
By car
Hollywood Studios is just southwest of Epcot; it's on Buena Vista Drive, which is accessible from either World Drive or Epcot Center Drive. Parking is $25 per car, although Disney resort guests can park for free with their Magic Bands. Preferred parking, allowing you to park in the closest spots to the entrance, is available for $50 per car. Parking is per day and is good at all four Disney theme parks — just show your receipt if park hopping!
Parking is free at the ESPN Wide World of Sports, which is on South Victory Way, south of Osceloa Parkway.
By Disney transportation
From Epcot and nearby resorts
From Epcot, the BoardWalk, the Yacht and Beach Clubs, and the Swan and Dolphin, you can take the
Friendship ferries
to Hollywood Studios. There is also a nice wide
walking path
that follows a similar route. If you are coming from Epcot, you
must
exit through that park's rear entrance: the
International Gateway
, located between the United Kingdom and France pavilions in World Showcase. From Epcot's main entrance, there is a bus that goes to the Studios.
From the Magic Kingdom
Take the monorail or ferry to the Transportation and Ticket Center, then board the
Studios bus
.
From Animal Kingdom and other resorts
From other areas of the property, simply go to the bus stop and wait for the
Studios bus
to arrive. You will be dropped off in front of the Hollywood Studios gates.
From Disney Springs
Disney Springs does not have direct buses to the parks; you will need to make your way to a resort, then go from that resort to Hollywood Studios. The best option here might be to take the bus to the Swan, which is the closest hotel to the Studios, then take the
Friendship
or the walking path to the Studios. Another option is to walk or take the boat to the Saratoga Springs resort, then the bus to the Studios.
To the Wide World of Sports
Public transportation to the Wide World of Sports is limited. Buses are available only from the
All-Star Resorts
, the Caribbean Beach Resort, and the Pop Century Resort, so you'll need to get to one of those hotels before switching buses. The buses regularly run only Thursday through Monday, from 5PM to 11PM. If there's a special event going on outside of those days and times, bus service will start one hour before the event and end no earlier than 11PM.
Get around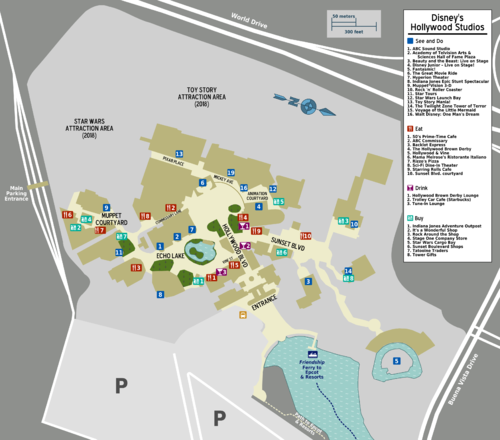 Upon entering the park, you'll find yourself on
Hollywood Boulevard
, the park's equivalent of the Magic Kingdom's Main Street, U.S.A. Shops line both sides of this street, perfect for grabbing a souvenir on your way out at the end of the day. (Feel free to browse on the way in, though; you can always come back later, or you can have it held for you or delivered to your Disney resort.) Here, it's perpetually the 1930s, so keep an eye out for young starlets, ambitious directors, suspicious policemen, eager autograph hounds, and the like—these
Streetmosphere
actors play out comedic vignettes throughout the day, and they may just pull
you
into their stories. At the end of Hollywood Boulevard, you can see the beautiful replica of Hollywood's Chinese Theater, the centerpiece of the park.
As you travel down Hollywood Boulevard, you'll find the famous intersection with Vine St., a smaller street that heads off to the left towards Echo Lake. The next intersection is with
Sunset Boulevard
, another major thoroughfare that branches to the right. Here you'll find more shops and more Streetmosphere, and looming in the distance is the 199-foot-tall Hollywood Tower Hotel, which houses the
Twilight Zone
Tower of Terror. (Why 199 feet? If it were one foot taller, it would require a blinking red light at the top under federal aircraft regulations.)
Past Sunset, as you approach the Chinese Theater, to the right will be a large gateway, through which you'll find the
Animation Courtyard
. Through the gate and to the left, starting behind the Chinese Theater, is
Mickey Avenue,
which leads to the new
Toy Story Land
, where you'll shrink down to the size of a toy and meet Woody, Buzz, and the rest of the gang.
From there, you soon hit a dead end where the former backlot used to be. Now, if you were to peek over the construction walls, you might see the mountains of Star Wars: Galaxy's Edge rising. You can't get through here yet, so head back to the Chinese Theater. Off to the left of the theater is
Echo Lake
—just look for the giant Dinosaur Gertie. Here, you'll find the Lucasfilm attractions. Or you can take
Commissary Lane
towards
Grand Avenue
and the Muppet Courtyard (which is another dead end, pending the opening of the Star Wars land).
See and do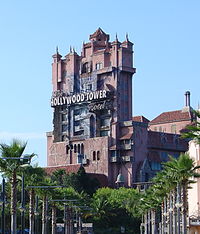 Hollywood Studios' attractions separate into one of two camps: sedate but fun stage shows and up-tempo thrill rides. There's very little in-between, but this is changing with the three rides of Toy Story Land, added in an attempt to fill the gap.
FastPass, the system that allowed you to go to an attraction and get a ticket to come back later and skip the standby queue, is no longer available. All Studios guests will be using
FastPass+
, where you choose your own return time for each of three attractions. FastPass+ queues are available for
virtually every ride in the park
, along with some shows and character greetings.
FastPass+ kiosks are located at the Wait Times Board, at the far end of Sunset Blvd, at Toy Story Mania, and at Muppet*Vision 3D. Cast members will be nearby if you need help. If you're staying at a Disney resort, you can also use a smartphone with the
My Disney Experience
app to schedule your FastPass+ reservations.
For parade and stage show performance times, which change daily, please see the
Guide Map
and the
Times Guide
you'll receive when you enter the park. You can also check the
Wait Times Board
at the corner of Hollywood and Sunset Boulevards, which lists current wait times for rides and show times for shows.
The

denotes rides with safety restrictions. See
Stay safe
in the main Walt Disney World article for more information.
Hollywood Boulevard
Hollywood Boulevard is mostly a location for shops, restaurants, and Streetmosphere, but at its far end is where you'll find the park's centerpiece, the Chinese Theater. While there, be sure to check out the cement plaza in front—just like at the real Chinese Theater in Hollywood, you'll find a number of celebrities have placed their handprints and signatures there. Everyone from Donald Duck and R2-D2 to Carol Burnett and Michael Jackson has left their mark.
Star Wars: A Galactic SpectacularEvery night, the skies above the Chinese Theater (and the Chinese Theater itself) are lit up with projected images, lasers, and fireworks, all choreographed to bring the excitement of the Star Wars saga to eager crowds. The Galactic Spectacular Dessert Party ($79/$45) gets you dessert before the show and access to a preferred viewing area without needing to camp out ahead of time.
The park's marque attraction, housed within the Chinese Theater, was
The Great Movie Ride
. It closed in August 2017 in anticipation of
Mickey & Minnie's Runaway Railway
. This dark ride, using state-of-the-art Disney-invented tech that enables you to see 3-D images without the need for glasses, is scheduled to open sometime in 2019. It's also, surprisingly, the first ride-through attraction the company has built that stars Mickey Mouse.
Sunset Boulevard
In addition to more shops, restaurants, and Streetmosphere, Sunset Boulevard is home to the Studios' two major stage shows and its two popular mega-thrill rides.
Beauty and the Beast: Live on StageA 20-minute condensation of the popular animated film. It's more "cartoony" than the Broadway musical you may have seen, but it's great for kids who may not sit through a longer production. Colorful costumes and the classic songs make for an entertaining time.

Fantasmic!Watch as Mickey Mouse uses the power of imagination to defeat some of Disney's nastiest villains. Live-action nighttime extravaganza with outstanding film and lighting effects, fireworks, and a 50-foot animatronic dragon. The theater fills up quickly, so get there early if you want a seat. Reserved seating is available if you purchase a dining package.

Rock 'n' Roller Coaster Starring AerosmithHop into your "limousine" and take a wild ride through the streets of Los Angeles to get to Aerosmith's concert. The only roller coaster at Walt Disney World with inversions, this indoor launched coaster accelerates you from zero to 60 miles per hour in three seconds. An exciting but fairly smooth ride, it's accompanied by the (very loud) music of Aerosmith and decorated with bright fluorescent signs that obscure any view of the track, so you never know where you're headed next.

Sunset ShowcaseThe Sunset Showcase is a multi-use space that Disney uses for a variety of attractions and events. It is closed in preparation for Lightning McQueen's Racing Academy, an interactive show set to debut in early 2019.

The Twilight Zone Tower of TerrorRod Serling welcomes you into this mystery, involving an elevator on the 13th floor, a late-night lightning strike, and vanished guests. Most people ignore the story, though, and just go on this ride for the 13-story free-fall down the elevator shaft, followed by a random sequence of sudden rising and falling. Not for the faint of stomach, period. The view from the top is quite a sight, if you can open your eyes long enough to look. The pre-ride area of the attraction is filled with references both obscure and subtle to various episodes of the TV show.
Animation Courtyard/Mickey Avenue
Through the gate is this courtyard, which segues into Mickey Avenue as it heads toward the back of the park. The courtyard was once the gateway to the backstage area, with access to the animation department and the Backlot Tour; the Animation building is now the
Star Wars
Launch Bay. And there used to be working sound stages along Mickey Avenue, but they've been converted into semi-permanent exhibit space and attractions.
Disney Junior – Live on Stage!A cute audience-participation (dancing and singing) stage show featuring characters from the Disney Channel's programs for preschoolers. Don't even bother bringing anyone over the age of 7. Warning to parents with creaky knees: seating is on the floor.

Star Wars Launch BayThe former Animation building has been converted to commemorate the new saga of Star Wars films, and it's now the center of Star Wars-related activity in the park (even though it's on the opposite side of the park from Star Tours). There are several distinct areas inside the building, but you'll start by enjoying a 10-minute preview film in the theater. From there, you can meet characters from the movies, view props and costumes (real and reproduction), play the Disney Infinity video game (with Star Wars figures, of course), or shop for all sorts of Star Wars collectibles.

Voyage of the Little MermaidGo "Under The Sea" with Ariel and friends in this live stage show featuring black-lit puppets and costumes. Very imaginative and colorful, with some intriguing special effects. Fairly popular, it can get crowded at times.

Walt Disney PresentsA walk-through gallery housing props, artifacts, and diagrams galore; Disney history fans will have a ball. A 15-minute film tribute to Walt Disney, narrated by Julie Andrews, is also presented continuously throughout the day. In the months just before and after a major Disney feature film release, that tribute is replaced by a 10-minute sneak preview of the new movie.
Toy Story Land
Opened in July 2018, everything is larger-than-life in this new land built on former backstage space. With light-posts built from tinker toys and Woody, Buzz, Jessie, and Rex standing watch over Andy's backyard, the two new rides here add in some much-needed kid-friendly attractions to a park that was sorely lacking in that regard. The entrance to what is probably the park's most popular ride, Toy Story Mania!, has been rerouted to face this land, and the former entryway, Pixar Place, is closed.
Alien Swirling SaucersThemed as a playset that Andy won at the Pizza Planet restaurant, step into these outer space saucers as the famous green Aliens whirl you around. Listen to some electronic intergalactic music play as you watch and see if you get "chosen" by the claw!

Toy Story Mania!Possibly the most popular attraction in all of Walt Disney World, this 3-D virtual midway game, complete with moving targets and special effects, is themed around the characters from Toy Story. Great fun for all ages, but visitors with aiming skills honed by years of video game playing will get higher scores. Due to its popularity, Fastpasses go very quickly, especially on weekends.

Slinky Dog DashAndy's wrapped his Slinky Dog toy around the cars of his Mega Coaster Play Kit — and you get to ride it! A tame but exciting family roller coaster that winds through the building blocks and around the Lincoln Logs of the backyard.
Echo Lake/Grand Avenue
On one side of Echo Lake is a large steamboat, known as Min and Bill's Dockside Diner; on the other is a large dinosaur, with Dinosaur Gertie's Ice Cream of Extinction. Around the perimeter of the area are attractions based on Lucasfilm properties, restaurants, and a couple of soundstages. Running north from the lake is Grand Avenue, themed to present-day downtown Los Angeles and home to the Muppets Courtyard and the future main entrance to Star Wars Land.
ABC Sound StudioFormerly the home of the "Sounds Dangerous" attraction, this theater is now showing "Star Wars: Path of the Jedi", a retelling of the Star Wars saga, from A New Hope straight through the prequels to the newest film, The Last Jedi.

Hyperion TheaterFormerly the home of the "American Idol Experience" (and before that, "Superstar Television"), the Hyperion Theater is showing "For the First Time in Forever: A Frozen Sing-Along Celebration".

Indiana Jones Epic Stunt SpectacularAn exciting 35-minute live-action stunt show recreating some of the best scenes from Raiders of the Lost Ark (and explaining how the stunts work). A few lucky audience members might even get to appear on stage as extras.

Jedi Training: Trials of the TempleKids between ages 4 and 12 can become Jedi Trainees, where they learn how to wield the Force and use a lightsaber. The training session is capped by an epic confrontation with a major Star Wars villain or two. This experience is extremely popular, so pre-registration is required for prospective Jedi; go to the Indiana Jones Adventure Outpost early in the day to reserve a spot. Of course, if you just want to watch, you can do that too, no registration required. Must be 4-12 years old.

Muppet
*Vision 3-DA hilarious show featuring the Muppet characters, shown in a detailed replica of the Muppet Theater. You have to see it to believe it. The combination of a 3-D film, in-theater animatronics and special effects, and a special live-action appearance makes for an immersive show. The pre-show, held in a staging area while the previous main show runs, is just as good as the main show; if it's not too crowded, ask a cast member if you can stay to see the whole thing. The queue area and the pre-show area are overflowing with sight gags and bad puns. You will never see them all in just one trip.
Star Tours: The Adventures ContinueThe much-loved (but 23-year-old) Star Tours ride closed in 2010, but this "prequel" to the original takes Star Wars fans to new locations in that galaxy far, far away. An upgraded motion-simulation system, a 3D screen, and over fifty combinations of scene sequences mean that this ride will remain crowded for years to come. A new scene based on The Last Jedi is now in the rotation.
ESPN Wide World of Sports
South of Hollywood Studios is the
ESPN Wide World of Sports
complex (formerly
Disney's Wide World of Sports
), a state-of-the-art sports complex with fields, stadiums, and arenas for a variety of sporting events.
The complex is the flagship facility of the
Amateur Athletic Union
, which has its headquarters on Hotel Plaza Boulevard in the
Disney Springs
area. Regularly-scheduled AAU-sanctioned events are held at the complex from January to August. Outside of that time-frame, whether you'll find something going on is hit-or-miss. If there is something happening, it's probably a high school game with just a handful of spectators, though several national cheerleading competitions have taken up residence here in recent years.
Admission to the complex counts as one of your "Fun Visits" if you've added the Water Park Fun & More or the Park Hopper Plus option to your
tickets
, however, considering the low cost of admission it could be said that it's better to save your "Fun Visits" for one of the more expensive options. Admission is $18.50 for adults and $13.50 for children ages 3–9.
address: 700 S Victory Way

A 9,500-seat baseball stadium. The Atlanta Braves play their spring training games here, and the Rookie-league GCL Braves play here all summer. Other events occur throughout the year.

NFL Pro Bowl activitiesWith the move of the NFL's annual Pro Bowl game to Orlando's Camping World Stadium, the ESPN Wide World of Sports will be used to host a number of associated events in the days before and after the game, including the teams' practices.

AdvoCare InvitationalSince 2006, college basketball fans have been able to catch eight top Division I teams playing a total of twelve games in this early-season tournament (formerly called the Orlando Classic and the Old Spice Classic).

Pop Warner Super Bowl & National Cheer and Dance ChampionshipsSince 1999, the national organization for youth football has brought their championship week to Walt Disney World.
Buy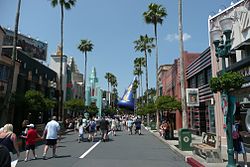 Shoppers will find plenty of generic souvenirs and apparel, of course, making up the lion's share of merchandise found along the main shopping areas (
Hollywood Boulevard
and
Sunset Boulevard
). One of the less generic establishments on these two streets is
Sunset Boulevard Shops
, with menswear, timepieces, housewares, and collectibles.
But Disney's Hollywood Studios is an especially rich location for
themed merchandise
that's hard to find elsewhere. Most of these locations are found at the exits from associated attractions. Fans of the Muppets,
Star Wars
, and
Indiana Jones
should be particularly pleased.
Indiana Jones Adventure OutpostIndy fans can find authentic, licensed fedoras and bullwhips here, along with more traditional Indy-branded souvenir fare. The shop opens late and closes early, coinciding with the nearby stunt show's performance times.

It's a Wonderful ShopA Christmas store, open all year, complete with snow on the ground outside. It's a great place to buy Disney ornaments and decorations, even if it's not December.

Rock Around The ShopA rock music-themed store.

Stage One Company StoreThis store boasts Muppet merchandise that's hard (or impossible) to find elsewhere.

Tatooine TradersThis shop offers a wide variety of Star Wars-themed merchandise, in a variety of price ranges. Most Star Wars merchandise is sold online; being able to shop here in person is a rare treat, and there are several exclusive items found only here.

Tower GiftsThe fashion boutique of the Hollywood Tower Hotel has everything for Twilight Zone fans.
Eat
Disney's Hollywood Studios probably has the most unique restaurants on the property, with most themed around movies and television.
See
Eat
in the main Walt Disney World article for information on the Disney restaurant pricing system, character dining, dietary restrictions, and advance dining reservations. The telephone numbers below are for extraordinary circumstances
only
; for reservations and most health or diet issues, call the main Disney Dining number at +1 407 WDW-DINE (939-3463).
Exact opening and closing times may vary with the park hours; check your Times Guide for official restaurant hours. Breakfast is usually served until 10:30AM, and dinner usually starts between 3:30PM and 4:30PM.
Counter service
ABC CommissaryAn unusually international menu for a counter-service location. The menu varies, but there is usually at least one Asian entree and some sort of Latin American dish.

Backlot ExpressThe menu is nothing special, but the decor is. The restaurant is themed to look like a huge studio warehouse. There is plenty of wide-open seating here, and because of its location, it's rarely very crowded.

PizzeRizzoCasual Italian dining from the original Pizza Rat and his Brooklynite relatives. It's not an extensive menu, but there's pizza, salads, meatball subs, tiramisu, and cannoli.

Starring Rolls CafePastries, sandwiches, coffee... but famous for its cupcakes. This is a great out-of-the-way place to snag breakfast if you get to the park early, but it's got a surprisingly extensive menu so lunch and dessert can be excellent options as well.

Sunset Ranch MarketThese four locations (plus a fruit stand and an ice cream stand) share an outdoor seating area. Salads, pizza, burgers, BBQ, etc.
Table service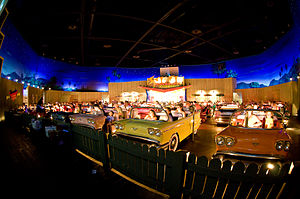 phone: +1 407 560-4365

Very good homestyle "comfort food" served in a classic 1950s sitcom kitchen, complete with Formica tabletops and black-and-white televisions. Word to the wise: you had better eat all your vegetables if you want to order dessert. Your server, in character as an ersatz family member, will have no qualms about putting you on the spot about this or any number of things; it's all in good fun, but do not eat here if you're not in the mood to play along.

The Hollywood Brown Derby

phone: +1 407 560-4835

Dine like the stars in this East Coast version of Hollywood's most famous restaurant. The Cobb salad, a Brown Derby original, is just as good as you would expect.

Hollywood & VineA buffet set in the glitter and glamour of Hollywood in the 1930s. Breakfast and lunch are called "Disney Junior Play 'n Dine", featuring the Disney Junior characters for young kids, while the dinner meal is "Minnie's Seasonal Dine", where Minnie and her pals put on a rotating schedule of seasonal music, food, and fun.

Mama Melrose's Ristorante ItalianoThere aren't a lot of Italian restaurants at Walt Disney World, but this one fills the casual end of that niche admirably, even if it really has nothing to do with Hollywood. The decor is like stepping into an Italian neighborhood in New York City.

Sci-Fi Dine-In TheaterDine under the stars and watch classic B-movie clips from your custom convertible in a re-created 1950s drive-in movie theater. The menu includes a variety of entrees. Excellent milkshakes. This one might be the most popular restaurant in the park, so plan accordingly.
Resort dining
The Caribbean Beach resort's
Centertown
marketplace is undergoing renovations and expansion: the food court, restaurant, and merchandise locations are all closed until 2019 or 2020. To compensate, Disney has opened temporary locations for merchandise and dining.
Centertown Buffet
is the main temporary dining location; it offers breakfast and dinner buffets, and there's usually a food truck nearby. There are other food stands scattered through the resort's villages during Centertown renovations.
Old Port Royale Food CourtThis is a fun, casual food court that's designed to look like an outdoor Caribbean street. Closed for Centertown refurbishment.

Shutters

phone: +1 407 934-2830

A variety of Caribbean entrees. Closed for Centertown refurbishment.
At the Pop Century or Art of Animation Resort, you'll dine at a
food court
:
Everything PopTypical Disney food court, decorated in the same style as the rest of the Pop Century Resort.

Landscape of FlavorsDisney refers to the options at this food court as "better-for-you"; the stations include a soup/salad/sandwich shop, a "world flavors" shop, plus burgers, pizza, and baked goods. Beverage options are a bit more extensive than other food courts as well, with smoothies, organic tea, specialty coffees, and wine.
Wide World of Sports
ESPN Wide World of Sports GrillIf you're at the Wide World of Sports and need refreshments, this is where you'll go. Soups and sandwiches. The stadiums have typical stadium fare during events, though it turns out Disney prices actually aren't as steep as you'll find at most major league ballparks.
Drink
The Hollywood stars of the 1930s might have enjoyed a libation or two in their day (at least once Prohibition was repealed), but the nightlife around Hollywood Studios is virtually nonexistent. The
Tune-In Lounge
is attached to the 50s Prime Time Cafe and themed the same; it's often crowded with "family members" waiting for their table in the restaurant, but if you need a drink, Dad's liquor cabinet is open. The
Hollywood Brown Derby
also has a lounge, opened in 2013, with drinks and tapas-style appetizers. In fact, all of the table-service restaurants have drinks of some sort available; Mama Melrose's has some particularly interesting cocktails. Newly opened on Grand Avenue is the
Baseline Tap House
, the Studios' first stand-alone pub. Specializing in California wines, beers, and cocktails, some small plates are also on the menu to be enjoyed inside the industrial-themed building or outside on the leafy terrace.
Each resort has a poolside bar as well;
Petals Pool Bar
is at Pop Century in the 1960s section, and the
Finding Nemo
section of Art of Animation has
The Drop Off
.
Banana Cabana
at the Caribbean Beach resort is closed, but there's a temporary bar trailer available.
If you're looking for something more, just take a leisurely walk or ferry ride from the Studios to
Disney's Boardwalk
, or take a bus from one of the resorts to
Disney Springs
.
Trolley Car CaféStarbucks sells their coffee beverages and "La Boulange" pastries, along with a selection of Disney baked goods.
Sleep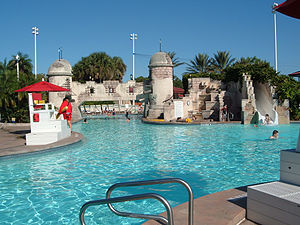 If you really want a hotel close to Hollywood Studios, you'll want to stay in one of the
Epcot-area resorts
. The Yacht and Beach Clubs, the Boardwalk, and the Swan and Dolphin are all within easy walking distance of both Epcot and Hollywood Studios, and the
Friendship
ferries connect the two parks and five resorts.
The three resorts listed here are not very far from Hollywood Studios, but there are no provisions for walking. You'll be taking a car or bus no matter which park you want to visit.
Disney's Art of Animation Resort

address: Century Dr

The Art of Animation Resort sits across Hourglass Lake from the Pop Century Resort; in fact, this was intended to be the location of the Pop Century "Legendary Years" buildings, representing the first five decades of the 1900s. Instead of commemorating pop culture, though, the resort celebrates four Disney/Pixar films, with lots of over-sized characters and settings for families to explore. The Finding Nemo, Cars, and The Lion King sections together comprise 1,120 family suites, while The Little Mermaid section features 864 standard rooms.

Disney's Caribbean Beach Resort

phone: +1 407 934-3400

address: 900 Cayman Wy

This was Disney's first attempt at creating a more affordable resort, and for a while had the cheapest rooms at Walt Disney World. With the advent of the Pop Century and All-Star Resorts, however, Caribbean Beach is now considered a Moderate resort. This is a visually exciting resort, very open and very colorful. The exterior-entrance rooms are grouped into six villages arrayed around a beautiful lake, each with its own exterior color scheme: Barbados, Jamaica, Martinique, Aruba, Trinidad North, and Trinidad South. Centertown is the resort's marketplace, with recreation, food, and shops. Each village has its own pool, beach area, and bus stop. Very special pirate-themed rooms are now available, but they are ridiculously popular. As of 2017, Centertown is undergoing massive renovation and expansion, so temporary shops and restaurants will be used for a couple of years; check with the front desk for details.

phone: +1 407 938-4000

address: 1050 Century Dr

Walk down memory lane through the best and the worst of 20th-century pop culture. The exterior-entrance rooms are grouped into five "decade" themes—50s, 60s, 70s, 80s, and 90s, each one featuring larger-than-life icons of the appropriate years from hula hoops to 8-tracks to cell phones. The gigantic decor is great fun for kids but may be sensory overload for adults. Aside from the whimsically-shaped pools, there's not much to do here besides catch a bus to the parks, or take a walk over to Art of Animation to see the larger-than-life characters.
According to Disney's classifications, Caribbean Beach is in the "Epcot resort area", while Art of Animation and Pop Century are in the "Wide World of Sports resort area".