Walt Disney World/Magic Kingdom
At the
Magic Kingdom
, you can pillage the Caribbean with Jack Sparrow, spin through a tea party with the Mad Hatter, protect the galaxy with Buzz Lightyear, and visit the six themed lands of
the world's most popular theme park
.
This imaginative park, known as the "Most Magical Place on Earth", is the most iconic of the four parks at the
Walt Disney World Resort
, and the one best suited for younger kids. But you don't need kids to have a good time; the Magic Kingdom is for anyone who remembers the wonder of childhood imagination and fantasy.
Understand
"Walt Disney World is a tribute to the philosophy and life of Walter Elias Disney... and to the talents, the dedication, and the loyalty of the entire Disney organization that made Walt Disney's dream come true. May Walt Disney World bring Joy and Inspiration and New Knowledge to all who come to this happy place... a Magic Kingdom where the young at heart of all ages can laugh and play and learn — together." — Roy O. Disney, October 25, 1971
The Magic Kingdom is the "main" park at Walt Disney World, based on the original
Disneyland
in
Anaheim
, California, and the one most people think of first when they think of Walt Disney World. It is organized around the central landmark of Cinderella Castle, with six themed "lands" arrayed around a central hub. Starting from the main entrance and going clockwise around Cinderella Castle, the lands are
Main Street U.S.A.
,
Adventureland
,
Frontierland
,
Liberty Square
,
Fantasyland
, and
Tomorrowland
.
Of the four Walt Disney World theme parks, the Magic Kingdom is the oldest, most popular, and the most child-friendly, although many adults love the escapism as well. Adult visitors who do not enjoy rides such as "it's a small world" where you sit in vehicles that take you in a circle through a tunnel, and listen to childlike delight and screams, may want to visit
Epcot
or
Hollywood Studios
instead.
Though the
FastPass+
system works well, it is not available for all attractions, and lines can be endless but always keep moving. Food and merchandise can be pricey, but not too bad considering where you are. Plan accordingly for a trip and expect to spend at least $100 per person for a visit.
Despite it all, most people would agree that the lines, the crowds, and the prices are worth it for the magical Disney experience that makes all adults "children", if even only for a day.
History
Walt Disney
was never one to rest on his laurels.
Disneyland
was a huge success, but the amount of space available there in California was too restrictive. Disney had bigger ideas, far bigger than would ever fit at Disneyland.
The solution was to buy up thousands of acres in
Central Florida
, southwest of Orlando, for a new "Disney World", big enough to hold all the ideas he and his Imagineers could dream up. The centerpiece was to be
EPCOT
, Walt's idea for an experimental "community of tomorrow" where real people would live, work, and play. Although a Disneyland-style park was part of the planning—a necessary concession to economic realities—Walt had very little interest in recreating what he'd done before, and his energies were focused on EPCOT.
Unfortunately, he passed away in 1966, not long after revealing his plans to the world. His dream of EPCOT died with him, but his brother and business partner,
Roy O. Disney
, was determined to go forward with the Florida project. The project would start with the Magic Kingdom.
Roy Disney worked tirelessly to ensure that the park would open, to preserve at least a part of his brother's last and greatest dream. On October 1, 1971, the Magic Kingdom did indeed open, with many similarities to Disneyland but many differences as well. It was a roaring success and, though Roy Disney died just two months later, Walt Disney World was successfully launched, and it has thrived ever since, with the Magic Kingdom as its anchor.
Get in
By car or hotel shuttle
The Magic Kingdom is at the northernmost reaches of the Walt Disney World property. You'll take World Drive north to the massive parking lot, which is actually about a mile (1500 meters) south of the park. No problem, though—once you park your car, a tram will take you to the
Transportation and Ticket Center
(
TTC
). That's also where hotel shuttles from non-Disney resorts will drop you. You're now looking across the
Seven Seas Lagoon
at the Magic Kingdom. From here, simply get on a big
ferryboat
or the
express monorail
to the Magic Kingdom. Either way you go, enjoy the scenery along the way—
Goofy
has been known to waterski around the ferry from time to time, and the monorail route passes directly through the lobby of Disney's Contemporary Resort.
Parking at the Magic Kingdom is $25 per car, although Disney resort guests can park for free—just show your Key to the World card at the toll gate.
By Disney transportation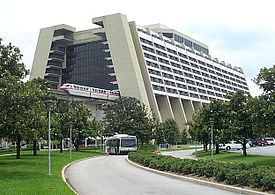 From Magic Kingdom-area resorts
The monorail is the most obvious choice here. The
resort monorail
(inside track) travels clockwise around the Seven Seas Lagoon, stopping inside the Contemporary, and then at the TTC, the Polynesian Village, and the Grand Floridian, coming back around to the Magic Kingdom. Due to the direction of travel, Contemporary Resort guests might want to consider
walking
to the Magic Kingdom; it's the only resort from which that is possible.
Fort Wilderness and the Wilderness Lodge are not on the monorail route, but they have
buses
available. Also, all of the resorts have
water taxis
that travel between their docks and the Magic Kingdom gates; they can be a fun, scenic way to start your visit. (The Contemporary water taxi runs only during the absolutely most crowded periods; don't count on it being available.)
Shades of Green has its own shuttle buses that take guests to the various parks. Guests at that resort can also walk to the Polynesian to take the monorail or water taxi, but it's a five-minute walk with no sidewalk; use caution.
From other on-property resorts
From other areas of the property, simply go to your resort's bus stop and wait for the
Magic Kingdom bus
to arrive. You will be dropped off in front of the Magic Kingdom gates,
not
at the TTC.
From the other parks
Take the
Transportation and Ticket Center bus
(from Epcot, take the
Epcot monorail
instead) to the TTC and then transfer to the monorail or ferryboat to the Magic Kingdom.
From Downtown Disney
There is no direct bus service to the Magic Kingdom from Downtown Disney. Instead, you should first go to any resort (preferably Saratoga Springs or one of the monorail resorts) and then change modes of transportation.
Get around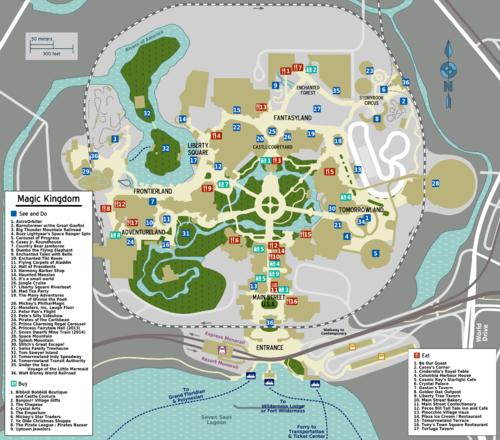 Upon entering the park, you'll find yourself on
Main Street U.S.A.
, and though there are plenty of shops here, your eye will no doubt be drawn right to the magnificent
Cinderella Castle
. The centerpiece of the Magic Kingdom sits at the end of Main Street, and the circular area in front of it serves as the hub of the park, from which you can get to all of the other lands.
From the hub,
Adventureland
can be reached via the leftmost path, followed by
Liberty Square
moving clockwise.
Fantasyland
is straight through the castle, and
Tomorrowland
is off to the right. You can get to
Frontierland
via either Adventureland or Liberty Square. The lands, with the exception of Main Street, are also all connected around the perimeter of the park, away from the hub.
If you don't want to walk, you have a couple of options. At times, but less often these days, you'll find a
horse-drawn trolley
running up and down Main Street, which you can hop to get to and from the hub. More reliably, you'll find
train stations
at Main Street, Frontierland (near Splash Mountain), and Fantasyland (in Storybook Circus), where you can board a train for a scenic narrated journey around the perimeter of the park.
See and do
The Magic Kingdom includes many attractions that are similar, or identical, to ones found in its sister parks around the world, but also has some that are original to the Florida park, and others that started elsewhere but remain only here.
Truly enjoying this park involves a willingness to set aside disbelief and embrace the fictional worlds Disney has designed. Kids can do this instinctively, and in many respects, the best way to experience the Magic Kingdom is through the eyes of a child. The rides here are largely designed for kids, many of them painfully so, but adults with open minds (or young hearts) can have plenty of fun even without a child in tow.
FastPass, the system that allowed you to go to an attraction and get a ticket to come back later and skip the standby queue, is no longer available at the Magic Kingdom. All Magic Kingdom guests will be using
FastPass+
, where you choose your own return time for each of three attractions. FastPass+ queues are available for
virtually every ride in the park
, along with some shows,, and character greetings. Note that Space Mountain and Splash Mountain have been known to have wait times of
over three hours
during peak seasons, making FastPass+ reservations very worthwhile.
FastPass+ kiosks are located at the Jungle Cruise in Adventureland, near The Diamond Horseshoe in Frontierland, at Mickey's PhilharMagic in the Castle Courtyard, and at Stitch's Great Escape! in Tomorrowland. Cast members will be nearby if you need help. You can also use a smartphone with the
My Disney Experience
app to schedule your FastPass+ reservations. If you purchase your tickets in advance or if you're an annual passholder, you can schedule your FastPass+ selections up to 30 days in advance. If you're staying at one of the on-property hotels, you can reserve up to 60 days in advance.
For parade, fireworks, and stage show performance times, which change daily, please see the
Guide Map
and the
Times Guide
you'll receive when you enter the park. The My Disney Experience app also displays the current wait times for attractions and has showtimes for entertainment.
The

denotes rides with safety restrictions. See
Stay safe
in the main Walt Disney World article for more information.
Main Street, U.S.A.
Modeled after a stereotypical early 20th-century small town,
Main Street, U.S.A.
is the gateway into the Magic Kingdom; the view straight down the street to Cinderella Castle serves to draw you inward upon arrival. It is also, of course, the exit, which means shopping galore, the better to entice you with souvenirs on the way out. You'll find most of the basic services, like Guest Relations, here, but not much in the way of attractions.
Do stop in at the
Crystal Arts
glass shop, though, as they often have glass blowers working in the shop and watching them is fascinating. And keep an eye out for some of the colorful characters who make appearances from time to time, especially the
Dapper Dans
barbershop quartet.
Harmony Barber ShopThis may not seem like much of an attraction, but for many guests an old-fashioned barber shop is indeed a novelty. Everything is done the way they did it a century ago—except the prices! The Harmony Barber Shop specializes in first haircuts; bring your never-shorn toddler in and the barbers will take extra-special care to make it an exciting and memorable experience.

Main Street VehiclesRide a horse car, omnibus, jitney, horseless carriage, or fire engine from the entrance to Cinderella Castle and back. Note that these vehicles only run if crowd levels permit, usually early in the morning; as of December 2017, hours are from 8AM until 10:15AM.

Town Square TheaterMickey is preparing to give a magic show at this old-time theater, but he's always up for greeting guests backstage. (There's no actual magic show... just the meet-and-greet with Mickey.) Don't forget you can use FastPass+ here; it might save you some time. Also in the same building is a magical portal that shrinks you down to fairy size and leads to Tinker Bell's Magical Nook, where Peter Pan's friend waits to greet her friends.

Sorcerers of the Magic KingdomMerlin needs help saving the shards of his crystal ball from the forces of evil! Kids and adults alike can battle up to twenty Disney Villains in this interactive park-wide adventure game. With seventy "spells" to collect, eight different adventures, and adventure portals located throughout the Magic Kingdom, replay value is high.

Walt Disney World RailroadA 19th-century steam train that circles the park, the station is above the entrance to the Magic Kingdom at its southernmost point, with additional stops at Frontierland and the Storybook Circus area of Fantasyland.
Adventureland
Adventureland
recalls the Victorian-era tales of exotic adventure in far-off locales. Near Main Street, the environment evokes the jungles of deepest
Africa
, of the type explored by David Livingstone and H.M. Stanley in the late 19th century. Walking westward, you'll pass through the
Middle East
and the
South Pacific
before arriving at the Spanish outposts on the
Caribbean Sea
during the Golden Age of Piracy. Just around the corner are the Spanish flavors of the
American Southwest
in Frontierland.
Enchanted Tiki RoomThe original Tropical Serenade show is back! A roomful of wise-cracking Audio-Animatronic birds serenade you with classic tunes. After years "Under New Management", a minor fire in early 2011 prompted the Imagineers to take the opportunity to restore the older show, which is nearly identical to the one Walt Disney created for Disneyland.

Jungle CruiseTour the world's jungle rivers, from the Amazon to the Nile to the Irawaddy. The cruise's pilots are well-armed, both with pistols and with the worst puns mankind has ever known. View the back side of water, and visit "head" salesman Trader Sam, but please, no "hand outs" to the crocodiles!

The Magic Carpets of AladdinGuide your carpet up and down as it spins around and around, but if you don't watch out for the spitting camels, you're going to get a little wet!

A Pirates Adventure: Treasures of the Seven SeasWould-be pirates can pick up a treasure map and help Captain Jack Sparrow find the Treasures of the Seven Seas. It's an interactive scavenger-hunt game that takes players of all ages across Adventureland to seek the treasures.

Pirates of the CaribbeanThe classic swashbuckling adventure along the Spanish Main now features Captain Jack Sparrow from the blockbuster film series. A bit spooky at the beginning, but once the pillaging starts, things start to get silly.

Swiss Family TreehouseTour the shipwrecked Robinson family's ingenious home. Be warned: lots of stairs.
Frontierland
Frontierland
celebrates the United States west of the Mississippi in its 19th-century frontier years (with just a bit of rural Southern flavor). From Mark Twain's Missouri to the California Gold Rush, there's a lot of adventure packed into a small area.
Big Thunder Mountain RailroadA roller coaster with a runaway mine train theme. No inversions, but the hairpin turns, fast hills, and frequent tunnels make for an exciting ride.

Country Bear JamboreeLive stage show with country music-singing Audio-Animatronic bears. Best enjoyed with lots of hand-clapping and foot-stomping from the audience.

Frontierland Shootin' ArcadeGrab a rifle and pretend you're in a shootout at the O.K. Corral. The animated targets react only to the special infrared rifles, so there's no safety concern for little ones.

Splash MountainA log flume ride based on Song of the South, with a thrilling 50-foot drop into the briar patch! You will get wet, and you may get soaked; one way to avoid that fate is to buy a rain poncho at a gift shop and wear it onto the ride.

Tom Sawyer IslandTake a raft ride across the Rivers of America to a pair of heavily wooded islands perfect for imaginative and adventurous play. Winding paths, a spooky cavern, a barrel bridge, and even the rustic frontier Fort Langhorn are among the many places to explore. Go ahead and let the kids run around freely; the islands are completely isolated from the rest of the park.

Walt Disney World RailroadA 19th-century steam train that circles the park, with stops at Main Street, U.S.A. and the Storybook Circus area of Fantasyland.
Liberty Square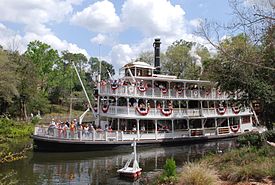 Step back into colonial America in
Liberty Square
, where freedom and independence are buzzwords and powdered wigs are the height of fashion. Even the flower beds are red, white, and blue in this patriotic harbor town. A replica of the
Liberty Bell
sits in the central square, along with a majestic live oak serving as the local
Liberty Tree
, where patriots would gather to debate and plan.
Hall of PresidentsThis attraction starts with an inspirational ultra-widescreen film on the history of the U.S. presidency. At the climax, the screen rises to reveal all 43 presidents on the stage, presented in lifelike Audio-Animatronics. Washington, Lincoln, and Trump give brief speeches.

Haunted MansionA stately Dutch Gothic mansion sits on a hill to the north of Liberty Square, representing the Hudson River estates of the 19th century. Observant visitors will, however, note some decidedly eerie sounds coming from the mansion; those who venture inside will find themselves immersed in a creepy but occasionally wacky house of horrors. A mostly ride-through attraction featuring 999 happy haunts (which means there's room for one more—did you bring your death certificate?) and the only Disney cast members who never smile. The latest round of renovations in 2008 have done wonders in updating the innovative special effects.

Liberty Square RiverboatRide a steam-powered stern-wheeler down the Rivers of America, all the way around Tom Sawyer Island. Gives you some unique views of attractions like the Haunted Mansion and Big Thunder Mountain that you can't otherwise see, and there are also some dioramas scattered around that are only viewable from the riverboat.

The Muppets Present… Great Moments in HistorySam the Eagle is your host for "Great Moments in History"… at least, the American parts. Appearing in second-story windows looking out over the Liberty Tree, Kermit, Miss Piggy and the rest act out either The Midnight Ride of Paul Revere or the signing of the Declaration of Independence. Of course, however seriously Sam takes the proceedings, Muppets will be Muppets, and chaos reigns supreme. These 10-minute shows are packed with both humor and history.
Fantasyland
In the courtyard, around the forest, or at the circus,
Fantasyland
is where Disney's classic animated fairy tales come to life. It is home to many of the most iconic Disney attractions, and is nearly always very crowded. In 2012, Fantasyland underwent an extreme makeover, the biggest changes to hit the Magic Kingdom in its 40-year history. The land is now divided into three distinct sections: the Castle Courtyard, Enchanted Forest, and Storybook Circus.
Castle Courtyard
This area of Fantasyland, closest to the castle, has most of the pre-2012 Fantasyland rides and has remained fairly unchanged during the land's expansion. From rides based on classic Disney animated features to the inimitable "it's a small world" boat ride, the attractions here are among Disney's most beloved and iconic.
it's a small worldSet sail on the happiest cruise around the world, to be serenaded by stylized Audio-Animatronics of children from every continent. This was originally Pepsi and Bank of America's pavilion at the 1964 New York World's Fair. The cheerful theme song is known all over the world, both for its message of unity and peace as well as for its relentlessly catchy tune.

Mickey's PhilharMagicA computer-animated 3D movie. You think you're in for a magical concert conducted by Mickey Mouse, but Donald Duck swipes Mickey's sorcerer hat, and things go hilariously awry. The audience follows Donald into iconic scenes from Fantasia, The Little Mermaid, Aladdin, and more.

Peter Pan's FlightExperience the story of Peter Pan from your own flying pirate ship. Soar over the rooftops of London, and on to Neverland. Hit this attraction early, as the line can get very long.

Prince Charming Regal CarrouselThis carousel was built in 1917, making it the oldest ride in the park. Found dilapidated and no longer operational in 1967 in Maplewood, New Jersey, it has been meticulously restored to its splendor. Non-riders can play a bit of name-that-tune as they listen to the creative band-organ arrangements of classic Disney music.

Princess Fairytale HallSnow White's Scary Adventures, an opening-day attraction, is gone, but Snow White herself and many of her Disney Princess friends have gathered at the Fairytale Hall to meet their young fans.
Enchanted Forest
Unused and underused space in the northeastern part of the land—some of which was once the
20,000 Leagues Under the Sea
ride—has been transformed into a lush fairy-tale setting that stands in stark contrast to the fair-like atmosphere of the Castle Courtyard. Finally completed in 2014, the Enchanted Forest represents the biggest addition to Walt Disney World since Disney's Animal Kingdom opened in 1998.
Enchanted Tales with BelleGuests walk through the cottage where Belle's father lives, making use of a magic mirror to enter the Beast's castle. There, Lumiere and the Wardrobe have arranged a surprise for Belle, and all the guests—kids and adults alike—are welcome to participate in the story. This experience is much more than just the typical autograph and photo session.

Mad Tea PartyThe Mad Hatter and the March Hare invite you for a spin in a giant teacup. You can spin your teacup around its center axis at whatever speed you like, but that's not the only thing that'll be moving; each group of five cups also spins around a common axis, and then the whole shebang rotates around a giant teapot. Riders with plenty of arm strength can get their teacup spinning to ridiculous speeds; know your limits!

The Many Adventures of Winnie the PoohFollow Pooh and his friends on an adventure through the Hundred Acre Wood. Might be the most popular ride in the park, at least for the under-5 set.

Seven Dwarfs Mine TrainAn innovative new roller coaster takes guests through the Seven Dwarfs' mine in carts that swing precariously back and forth. This is not a mega-thrill ride like some of Disney's big coasters, but it will still offer plenty of excitement... particularly for kids who've graduated from The Barnstormer over at Storybook Circus.

Under the Sea - Voyage of the Little MermaidIn the classic Disney dark-ride style, guests revisit the story of the 1989 film that ushered in the Silver Age of Disney animated films. Ariel's Grotto, just outside, lets guests meet and take pictures with the mermaid herself.
Storybook Circus
Storybook Circus
is a wild and energetic area with animals and music galore.
The Barnstormer Featuring the Great GoofiniA children's roller coaster. Perfect alternative for those too short to ride Space Mountain or Big Thunder Mountain Railroad.

Casey Jr. Splash 'N' Soak StationKids can play and splash around the circus train from Dumbo. They will get very wet, and you probably will too, even if you just sit around the perimeter. Consider bringing a change of clothes.

Dumbo the Flying ElephantDumbo spreads his giant ears and flies around and around, and you can make him go up and down as you spin. This classic attraction has been the very first "thrill ride" for countless kids over the years. Now, with two carousels and an indoor "virtual" queuing area with activities and games, the days of insufferable waits for Dumbo are over. (Note that guests using FastPass+ will bypass the activities inside the big tent.)

Pete's Silly SideshowMickey's pals have all been working hard at the Storybook Circus, and you can meet them here, in their circus personae: "Minnie Magnifique", "Daisy Fortuna", "The Great Goofini", and "The Amazing Donaldo". (Mickey himself still holds court down at the Town Square Theater.)

Walt Disney World RailroadA 19th-century steam train that circles the park, with stops at Main Street, U.S.A. and Frontierland.
Tomorrowland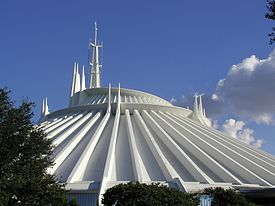 Take a glance into the future in
Tomorrowland
, Disney's homage to the dreams and innovations that will keep humanity moving forward. Very different from the other lands of the Magic Kingdom, Tomorrowland is all about smooth chrome architecture, strange and bizarre creatures, and thrilling spaceflight.
Parkwide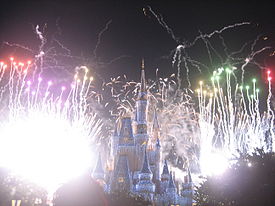 The parades and shows at all of the parks garner big crowds, but the Magic Kingdom really takes the cake, perhaps due to its relatively narrow streets and the sheer popularity of the park. Unless the park is practically deserted, you'll need to stake out a viewing location well in advance of show time (check your Times Guide for the schedule). If you want to sit on the curb or grab a bench seat, you'll want to get there at least an hour ahead of time; if you're willing to deal with a lesser view, you may get lucky and find a decent spot as little as 15 minutes beforehand. (If you're running late for a parade, aim for the end of the route, as the parade takes up to 20 minutes to get there.)
Most importantly, though, if you aren't planning on watching the parade or the show, stay well away from the prime viewing locations. The rides and other attractions will have much shorter lines during these times, so pick a few well away from Main Street and enjoy.
The parades start in Frontierland near Splash Mountain, continuing down the path to Liberty Square going towards the Central Plaza. The parade circles the Central Plaza and then proceeds down Main Street U.S.A. Fireworks are visible throughout the park, but they work best with Cinderella Castle as a backdrop, so most people view them from Main Street on their way out of the park for the night. Plan to be in front of the castle at least an hour ahead of showtime for the best view of the show.
Festival of FantasyThe Magic Kingdom's new parade is one of the most spectacular daytime parades they've ever come up with. Combining great Disney music arrangements with new floats loaded with special effects, the Festival of Fantasy parade is already attracting a lot of attention.

Move It! Shake It! Dance and Play It!This mini-parade, which occurs several times daily, features just a handful of floats, but it's not just a parade! It's also a stage show; when the floats reach the hub in front of Cinderella Castle, they form a circle and start a huge dance party, encouraging kids (and kids at heart) to get out of the crowd and dance with the characters.

Once Upon a TimeEach night before the fireworks, enjoy a 14-minute show in which Cinderella Castle undergoes a series of spectacular transformations.

Happily Ever AfterDisney's fireworks shows are legendary. There's nothing quite like seeing fireworks exploding behind Cinderella Castle. This newest iteration of the show incorporates lasers and a number of projection effects on the castle walls. The best viewing areas generate very crowded conditions, especially now with the projection effects. If you really want to avoid the crowds, try watching the fireworks from one of the Magic Kingdom resorts; the show's audio is piped into speakers in some of the prime viewing locations.
Ferrytale Fireworks: A Sparkling Dessert Cruise

phone: +1 407-WDW-DINE

Board one of the Magic Kingdom's big ferryboats, head out to the middle of the lagoon, and enjoy an array of desserts and beverages and a great view of the fireworks. And you get a souvenir to take home!
Holiday events
In recent years, the Magic Kingdom has been host to two
extremely popular
"hard-ticket" holiday events. On selected days from September through December, the park closes early, but guests who pay extra get to stick around to see special shows, partake of free treats, and go on rides with shorter lines. Not all attractions are open during these special events, but most of the most popular ones will be.
These events are held three or four nights a week (although the exact schedule varies). Tickets are very limited, so plan well in advance for the night you want to go. Ticket prices vary, with the most expensive prices closest to the holiday.
Mickey's Not-So-Scary Halloween PartyA five-hour party with two special Halloween parades, the Happy HalloWishes fireworks show, costumed characters wearing costumes of their own, and trick-or-treating throughout the park. Feel free to wear your own costumes, too!

Mickey's Very Merry Christmas PartyA five-hour party with two special Christmas parades, the Holiday Wishes fireworks show, complimentary hot cocoa, and snow falling on Main Street U.S.A.
Note that after the last Christmas Party, a few days before Christmas, the holiday parade and fireworks show are run in place of the usual events, allowing guests to experience them without buying a ticket to a special event. Alternatively, you can listen to and watch the fireworks shows from the Contemporary, the Polynesian Village, or the Grand Floridian resorts without needing admission to the parties.
Tours
Guided
tours
of the Magic Kingdom are quite popular. All tours can be booked by calling +1 407 WDW-TOUR (939-8687). You will need to have admission to the park to take these tours.
Family Magic TourIf you've got kids, they can't go on the Keys to the Kingdom tour (and for good reason); this, then, is your next-best alternative. The two-hour tour works like a scavenger hunt, looking for themed clues in each of the Magic Kingdom's lands. Ends with a visit from a Disney character.

Keys to the KingdomThis is the ultimate Disney tour, which goes over, under, and behind the scenes to illustrate Disney history, show you tricks of the trade, and reveal "secrets" of Disney operations. Includes a trip through the Utilidors and other backstage areas. Be warned, though: if this is your first visit to the Magic Kingdom, do not take this tour. Spend at least two days just enjoying yourself and experiencing the Magic. The tour will forever change the way that you look at the Magic Kingdom, like pulling apart a flower to see how it grows: you end up knowing more, but in your mind you will never look at a flower the same way. 4.5–5 hours, including a break for lunch at the Columbia Harbour House (order at beginning of tour). Must be 16 or older.

The Magic Behind Our Steam TrainsWalt Disney was a big fan of steam trains, and this tour lets you get an up-close view of the real trains in operation at the Magic Kingdom. You can also go behind the scenes to the roundhouse and maintenance facilities, while learning about the history behind each of the locomotives. Three hours. Must be 10 or older.
At the resorts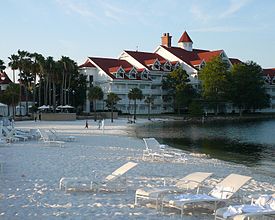 Like all Deluxe Resorts, the ones near the Magic Kingdom offer plenty of things for guests to do each day. But a few options stand out as worth a trip even if you're not staying nearby.
Disney Family Culinary AdventureThe Contemporary's catering kitchen is opened up to families who want to try their hands at cooking something new. Kids and adults alike will rotate among five stations, learning the techniques for each course, then can circulate freely asking questions as the chefs finish preparing the dinner. After an hour, it's time to eat, and everyone gets a toque to take home. Call +1 407-WDW-PLAY to book the experience.

Electrical Water PageantDating back over forty years to Walt Disney World's opening month, the Electrical Water Pageant remains a little-known treat for guests staying in Magic Kingdom-area resorts. The Pageant involves a convoy of barges that make stops on the water in front of each of the resorts, performing a 10-minute light-and-music show that ends with a red-white-and-blue tribute to the United States. Ask at the front desk what time the Pageant will be visible from your guest room.

phone: +1 321 939-4610

Oh yes. You can get married at Walt Disney World. If you're willing to spend enough, you can get married just about anywhere in the resort, and add any number of special Disney touches. Franck's Bridal Studio is where you can plan it all out, and it's right next to Disney's Wedding Pavilion, a 300-seat non-denominational chapel on the shores of Seven Seas Lagoon.

phone: +1 407 939-0754

You can rent personal watercraft here, and go tooling around Bay Lake, or you can get a bit more adventurous. Try waterskiing or wakeboarding ($165/hour), or go for the highest "ride" at Walt Disney World: parasailing ($95–$130 single, $170–$195 tandem)! The parasailing in particular is highly recommended; takeoff and landing are smooth as silk thanks to the special platform on the boat, and the line lets you sail 450–600 feet above Bay Lake, showing you views you simply can't get anywhere else on-property.
There are also smaller boats like Sea Raycers and pontoon boats available at the Contemporary Resort's marina. Some of the other resorts also have small marinas. $20+.
phone: +1 407-WDW-SPAS

address: 4111 N Floridian Way

The Grand Floridian's spa has an enormous array of indulgent ways to relax, from kid-friendly facials to multi-hour full-body experiences, including just about any type of massage or manicure you can imagine. Of special note are the Grand Romantic Couple's Massage and the Couple's Instructional Massage. Treatments last 25, 50, or 80 minutes. Ages 12+ for full treatments; ages 4-12 for kids' treatments; ages 14+ for fitness center. Children under 18 must be accompanied by an adult.
Tri-Circle-D RanchThis is where the horses who work at the Magic Kingdom stay in their off-hours, and it's open to the public! They have their own blacksmith shop, where you might see a blacksmith working, or you can visit the free petting zoo. Pony rides are $2.00. Guided horseback rides are available, too, but they start at the Livery near the campground's main entrance; for reservations, call +1 407 824-2832 up to 30 days in advance.
Escape to Walt's Wilderness

phone: +1 407-WDW-PLAY

This new tour started in the summer of 2015 gives guests a variety of experiences and a lot of information about Walt Disney and his dreams for the Florida property. You'll ride a pontoon boat around Bay Lake, get a hearty camp breakfast, visit the archery range and the Tri-Circle-D Ranch, all the while hearing tales and legends from the resort's earliest days. There are also a number of special surprises along the way. Ages 7 and up.
Wilderness Back Trail AdventureThis is a fantastic opportunity to try out a Segway Personal Transporter, and to explore the wilds around the campground. The tour starts at the Bike Barn with an hour of training on how to use the Segway, but then the fun begins. Your guides will take you out for an hour-long tour around the campground, where you can see the stables, scenery, and lots of wildlife. The guides are experts and very good teachers. Great fun. Must be 16 or older and weigh between 100 and 250 pounds (45–115 kg).

Golf
There are two 18-hole championship
golf courses
in the Magic Kingdom area, as well as a nine-hole walking course. All three courses are located in the same area, west of the Polynesian near Shades of Green. See "
Golf
" in the overview for rules and regulations. Monday through Friday, 18 holes will cost $89 if you're staying at a Disney hotel, and $104 otherwise. On weekends, add $10. During the summer, 10AM-3PM tee times are discounted; ask for the "Summer Price Slice" when you call. Late afternoon tee times are $59 on weekdays and $69 on weekends for everyone. Call +1 407 WDW-GOLF (939-4653) to reserve a tee time.
Magnolia Golf CourseThis aptly-named course set among the magnolia trees features a Mickey-shaped bunker on the sixth hole. Speaking of bunkers, this course has a ton of them, including fourteen on the fourth hole alone. It's the longest and probably the most difficult of the four Walt Disney World courses.

Palm Golf CoursePalm is Magnolia's twin in many respects, although slightly less difficult and slightly shorter. Reportedly, water hazards are the primary obstacle on this course. Watch out in particular for the 18th hole; it's a doozy.

Oak Trail Golf CourseThis course is a nine-hole walking course (at the 18-hole courses, carts are not just allowed, but required). It's perfect for families, or for duffers looking for a quick nine holes. One round of golf also counts as one of your "Fun Visits" if you've added the Water Park Fun & More option to your Magic Your Way tickets.
Disney used to operate an additional 18-hole course east of Fort Wilderness called
Osprey Ridge
. It's now part of the
Four Seasons Orlando
resort and has different fees and regulations.
Buy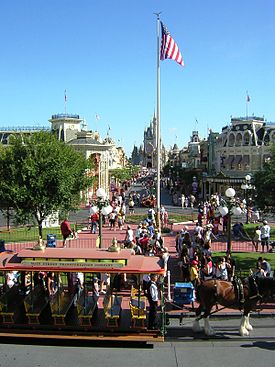 The Magic Kingdom practically invented the modern theme park merchandising plan: put the biggest store and most expensive stuff at the exit, so you have a place to shop when you're ready to leave the park.
Sure enough,
Main Street, U.S.A.
, the Magic Kingdom's entrance and exit area, is anchored by
The Emporium
and
Disney Clothiers
, which take up most of the western side of the street and carry a large variety of generic Disney merchandise. The other side of the street, though, has more specialty shops, including the
Main Street Confectionery
,
The Chapeau
(hat shop),
Crystal Arts
(glass shop with live glass craft demonstrations),
Uptown Jewelers
, and
Main Street Bakery
, which features
Starbucks
coffee, and is very popular at all times of the day.
Other well-known shops include:
Bibbidi Bobbidi BoutiqueThis is the place to go for a little girl who wants to get the full princess treatment. Her "fairy godmother" will do her up right with makeup, hairstyle, and other accouterments, although Mom and Dad will have to pay for the privilege. A Knight Package is available for boys, though it's considerably less involved. Very popular; appointments (call +1 407 WDW-STYLE (939-7895)) are strongly recommended.

Bonjour! Village GiftsThis shop, which sits across the village square from Gaston's Tavern, features a lot of the usual Princess gear, but also several unique items, including some high-end Beauty and the Beast memorabilia.

Castle CoutureThis is where newly minted Disney Princesses can buy all of their princessy accouterments.

Mickey's Star TradersWhile it's not very heavily themed, this Tomorrowland store is widely regarded as one of the best souvenir shops in the park.

Ye Olde Christmas ShoppeOpen year round, this store sells holiday-related goods reminiscent of 18th and 19th century Christmases.

Pirates BazaarRest assured Disney is aware of the current popularity of pirate-themed goodies.

phone: +1 407 WDW-CREW

Not all kids are into the whole "princess" thing; some of them can only look askance into Bibbidi Bobbidi Boutique and wonder "why?" But those same kids (and some adults!) might just be willing to be inducted into the Pirates League. Once you find the hidden entrance near the Pirates of the Caribbean ride, you'll choose the First Mate or the Empress package, and the Pirate Masters will dress you up right. Both packages include a choice of facial effects, accessories, and a personalized pirate name and oath.
And of course, there are several other gift shops that serve as the exits from associated attractions, forcing you to navigate the aisles to get out. They can be a great place to get themed merchandise if you have a particular favorite.
Magic Kingdom-area resorts
The resorts have their share of shopping as well.
Disney's Grand Floridian Resort and Spa
in particular has a number of shops, including fine chocolates and designer clothing, on the first and second floors of its main building. The shopping area is very convenient for anyone with access to the monorail.
If you're staying in a DVC villa or a Wilderness Cabin and you need to stock your kitchen, a limited supply of groceries is available at your resort's gift shop.
Eat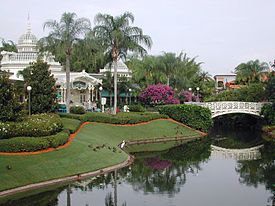 See
Eat
in the main Walt Disney World article for information on the Disney restaurant pricing system, character dining, dietary restrictions, and advance dining reservations. The telephone numbers below are for extraordinary circumstances only; for reservations and most health or diet issues, call the main Disney Dining number at +1 407 WDW-DINE (939-3463).
Please note that exact opening and closing times may vary with the park hours; check your Times Guide for official restaurant hours. Breakfast is usually served until 10:30AM, and dinner usually starts between 3:30PM and 4:30PM.
Counter service
The Magic Kingdom has an abundance of counter service restaurants; more than at any other park, dining here is dominated by the quick-service segment of the market. On crowded days, cast members at the three largest locations (Cosmic Ray's, Pinocchio's, and Pecos Bill's) will implement
managed seating
: you will be unable to enter the seating area until your entire party has their food, but once you're all ready, a cast member will find a table for you. That means you won't be able to leave your spouse with the kids at a table while you go get everyone's food, but it's necessary to make sure as many people as possible can get seats.
Be Our GuestEnjoy a light, French-inspired breakfast or lunch in the Beast's grand ballroom (or his mysterious West Wing, or the Rose Gallery). The food is quick but the service is elegant; you'll be fed on fine china, not paper plates! Even though lunch at Be Our Guest is considered a "Quick Service" meal (for Disney Dining Plan purposes) and you still have to find your own table, you can make ADRs for lunch. In fact, you can even pre-order your meal, up to 30 days in advance.

Casey's CornerA baseball-themed restaurant, inspired by Ernest L. Thayer's poem "Casey at the Bat" (also a segment from the 1946 Disney package film Make Mine Music). Don't expect much here, just hot dogs and a couple of sides.

Columbia Harbour HouseSeafood is the specialty at this eatery near the Hall of Presidents. If you're not in the mood, you can also get chicken, salad, or a hummus-and-slaw sandwich.

Cosmic Ray's Starlight CafeThe food is typical Disney counter-service (burgers, chicken, etc.), but with three separate ordering "bays" (each with its own menu), the variety is practically unbeatable. The burger topping bar is pretty good, too. As an added bonus, this is the only counter-service restaurant with entertainment—Sonny Eclipse is an animatronic alien lounge singer, bringing you the galaxy's best hits (and worst jokes) while you eat. Cosmic Ray's is usually very crowded but often worth the hassle.

The Lunching PadThree gourmet hot dog options, and not much else. Convenient location right in the middle of Tomorrowland, though.

Golden Oak OutpostA few chicken entrées, plus a vegetable flatbread. Not much seating—this is almost a snack stand rather than a true restaurant.

Pecos Bill Tall Tale Inn and CafeThe west-side counterpart to Cosmic Ray's, Pecos Bill's is almost always crowded. The menu was revamped in 2015 to a heavily Tex-Mex flavor, in the form of Southwestern salads, fajitas, burritos, and rice bowls.

Pinocchio Village HausLots of seating (some of it overlooking the 'it's a small world' loading area) but often not as crowded as Cosmic Ray's or Pecos Bill's. Pizza (cheese or pepperoni), flatbreads (caprese or BBQ chicken), salads, meatball subs, etc.

Tomorrowland TerraceChicken, burgers, pasta, and seafood. The balcony is a great spot for watching the fireworks, but you've got to buy the $49 ($29 ages 3–9) Wishes Fireworks Dessert Party to get in (it's reportedly well worth the cost, though).

Tortuga TavernBarbecue favorites on Texas toast.
There are a plethora of snack stands with generic pre-packaged snacks throughout the park, but if you're in the mood for something special, head to Main Street U.S.A.:
Main Street ConfectioneryFreshly baked fudge is a treat difficult to resist, although the vast racks of other fine candies and chocolates may help. Much of it is created right in the shop, so take some time to peek at the process.

Plaza Ice Cream ParlorAn old-fashioned ice cream parlor specializing in hand-dipped Edy's ice cream.

StarbucksThe ubiquitous American coffee purveyors have invaded the Disney parks, with their first of four Walt Disney World locations opening in the former Main Street Bakery location. They've made an attempt to fit in with the old-time atmosphere, retaining much of the old decor. In addition to your skinny double venti Americano, you can get a selection of pastries and baked goods similar to what the old Bakery offered.
A destination in itself, especially on hot days, is
Aloha Isle
near
The Magic Carpets of Aladdin
, featuring the popular soft-serve pineapple treat known as Dole whip.
Table service
Compared to the other parks, table service at the Magic Kingdom is very limited. The choices are all very good, but most of them have characters and you're probably going to need Advance Dining Reservations for any of them.
Note: if two prices are separated by a slash, the second price is for children ages 3–9.
Be Our GuestIn the evenings, Be Our Guest will convert to a table service restaurant, serving more complex French-inspired dishes in two dining rooms. And you can bet Belle and the Beast will be making appearances during the meal. Dinner at Be Our Guest is the only place to obtain alcoholic beverages in the Magic Kingdom; a selection of beer and wine complements the French cuisine.

Cinderella's Royal TableCindrella invites everyone to dine in her castle; young girls will love this experience the best. If you have to ask what the food is like, you're missing the point, but it's a fixed-price menu with a decent array of offerings. The price is steep, but it includes photos of you and your party in the lobby, a special gift for children ages 3-9, and the chance to meet Cinderella herself. Warning: This is probably the single most popular restaurant in Walt Disney World, so make sure to call very early to get a reservation—ADRs sell out within minutes each day.

The Crystal PalaceA buffet housed in a building inspired by the legendary Crystal Palace in London. The food is a bit more upscale than your average buffet back home, but only a bit. Winnie the Pooh and his friends from the Hundred Acre Wood make appearances throughout the day for photos and fun.

The Diamond HorseshoeOne of the park's opening-day venues, the classic Diamond Horseshoe saloon is once again serving full meals. Choose from three meaty entrees, and eat all you like.

Jungle Navigation Co. Ltd. Skipper CanteenThe former mess hall for the skippers of the Jungle Cruise is now open to paying customers (at least, so goes the story). There are a variety of "exotic" type dishes on the menu (influences from the Mekong, the Nile, and the Amazon) as well as a couple of international Coca-Cola flavors.

Liberty Tree TavernDine like the Founding Fathers in a tavern inspired by 18th century New England. At lunch, choose from items such as roast beef, roast turkey, or even a cheeseburger if you must. Dinner, on the other hand, is served family-style, and the pork, turkey, beef, potatoes, veggies, stuffing, and mac & cheese will keep coming (and coming) until you're full. The dinner isn't cheap but it's well worth the price (especially if you use the Dining Plan); everything is well made and you can't leave hungry. You will likely need ADRs to get a table here at dinner time.

The Plaza RestaurantA restaurant specializing in sandwiches, inspired by the Victorian times of the late 19th/early 20th centuries. Grilled Ruebens, club sandwiches, cheeseburgers, and the like. ADRs accepted only from 11AM-noon.

Tony's Town Square RestaurantOrder a huge plate of spaghetti and step into the most memorable scene from Lady and the Tramp. Several good Italian/American menu items, served in a spacious restaurant that is often overlooked due to its location near the entrance.
Resort dining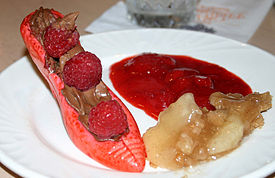 With the number of Deluxe Resorts around the Magic Kingdom, it's no surprise that the resort dining options are numerous and high-quality. The Grand Floridian, in particular, boasts several upscale restaurants, including the fanciest restaurant in all of
Central Florida
,
Victoria & Albert's
.
Disney's Contemporary Resort
California GrillCalifornia cuisine served with the best view on Disney property on the side. The menu changes frequently, as the chefs vary the tastes according to season and their ingenuity. Advance reservations are a must for this restaurant (especially at the time of the Wishes fireworks display), and window seats (some with a view of the Magic Kingdom) are not guaranteed. If all seats are taken, another option is the bar, which offers a great selection of wines and sushi. Sunday's Brunch at the Top doesn't slack off on quality (or price); enjoy high-end breakfast and midday selections prepared in the open kitchen along with the fantastic view.

Chef Mickey'sAn all-you-care-to-eat character buffet hosted by Mickey Mouse himself. Features a separate buffet with items geared for more adult tastes. When they're not clamoring for Mickey's attention, kids will enjoy the setting in the hotel's Grand Canyon Concourse, watching the monorails pass through on their way to the Magic Kingdom. This is among the most popular character dining options, especially for breakfast, so be sure to get advance dining reservations. Brunch service begins May 31, 2015.

Contempo CafeA counter-service location with unique computerized ordering kiosks. Grilled flatbread pizzas are very good; also features an array of sandwiches and salads, adding pasta options for dinner (after 5PM).

The WaveSpecializes in health-conscious selections. Even breakfast features items like multigrain waffles and pancakes. Lunch and dinner feature some very contemporary dishes; kids too old for the kids' menu might balk at most of the options.
Disney's Fort Wilderness Campground
Fort Wilderness is home to two fantastic dinner shows.
Hoop-Dee-Doo Musical RevueWestern-themed dinner theater, with six high-energy performers singing, dancing, and joking throughout the evening. The show hasn't changed much in its 40 years, but it's still a rollicking good time with great food: fried chicken, spareribs, mashed potatoes, and baked beans, all you can eat. For the grand finale, grab a washboard and play along with the cast! For this show, ADRs can be booked up to 180 days in advance (instead of the normal 90 days).

Mickey's Backyard BBQAn all-you-can-eat outdoor picnic with Mickey and Company. The characters don't go table-to-table like they do at most restaurants; instead the kids all get up and dance/boogie/hoe-down with the characters. This is a great way to tire the little ones out; they might fall asleep before you get back to your room! The buffet includes chicken, hot dogs, hamburgers, beans, corn on the cob, and all sorts of "fixins".
If you want some food without the entertainment, you have a couple of options:
Meadow Snack BarNothing special here, just a place to grab a quick bite if you happen to be at the campground for lunch or in the afternoon. Pulled pork, tuna salad, pizza, etc.

Trail's End RestaurantNot the biggest buffet at Walt Disney World, but it gets the job done, and it's all-you-can-eat. Pizza, pasta, chicken, etc. You can also buy a full meal to go (for a separate price) starting at noon. Crockett's Tavern, a small bar area, is attached.
Disney's Grand Floridian Resort
The Grand Floridian is Disney's flagship resort, and it certainly fills that bill when it comes to dining. The menus crafted by the resort's expert chefs are actively sought-out by gourmands from across the country. All of the restaurants (except Narcoossee's) are located in the main building, just steps from the monorail platform.
1900 Park FareA casual buffet amidst the Grand Floridian's classic Victorian atmosphere, where you can have breakfast with characters from Mary Poppins and Alice in Wonderland, or dinner with characters from Cinderella.

CitricosAn elegant European restaurant. If you can't afford to dine at Victoria & Albert's, this is an ideal alternative. There's even an expensive "The Chef's Domain" private dining experience available Tuesdays through Thursdays. Either way, don't miss their specialty tea selections.

Gasparilla Grill and GamesThe only counter-service establishment at the Grand Floridian, the fare is pretty typical for resort cafeterias. The video games are completely anachronistic, and they make for a noisy meal, but sometimes you just want to grab something quick and familiar to eat.

Grand Floridian CafeThe Cafe is a step below Citricos and Narcoossee's, offering a somewhat less creative menu, but you'll still enjoy some good food along with the famous Grand Floridian decor. It also has the added advantage of being open for breakfast and lunch.

Narcoossee'sA sumptuous seafood restaurant, Narcoossee's stands with Citricos as major destinations for foodies. The menu is a bit more innovative than you'll find at other Disney seafood restaurants, and the view is outstanding; the large windows open right onto the Seven Seas Lagoon, affording a view of the Magic Kingdom and (if your timing is good) the fireworks. Sunday Brunch service (prix fixe) starts November 22, 2015.

Victoria & Albert'sUndeniably the best restaurant on Disney property, and one of the finest in the southeastern U.S., Victoria & Albert's is the only AAA Five-Diamond rated restaurant in Central Florida. It's designed for a more intimate dining experience, which means wear a jacket or a nice dress, leave the children at one of the many popular child activity centers, and have a night out just for the adults. (No one under 10 years old is admitted.) You'll enjoy a seven-course menu designed specifically for your party, as well as completely impeccable service. Wine pairing is also an option. Reservations are required.
Disney's Polynesian Village Resort
All of the restaurants here are in the Great Ceremonial House, which is also the location of the monorail platform. The resort's renowned breakfast specialty (available at Captain Cook's, Kona Cafe, and in-room dining) is
Tonga Toast
: sourdough bread stuffed with banana, then battered, deep-fried, and topped with cinnamon and sugar. The popular
Dole Whip
treat is also available here, at the Pineapple Lanai kiosk.
Captain Cook's Snack CompanyA good place to grab a quick bite to eat, although the menu includes only the barest nods to Polynesian flavors (and, of course, the delicious Tonga Toast).

Kona CafeTraditional American fare fused with Asian flavors. Think teriyaki-style strip steak, or coconut almond chicken. The Sticky Wings for Two appetizer gets good reviews, but then, so does pretty much everything on the menu.

ʻOhanaThe restaurant's name is the Hawaiian word for "family," introduced to Disney audiences in the movie Lilo & Stitch. Breakfast features the title characters from the film (and often Mickey and Pluto), though dinner does not. Both meals are, appropriately enough, served family-style, and feature Polynesian flavors without being too exotic.
And if you're in the mood for some entertainment with your meal, the Polynesian Village is home to one of the three dinner theater options.
Disney's Spirit of Aloha Polynesian LuauNo Polynesian island vacation is complete without going to a luau, and Disney's version certainly fills the bill. Hula dancers, a fire thrower, plenty of pineapple, and music from Lilo & Stitch—you get the whole works.
Disney's Wilderness Lodge
The restaurants at Wilderness Lodge all fit in well with the rustic forested decor, and they're all within steps of the main lobby.
Artist PointThis is a Signature Restaurant, on par with California Grill or Citricos, but with a much more rustic, outdoors-y feel to it. The menu changes frequently, but some choice cut of bison meat is usually considered the house specialty. Not a great place for vegetarians, but for everyone else it's a very popular restaurant.

Geyser Point Bar & GrillGeyser Point is a large open-air pavilion that serves two purposes in one. First, it serves as the pool bar for Wilderness Lodge's two pools, with an extensive menu of cocktails and small-plate appetizers. But it's also a counter-service location with a menu of burgers, salads, and sandwiches (or grilled breakfast items in the morning hours). And if you really don't feel like getting up from your comfy seat to order at a counter, there are servers who will take your order and bring your food right to you. The breezy setting affords great views of Bay Lake in a comfortable, sheltered (and heated, when necessary) setting. Even if it's raining sideways, the pavilion can be completely enclosed for protection.

Roaring ForkJust a quick counter-service location to get you filled up and on your way. Not a lot of choices, but it gets the job done. Closed for refurbishment.

Whispering Canyon CafeTuck your napkin under your collar, shout as loud as you want, and boo or blow raspberries when the waiter announces that someone is going to SeaWorld or Universal Studios! This is not the place for quiet, retiring types; it's a raucous, energy-filled, foot-stomping eatery with plenty of good home-style food. At lunch, you order à la carte, but at dinner you'll be getting a Canyon Skillet, which is filled (and refilled, as often as you like) with four kinds of meat and several side dishes. Breakfast at the Cafe is somewhat more sedate, as befits the hour, but the servers are still ready to have some fun, and there's even a breakfast version of the Canyon Skillet!
Four Seasons Orlando
The Four Seasons Orlando has a number of restaurants.
Ravello
, an Italian restaurant, features Disney character breakfasts on Thursdays and Saturdays (and selected peak Tuesdays).
Capa
is on the top floor and boasts views of the Magic Kingdom fireworks.
Drink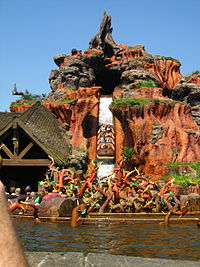 The Magic Kingdom is intended to be a carefree place, where children and adults can have fun together. As such, a
no alcohol
rule was instituted throughout the park when it opened in 1971. With the opening of the Be Our Guest restaurant in November 2012, however, it was decided that the French atmosphere would not be complete without a selection of beer and wines on the menu. The experiment was so successful that all sit-down restaurants now serve appropriate alcoholic selections with meals. You can enjoy your drink at your table, but you can't take it out of the restaurant, nor can you purchase alcohol of any sort in the park outside of those four venues.
Of course, there is always alcohol available at the resorts, both at table-service restaurants (and some of the counter-service locations) and at a variety of bars and lounges.
California Grill
in the Contemporary Resort and
Victoria & Albert's
in the Grand Floridian Resort have particularly extensive wine lists.
Each of the resorts has a
pool bar
or two, each with a variety of alcoholic refreshments and light meals. In addition, you'll find the following lounges and coffee bars:
Contemporary GroundsEnjoy a selection of caffeinated drinks and assorted pastries.

Garden View LoungeThe Garden View Lounge offers an afternoon tea each day, with a wide selection of specialty teas. You can stop at just the tea, or you can go for the full afternoon tea experience, with tea sandwiches and tarts and the like. There are also a number of à la carte items available, from cheese plates to beer and champagne.
My Disney Girl's Perfectly Princess TeaFive mornings a week, the Garden View Lounge hosts a special tea party for young girls. In addition to the tea, adults and children alike will enjoy a light luncheon with princess cake, a meet and greet with Sleeping Beauty (Princess Aurora), and special gifts for each attendee between ages 3 and 11. The tea will be held at Citrico's while the Garden View Lounge is being refurbished.
Kona Island Cafe Coffee BarMany people consider this the best place at Walt Disney World for coffee—and considering it's authentic Kona Coffee, straight from Kailua-Kona, Hawaii, they may just be right.
Tambu LoungeThis is a popular place for guests waiting to be seated at the Kona Cafe or at 'Ohana. Great Polynesian atmosphere, though watching ESPN on the big-screen TV detracts a bit. Well known for their specialty drinks.
Territory LoungeSpecializes in wines from the Pacific Northwest. Wood paneling, TV, very relaxed feel—and some excellent food items on the menu.
Top of the World LoungeThis exclusive lounge is open only to Disney Vacation Club members staying at Bay Lake Tower (plus their guests)—and for good reason; the lounge's windows, high atop Bay Lake Tower, offer an outstanding view of the Magic Kingdom and its fireworks displays. If they didn't restrict who could get in, the place would be overflowing with people every single night.
Trader Sam's Grog GrottoThe "head" salesman from the Magic Kingdom's Jungle Cruise attraction has set up shop at the Polynesian, but instead of macabre souvenirs, he's selling exotic cocktails and small plates. The patio offers views out onto the Lagoon.
Sleep

You certainly have a variety of options for accommodations near the Magic Kingdom, but few of them are cheap. Home to the four oldest resorts at Walt Disney World, the Magic Kingdom area is known for its upscale Deluxe resorts and the vast Fort Wilderness campground.
Budget
phone: +1 407 824-3400

address: 1950 W Magnolia Palm Dr

Owned by the United States Department of Defense, Shades of Green is open only to active and retired military or National Guard personnel, civilian employees of the Department of Defense, and their guests. Merchandise sold at Shades of Green is exempt from sales tax, and rooms are exempt from hotel tax. While the hotel is quite inexpensive, the only available Disney amenity is participation in Extra Magic Hours at the parks; Shades of Green guests don't get a Key to the World card, can't have merchandise sent to the hotel, and cannot participate in the Disney Dining Plan. On the other hand, it's a very short walk to the Palm, Magnolia, and Oak Trail golf courses.
Campground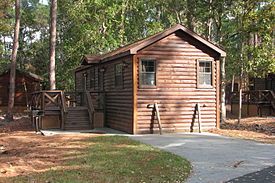 Disney's expansive
Fort Wilderness Resort & Campground
is really like two resorts in one—the campsites and the cabins. Both share all of the resort's amenities, including two great dinner shows, marshmallow roasts, hiking, biking, swimming, boating and horseback riding, all without ever leaving Disney property. It's the perfect place for people who want to get away from it all without getting
too
far away.
Fort Wilderness is the only
pet-friendly resort
on Disney property, though pets are allowed only in designated areas of the campground. Only a small proportion of sites are in pet-friendly areas, so make sure you mention that your pet will be coming with you when you make your reservation. Once you get there, your dog will have plenty of opportunity to get exercise, with plenty of trails for on-leash walking and the special
Waggin' Trails Dog Park
for off-leash fun.
The Campsites at Disney's Fort Wilderness Resort

phone: +1 407 824-2900

address: 4510 N Fort Wilderness Tr

These campsites are absolutely the cheapest way to stay at Walt Disney World, bar none—if you don't mind roughing it, that is! Bring your own tent and you can set up stakes for less than $50 a day; sites that can accommodate motorhomes are a bit more. Each site has a picnic table, grill, electricity, and city water; full hook-up sites add sewer and cable TV. Wireless Internet access is available for a fee.

The Cabins at Disney's Fort Wilderness Resort

phone: +1 407 824-2900

address: 4510 N Fort Wilderness Tr

The Wilderness Cabins make it easy and comfortable to "go camping" with the family. Each 500-square-foot cabin sleeps six people, with a queen-size bed and two bunk beds in the bedroom, and a sofa bed in the living room. The cabins also have full kitchens with dishwashers, air conditioning, and an outdoor deck. You'll also enjoy full maid service; they'll even fill and run the dishwasher for you while you're out. If you want the rustic atmosphere and activities of Fort Wilderness without the hassle of bringing your own shelter, the cabins are the way to go.
Splurge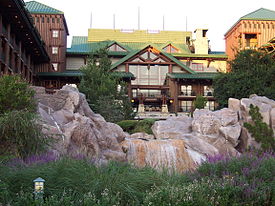 Four upscale resorts are arrayed around the Seven Seas Lagoon, three of them on the monorail loop, providing easy and fun access to both the Magic Kingdom and
Epcot
. Each of the resorts also has water transportation to the Magic Kingdom.
The Contemporary and the Polynesian Village are the oldest resorts on the property, and though they've changed a bit over the years, age hasn't diminished their appeal. The Grand Floridian is WDW's flagship resort, with the utmost in style and service. The Wilderness Lodge sits back, away from the monorail but still a worthy companion to the other Deluxe resorts.
Each of these resorts provides the highest level of service and amenities available at Walt Disney World. You'll find dedicated concierge services, mini-bars and refrigerators, turn-down service, upscale restaurants and shopping, and everything else you'd expect from luxury hotels. Each hotel, especially the Grand Floridian, also has some high-end suites available, all the way up to "Presidential"-level. And each of them has Disney Vacation Club villas for extra-homey atmosphere and amenities.
phone: +1 407 824-1000

address: 4600 N World Dr

Architect Welton Becket hit a home run in the late 1960s with the striking, iconic A-framed tower of the Contemporary Resort. Even today, the design looks modern and innovative, not dated. Add in the monorail, which runs right through the 10-story Grand Canyon Concourse, and staying at the Contemporary is unlike staying anywhere else. On the other hand, this is Disney's most hotel-like Deluxe Resort; there is no overarching theme, no sense of immersion into a different time and place. But the style and sophistication are unparalleled, and the view from the top is spectacular.
Bay Lake Tower at Disney's Contemporary ResortThe circular shape of this resort building provides a stark contrast with the main A-frame tower, but the two look more like siblings than competitors, and they're connected by a covered but open-air fourth-floor walkway. Due to the circular tower, the rooms are wedge-shaped, which makes for some slightly different configurations than the other DVC resorts. Of particular note, the 1-bedroom and larger villas have an extra bathroom compared to the other DVC resorts; the additional shower can be a great morning time-saver, especially if you have a lot of adults in your party.
Disney's Grand Floridian Resort and Spa

phone: +1 407 824-3000

address: 4401 Floridian Wy

Undoubtedly the highest-end of the high-end Disney Resorts, with Victorian elegance that pays homage to the golden days of Palm Beach. Marble flooring and chamber music in the lobby, three world-class restaurants, intricate decor, and impeccable service are this resort's hallmarks. The basic rooms are very nice but may not seem quite worth the price; you're really paying for the amenities and services that surround the sleeping areas. Senses – A Disney Spa at the Grand Floridian is a short walk away, with Disney's Wedding Pavilion just a bit further.
The Villas at the Grand FloridianDisney's flagship resort now has 147 villas, with all of the usual amenities and room options. They're very close to Senses and to the Wedding Pavilion, though a bit farther from the main building and its monorail station. These villas come with one or more pull-down bunk-size beds, increasing the sleeping capacity beyond that of other similar-size villas; for example, the studio sleeps five, and the two-bedroom villas sleep 9 or 10 depending on configuration.
Disney's Polynesian Village Resort

phone: +1 407 824-2000

address: 1600 Seven Seas Dr

A tropical paradise that celebrates the spirit and hospitality of the South Pacific. All of Disney's cast members are friendly and welcoming, but the Polynesian's cast members take it to a new level, reflecting the friendly spirit of the islands their resort represents. There's a reason that several current cast members have worked here since the day the resort opened in 1971. You'll receive leis at check-in and in many ways feel like you're staying on an island in the Pacific instead of at Walt Disney World.
Disney's Polynesian Villas & BungalowsThe Polynesian's new (as of 2015) DVC facilities come in two different flavors, each a slight twist on the normal DVC offerings. Three of the hotel's buildings have been converted into villas, all of them studios. These "deluxe studios" are much larger than other DVC studios, with some of the extra space going toward a second shower-and-sink combo. Families wanting larger accommodations can join two studios together for a suite that sleeps up to 10. Also part of the new DVC property are bungalow-style villas right out over the lagoon. The 20 bungalows each boast a full kitchen, two bedrooms, and a private deck with a plunge pool (and an incredible view of the Magic Kingdom fireworks); each has room for eight guests.
phone: +1 407 824-3200

address: 901 Timberline Dr

Appreciate the rustic charm of the grand lodges of the National Parks of the Old West. Although it's not on the monorail, the Wilderness Lodge makes up for it with all-encompassing theming, attention to detail, and an energetic spirit. Ask at check-in if your family can participate in the daily flag-raising ceremony, or join in the raucous fun at the Whispering Canyon Cafe. Christmas at the Wilderness Lodge is particularly fun, as a 60-foot Christmas tree and a gingerbread village fill the humongous lobby and the cast goes all out to decorate the entire lodge. Guests often come from other resorts just to see the Lodge's lobby, Christmastime or not!
Boulder Ridge Villas at Disney's Wilderness LodgeThe villas offer all of the benefits of staying at the Wilderness Lodge, but with the comfortable home-like amenities of all the DVC resorts. The villas tend to be a bit far from the lobby, however, so you may find yourself having to walk quite a ways to get to the restaurants, bus stop, and docks.

Copper Creek Villas & CabinsOpening July 17, 2017. The separate Copper Creek villas include the full range of DVC room types in a setting themed after the mineral rushes of the Pacific Northwest. In addition to the usual studios and suites, there are 26 waterfront cabins (similar to the Polynesian's bungalows) with fireplaces, outdoor hot tubs, and sleeping space for eight people.
Non-Disney resort
phone: +1-407-313-7777

address: 10100 Dream Tree Blvd, Golden Oak

The brand new Four Seasons Orlando maxes out on the luxury scale, with everything you'd expect in a high-end hotel without the Disney accouterments. Disney is involved here, though; there's a character breakfast twice weekly, and Disney cast members staff the Disney Planning Center inside. Package delivery is available from the parks, but guests staying here can't take part in Extra Magic Hours or any other amenities exclusive to Disney resort guests. The Four Seasons folks do like to tout their views of the Magic Kingdom fireworks, though; many guest rooms face the right direction, and the rooftop restaurant, Capa, also promises to be a popular spot for viewing.