Waltham
Waltham
is a city in the
American
state of
Massachusetts
. It is some 10 miles (16 km) west of central
Boston
on the Charles River. Waltham is considered part of the
Greater Boston
conurbation; even so, it has a unique character amongst Boston's outer suburbs. It is sometimes called "Watch City" because it was home to Waltham Watch Company. Many high-tech companies have made Waltham their home. It is also home to Bentley College and Brandeis University.
Understand

One of the oldest of American cities, Waltham was first settled by British settlers in 1634 and was incorporated in 1738. In 1813, the Boston Manufacturing Company was formed in Waltham by Francis Cabot Lowell. It was the first modern factory in the United States and history books have credited this as the beginning of America's industrial revolution. In 1854, the Waltham Watch Company was established by Aaron Dennison. The company went on to make the first watches with interchangeable parts and the first 100% American-made watch, designing advanced machinery that spread to other industries and led to America's industrial power. Waltham is also noted as the home of such famous persons as Governor Christopher Gore and General Nathaniel Banks.

Get in
By plane
Logan International Airport
is the closest airport to Waltham; it is about 20 minutes east.
By car
Waltham is accessible via Interstate 95 also called route 128, which connects to the Mass Pike (I-90). This is important if you are flying in or out of Logan airport because you are going to take I-90 West to get into Waltham and vice versa to get back into Boston. On I-90 there are two sets of toll plazas of $1.25 each, and rush hour can set you back 25-30 minutes between 4:30 and 6:30PM.
By train
There are several trains from Boston daily. Take the Fitchburg line from North Station on the
MBTA
Commuter Rail to the Waltham or Brandeis/Roberts stop. The trains are a good way to get into Boston especially on the day of a sports game because they go directly to the Boston Garden. They are moderately priced.
By bus
Local MBTA buses 70 and 70A run from Central Square in Cambridge to Waltham. Several MBTA Express Buses (553, 554, 556, 558, 505) also serve Waltham. They originate several blocks from South Station in Boston and go to Waltham on weekdays only. Buses are usually reliable and inexpensive, but tend to get crowded around rush hour as well(4:30 to 6:30).
Get around
By car

Driving around Waltham is not difficult and you can be just about anywhere in the city in 15 to 20 minutes. There are three main streets to Waltham: Main Street, Moody Street, Lexington Street. During rush hour(4:30 to 6:30) you will hit some traffic that may slow down your commute 10 to 15 minutes. Main Street is probably the worst during that time, and Moody Street can also be busy on a Friday or Saturday night. Parking is accessible with several public parking lots in high traffic areas, as well as on street parking.

By bus

Local city buses are an okay way to get around the city. They are cheap and usually reliable, but can get crowded and stuffy at times. The best place to catch the bus from is on the Common, the bus stop is across the street from the train stop.

See
Do
Concerts On The Waltham CommonSummer only. Tu night concerts on the Waltham Common Tuesday evenings at 7:30PM. Free.

Boston Rock

address: Prospect Hill

This is good place to take a quick little car ride, and have lunch at the top. There are picnic tables and grills scattered around the viewing area. The view of the Boston skyline is beautiful. It is also a good work out, if you want to run up the road up instead of driving.

address: 295 Totten Pond Road

The ice rink is a fun place to go and mess around for a couple hours. You can get pick-up games going, or skate around for fun. They do not rent skates. But if you have your own gear its not expensive and it usually not very busy.

address: 16 Pine Street Waltham, MA 02453

Sx screens. They usually have a good mix of popular new releases and independent films. Also, they run different daily specials and discounts which is a good way to catch a cheaper movie.
Learn
Bentley College, 175 Forest St., +1 781-891-2000, .
Brandeis University, 415 South St., +1 781-736-3500, .
Buy
Waltham does not offer a lot of shopping.
Olympia Sport

address: 868 Lexington St.

Olympia is a good store for basic athletic equipment and athletic shoes. But it does not offer much in high quality shopping.
Eat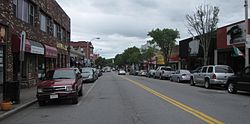 Most of the good restaurants in Waltham are along Moody St. This includes Thai, Chinese, Indian, and American diner fare. Start at one end and walk the length before deciding on one spot.
Budget
99 restaurant

address: 110 South Street Waltham, MA 02453

The 99 is a good family restaurant, with American style food. The price is reasonable and is a good, quick little dinner option.

Waltham India Market food court

address: 315 Moody Street

Check out the curries.

phone: +1 781 891-1032

address: 549 Lincoln Street

Deli and market, great place for sandwiches, soup and ice cream.
Mid-range
Green Papaya

address: 475 Winter St

Decent Thai food for New England. Good vegetarian selection. Although the spicy level is rated at 1 - 3 stars, the chef will kick it up a notch if you ask for 4 or 5 stars. Their red curry is very good.

Little India Restaurant

address: 475 Moody St

This restaurant is one of many Indian places along Moody St. Little India is probably the smallest tucked into a small front. Although, they have a second dining room in the back. They have a well spiced menu. Try the Saag Paneer.

phone: +1 781 684-0500

address: 455 Totten Pond Road #1

Naked Fish is a nice place to eat, and is with in 5 minute walking distance of the Doubletree and Hilton Hotels. It is primarily a seafood restaurant with a very good selection. They do also have a children's menu and it is an upper scale family dinner spot. It is middle-priced and good quality food. They do serve alcoholic cocktails with a tropic flair; the Mui-Tui is delicious.

address: 482 Moody St.

Good pasta dishes

Bertucci's

phone: +1 781 684-0650

address: 475 Winter Street

Mediocre Italian food.
Splurge
Tempo

address: 474 Moody Street

Tempo is a fine dining restaurant and bar. The menu is always full and changing. Also, there are daily specials and appetizers using local grown and fresh caught ingredients. Tempo also has a hopping bar scene on a Friday or Saturday night. But if you plan to eat on weekend call ahead for reservation because the place fills up quickly. Tempo is on the pricer side but is a great place to go on a date.

La Campania

address: 504 Main Street Waltham, MA 02452.

La Capania offers upscale Italian food, that taste like an Italian grandmother cooked it for you. It has its own wine store, with a large selection of Italian vino and other wines. This restaurant has a quite, intimate atmosphere and is perfect for a romantic date night. This is a pricey restaurant but you get great home-cooked food and excellent wine.
Drink
address: 240 Moody Street
Sleep
Go next