Warangal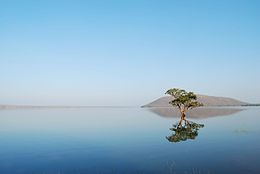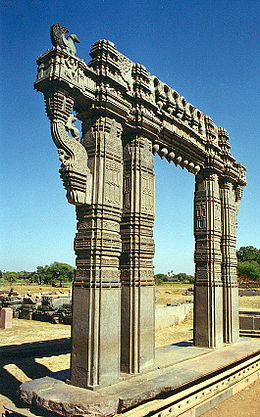 Warangal
is in
Telangana
in
Southern India
. Historically known as
Orugallu
and also
Ekashila Nagaram
(City carved in single stone).
Warangal
is part of a tertiary city including
Kazipet
and
Hanamkonda
cities . The region once came under
Kakatiya dynasty
.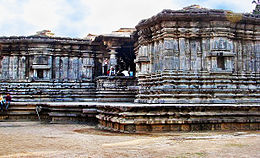 Get in
The nearest airport is in
Hyderabad
, approximately 130 km away. It falls on the
New Delhi
-
Chennai
trunk train route so many important trains like
Grand Trunk express
call on here. By road its connected to Hyderabad through NH202.
Possibly the best way to reach Warangal is by a train since there are ample number of trains that stop here throughout the day. Situated on the major railway line connecting the north and south of India it is possible to take a train from all the major cities of the country like
Delhi
,
Mumbai
,
Kolkata
,
Chennai
,
Hyderabad
.
Warangal is very well connected by bus to
Hyderabad
, the closest big city with a high frequency of various quality services.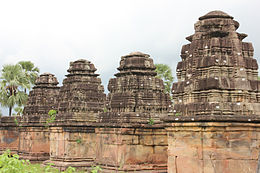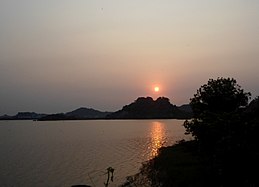 Get around
Auto-rickshaws, which are three wheeled motor powered vehicles, with a carrying capacity of up to three.
Autos ply on the main road between Warangal railway station and Kazipet railway station which is about 20 km away. There is no standardised metered tariff and one has to either share a single auto with others or negotiate a charge for single occupancy.
One can drop down at Kazipet or Warangal railway stations, both are like twin cities. You also have Hanamkonda in between Warangal and Kazipet which are like Tricities. These 3 cities are well connected and together they are called Tri-City. In between the Warangal and Kazipet there is a major railway crossing which divides the trains towards Chennai, Delhi and Hyderabad.
You can take a two day trip to Warangal the places listed except Ramappa are within the 10-20 km circle. and one day you can spend for Ramappa which is about 70 km from the Warangal city. Roaming in an auto will be very cheap. You can also travel using city bus.
The railway station in Kazipet is Junction.

See
You can take a one day tour of Warangal Fort, Thousand Pillar Temple, Bhadrakali Temple and Kakatiya Musical Garden, which are in the city.
Bhadrakali Temple
Eturnagaram Forest Wildlife Refuge
Govindarajula Gutta
Kakatiya Musical Garden
Kakatiya Rock Garden

Laknavaram

National Institute of Technology
Padmakshi Temple

Palakurthy Someshwaraswamy Temple

address: Palakurthy, Via St. Ghanpur

Ramappa Temple and Lake
Rayaparthy Shiva Temple built in 18th century

Shiva temple

address: Kondaparthy

Siddeshwara Temple built in 3rd century
Thousand Pillar Temple. Renovated in 2004.

Warangal Fort

For the religious, a trip to Yadagirigutta (a holy shrine of Lord Narasimha), Jeedkal (Shrine of lord Rama - who sat there while looking for Sita), Kolunupaka (a holy shrine of Jains - with a statute of Mahavir in jade) can be immensely satisfying. On the way back to Warangal one can also visit Pembrathi to see the brass craftsmen at work.
Do
Bogatha Waterfall

address: Cheekupally stream, Koyaveerapuram G, Wazeedu Mandal, Jayashankar Bhupalpally district

the second largest waterfall in the Telangana region. Bogatha is colloquially called as "the Telangana Niagara" and "Telangana Niagara jalapatham". The newly constructed Eturnagaram bridge on NH 202 reduced the travelling distance to 329 km from 440 km.
Eat

The main hotels have some of the best restaurants in the city and serve both south Indian as well as north Indian food.

Drink

There are also many dhabas and bars & restaurants. The food quality is the best, and have the authentic 'Dhaba' taste.

Sleep
The costliest hotels are Ratna and Ashoka where the room costs about 400 for SR without AC and 600-700 for Single AC.
Ashoka Hotel

phone: +91 870 6692220

address: Warangal

phone: +91 870-2454587

address: S.V.P Road, Rangampet

Offers well-furnished and comfortable air-conditioned rooms.

Hima Residency

phone: +91 870-2456522

address: Near N.I.T

Located near to National Institute Of Technology.

Hotel Landmark Residency

phone: +91 870-2546111

address: Warangal-Kazipet Main Road, Nakkalagutta, Hanumakonda

A 3 star hotel in Warangal, one of the few upscale hotels around, which in addition to the 3 in-house restaurants, also carries 2 banquet halls for official meetings and parties. Its features include king-size beds, flat screen TVs, elegant interiors, centralized AC's, exemplary service.

phone: +91 870-2573888

address: Hanumakonda

phone: +91 870 2432312

address: Kazipet

Ratna Hotel

phone: +91 870-2500096

address: Pochamma Maidan, Warangal, 506002
Go next