Warmia-Masuria
Warmian-Masurian Voivodeship
(Polish:
województwo warmińsko-mazurskie
) is a province in
Poland
.
Cities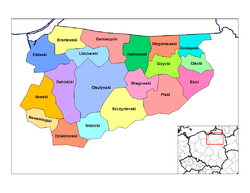 (Frauenburg) - Copernicus lived there
— spa in Masuria
(Rastenberg) - location of the Wolf's Lair
- a town is situated in the Masurian lakelands area close to Śniardwy, the largest lake in the region.
(Osterode)
Other destinations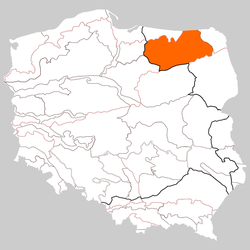 Masuria
(
Mazury
in Polish, and
Masuren
in German) is a lake district. It has over three thousand lakes, the most in the Great Masurian Lakes area. Many of them are connected by channels and rivers, so it is possible to sail hundreds of kilometers from
Węgorzewo
to
Pisz
.
Talk
Polish is the main language here. A small German-speaking minority is still present from when the area included part of the historic province of East
Prussia
before the Second World War. Warmia-Masuria also has a number of ethnic Ukrainians due to forced relocations carried out by the Soviet and Polish Communist authorities after the war.
Get in
By car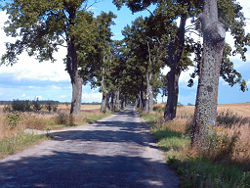 Masuria and the Mazury Lakes are easily accessible with the numerous roads. Note that the roads are narrow, unlit and sometimes unmarked. There is also a chance for potholes.
By train
Giżycko
has a train station with bi-hourly connecting trains to
Warsaw
and
Gdańsk
. Note that trips from Warsaw take a very, very long time (6 hours or more) because of the lack of North-South rail connections in Poland, therefore the train takes very many detours rather than a direct route.
By plane
The only airport in the voivodeship is
Szczytno
's
Mazury Airport
(
SZY
). The nearest Airports outside are Warsaw's Frederic Chopin Airport (WAW), Gdańsk's Lech Wałęsa Airport (GDN), and Bydgoszcz's Ignacy Jan Paderewski Airport (BZG).

See
The Mazury Lakes played a very important role in World War 2. It was home to the headquarters of the eastern front of Nazi Germany. Because of this, many Nazi relics can be found all around the lakes, ranging from many intact or blown up bunkers to an unfinished canal. Some highlights are:
The Wolfs Lair (Wolfsschanze, former Nazi HQ where Hitler resided during most of WW 2) is quite close to the Mazury lakes, just east of the town of Kętrzyn (Rastenburg). It is easily accessible by car by driving over a narrow but very new paved road. You will see large signs on major roads indicating the directions to the hidden bunkers.
Sztynort is a small town next to the Mazury Lakes, where you can see an old German style mansion/castle.
Do
Sailing is cheap and very popular for both young and old. Take a friend with you that can speak Polish however, so you won't get scammed and get the boat you want for the right price. Generally, sailing boats (i.e. for 6 passengers) are rented out by small companies or individuals, and they do not speak English very well, if at all. Giżycko has one of the biggest harbors in the area and is one of your best bets to get a sailing boat.
Ice sailing is a popular sport in winter, when the Mazury lakes freeze up.
Fishing is also quite popular here. You will see a lot of smoked fish stalls all around the area, and even on the lakes on small 'vending boats'. Tourists do not need a permit for recreational fishing, for sport fishing, a permit is required which you can get at all major harbors.
Eat
Mazuria is famous among Poles for its tasteful smoked fish, available almost anywhere close to lakes.
Drink
There are some breweries scattered among the Masurian region, which serve quite good mazurskie beer.
Stay safe
Always lock your sailing boat and stash away valuables in non-obvious places. Even if the site where you are camping seems desolate; there are always people around.
The Mazury Lakes has a warning system with a flashing light and audio signal on top of high towers on the banks of the lakes. If these lights start flashing, it could mean that a storm is approaching. Even if the sky seems clear, such storms could appear out of nowhere. Such a storm has caused sailing boats to capsize and fatalities have occurred in the past. In case you see such a warning signal, land is your best bet.
Go next