Warren (Rhode Island)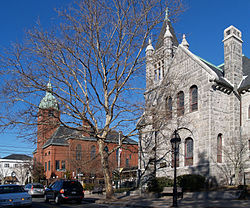 Warren
is a city in
Rhode Island
.
Get in
By car
From
Boston
, take 95 South towards
Providence
, off of route 95 take route 195 East, and then pick up route 114, better known as the Wampanoag Trail, which leads right into Barrington's County Road which leads straight through Barrington and right into Warren.
From
New York City
, take 95 North towards Providence off of route 95 take route 195 East, and then pick up route 114 which leads right into Barrington's County Road following this will lead you straight through Barrington and right into Warren.
From
Newport
, pick up route 114 North, this will lead to route 136 into Bristol, which is a bordering town of Warren, and route 136 also takes followers right into Warren.
By bus (RIPTA)
The
RIPTA
system is also available in Warren for those who do not have a car; the bus can give access to Providence, Newport and many of the towns surrounding Warren as well as to many places within Warren. The accessibility and location of this town in terms of the tourist attractions is very reasonable and easy to use. One very popular bus stop in Warren is the one located on Main Street in front of Delekta's Pharmacy. Many people gather there each day and get a famous coffee cabinet from Delekta's and wait for their bus. Also on Main Street is the park and ride. Located on Vernon street the park and ride is a great place to catch the bus, offering free parking as well as free overnight parking you can't go wrong by using town transportation and helping the environment.
Get around
By car
Warren is fairly easy to navigate by car, Warren does not have many tricks to it, it is not a very big town but the parking is very accessible and available at reasonable prices. When in a car keep in mind that the whole town is based upon two roads, Main Street and Metacom Avenue. These two roads run parallel and there is almost nothing you cannot access via these two roads. Police enforcement is rather strict in Warren Rhode Island so always keep an eye out for your speed on both roads. Metacome is a four lane road with many restaurants and fast food places as well as gas stations. Main Street is a two lane road with mostly houses.

By bike
The scenic means of transportation is by bike, a bike ride through Warren is full of great views as well as many stops along the way, like at Del's for a lemonade located right off the bike path on Child Street this is a delicious choice anytime. There has been recent modifications to the bike path that make it extend all the way into Touisett which is a very scenic more rural area of the town, great for a nice afternoon ride. Also if you ever get a flat tire you can always stop at Your Bike Shop located right off the bike path near Del's Lemonade and Child St. Also a very fun place to stop and have some fun is Burr's Hill park, which is also located right off the bike path. Burr's Hill park has a great scenic view right on the water of the Warren Town Beach.

See
phone: +1 401 247-4200

address: 28 Market Street

Downstairs features a restaurant with reasonable prices, while the upstairs of the building is used for plays rumored to be better than Trinty Rep.

Bay Queen

phone: +1 401 439-1350

address: 461 Water Street, Gate #4

The Bay Queen cruise line offers a variety of dinner and brunch theme cruises. It docks in Warren and cruises to Newport, while offering a buffet, live music, and two large dining rooms both with bars. Dining areas can be reserved for large parties. Prices are reasonable but vary due to the theme and time of the day.

Touisset Marsh Wildlife Refuge

phone: +1 401 949-5454

address: Touisset Road

Sixty-six acre preserve. A trail from the Touisset Fire Station on Touisset Road leads through fields to the Kickemuit River. Park at western end of lot near Fire Station.
Do
phone: +1 401-253-7482

address: Franklin St.

The East Bay Bike path is 14.5 miles of beautiful scenery that runs from Providence to Bristol. It is made up of four different phases with two phases going through Warren. Phase 2 goes from Barrington to Warren and phase 3 goes from Warren to Bristol. Much of the path travels along the Narragansett Bay as riders drive past coves and marshes and over bridges. It is a must do for anyone who enjoys bike riding or nature.
Buy
Meeting House: The Antiques

address: 47 Water St

The Meeting House is the place to meet if you are looking to furnish your house with classic antiques. The store features antiques as old as the town of Warren itself and makes a great trip for collectors or those wanting to get a glimpse of the past.

phone: +1 401-245-4200

address: 5 Miller Street

A large gift shop full of many unique and humorous gifts. This store is impossible to miss; it is a big solid purple building with two cows that are displayed about a story above your head right in the front center. This unique store displays many small toys and gifts for all ages and can be a stop to explore along your way through Warren.

phone: +1 401-245-4800

address: 465 Main Street

The Gob Shop is a sporting goods store that provides many of the local sports teams with uniforms, as well as sell many other sports goods along with them. Soccer balls, footballs, shoes, many types of cleats, sports jerseys and hats are just a few of the many products that are sold at the Gob Shop. The sports that the Gob Shop specializes in are soccer, football, swimming and lacrosse but it provides many other sports goods as well, for any questions just call.

Jamiel's Shoe World

address: 102 Main St

Jamiels Shoe world has been in warren for numerous years. It is a locally owned business by the Jamiel Brothers. They have a vast selection of shoes and sneakers as well as all your needs for sporting goods. Jamiel's has parking out back and even a back door entrance. The best part about Jamiel's Shoe World is that you get the most amazing service. The workers actually care and look forward to your next visit. They go out of their way to accommodate your needs. Its a great place to bring the whole family offering shoes for all types of people. Make sure when in Warren you stop in and take a look!
Eat
Rod's Grille

phone: +1 401-245-9405

address: 6 Washington St.

Rod's has been a Warren mainstay since 1955 when the Rodrigues family opened it. The small restaurant is known for its hot wieners, which pack a large taste. The wieners have been made with the same secret sauce since the beginning and have won Best Wieners in East Bay four times. Coupling the wieners with french fries and coffee milk makes for a delicious lunch. Not a fan of hot wieners, Rods also offers other standard lunch fare such as hamburgers and sandwiches and is even open for breakfast. An Even better combination is a wiener with a coffee cabinet from Delekta's Pharmacy down the street. True Warren natives always combine a wiener with a cabinet, it's simply the best combination there is! Beware about parking when going to Rod's Grille. The street that it is located on is a one way and has parking only on one side. There is a parking lot right across the street but they do not allow you to park there because it is owned by Citizen's Bank. Rod's Grill is so popular in the town of warren that they even have a security guard watching the parking lot to make sure no one parks there because so many people go to rods it can make parking crazy. Also Rods is very inexpensive and makes a great treat for the whole family. If you don't want to wait for the food make sure to remember to call in!

phone: +1 401-247-0230

address: 464 Main St

Warren House of Pizza is another family owned business and Warren staple. The place has a very old school feel to it and while your waiting for your food, you can play keno, watch TV or read one of the many gossip magazines provided up front. The pizza features a delectable crust, which makes you want to come back for more. The restaurant also offers a variety of grinders if pizza is not your thing.

phone: +1 401-289-2524

address: 215 Water Street

A restaurant that has an outdoor deck which is great for enjoying beautiful weather. The Wharf Tavern gives it's diners the opportunity to choose there live lobster for there dinner but they also serve other dishes such as swordfish and steak as well as provide a full diverse menu.

Tav-Vino

address: 267 Water Street

This is a small waterfront restaurant that has been in business for 35 years. They are known for their seafood, but also include other dishes to make the menu diverse, along with this a good selection of wines and beers are included.

phone: +1 401-247-0665

address: 650 Metacom Ave

This is a traditional Chinese restaurant, it is in a very easily accessible location. The prices are reasonable as well, and it has a very good atmosphere. It is a family owned restaurant and has been since it's opening in 1985.
Drink
Admiral Pub

phone: +1 401 245-3139

address: Park Street

phone: +1 401-245-9305

address: 133 Market St.

Crossroads is a restaurant and pub in Warren that has been a town favorite since 1977. They offer a variety of selection including draught, domestic and imported beer. Reasonably priced lunch specials are offered until 5 o'clock. The dinner menu features many regional seafood dishes including 2lb baked stuffed lobster on Friday and Saturday nights.

phone: +1 401-245-6767

address: 496 Main St

Delekta's Corner Store is over 150 years old. It has been family owned the whole time and has a coffee cabinet for the record books. They make their own coffee syrup every morning and their coffee cabinet has receive awards across the country. Joan Krawczyk is the little old lady that works the counter and has been there her whole like. She is the sweetest women and will give you the best service you have ever had. They also have ice cream candy, collectibles, and gifts. Not to mention that you can get your prescription filled and enjoy a cabinet while you wait. This is the most popular place in the town and is located right in front of the police station. If you want to experience the town of Warren to its fullest, you must go to Delekta's Pharmacy and enjoy a cabinet.

Market Street Pub

phone: +1 401 245-8810

address: 99 Market Street
Sleep
Nathaniel Porter InnWater Street always provides a great view so the location could not be better. This homely style bed and breakfast is filled with antiques to give it an old English style look. Make sure to make reservations ahead of time because openings may be limited with this small bed and breakfast.

Mallory Manor

phone: +1 401 245-0504

address: 15 Cutler Street.

Complimentary breakfast served.

phone: +1 401-245-9768

address: 81 Union Street

With full breakfast provided in the morning either one of the two rooms available result in a homely environment to stay in while in Rhode Island.
Go next
In order to access Providence and the main highway from Warren it is best to travel through Barrington via County Road which will lead to Route 114, the Wampanoag Trail, then from there pick up route 195 West towards providence and from there either 95 south or north can be easily taken, North leading towards Boston and South towards New York.
In order to go to Newport you must travel through Bristol via route 136 south, which can pick up route 114 south which leads through Middletown and into Newport, which is where many of the beautiful Rhode Island beaches can be accessed.