Warrington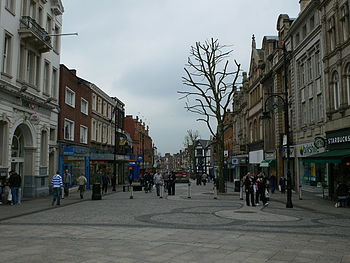 Warrington
is in
Cheshire
. It is best known for its transport links, night life, shopping and industry. It lies within The Historic County Boundaries of
Lancashire
, with small parts in The Historic County Boundaries of
Cheshire
.
Understand
Warrington has had an industrial past, but nowadays, the town is more famed for its commercial areas. While it isn't high up on the list of places to go in the UK, most visitors who travel through/within the North West pass through it either on the motorway or the railway. It is worth a visit if you have a spare day, even if just to go shopping and wander around the town centre, although there are many more worthwhile places to visit in this area.

Get in
By plane
Liverpool
and
Manchester
airports are within easy reach, by car, taxi or train.
From Liverpool Airport - bus to Liverpool South Parkway, then train to Warrington Central
From Manchester Airport - train to Manchester Piccadilly (frequent) then change to another train to Warrington Central
By car
Warrington can be reached via M6 (Junction 20, J21 or J22), M56 (J10 or J11), or M62 (J8, J9 or J11) motorways. There are several car parks in the town centre, though these are costly. The Riverside retail park, 10 minutes walk from the centre, has free parking after 9.30 am. Congestion is a problem that can occur at any time but is worst 8-9 am and 5-6 pm, or when there is a problem on the motorway.
By train
Warrington Bank Quay
has hourly services between London and Scotland (either Glasgow or Edinburgh), journey time to London ranges from 1 hour 40 minutes up to 2 hours for the 190 mile trip. There is also an hourly train to Birmingham. There are also shorter distance trains to Manchester, Llandudno, Chester, Holyhead (usually changing at Chester) and Liverpool. The Holyhead trains meet the ferries to Ireland.
offers a more frequent service between Liverpool and Manchester (4 trains per hour), with some of the trains to Manchester extending to Leeds, York, Sheffield, Nottingham, Norwich as well as the North East. It also serves the suburbs of Warrington, Manchester and Liverpool.
It is possible to connect between the two stations, this can either be done on foot (taking approx 10 minutes, following signs) or by bus (Centrelink service, costing 20p operating every 20 minutes and the journey taking about 5 minutes).
By bus
There is a small number of express bus (coach) services per day serving Warrington. For example, there are 4 buses per day to and from London, taking 4–5 hours. More destinations are available from Liverpool or Manchester.
Liverpool and Manchester can be reached by local stopping bus services but the journey time is over an hour due to frequent stops.
By cycle
The Trans Pennine cycle trail passes through Warrington's suburbs, linking from Liverpool right across to Hull on the East Coast. The route through Warrington consists of old railway tracks, cinder tracks across heathland, canal tow paths and a little tarmac too.
Get around
By bus
All buses depart from Warrington Bus Interchange. Bus services are operated by either
Network Warrington
(for all places within the borough as well as Altrincham, Earlestown, Leigh and Newton), Arriva North West (to Liverpool, Widnes, Runcorn, Chester and Merseyside) or First Manchester (to Manchester). Buses within Warrington are clean, efficient and safe. Journey frequencies are usually 2 per hour but more frequent on some routes. Buses run from 6am to 11 pm Monday to Saturday on most routes though some services cease at 6pm. On Sundays buses run from about 8am to 6pm with only a couple of out-of-town services running in the evening.
All operators offer multi journey tickets. A Warrington only ticket (or day rover, only valid on Network Warrington services) is £3.50, an Arriva North West area day ticket is £3.70, a First Manchester day ticket (or First day) is £3.70, and an Arriva North West and Wales ticket is £5.00.
By car
Driving around Warrington is fairly easy outside the rush hours (8-9 am, 5-6 pm). There are car parks in the town centre,
with the largest being at Golden Square Shopping Centre, with others at the Market and Cockhedge, and the Riverside Retail Park (open after 9.30 and the only free car park in Warrington). However, if traffic is diverted through the town owing to problems on the nearby motorways, "gridlock" can result.
Beware of the number of round-abouts in the town. Way too many.
By train
In addition to the two stations in Warrington, Warrington Central and Warrington Bank Quay. There are also suburban stations in Sankey, Padgate and Birchwood served by direct trains to Warrington Central. Suburban trains are faster than the buses but less frequent.
By taxi
Abba cabs (+44 1925 444444)
Crown Cars (+44 1925 234567)
Harry's (+44 1925 411111)
The first three have dispatch offices around the town centre, but can also be summoned to any point in Warrington by telephone, though on Tuesday, Friday and Saturday nights, expect to wait for a taxi unless it's pre-booked. Also, company operated cars cannot be hailed due to Warrington by-laws. There are cabs that can be hailed on the streets, these are not stereotypical cabs, but have a taxi light on top, though, if possible, avoid hailing a cab as the fares are significantly higher than dispatched taxis.
Taxis are usually available at stands at Bank Quay Station, Central Station or the Bus Interchange.
See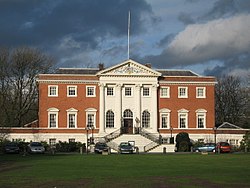 Warrington Town Hall and Gates

Parish Churchsome parts dating from 12th century. The church is the 12th tallest in England at 292 feet

Bewsey Old Hall

Victoria ParkPleasant park beside the River Mersey

phone: +44 1925 262908

address: Walton Lea Road, Higher Walton, Warrington, WA4 6SN

Old manor house, children's zoo, walks by the canal, crazy golf, 9 hole pitch and putt, bowls, putting green, children's play areas

Warrington Museum & Art Gallery

address: Bold Street

Museum founded in 1857, with local history, natural history archaeology and art collections.

Pyramid - Cultural Quarter

address: Palmyra Square

Centre for the arts and live music. Comedy is also hosted here with The Comedy Store on regular, plus stand up acts with their own full shows

The Parr Halllocated within the Cultural Qaurter this is a live entertainment venue

Risley Moss Nature Reserve

address: Ordnance Avenue, Birchwood

Lymm DamDam built in 1824 in a 17 acre nature reserve.

Arley HallStately home and gardens. Adjacent is Stockley Farm, a popular place for children to visit.

Sankey Valley Park

address: Bewsey Farm Close

The Amazing Maize Maze

address: Stretton Road, Appleton

5-acre maze for you to try and complete
Do
Warrington Wolves Rugby League

address: Halliwell Jones Stadium, Winwick Road, WA2 7NE

Drivetime

address: Centre Park, Slutchers Lane

60 bay floodlit driving range

Walton Hall Golf Course

address: Warrington Road, Higher Walton

18 hole golf course

The Trans Pennine Trail

address: Chetham Court, Winwick Quay

Chetham Court, Winwick Quay, ). Large entertainment complex with music, arcade games, bumper cars, food, drink and most importantly, bowling. On-site pub with a big screen for match days.

Gulliver's WorldTheme park - not exactly Disneyland but OK for smaller kids

The North West FaceClimbing Centre located within the old St. Anns Church on Winwick Road

Speed Karting

address: Unit 2 Bank Quay Trading Estate

it is the largest indoor karting circuit in the UK

The Fun ZoneAbove Lazer Quest is a play area for 2-10 year olds
Buy
Warrington has all the typical British High Street chains as well as a wide selection of independent stores. The major shopping areas are:
Golden Square, which has recently been expanded and renovated, and now has 145 shops, including Debenhams, and Marks and Spencer. There are also the obligatory Starbucks and Costa Coffee. The bus station is also accommodated within the Golden Square.
The Market including a large number of small shops under cover, including a food hall with several butchers, delicatessens and similar food shops.
Town Centre, while most stores are boarded up due to relocation to the Golden Square, there are still some independent stores, including Hancock and Woods (tagged as Warrington Own Department Store, though it now specialises in women's clothing), Edwin Allen (the towns oldest shop, founded in 1884, for arts and crafts) and a wide selection of charity shops.
Hatters Row, about 200m from the bus station, offering a selection of independent stores and a cafe
Alban Retail Park, Manchester Road. PC World etc. plus a Pizza Hut and KFC.
Riverside Retail Park, Wilderspool Causeway. Offering a wide selection of out of town stores including Next - plus McDonalds and Pizza Hut.
Cockhedge Shopping Park, Fennel Street. Including ASDA, Argos, Wilkinsons and a few smaller stores and larger retailers such as Dixons.
Gemini Retail Park, Westbrook. A large out of town shopping park, offering Toys R Us, Next, Boots, Marks and Spencer and most notably, IKEA Warrington, the first IKEA in the UK.
Birchwood Shopping Centre, Birchwood. A small suburban shopping centre, with an ASDA, as well as various fashion stores, a cafe, two fast food chains and a newsagents.
Dawsons Music, Sankey Street. The biggest music shop in the town centre. Instrument repair and lessons also take place here.
Eat
Indian Restaurants
phone: +44 1925 790877

address: 62 Warrington Road, Penketh

Penketh. Excellent food, well served. Take a bus (110, 30, 32) or taxi (under £5), car park at rear.

Royal Bombay

address: 9-31 Church Street

phone: +44 1925 632987

address: 137 Sankey Street

A wide range of Indian and Greek cuisine

address: 90 Church Street

Dedicated to authentic Indian food, cooked using the finest fresh ingredients, herbs and spices.
Chinese
Choy Hing Village, Grappenhall. Superb banquets.
Bus or Taxi - less than £5 from town centre, car park at front.
Hoi Tin Chinese Restaurant, located in the town centre at 6 Bold Street
East Orient - All you can eat Chinese buffet, you can usually eat for less than £10, 54 Horsemarket Street, Visible from Warrington interchange.
Indian Takeaway
Khaza Tandoori

address: 44 Fairclough St, Burtonwood

Well out of the town centre, but well liked by most in the local area
Tayef, Buttermarket Street. Great food - but you'd better be pretty darned hungry! Can be a problem parking nearby.
Thai
White Hart, in Hilden Square. Excellent and cheap Thai and Western food.
Thai Inn, Bewsey Road. Great food and good value. Accommodation available.
Italian
Valentinos - 139 Sankey Street. Freshly cooked authentic Italian cuisine
Donatellos - 75 Orford Lane, very good food and staff
Bella Roma - 9 Padgate Lane (only 1 mile from Town Centre)
Delgados,19 Honiton Square, Penketh. +44 1925 790000 Freshly cooked authentic Italian cuisine Pizza, Pasta, Steaks, Fish and regional dishes . www.delgadospizzeria.co.uk
Caffe Caruso, next to the Market.
Sinatras, Sankey Street
Fish & Chips
Danny's Kitchen - Bridge Street, Town Centre. Also offers Chinese food, does get very busy around lunchtime, and is fairly popular amongst students.
Les's Fish Bar - Bridge Street, Town Centre
Orford Fryer - Howson Road, Warrington. Although small and dingey it sells succulent fish and marvellous mushy peas. It is a great place for a Thursday night munch and is at a reasonable price.
English & Med
Le Frog Bistro - 7 Palmyra Square, Town Centre
The White Apron - 27 Church Street, Town Centre. The White Apron is an authentic Mediterranean Restaurant

phone: +44 1925 654000

address: 8 Bold street

Traditional English home cooked food serving breakfasts, lunches, afternoon tea and evening meals
Middle Eastern
Andalucia, Bridge St. Lebanese cuisine.
Spanish
Toledo Tapas Bar & Restaurant - Tapas and Spanish cuisine. Located in the centre of Warrington at New Town House, Scotland Road.
(THIS IS NOW AN INDIAN RESTAURANT)
Pub Food
The Blue Bell - 27 Horsemarket Street (Town Centre)
Chicago Rock Cafe - St Austins Lane (Town Centre)
The Big Bar - 122-126, Bridge Street (Town Centre)
The Postern Gate - St. Austins Lane (Town Centre)
Yates - 41-43 Buttermarket Street (Town Centre)
Barley Mow
Wetherspoons - Friar Penketh, 4 Barbauld Street (Town Centre)
Old Town House - Has an all you can eat lunch (self service) where you can get soup, jacket potatoes, salad bar, desserts, and hot drinks for £4.95. In the evening you can get stonegrilled meals where you cook your own steaks on your personal stone grill, one of the choices is an Aussie mixed grill.
Cafes
A number of cafes in town, serving cheap food - e.g. the Market Cafe (in the Market!)
Takeaways
A selection of kebab and pizza places, Subway, McDonalds
Coffee
Starbucks and Costa in Golden Square, Rhode Island Coffee House.
Drink
Most of Warrington's nightlife is found in and around Bridge Street, though the pubs are dotted all over the town centre
Pubs
There are a large number of pubs and bars in the town centre including a Wetherspoons, Chicago Rock, Branningans, and Yates.
Barley Mow - One of Britain's Oldest Pubs-Golden Square
Cultural Quarter - End of Bridge Street
The Tavern (formerly Wilkies Tavern) is near the town centre and serves excellent guest beers
Friars Court Inn
The Lord Rodney
Last Orders
The Bluebell
The Borough Arms
The White Hart on Sankey Street - plays rock music and hosts gigs upstairs in 'The White Room'.
The London Bridge - Stockton Heath
Ferry Inn, Penketh. Between the Mersey and the canal, on the Trans Pennine Trail and adjacent to the marina. Various events such as pop concerts or sportsmen's evenings.
Bars
Panama Jacks - Bridge Street
Funkybox - Bridge Street
Reef - Bridge Street
Voodoo- Friars Gate (just off Bridge Street)
Eivissa- Bridge Street
Dahli Bar - Bridge Street
Late Lounge - Rylands Street
The Lounge- Palmyra Square
Nightclubs
phone: +44 1925 630047

address: Bridge St, WA1 2HH
Sleep
Travelodge and Premier Travel Inn (budget chains) both have hotels here.
address: Kendrick/Leigh Street, WA1 1UZ

Premier Travel Innseveral hotels in Warrington

Lord Daresburynearest "luxury" hotel
Stay safe

Warrington is a fairly safe place to be; yet like most of the country has problems with violent crime, usually by bored teenagers.
The town centre is safe most of the time, but it is best be on your guard around 6-9pm (between shops closing and pubs becoming busy) and around closing time for clubs, as the area will fill up with drunk people.
Avoid groups of teenagers. Warrington is one of the most culturally and ethnically homogeneous areas in the country, so if you are non-white, gay or dress unconventionally then be sure to have your wits about you, especially in the estates closer to town. Be especially careful around Town Centre (in particular 'The Fountain' at Market Gate), Bewsey, Dallam, Orford (all parts), Longford, Old Hall, Howley and Watkin Street (near Tesco) estates. However, you will probably not encounter any trouble at all, but stay with a local who knows the area well, and you will be fine.

Go next
Visit Quarry bank Mill, Styal. (Old Victorian Mill) (about 20 minutes by car)
Wigan Pier (10 minutes by train)
Liverpool (20 minutes)
Manchester (20 minutes)
Delamere Forest (About 30 minutes by car and an hour by train, changing at Manchester Piccadilly)
Walton Hall and Gardens (About 10 minutes by car) Car park is pay and display but more often than not people leaving will give you their ticket