Warsaw/Śródmieście
Śródmieście
is the central district of
Warsaw
, the capital of
Poland
. It hosts the most tourist attractions, cultural institutions, and restaurants, and is the hub of the city's nightlife. Most visitors to Warsaw will visit the area, if not spend most of their time there, as it also offers extensive accommodation choice. Today's city centre is a mixture of brand-new, 21st-century development and remains and reconstructions of historic heritage. The oldest parts of Śródmieście, the
Old and New Town of Warsaw
have a separate guide on Wikivoyage.
Get in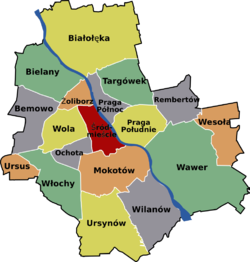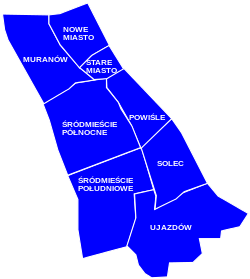 By rail
Almost all long-distance trains to Warsaw arrive at , the central train station and the transportation hub for the city. Most local suburban trains mostly arrive at , linked via an underground passageway to Warszawa Centralna. Some trains, however, use the northern, somewhat remote station. Local trains travelling eastwards from Warszawa Śródmieście also stop at , which is also a good place to start exploring the district.
By subway
M1 – from Mokotów, the last subway before entering Śródmieście is Pole Mokotowskie. The first stop in Śródmieście from this direction is Politechnika. The last northern stop in
Żoliborz
before entering Śródmieście is Plac Wilsona. The first stop in Śródmieście from this direction is Dworzec Gdański.
M2 – Rondo ONZ station is located on Śródmieście's western border with Wola and Centrum Nauki Kopernik station is the last one before the metro crosses the Vistula river into
Praga
Świętokrzyska is the interchange station between M1 and M2.
From the Warsaw Chopin Airport
To get to Śródmieście from the Chopin Airport, you can take a local train, a bus or a taxi to get to Śródmieście.
The local trains depart from the terminus station right under the terminal – the S3 SKM and the green-yellow-white Koleje Mazowieckie (KML) trains stop at
Warszawa Centralna
, while the S2 SKM stops at
Warszawa Śródmieście
and
Warszawa Powiśle
. SKM trains depart every 15 minutes (S2 alternating with S3), and around 30 minutes to get to
Warszawa Centralna
or
Warszawa Śródmieście
.
The bus line linking the airport with Śródmieście is
175
. It is very useful for tourists arriving in Warsaw, as it stops by many tourist attractions and hotels. The fare is no different from any other bus line in Warsaw. Bus 175 departs every 20-30 minutes, depending on time of day, between 4AM and 11PM. The journey takes around 25 minutes to
Warszawa Centralna
and around 40 minutes from the airport to the other terminus at
Plac Piłsudskiego
.
The taxi to Śródmieście should set you back 30-50 zł, depending on your destination and time of day, which also affect travelling time. Despite Warsaw repeatedly topping traffic congestion rankings, the traffic jams rarely affect the route to the airport, but you can get stuck in one inside Śródmieście. Outside of rush hours, you should be able to get to Śródmieście within 15 minutes by taxi.
Get around
Śródmieście is a relatively small district. The entire width of Śródmieście could be walked in roughly 25-35 minutes. The length of the district, however, would take approximately an hour or so of non-stop and brisk walking. The district's geographical location and size makes it the easiest district to get around. Being home to many well-known businesses, governmental institutions, universities, and the center of a tourist's universe means that public transportation is well built up in the district.
By foot
Considering that the strict city center is a flat area whose sides measure only some 2 km, it is a good idea to take a stroll through it. There are two streets that serve the purpose of a promenade,
ul. Chmielna
, which is fully pedestrianized and
ul. Nowy Świat
, which is closed to traffic on summer weekends.
If you start your walk from
Metro Centrum
(this is a popular place where people arrange to meet one another), you can get to the other side of
ul. Marszałkowska
through the underpass. The round building adjacent to the intersection is called the
Rotunda
. It is a bank branch and the pavement in front of it is another popular meeting place. Going along the
ul. Marszałkowska
you'll pass some department stores and after 500 m or so, turn right into
ul. Chmielna
. At the end of it, turn left into
ul. Nowy Świat
and go straight ahead. This street, which then changes into
Krakowskie Przedmieście
, will lead you to Castle Square and the Old Town.
By car
Main streets parallel to Vistula: Wybrzeże Kościuszkowskie and Wybrzeże Gdańskie – more often referred to as Wisłostrada, ul. Solec, ul. Marszałkowska, al. Niepodległości–ul. Chałubińskiego–al. Jana Pawła II, ul. Raszyńska
Main streets perpendicular to Vistula: al. Armii Ludowej – more often referred to as Trasa Łazienkowska, Aleje Jerozolimskie, ul. Tamka–ul. Świętokrzyska–ul. Prosta, al. Solidarności, ul. Słomińskiego
By bus
Dworzec Centralny
is also a big bus terminus. The stops are named either
Dw. Centralny
or
Emilii Plater
(the street which runs in front of the train station), but they are next to each other.
By tram
There are main tram stretches
-north south direction:
#
Aleja Jana Pawła II
-
ul. Chałubińskiego
-
Aleje Niepodległości
#
ul. Marszałkowska
-east west direction:
#
Aleja Solidarności
#
Aleje Jerozolimskie
You can use as well smaller routes between main stretches.
For more details use tram map on ZTM site
By metro
Within Śródmieście, there are eight subway stations that more-or-less cut through the midsection of the district from north to south and west to east. These are Dworzec Gdański (at the district's northern border with
Żoliborz
), Ratusz Arsenał (at Plac Bankowy, beside Warsaw City Hall), Świętokrzyska (at the intersection of ul. Marszałkowska and ul. Świętokrzyska, interchange station between M1 and M2 lines ), Centrum (at Rondo Dmowskiego, the intersection of ul. Marszałkowska and Aleje Jerozolimskie), Politechnika (located near the Technical University, close to southern border with
Mokotów
), Rondo ONZ (intersection of ul. Świętokrzyska and Aleja Jana Pawła II, on western border with
Wola
), Nowy Świat - Uniwersytet (intersection of ul. Świętokrzyska and ul. Nowy Świat - historical Trakt Królewski - Royal Route) and Centrum Nauki Kopernik (close to amusement facility with the same name, close Wisła river shores and to eastern border with
Praga Północ
)
See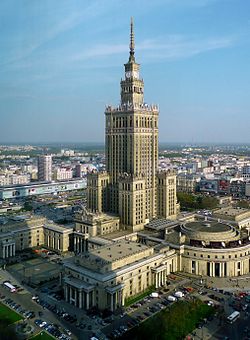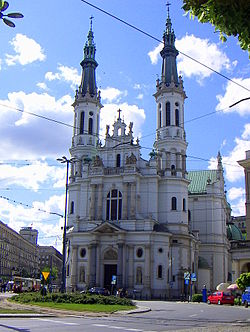 Main streets and squares
Krakowskie Przedmieście - extending southwards from the Old Town towards Kraków, it was along this street that Warsaw started expanding once it became the capital city. Reconstructed to retain a 19th-century charm, it has a collection of historic buildings along it.
Nowy Świat - a further southward extension of Krakowskie Przedmieście, this has been one of Warsaw's most important streets for the past few centuries. Reconstruction limited building height to three storys and kept them all in 18th-century style, providing for a cozy home for cafés, restaurants and shops.
Aleje Ujazdowskie - a classic tree-lined avenue, perhaps most reminiscent of how Warsaw was before World War II. A number of embassies, government institutions and parks are situated along it.
Marszałkowska - parallel to Krakowskie, Nowy Świat and Ujazdowskie is this modern wide thoroughfare, whose sides are lined with monumental buildings from the 1950s onwards, and a small selection of reconstructed historic monuments.
Plac Trzech Krzyży - named after the three crosses - one atop the church and two on pillars - it has a long history and an ever-changing identity. In the 21st century, it became known as an intersection of "the place they never close" and some of the most upscale retail and dining zones of the city.
Plac Konstytucji/MDM - a part of Warsaw created by 1950s Stalin-era socialist city planners, in a style echoing 1930s Moscow. Chandelier-shaped streetlamps and monuments to the working class now look on a busy meeting place in the southern end of Śródmieście.
Plac Zbawiciela - one of the few remainders of the Saxon city planning, the roundabout radiates streets in a star-like fashion and has become a focal point for nightlife and all things trendy.
Plac Bankowy - named after the building of Bank Polski, now used as an art gallery, the large open square is most known for hosting the city hall and being a major transportation interchange. Its disjointed appearance mixing reconstructed historic monuments and modern buildings is a testament to the changes in the Warsaw's structure after the Second World War.
Key landmarks
phone: +48 22 656-7676

address: plac Defilad

Warsaw's most recognizable landmark has a controversial history: it was constructed in the 1950s ostensibly as a "gift" from the Soviet dictator Joseph Stalin. The gargantuan building is home to various institutions, including three theatres, a multiplex cinema, the Museum of Technology and the Congress Hall (built for Communist Party congresses, but mostly used for entertainment purposes now). An observation deck in the top floor provides (windy) views in all directions, accessible via express elevators.

Tomb of The Unknown Soldier

address: pl. Piłsudskiego

Built in 1925, the tomb holds the remains of a Polish soldier who died in battle at Lwów, now Lviv, Ukraine. It also holds soil from 38 battlegrounds fought at by Poles.

Zamek UjazdowskiThe castle in Ujazdów became a secondary royal residence, and today hosts the contemporary art museum (see below).

Pałac SaskiThe Saxon Kings of Poland have afforded themselves an imposing baroque palace, but sadly it was completely destroyed during Second World War and never rebuilt. The Tomb of the Unknown Soldier is the only remaining piece of the palace.

Pałac na WodziePoland's last king, Stanisław August Poniatowski, preferred the relaxed and artsy atmosphere of the Łazienki Park and built himself a secondary residence there to meet with the contemporary statesmen, thinkers and artists.

Sejm Rzeczypospolitej Polskiej

address: ul. Wiejska

Sejm is the name for the lower chamber of the Polish parliament, which since the 1930s meets in a peculiar circus-shaped building. The upper chamber, named Senat, occupies a rectangular building behind it. They are surrounded by a nice park.

Pałac PrezydenckiThe impressive palace a few steps from the historic Old Town has served many functions in its long history, but now houses the offices of the President of Poland

Kancelaria Prezesa Rady MinistrówThe offices of the Prime Minister are the hub of the administrative branch of the government. Most important ministries are also housed in the immediate vicinity
Modern Architecture
Metropolitan

address: pl. Piłsudskiego 1

Designed by Sir Norman Foster and erected in 2003, the Metropolitan office building blends in with the surrounding historic buildings while standing out as an architectural masterpiece. The fountain in the freely accessible courtyard remains a photo favourite with tourists and locals.

address: ul. Dobra 56/66

Built in 1999, the new home of the Warsaw University Library is a postmodernist building blending raw concrete with patinated copper. The building also features freely accessible extensive rooftop gardens providing interesting views over Warsaw. The building housing the Linguistics Faculty of the university opposite the library is also an interesting piece of modern architecture.

Supreme Court

Administrative Court

Eastern WallThe "Eastern Wall" is a complex of buildings designed to flank the eastern side of the Palace of Culture and form a buffer between it and the rebuilt historic part further east. There are three highrise residential towers, a string of department stores and a restored pedestrian passage with a number of retail and gastronomic outlets. A part of Warsaw where the grey communist past meets the bustling colourful present in a particularly striking way.

RotundaThe round building was erected to house a bank branch, which it still does, but quickly became much more than that due to its very central location and large expanse of pavement around it, which makes it a favourite meeting spot for locals. The striking 1960s building suffered a tragedy in 1979, when a gas main exploded right below it, killing 49 people. This event is still remembered in Warsaw, making the rebuilt Rotunda even more symbolic.

vitkAcThe luxury department store caused a huge stir when its facade clad in black stone debuted to the chagrin of inhabitants of a neighbouring residential building.

Warsaw Stock Exchange
Jewish Warsaw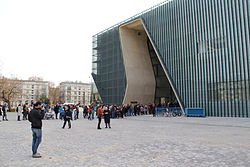 phone: +48 22 652-2805

address: ul. Twarda 6

Warsaw's only Orthodox Jewish synagogue in operation.

Umschlagplatz

address: ul. Stawki

The Umschlagplatz was the location Nazi officials herded Jews into cattle cars to be murdered at the Treblinka extermination camp. Estimates place the total number of persons transported from the Umschlagplatz at 300,000 or more.

Museum of the History of Polish Jews

phone: +48 22 471-0300

address: ul. Anielewicza 6

New building opened in April 2013 awaits permanent exhibition.
Galleries
phone: +48 22 628 12 713

address: Al. Ujazdowskie 6

An influential and popular exhibition space for contemporary art in the historic Zamek Ujazdowski, a former royal residence picturesquely situated on the escarpment between Park Ujazdowski and Łazienki Park.

phone: +48 22 825 26 86

address: ul. Smolna 9

Galleria Na Placu Bankowym

address: pl. Bankowy 3/5

phone: +48 22 621 40 77

address: ul. Hoża 40

phone: +48 22 421 01 25

address: ul. Krakowskie Przedmieście 15/17

phone: +48 22 690 69 69

address: ul. Widok 8

Galeria Lufcik

phone: +48 22 827 76 88

address: ul. Mazowiecka 11a

phone: +48 22 831 23 39

address: pl. Zamkowy 8

phone: +48 22 622 70 97

address: Marszałkowska 34/50

phone: +48 22 620 78 72

address: Al. Jana Pawła II 36

phone: +48 22 833 44 50

address: Księdza Jerzego Popiełuszki 16

phone: +48 22 831-0386

address: pl. Zamkowy 8

phone: +48 22 827 58 54

address: pl. Małachowskiego 3

A cool little gallery that mixes graffiti, sculptures, experimental painting, and photography.
Museums
phone: +48 22 621 10 31

address: Al. Jerozolimskie 3

The museum has a wonderful collection of paintings, sculptures, and depictions of the passion of the Christ. It houses several of Poland's most known paintings. Jan Matejko's Stańczyk painting depicts a famous jester to the Polish royalty in despair after Lithuania lost the city of Smolensk to Russia in 1514.

address: Al. Jerozolimske 51

Established 1905, it is an IMAX one hundred years ago; a collection of unique 3D stereoscopic images from the 19th and 20th centuries.

phone: +48 22 826 59 35

address: ul. Okólnik 1

Displays in English and Polish. The museum's design favours interactivity at the expense of information.

Muzeum Techniki

phone: +48 22 656 67 47

address: pl. Defilad 1

A bit of a meta-museum, because it did not quite keep in with the times and became a fossizilied monument to old-style museums where you are not expected to experience or touch anything and just read the descriptions on the boards. That said, their collections of artifacts of all kinds of technologies are impressive, ranging from planes and cars to fully-functional scale models of steel mills and coal mines. Plus the purpose-built wing of the socialist Palace of Culture and Science is a splendid locale.

Polish Emigration Museum

phone: +48 22 621 62 41

address: ul. Agrykoli 1

Chopin Family Living Room

phone: +48 22 320 02 75

address: ul. Krakowskie Przedmieście 5

phone: +48 22 629 52 71

address: Al. Jerozolimskie 3

phone: +48 22 826 90 91

address: al. Solidarności 62

Muzeum Ziemi PAN (Earth Museum, Polish Academy of Sciences)

phone: +48 22 629 74 97

address: al. Na Skarpie 20/26

phone: +48 22 827 76 41

address: ul. Kredytowa 1

Exhibitions that tell the stories of various societies and cultures. The bank building it is housed in is an interesting piece of 19th-century architecture.

History Meetings House

phone: +48 22 876 51 95

address: ul. Karowa 20

Hunting and Horsemanship Museum

phone: +48 22 628 42 05

address: ul. Szwoleżerów 9

address: ul. Wybrzeże Kościuszkowskie 20

An exploration centre that brings together various branches of science and demonstrates their key principles and modern advances via interactive exhibits and experiments. There is plenty to interact with for visitors of all ages, although the centre was designed mainly with families with children in mind. There is also a planetarium, requiring a separate ticket
Parks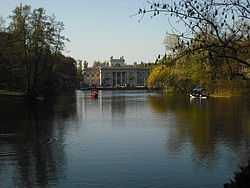 Ogród SaskiOgród Saski is a lovely park in central Warsaw. It's small in comparison to Łazienki, but nonetheless relaxing with its forested landscape. Prior to Word War II, it housed the Saxon Palace, which like the rest of Warsaw was destroyed in the insane Nazi vengeance for the Warsaw Uprising. Plans to rebuild the palace have failed to materialize due to funding. One of the draws aside from the escape of the city is the Tomb of the Unknown Soldier, which is on the park grounds.

phone: +48 22 621 8212

address: ul. Agrykoli 1

Łazienki Park was built and designed for a Polish politician, but became King Stanisław Poniatowski's, the last king of Poland, residence for much of later half of the 18th century. During Poniatowski's reign, many of the buildings on the park grounds were built. The most interesting buildings are the Łazienki Palace, Roman theater, and the so called Little White House, where the King sought the worldly comfort of mistresses. The park is a wonderful escape from hustle and bustle of the city streets that surround the park and can be the setting for a picnic or a wedding. It's a great place to find peacocks and occasionally, a rat.

Ujazdów Park

address: Al. Ujazdowskie

Ujazdów Park, another beautiful park, lies just north of Łazienki, but is far less known and visited by tourists. One of the big draws to the park is the Ujazdów Castle, which dates it orgins back to the 13th century. Over the centuries, the castles has housed princes, politicians, queens, kings, soldiers, and its current resident - the Center for Contemporary Art.

Park Agrykola

Ogrody Sejmowe/Frascati
Other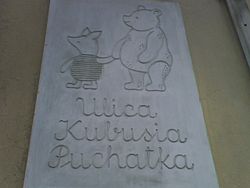 Ulica Kubusia PuchatkaA nondescript street in central Warsaw, whose claim to fame is that it's named after the children's book character Winnie the Pooh.

Greetings from Jerusalem Avenue

address: Rondo Charles'a de Gaulle'a

An artistic installation of an artificial palm tree (made of plastic and preserved imported palm tree leaves, periodically replaced), it was inspired by the artist's visit to Israel and the fact that Aleje Jerozolimskie, where it is placed, is named after New Jerusalem, a large pre-war Jewish settlement in Warsaw that does not exist anymore. It started as a very controversial landmark on one of the city's busiest roundabouts, and grew to become a much-loved fixture. It is probably the only palm tree in the world that has its own website.
Do
Performing arts
Theaters
Ateneum

phone: +48 22 625 73 30

address: ul. Jaracza 2

phone: +48 22 656 68 44

address: pl. Defilad 1

Bajka

phone: +48 22 826 69 66

address: ul. Marszałkowska 138

For children.

Kwadrat

phone: +48 22 826 96 37

address: ul. Czackiego 15/17

Polonia

phone: +48 22 622 21 32

address: ul. Marszałkowska 56

Every production of this theatre founded by Polish stage and screen legend Krystyna Janda meets with huge publicity and has a long run.

phone: +48 22 826 79 92

address: ul. Karasia 2

A legendary institution showing mostly Polish and international classics. Many great names of Polish theatre have been calling this theatre home.

Prochoffnia

phone: +48 22 635 89 64

address: ul. Boleść 2

Unorthodox.

phone: +48 22 628 03 60

address: ul. Nowogrodzka 49

A musical theatre showing Polish versions of internationally acclaimed shows.

Scena

phone: +48 22 620 82 88

address: ul. Żelazna 51/53

phone: +48 22 620 21 02

address: pl. Defilad 1

Studio Buffo

phone: +48 22 625 47 09

address: ul. Konopnickiej 6

Unrelated to the one above.

Syrena

phone: +48 22 628 50 93

address: ul. Litewska 3

TR (Rozmaitości)

phone: +48 22 629 02 20

address: ul. Marszałkowska 8

Unorthodox.

Współczesny

phone: +48 22 825 59 79

address: ul. Mokotowska 13

phone: +48 22 620 62 81

address: plac Grzybowski 12/16

Jewish theatre located adjacent to the Nożyk Synagogue. Teatr Żydowski is the only theatre in the world that regularly performs plays in Yiddish.
Cinemas
Buy
Off-the-beaten-path shops
Neat little shops can be found all over Warsaw, especially for those who are looking for a shopping extravaganza in Warsaw other than snobby upscale shopping malls, where the experience becomes lost.
In Śródmieście, and the Centrum area, in fact, there are several streets that see fewer tourists, but have interesting boutiques of all sorts. These same streets boast some of the best and most intimate restaurants and cafés. Plac Trzech Krzyży is an excellent starting point. The streets that branch out from the square are host to numerous of such shops and restaurants. Ul. Bracka, ul. Nowogrodzka, ul. Żurawia, ul. Krucza, ul. Mokotowska, and ul. Hoża would all be great streets to start wandering up and down. As you progress down ul. Hoża, drawing closer to ul. Marszałkowska, the shops will likely become of less interest, but the closer you remain to Pl. Trzech Krzyży the more boutique shops you'll find.
Malls
Złote TarasyThis large shopping mall sprawls over four levels and is covered by a unique glass roof. It is located right next to the Dworzec Centralny and is accessible from its underground level. It may be convenient for some last-minute shopping if you are departing Warsaw by train.

address: al. Jana Pawła II 82

Arkadia has an interesting collection of shops, plus a much better selection of restaurants in its food court than Złote Tarasy. Arkadia also has several restaurants located on its outside, at its main entrance.

address: ul. Marszałkowska 104/122

The three former 1970s department stores form the so-called "Eastern Wall" (Ściana Wschodnia) of Marszałkowska Street between Aleje Jerozolimskie and Jasna Street, facing the Palace of Culture and Science. They buildings have now been broken up into separate retail spaces, housing popular local and international chain stores.
Eat
Budget
Szwajcarski

address: ul. Nowy Świat between Al. Jerozolimskie and pl. Trzech Krzyży

phone: +48 22 628 44 27

address: ul. Marszałkowska 10/16

Prasowy is a staple milk bar, reinvented. Facing imminent closure, it was taken over a creative team, who mixed together the traditional elements of the milk bar (cheap, homely cuisine and simple, simple decor) with trendy cultural and social events. An absolutely unique place, worth a visit.

Bambino

address: ul. Krucza 21

Złota Kurka

phone: +48 22 622 46 78

address: ul. Marszałkowska 55/73

Small milk bar located near Plac Konstytucji. This particular milk bar serves up decent, but not good food, although it can be a tad difficult to find a place to sit and the kitchen can take a while.

phone: +48 22 630 7474

address: al. Jerozolimskie 65/79

Wook is a good and cheap place to grab Chinese. Soups and sides cost 4 zł, while all main courses cost only 6 zł. Wook also throws off the stereotypical European restaurant experience. OK, so while the service isn't amazing, it's effective, but the trademark difference between Wook and nearly any other restaurant on the continent is that the food will be on your table before you've even completed ordering.

ZapiecekA chain of eateries scattered around the city, mostly in the Old and New Town, focusing on pierogi and other traditional Polish dishes, such as soups, pierogi, and pancakes. A fairly fixed menu with seasonal variations in alcohols - they tend to have seasonal selection – only mulled wine and hot beer in winter, for example. Other than that, the place is great, and in addition to the food you will certainly enjoy the service by charming waitresses.
address: Nowy Świat 64

address: Al. Jerozolimskie 28
Mid-range
phone: +48 22 826 35 01

address: ul. Nowy Świat 23

Casa Mia

phone: +48 22 621 61 01

address: ul. Poznańska 37

A small, cozy pizzeria, Casa Mia is a great little restaurant to seek refuge and satisfy your hunger. Somewhat appallingly, Casa Mia doesn't serve alcoholic beverages, though they have non-alcoholic beer.

phone: +48 22 339-17-17

address: Plac Konstytucji 1

A chain of restaurants from Kraków, literally: "peasant's food". Good place to taste traditional Polish fare and enjoy wooden rustic environment. Soups are served in bread, while complementary smalec (lard) is free, so that you have no choice but trying it here.

phone: +48 22 828 45 85

address: ul. Chmielna 28

address: ul. Podwale 25

Located on the border between the Old and New Town, this pub serves king-size portions of traditional Polish fare. Meals are accompanied by a free dish of pickled cucumbers and sauercraut, while the bill comes with a shot of Polish cherry liquor. Beer is more average and solely pilsner, but it is drinkable and quite cheap. Free Wi-Fi connection. A bit noisy, but this is how a good pub should be.

phone: +48 22 434 22 16

address: ul. Krucza 16/22

Thai restaurant with well designed decor and good food, albeit a bit pricey. The lunch menu, however, has some good deals.

address: Foksal 18

Socjal restaurant features an enormous, continuous table that can seat dozens and is good for, you guessed it, socializing. In warmer months, this is complemented by an outdoor garden. The menu is updated everyday as it is being prepared from whatever the chefs purchase fresh in the morning, and the restaurant stays open until late in the night - or even early in the morning. The menu mostly includes pizzas, pastas and salads made of simple ingredients but actually quite refined and tasty.
Splurge
AleGloria

address: pl. Trzech Krzyży 3

Flagship outlet of the TV-famed restaurateur Magda Gessler, blending traditional Polish culinary traditions with cosmopolitan and modern inspirations. One invites guests there to impress with food, sumptuous decor and ability to foot the bill.

Amber Room

phone: +48 22 523 66 64

address: Al. Ujazdowskie 13

Hosted by the historic Sobański Palace and serving as the posh canteen for the business elite congregating at the co-located Polish Council of Business, Amber Room has become something of a paragon of haute cuisine. The location is ideal for tourists wanting to enjoy a meal in the most beautiful part of Warsaw, but frequently-organised events may get in the way, so reservations are recommended, even if to check if guests will be served on your chosen night.

address: Agrykoli 1

Located in the historic palm house in the Łazienki Park, it offers a very unique ambience - and charges for that accordingly.

address: ul. Senatorska 27

Chinese.

phone: +48 22 828 02 22

address: Foksal 17

Italian.

address: ul. Senatorska 27

Mexican.

Kuźnia Smaku

address: ul. Mazowiecka 10

Le Cedre

address: al. Solidarności 61

Lebanese.

Papaya

address: ul. Foksal 16

Japanese and Thai.

address: Al. Ujazdowskie 6

In the Zamek Ujazdowski castle, which also houses the Centre for Contemporary Art, this artist-themed restaurant offers a suitably contemporary take on fine dining and splendid views from the escarpment from its summer terrace.

Ryżowe Pole

address: ul. Zgoda 5

Japanese, sushi.

Smaki Warszawy

address: ul. Żurawia 47/49

Polish and International.

phone: +48 22 826 30 08

address: Senatorska 37

Nestled in the corner of the Saxon Garden in a historic building, St. Antonio is where one takes out-of-town relatives, who may not appreciate more modern culinary inventions. The photo gallery of celebrities of bygone decades who had frequented the restaurant complements the retro decor.

phone: +48 22 825 23 75

address: ul. Marszałkowska 21/25

Indian restaurant with great food, augmented by unashamedly garish and tacky decor you would expect. The location is a bit out of the way, but well worth the tram ride.
Drink
Cafés
phone: +48 22 826 66 19

address: ul. Nowy Świat 35

The Blikle family has been running this café and confisserie for two centuries now, turning it into a nationwide business with many locations across Poland - but this is the original one. Stepping inside elicits memories of a turn-of-the-nineteenth-century café, which is more than charming in Warsaw, where a well-made coffee has been replaced by iced mochas and in-and-out coffee shops. This particulabuilding is divided into two parts: the café/restaurant and the confection shop. Walking into the confection shop may stun your senses with the wonderful smells of delicious sugary treats.

E. Wedel

phone: +48 22 827 29 16

address: Szpitalna 8

The best hot chocolate in Warsaw. The interior is old style and reminds you of pre-war Warsaw. Wedel's shop with stylish sweets is adjacent to the cafe.

phone: +48 22 826 64 27

address: ul. Nowy Świat 30

address: 4/6 Freta

This inconspicuous place with a tiny sign above the door is a true paradise for coffee-lovers. Here, you don't choose the type of coffee. You first select the type of beans, and then decide whether you want it espresso, cappuccino, or perhaps as Turkish-style coffee cooked on hot sand and flavored with cinnamon, ginger, or other spices of your choice. They also have a good selection of cakes and pastries, not to mention coffee beans and coffee-making tools sold in the adjacent store. Prices are a bit high by Polish standards, but the coffee is well worth it. Also at 62 Krakowskie Przedmieście.

address: ul. Nowy Świat 62

Within minutes of opening Starbucks became an instant hit in Warsaw with quite a queue forming inside. The service is actually relatively speedy, which may come as a shock for those who have ever experienced a line in Poland and what's more is that there actually seems to be something called customer service here.

CharlotteA cafe-cum-boulangerie, it was one of the first in Warsaw to bake their own breads and pastries on premises and offer wine to accompany simple, Parisian-inspired snacks. Thanks to its popularity with the media and celebrities, as well as the prime location on the Plac Zbawiciela, it became a sustained favourite - you may find yourself unable to get a table at any given time of day. The pretentious and slow service got to be accepted as part of the flair by the clientele.
Bars
Clubs
Concert venues
phone: +48 22 828 34 09

address: ul. Mazowiecka 6/8

Tygmont is Warsaw's best known jazz club and for good reason – the musicians it hosts are good, however, there are a few caveats. On occasion, Tygmont has a weird atmosphere and can be disappointing. There are nights when one floor will be dedicated to hip hop, which seems completely out of place, while the other is dedicated to musicians playing obscenely loud music. If the club brought the decibels down, it would be near perfect.

phone: +48 22 822 87 02

address: ul. Złota 9
Sleep
Budget
Mid-range
Splurge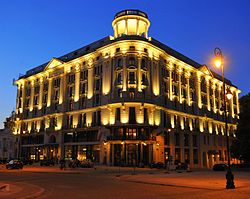 phone: +48 22 551 1000

address: Krakowskie Przedmieście 42/44

The Bristol is a Warsaw landmark in its own right, imbued in history. Heads of state, royalty and various celebrities of different eras stayed here during its many decades in operation. It is also directly on the Royal Route, a short walk from Old Town and not far from many other historic attractions. Recently renovated again, it joined Starwood' Luxury Collection of prestige hotels.

phone: +48 22 558 1234

address: Belwederska 23

Outside of the city centre and on the border of the Mokotów district, it requires a bus or taxi ride to get to most attractions. The Regent nevertheless remains a firm favourite with frequent travellers due to a combination of lush comfort, large bathrooms and a location at the doorstep of the Łazienki Park.

phone: +48 22 328 8888

address: ul. Emilii Platter 49

The 5-star InterContinental is one of Warsaw's tallest, best designed, and most luxurious hotels. The hotel optimizes its commanding height by using wide windows to provide breathtaking panorama views of Warsaw. Be sure to stop by the fitness center for the best view. All rooms have at least 32 square meters of space, spacious bathrooms that come equipped with a bath and a separate shower, and minibars. High speed internet connection is available for a fee for those staying in the standard rooms. Each of the three restaurants have welcoming atmospheres and the E. Wedel cafe on the ground floor would be a great place to kick back to a coffee and some chocolates.

phone: +48 22 630 6306

address: Al. Jerozolimskie 65/79

If you want a room with a view, you can't go wrong here, because the building is one of the tallest in Warsaw. Depending on the location of your room, you may have a view of the Palace of Culture and Science. The Panorama cocktail bar at the top floor provides great views of the city to the patrons, accompanied by steep drink prices.

address: ul. Jerzozolimskie 45

4-star luxury hotel in the center of Warsaw. The hotel first opened in 1913 and was the best surviving hotel in Warsaw during the second world war. The building hosted the embassies of several countries (including USA, UK, the Netherlands) the first difficult years after the war. Eisenhower, de Gaulle and several other celebrities have been guests at the hotel. The Polonia was made a protected monument in 1965. Police warn to watch out for prostitutes in the area.

phone: +48 22 321 88 88

address: Grzybowska 24 00-132

The hotel is situated in the heart of the business district and tourist quarter of the city. It is close to the Palace of Culture and Science and Warsaw Central Station. There is another Radisson BLU (Sobieski) in Warsaw, not far away but in the opposite direction.

phone: +48 22 584 8700

address: ul. Wilcza 73

In a less touristy area of the town and might be equally hard to find.

Sofitel Victoria Warsaw

phone: +48 22 657 8011

address: ul. Krolewska 11

Located a short distance from Nowy Świat, the Sofitel Victoria Warsaw Hotel is the prime real estate for visitors who would like to tour the Old Town on a whim. Rooms facing Plac Piłsudskiego have a really nice view.
Connect
Internet
phone: +48 22 8281447

address: ul. Krakowskie Przedmieście 4/6
Post