Warsaw/Praga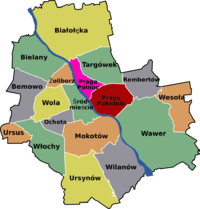 Praga
is the central and historic core of right bank
Warsaw
,
Poland
.
Praga is composed of two districts,
Praga Północ
and
Praga Południe
, which are separated from each other by the railway tracks. The districts themselves mainly serve administrative purposes, as they are both very heterogeneous and diverse inside.
Within Praga Południe
Gocław
and
Gocławek
are relatively new residential areas built in the 1960s and 1970s,
Kamionek
and
Grochów
have a history on par with other settlements that then formed Warsaw, like
Ujazdów
and
Mokotów
,
Saska Kępa
is a prestigious mansionesque area that is home to many embassies and
Olszynka Grochowska
is mostly a forest.
Within Praga Północ, the south centered around Aleja Solidarności contains many historic buildings and is reinventing itself as a trendy home for all kinds artistic undertakings, while the northern part is almost entirely industrial.
Get in
Main streets parallel to Vistula: Jagiellońska, Targowa, ul. Grochowska; Wał Miedzeszyński
Main streets perpendicular to Vistula: Aleja Solidarności, ul. Ostrobramska and al. Stanów Zjednoczonych (United States Avenue) - collectively referred to as Trasa Łazienkowska; al. Waszyngtona (Washington Avenue); Trasa Siekierkowska.
See
The zoo – not just a sanctuary for animals
During the Nazi occupation of Warsaw, Jan Żabiński, the Warsaw Zoo's director, and his wife, Antonia, saved about 300 Jews from the Warsaw Ghetto and Nazi death camps. The Żabiński family turned the zoo into a pig farm, which was to be used so the German forces could be fed. Jan Żabiński befriended a few Nazi officials and was granted access to the Warsaw Ghetto so he could gather left over scraps to feed the pigs, to study the Ghetto's park system, and for any other imaginable reason. His real reason for going to the Ghetto was to smuggle Jews out and safeguard them at the zoo by hiding the Jews in the cages and animal exhibits at the zoo. Diane Ackerman wrote
The Zookeeper's Wife
, which details the story of the Żabińskis, focusing particularly on Antonia's story. The book has since been turned into a major motion picture with Daniel Brühl playing Lutz Heck and Jessica Chastain playing Antonina Żabińska
phone: +48 22 619 40 41

address: ul. Ratuszowa 1/3

A relatively small zoo, but with some interesting species, including a pack of wild and rambunctious monkeys that seem to fascinate every visitor. Other Zoo residents include lemurs, giraffes, elephants, hyraxes, lions, tigers, zebras, and jaguars that live in a glass enclosure that allows you stand only centimeters away from the beasts.
Saint Mary Magdalene Orthodox Church

address: pl. Wileński

One of two Orthodox churches in Warsaw.

19th Century Housesaround pl. Weteranów 1863 r., ul. Kłopotowskiego and ul. Okrzei, in particular The Jewish Mikvah built in 1840 at ul. Kłopotowskiego 31. See also the list of all historic buildings in Praga Północ.

Praski ParkA park that's good for a stroll. There's a large sculpture of a giraffe and a playground for children within the park's grounds. Near the entrance to the Warsaw Zoo, there are a few eateries that serve up ice cream.

Saints Michael & Florian Cathedral

phone: +48 22 619 09 60

address: ul Floriańska 3

Skaryszewski ParkDirectly across the street from Stadium Narodowy, this park isn't as well known as some of the others, most likely since a palace is absent from it, but that said, it's nonetheless a pleasant park for a stroll or to read a book and comes complete with its own lake. Near park's main entrance, there is a memorial to the September 11th terror attacks.

Barriers of Grochów

address: ul. Grochowska

Used for collecting the toll for entering the city.

Monument to the builders of the Brześć Road

address: ul. Grochowska

Built in 1825, it was the first monument in Poland to honor anonymous workers (instead of famous national heroes).

Saska KępaA mostly residential neighborhood that is freckled with numerous embassies, but is unique for the cozy cafes and restaurants that line one its most well-known streets, ul. Francuska. In the evening, the neighborhood is an idyllic setting for a stroll, which can be topped off by watching the sunset over the Eastern skyline of Warsaw, dominated by the Palace of Culture and Science, while grilling or drinking by a couple of the city-provided grills on the banks of the Vistula. If you go to grill, be sure to bring some bug spray. This neighborhood is also located immediately next to the National Stadium.

Olszynka GrochowskaThe forest was an important battlefield during the November Uprising.
Do
Museums and galleries
address: Ul. Ząbkowska 27/31

Postindustrial complex houses now:
Theatres
phone: +48 22 818 25 16

address: ul. Zamoyskiego 20

phone: +48 22 619 80 77

address: ul. Jagiellońska 28
Cinemas
Cinema City

phone: +48 22 611 75 11

address: ul. Ostrobramska 75

Located in CH Promenada.

phone: +48 22 343 03 10

address: ul. Jagiellońska 26

Digital cinema, three rooms.
Sports
address: Al. Księcia J. Poniatowskiego 1

The impressive stadium has been built on the site of an earlier communist-era venue right in time for the Euro 2012 championships. It is a multi-level entertainment, exhibition and congress venue, with a busy schedule of events. The grounds around the stadium have been arranged to hold events as well. On the nights of major matches or concerts, traffic in the area can be severely disrupted, but on other days, you may find attractions ranging from publicly-accessible ice skating rink to a fashion fair within the large structure.
Swimming
Prawy Brzeg

phone: +48 22 698 48 00

address: Ul. Józefa Szanajcy 17

Wodnik

phone: +48 22 673 82 00

address: ul. Abrahama 10
Buy
address: ul. Ostrobramska 75

A multi-level shopping arcade with a mixture of chain stores and upscale outlets. The layout and architecture may be a bit perplexing, and the mall has not aged well. An Alma upscale supermarket and multiplex cinema are located within the shopping centre.

address: ul. Targowa 72

A shopping mall built over a terminus for local trains heading north-eastwards of Warsaw, directly connected to the namesake metro station as well. A rather wide selection of the usual chain stores, service outlets, gastronomy and a supermarket.

Różyckiego Bazaar

address: ul. Targowa 54

For many years it was the most famous bazaar in Poland, a place where everything could be purchased. In recent years however it has fallen into decline.
Eat
Mid-range
Ristorante Repubblica Italiana

phone: +48 22 465-81-83

address: ul. Francsuska 44

This three-room restaurant, with each of its rooms painted and decorated to correspond with the colors of Italian flag, is one of the few Italian eateries in Warsaw that does Italian right. Each dish is delicious and beautifully prepared, and the portions leave customers feeling satisfied. When the weather is nice, the restaurant's patios are a great place to enjoy your meal while observing passersby.
Splurge
Dom Polski ul. Francuska 11. Polish.
Santorini ul. Egipska 7. Greek.
Drink
Cafés, tearooms and bars
Clubs
ul. 11 Listopada 22 a building filled with bars (and a hostel now)
address: Ul. Otwocka 34

A former marmalade factory, now a cultural center with a club, a theater, a restaurant, artist ateliers and an exhibition area.

address: Ul. Inżynierska 3
Sleep
Budget
phone: +48 22 810 11 18

address: ul. Czapelska 24

Very nice hostel, with great conditions and a very helpful staff.

phone: +48 22 618 94 70

address: ul. Kłopotowskiego 33

address: ul. 11 Listopada 22
Mid-range
phone: +48 22 515 78 00

address: ul. Ostrobramska 36

Dedek Park

phone: +48 22 619 77 81

address: al. Zieleniecka 6/8

Gościniec Praski

phone: +48 22 463 63 63

address: al. Solidarności 61

phone: +48 22 511 98 00

address: ul. Kłopotowskiego 36