Warsaw/South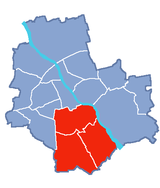 The districts of Warsaw
south of Śródmieście
have enjoyed a measurable growth in population numbers and importance in recent decades thanks to their proximity to the airport and the fact that the stretch of the Metro line first completed was one connecting Ursynów and Mokotów with Śródmieście. While primarily residential and filled with mostly 20th century developments, they contain their fair shares of historic buildings. There are also many parks that are lesser-known to tourists, and many leisure facilities serving the area's dense residential neighbourhoods.
For tourists, the biggest draw is the Wilanów Palace and its Park, but if you undertake the effort to get there, you may be interested in exploring the area further. It is made relatively easy by the well-developed public transit network in the area.
Districts
Mokotów
has over 200,000 inhabitants and is the most populous district of
Warsaw
. It consists mostly of residential developments of varying density, and Warsaw's largest office district in its Western part. There are a few historic buildings in the district, and many places played a meaningful role in the Warsaw Uprising. There are also quite a few embassies in Mokotów, and some parks. The name "Mokotów" may originate from French
mon coteau
, which means "my hillside" or from
Mokoto
, the supposed name of the settlement's founder.
Ursynów
is a primarily residential district, constructed from the late 1970s onwards, with the prominent use of
plattenbau
(prefabricated concrete elements). It therefore has very few historic buildings and indeed very few places of interest to most tourists. Due to the metro line crossing it, it is however a very convenient place for medium- and long-term accommodation, and the Warsaw University of Life Sciences (SGGW) has its main campus in the district, so many students and faculty would be based there. The name comes from Julian Ursyn Niemcewicz, whose middle name
Ursyn
is derived from Latin
ursus
meaning
a bear
.
Wilanów
district is most known for the eponymous baroque royal residence and park, which is a tourist favourite due to its unique beauty. Apart from the palace and park, the rest of the district is mostly low-rise upscalish residential developments and supporting infrastructure. A large part of the district's area remains undeveloped, providing good recreation grounds for walking, biking or picnicing. The original name of the settlement was
Milanów
, but it was renamed by the King Jan III Sobieski inspired by a French descriptive phrase
Villa Nova
.
Get in
By public transit
From the Warszawa Centralna train station, you can take 119, 131, 525 to get to Mokotów. From Marszałkowska, also in the
Centrum
, you can take 522. Or if you cross under the street, and pop up on al. Jerozolimskie, you can catch the 107. If you go further down to ul. Piękna, where the US, French, and Canadian embassies are located, you can also catch the 159. The 180, which is known as the tourist route, connects the Old Town and Nowy Świat with Wilanów, via the Mokotów. Most of these buses will end up taking you in the direction of the Sadyba neighborhood of Mokotów, toward
Wilanów
.
There are no trams or metro in Wilanów. The bus terminus closest to the palace is called Wilanów. Another bus terminus Sadyba (in Mokotów) is also in close proximity.
Warsaw's subway system immediately connects Mokotów with
Śródmieście
and
Ursynów
. The last station in Śródmieście before entering Mokotów is the Metro Politechnika stop, while the last stop before entering Mokotów from Ursynów is the Metro Ursynów stop. More or less, the subway line cuts down the middle of Mokotów. Warsaw's subway system has several stops in Mokotów, which can allow for travelers to quickly hop on and off the metro line and get north and south of Mokotów in just a few minutes. The following stops are in Mokotów - Pole Mokotowskie, Racławicka, Wierzbno, Wilanowska, and Służew. There are five metro stations in Ursynów. From north to south, the metro stations are: Ursynów, Stokłosy, Imielin, Natolin, and Kabaty. With the metro, it's possible to get to Centrum in 10 - 20 minutes.
From the Warsaw Chopin Airport, the most direct connection is the bus line 148, which goes straight from the terminal towards Ursynów, stopping in. al. at Metro Imielin.
The Park of Culture and the Botanical Garden are far away from other points of interest and can be reached from bus termini Powsin - Park Kultury and Ogród Botaniczny respectively, or if you prefer to take a walk, take the  M  to  Kabaty  (in Ursynów) and then walk through the Kabacki Forest.
By car
The two streets that lead to Wilanów are: ul. Powsińska/ul. Wiertnicza and al. Wilanowska (not ul. Wilanowska which is in Śródmieście), which earlier merges with ul. Sobieskiego. They intersect right in front of the Palace and merge into ul. Przyczółkowa, which leads to the Park of Culture in Powsin, the Botanical Garden and to Konstancin-Jeziorna.
By car, you can get to Ursynów by driving down Puławska (extends south from Marszałkowska) or Aleja Niepodległości (which extends south from Aleja Jana Pawła II, eventually merges with Puławska) from the city centre. Puławska is also a major entry point to Warsaw itself, so visitors driving in from the south can use it as well.
In Mokotów:
Main streets parallel to Vistula: ul. Czerniakowska-ul. Powsińska, ul. Belwederska-ul. Sobieskiego, ul. Puławska, al. Niepodległości, ul. Żwirki i Wigury
Main streets perpendicular to Vistula: ul. Spacerowa, Trasa Siekierkowska-ul. Witosa-ul. Sikorskiego
See
Mokotów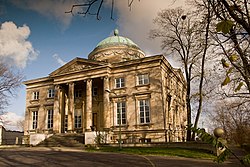 address: ul. Puławska 113a

The Królikarnia park is named after a pretence to being a rabbit warren for the King Augustus II in the 18th century, but in reality it served as a leisure residence and a place for meetings of the arts community. Those took place in the classicist palace, modelled after the renaissance Villa Rotonda outside Vicenza by the royal architect Domenico Merlini. The palace is situated right on the slope of the Warsaw escarpment, providing idyllic views of the greenery (and by now - low-rise residential areas) towards the Vistula river. Today, the park is open to the public and the palace hosts the sculpture department of the National Museum, dedicated to famous 20th-century sculptor Xawery Dunikowski, with several works scattered around the park. The park and palace come alive with cultural and social events in the summer months, so check the schedule in its website.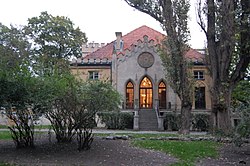 Szuster Palace

address: Morskie Oko 2

A neogothic palace, once a remote park residence, now nestled between residential buildings. A reconstructed "mauretanian house" signifies the entry to the vestigial park from Puławska street. The palace is home to a musical company and not open to visitors except concert nights.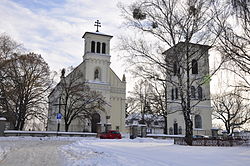 St Catherine Church

address: ul. Fosa 17

St. Catherine's is the oldest continually existing parish within Warsaw, founded in 1238. This may be a bit misleading, as the current church building is much younger, dating in its present form from 1848, but still well-worth a visit for its elegant form, picturesque hilltop location and quite pristine condition. The churchyard contains the Monument to the Victims of Communist Terror of 1944-1956.

phone: +48 22 608 29 99

address: al. Niepodległości 213

Not a major architectural draw or a typical tourist attraction, but a massive vault of knowledge and artistic work in print and other media. If this is of interest to you, you can easily schedule hours if not days for visiting the National Library.
Czerniaków
St Anthony Church in Czerniaków ul. Czerniakowska 2/4
Folwark Czerniakowski
Gardener's House ul. Jodłowa 18
Manager's House ul. Bernardyńska 1
Wilanów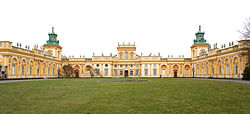 phone: +48 22 842 81 01

address: ul. Stanisława Kostki-Potockiego 10/16

Wilanów Palace is tucked away in the romantic surroundings of the royal gardens. Its an ideal place to take a date or just to relax, but be forewarned that there are a few ponds and lakes along the walking paths that are infested with mosquitoes, so be wise and protect yourself or your date with bug repellent. The interior of the palace has been converted into an art museum.

phone: +48 22 842 48 48

address: ul. Stanisława Kostki Potockiego 10/16

The Poster Museum is for you if you're interested in seeing cool posters by the likes of Rafał Oblinski, a Polish artisan who made a big splash around the world by making posters for the New York Opera, Cincinnati Opera, and numerous American magazines.

phone: +48 22 842 00 66

address: ul. Stanisława Kostki-Potockiego 24
In Powsin
The Park of Culture. On the edge of the Kabacki Forest (Las Kabacki). Many sports venues including an swimming pool. Walk or cycle through the forest to Metro Kabaty.

address: ul. Prawdziwka 2

Actually, next to the Park of Culture, although there is another bus terminus (see above). No pets allowed.
Ursynów
The Pheasantry Palace (Pałac Bażantarnia) ul. Nowoursynowska 84
The «Delight» Palace (Pałac «Rozkosz») ul. Nowoursynowska 166
Other
Polish People's Movement History Museum

address: al. Wilanowska 204

The building in which it is situated, called The Yellow Inn (Żółta Karczma) is probably a lot more interesting than the museum itself.
Do
The Royal Road ends in Wilanów, but you could do it backwards.
Kabacki Forest near  M   Kabaty  . You can walk through the forest to the Park of Culture and the Botanical Garden
Cinemas
Cinema City

phone: +48 22 456 65 00

address: ul. Wołoska 12

A decent cinema in Galeria Mokotów. The upside of the theater is that the mall's food court allows you to grub out before or after the movie.

Iluzjon

phone: +48 22 646 12 60

address: ul. Narbutta 50a

IMAX

phone: +48 22 550 33 33

address: ul. Powsińska 31

Multikino

phone: +48 22 543 52 22

address: al. KEN 60
Music
address: ul. Morskie Oko 2

Classical music.
Sports
Bowling
Hokus Pokus

phone: +48 22 550 35 35

address: ul. Powsińska 31
Ice-skating
phone: +48 22 842 27 68

address: ul. Inspektowa 1

Open when the temperature falls below 10°C.
Swimming
phone: +48 22 854 01 30

address: ul. Merliniego 9

Basen SGGW

phone: +48 22 593 12 83

address: ul. Ciszewskiego 10
Buy
As the area is densely populated and predominantly residential, you will find supermarkets and smaller grocery and convenience stores all over the place. Many are open 7 days a week, and some convenience stores, especially those serving alcohol, tend to be have long business hours. Owner-operated small stores and those in petrol stations stay open even during public holidays, when all other retail is required to close by law.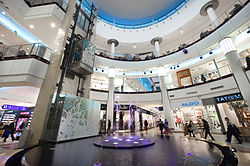 Malls
phone: +48 22 541 41 41

address: ul. Domaniewska 41

A large shopping mall serving the adjacent office area and most of the South of Warsaw. The main draw is the selection of upscale and luxury brands, for some of which this is the only location in Warsaw or even Poland. Otherwise the usual chain stores with mostly fashion, a Carrefour supermarket, services like hairdresser's and dry cleaning, fitness club, a large cinema and a quite nice food court in the top floor, with fast food choices ranging from McDonald's to fancy upscale fare. Can get very crowded at times, and arriving by car and parking can be an issue at peak times (around 9AM & 7 PM on workdays + whole days before major holidays)

address: ul. Powsińska 31

By comparison to other malls in Warsaw, this one is pretty small, but it comes equipped with a cinema, food court, and interestingly enough - a bowling alley, which is a one-up on most malls in Warsaw. Its cinema is also one of only a few IMAX theaters in Poland.

address: ul. Wałbrzyska 11

A smallish and dated shopping gallery whose main draw is being right at the entrance of Metro Służew. Mostly small, non-chain stores with a variety of merchandise, including some specialist stores not usually found elsewhere. No major supermarket on location, a Biedronka discount grocery store is nearby.
Eat
Budget
phone: +48 22 210 10 10

address: ul. Rakowiecka 41

One of a chain of pizzerias.

Efes

address: Al. Niepodległości 80

Great place to go for a kebab.
Mid-range
Pizzeria Segment

phone: +48 22 651 87 01

address: ul. Powsińska 18A

A cool little pizzeria in the Sadyba neighborhood of Mokotów. The pizza is superb and there is a number of varying pizza themes. The deserts only improve the experience. In the summer, dining upstairs is nice and the restaurant has an outdoor balcony. In the winter, it's warmer to eat downstairs than upstairs.
Splurge
phone: +48 22 851 23 23

address: Zajączkowska 11

An excellent Mexican restaurant with good food and drinks. You can easily spend 60 zł or more per person, but it's well worth the money.
Drink
phone: +48 22 825 91 65

address: Al. Niepodległości 196

Park is like Russian roulette; you may have your head blown off, or possibly have a great time. The door is relaxed, which means a lot of fools and the fashion-challenged can usually get in. Alcohol is cheap with a shot of Wyborowa only costing 5 zł. The only real problem is likely to be a concern for women. The men who go to this club often act like they have never seen a woman before, which may be due to the alcohol-induced state of mind they are in, and may touch women who obviously don't want to be bothered. If any woman decides to go to this club, be sure to bring along friends or a guy friend to ward off drunk advances. Also, be sure not to upset the bouncers – let's just say, they don't take too kindly to being upset.

phone: +48 22 234 83 14

address: ul. Narbutta 87
Cafés
phone: +48 22 844 35 00

address: ul. Odyńca 15

Zielnik is a really cozy café where couples and close friends could go for lunch, dinner, and a cup of coffee or tea. Worth a visit, if you like to get a sense of having some alone time with a friend or date.

phone: +48 605 104 207

address: ul. Chełmska 9

phone: +48 22 844 14 79

address: Al. Niepodległości 88

Cool little café, where you can stop in for a cup of tea or grab some tea leaves for home.
Jar ul. Koński Jar 6
A hot chocolate at Café Wedel near Wilanow Palace.
Sleep
Budget
Atos

phone: +48 22 841 43 95

address: ul. Mangalia 1

Aramis

phone: +48 22 858 21 26

address: ul. Mangalia 3

Portos

phone: +48 22 463 63 63

address: ul. Mangalia 3a

SUSeł

phone: +48 22 843 53 72

address: ul. Rzymowskiego 41/43
Mid-range
Reytan

phone: +48 22 646 31 66

address: ul. Rejtana 6
Splurge