Warwickshire
Warwickshire
(pronounced "Worrick-sher" or "Worrick-sheer") is a county in the
West Midlands
region of
England
, part of the
United Kingdom
. The county is noted for being located at the very heart and centre of England, as well as for its many historical and cultural attractions.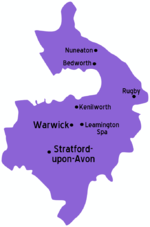 Cities, towns and villages
Cities
Warwick – the county town and site of Warwick Castle, one of England's finest
Towns
– a picturesque town and the site of the magnificently ruined Kenilworth Castle
Leamington Spa – elegant Spa town. Regency splendour of the Parade
Rugby – birthplace of the sport
– the town of Shakespeare's birth and one of the most visited places in Britain
Villages
– large village, known for its airfield and nearby manor house Charlecote Park
Understand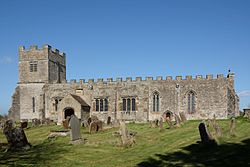 Warwickshire began as a division of the kingdom of Mercia in the early eleventh century, and its name was first referenced in 1001, with "Warwick" meaning "dwellings by the weir".
Coventry
was particularly important during the Middle Ages due to its role in the textiles trade, and it dominated Warwickshire at the time. The county played a key role in the English Civil War. During the Industrial Revolution it became one of the most important industrial counties in England due to its containing
Birmingham
and
Coventry
.
Stay safe
As with the rest of the UK, in any emergency call 999 or 112 (from a land-line if you can) and ask for Ambulance, Fire or Police when connected.

Go next